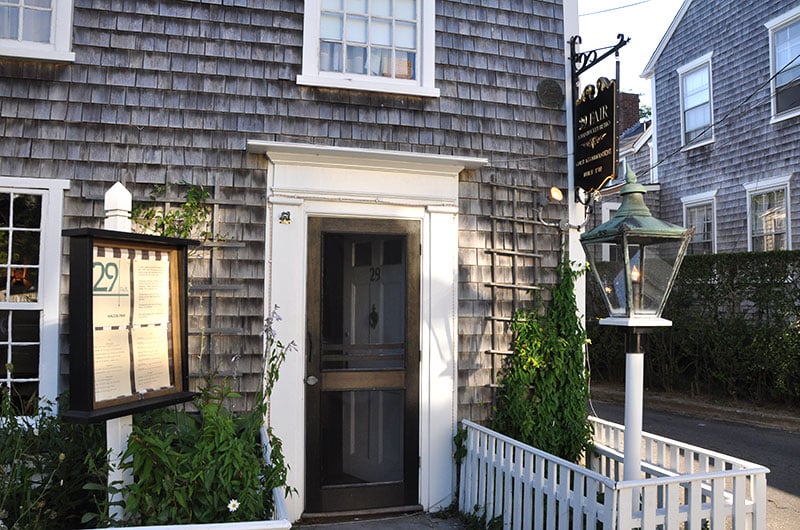 There are several restaurants on Nantucket Island that are located in historic buildings, but none can match the history of 29 Fair and few can match their cuisine.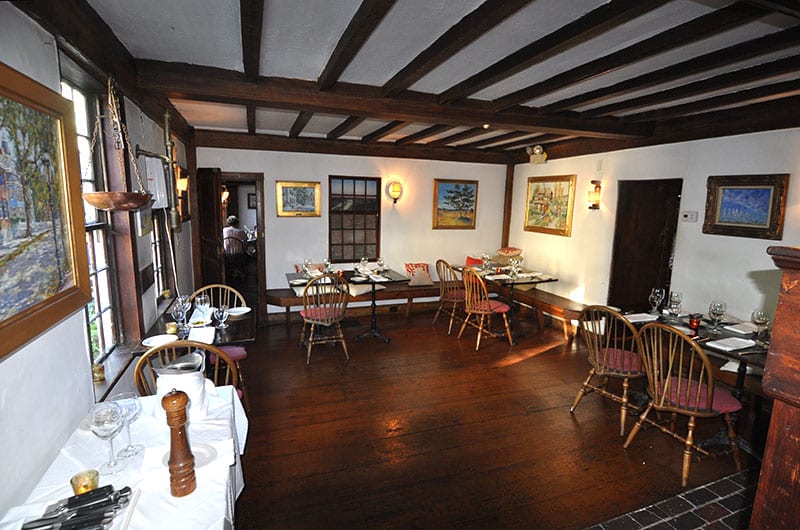 Built as a private home in 1709, the wide plank floorboards, slightly uneven from age, and dark wood paneling remain throughout the three intimate dining rooms.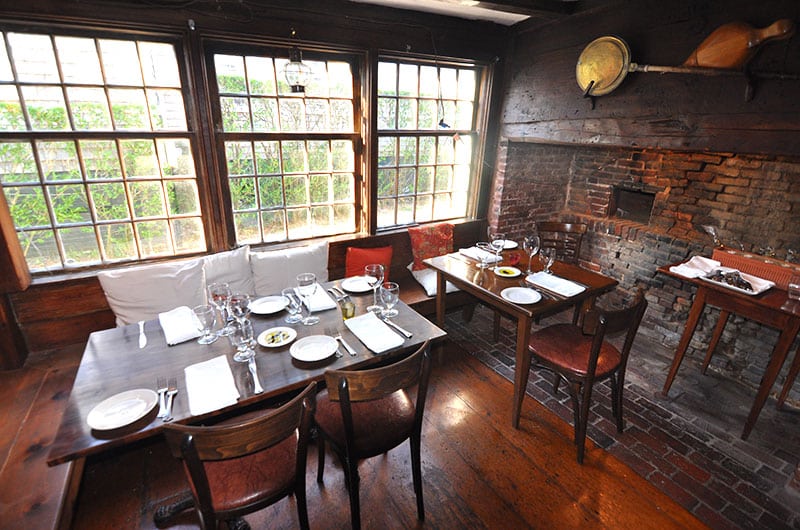 Add to this warm and rustic ambiance the winning combination of attentive service, fine wine, and fantastic food of Chef Benjamin Herriman, and you have the perfect restaurant for romance or for a gathering of good friends.
Click images for enlargements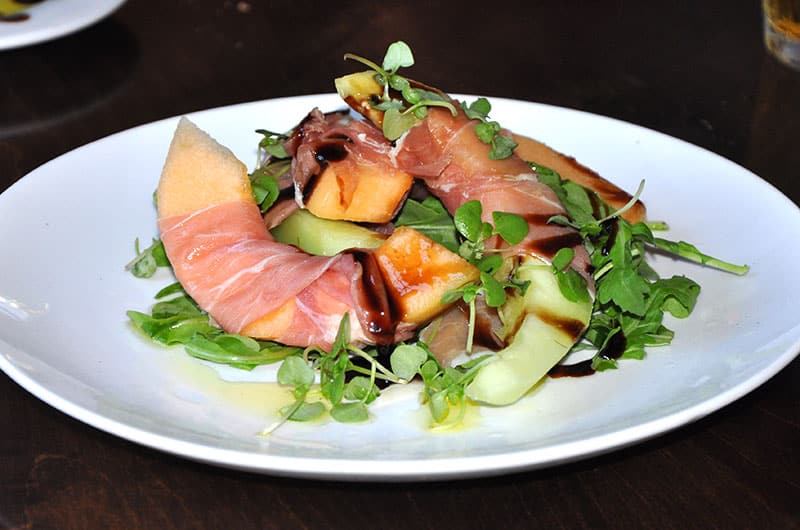 A good way to start a meal at 29 Fair, especially on a hot summer evening, is Herriman's delightful and refreshing Ginger Lime Melons with Proscuitto. Cool and colorful, this assemblage of freshness is sweet, juicy, salty, and spicy with slices of canteloupe and honeydew wrapped in thin slices of proscuitto, and anointed with balsamic vinegar and ginger-lime dressing… all nestled in a peppery bed of fresh arugula.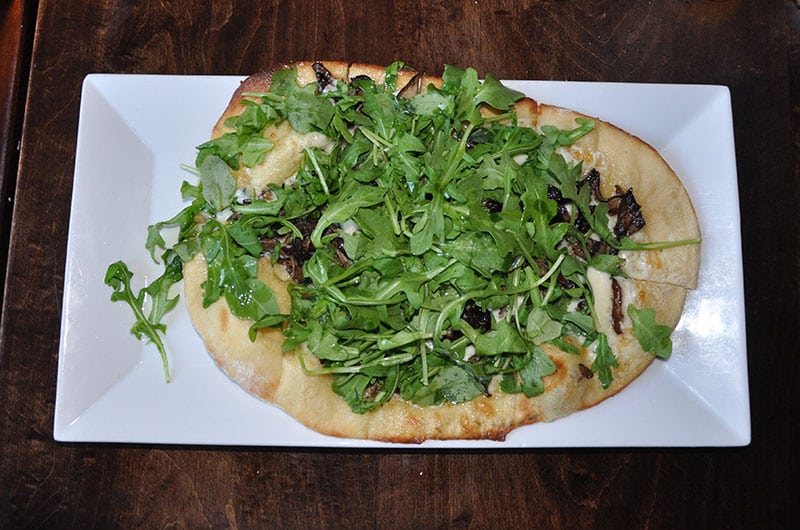 For a heartier beginning and one that is ideal for sharing 'round the table, order one of the Flat Bread Pizzas housemade here at 29 Fair. A hold-over (by patron demand!) from previous seasons, these are a superbly casual and tasty treat in a fine dining ambiance. There are four to choose from: Margarita, Bianca, Fig and Proscuitto, and Mushroom. It was this last version we chose to sample. Even with four of us to share it, we had to pace ourselves so we'd still have room for our entrees. Layered on a flatbread that is perfectly puffed on the edges, firm enough to hold the toppings, but soft enough to still be bread, this presents the perfect bite! Because the chef roasts the wild mushrooms before spreading them across the pizza, they have a deep and appealingly earthly flavor and don't make the pizza soggy. A blend of fontina and mozzarella add even more rich flavor, and the final touch is a handful of tender fresh arugula.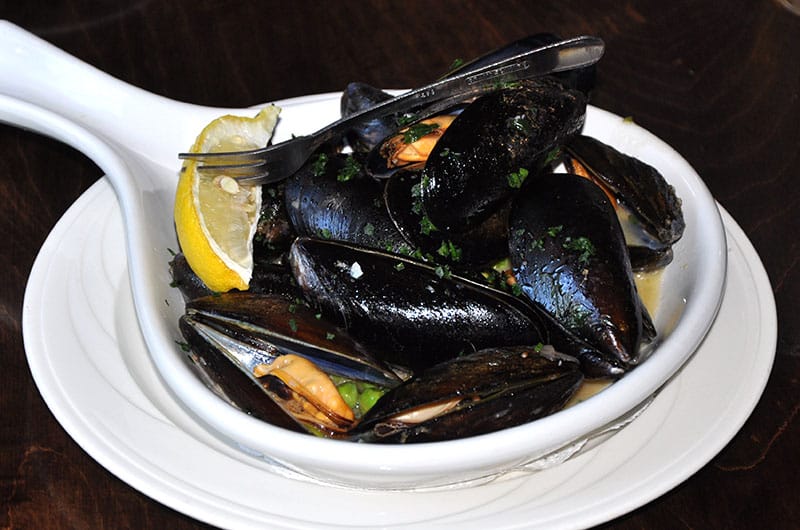 If you like mussels, then you must try the Whispering Angels Cape Mussels on the summer menu at 29 Fair. The local mussels are fresh, and this chef knows how to cook them with a light touch so they remain tender. It's the sauce that caught our attention. Prepared with Whispering Angels Rosé, shallots, garlic, herbs, and fresh English peas, it's full-bodied, smooth, and flavorful, but does not overpower the mussels as so often happens when the sauce includes spicy-hot ingredients.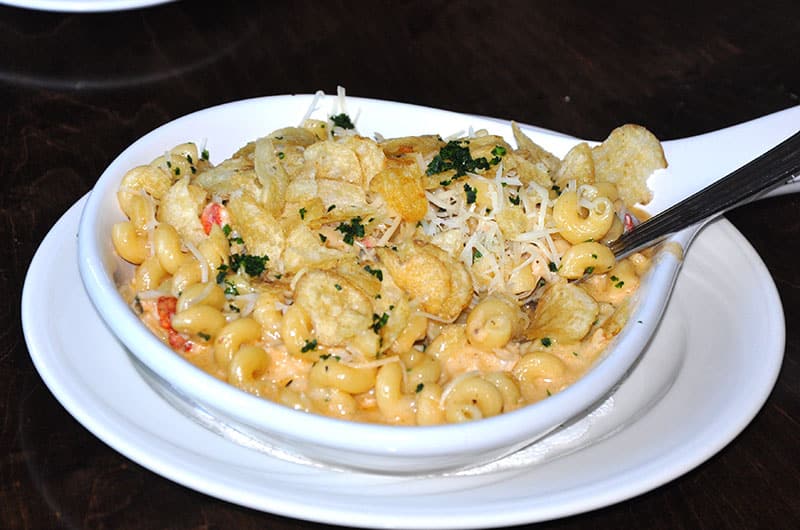 Our favorite appetizer of the evening was not one we were originally going to order. Nantucket Lobster Mac just sounded too heavy for a hot and humid summer evening. It took only a light persuasion from our server for us to add it to our order, and we are very glad we did. We're still not sure Fine Dinihow Chef Herriman manages to pack so much creamy flavor into a cheese sauce that seems so light—and he's not tellin'! Sizeable chunks of lobster meat are throughout the dish, and we really like the salty crunch of the potato chip garnish.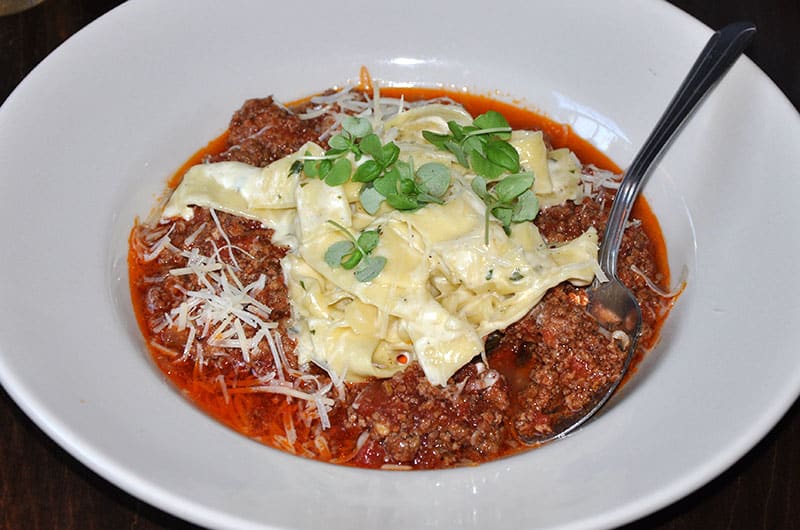 The 29 Fair Bolognese is, according to our server, nearly famous in these parts. After tasting it, we understand the description. It's comfort food all the way: the ground beef and veal with pancetta and garlic in a bright tomato sauce hits the spot when you are hungry for something that is delicious but not complicated. Served on top is an alfredo of pappardelle and parmesan that you can mix in or not. We did and think it adds something special to the dish.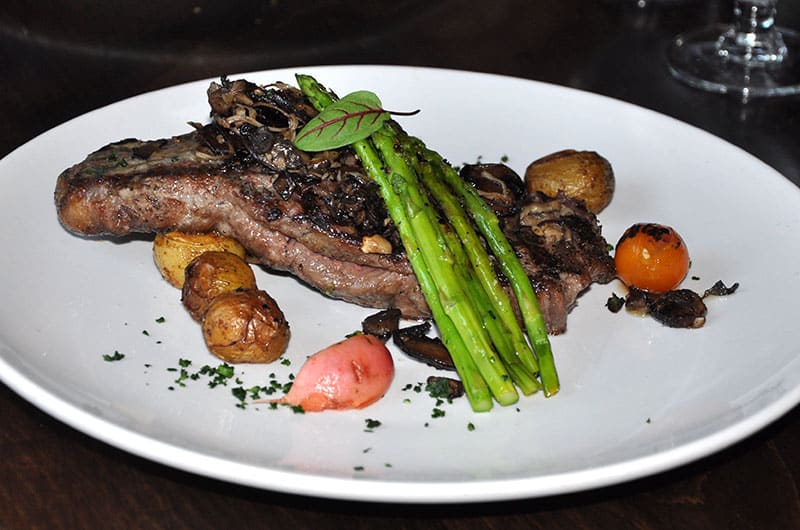 We love a good steak, but, let's face it, it takes a very creative chef to come up with a new way to serve one. We think Chef Herriman does a fine job with the richly flavored truffle miso butter and sauteed wild mushrooms he serves on the Grass Fed Aged New York Strip. This sizeable strip steak is served with roasted fingerlings and pickled beets as well as lightly blanced and grilled asparagus. We tried, but we could not choose a favorite from the last two entrees we tried last week. Both were creatively designed, deliciously executed, and just different enough to satisfy even a jaded palate.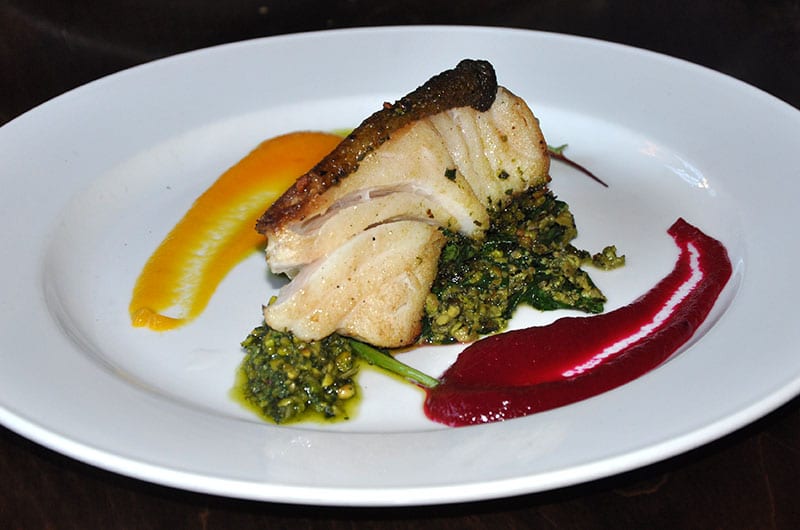 One was the Black Cod Loin. The moist white flesh of the fish is cooked through but not overdone and separates temptingly in big flakes. Top and edges are luciously golden with a tasty crisp skin on one side. Chef has the seasoning just right, and we love the complimentary flavors of the very colorful sauces: golden beet puree, roasted red beet puree with verjus, and an extraordinary pistachio pesto.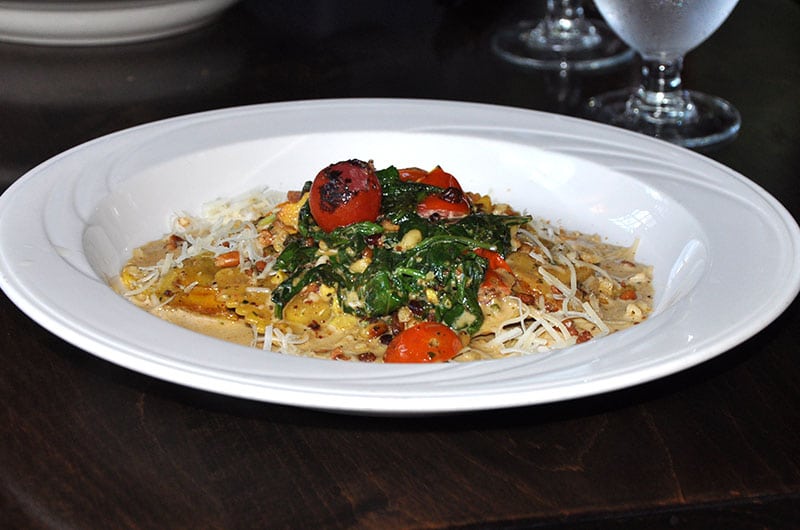 The other entree tied for first place is the Butternut Squash Ravioli. Like the Lobster Mac appetizer, this sounds like a dish more appropriate for autumn than August, but after tasting it once, we'd order it again in a heartbeat no matter what the weather. The ravioli are filled with butternut squash, nutmeg, and parmesan for a deeply satisfying, sweet flavor that is sensational with the toasted pine nuts, baby spinach, and the bright acidity of the whole roasted tomatoes served on top. The ravioli is sauteed just before plating, which adds a slight golden crunch before the sauce is poured over. We can only hope this dish remains on the Fall Menu for 29 Fair.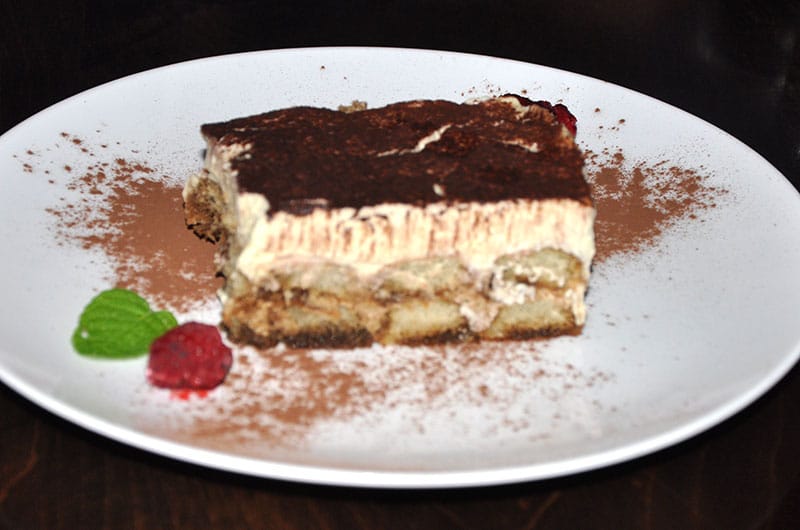 Blissfully full, we pondered dessert and decided to find out if the Tiramisu was as good as we remembered from Cioppino's when 29 Fair's current manager Tracy Root ran that island restaurant and Chef Herriman was in the kitchen there. It was! The layers of marscarpone mousse, espresso soaked lady fingers, cocoa… If you only order one dessert, this is the one you want! The only thing we left on this plate was a dusting of cocoa powder.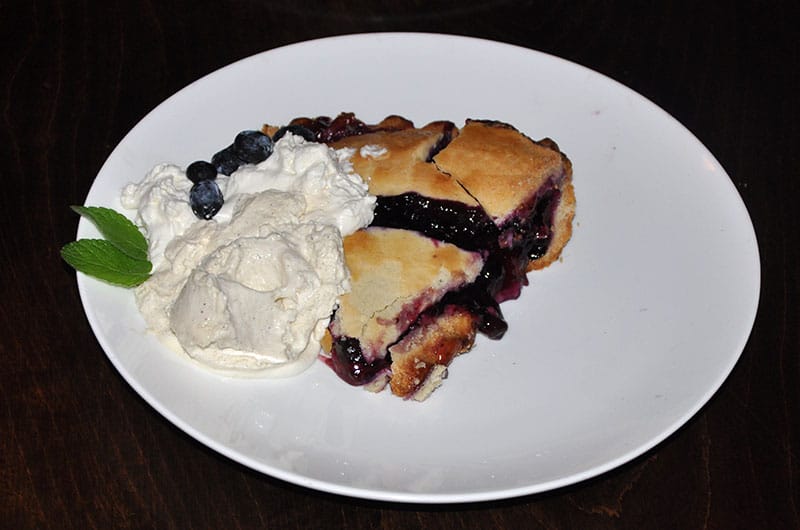 The other choices, also good, are Blueberry Pie. We'd be remiss if we did not also mention the Blueberry Pie: it's a final taste of summer, and is a very fine ending to a very fine meal.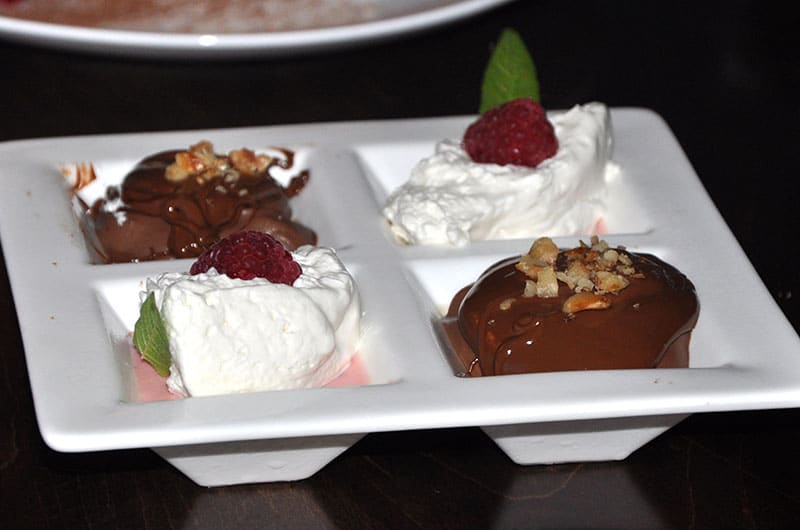 Panna Cotta Duet…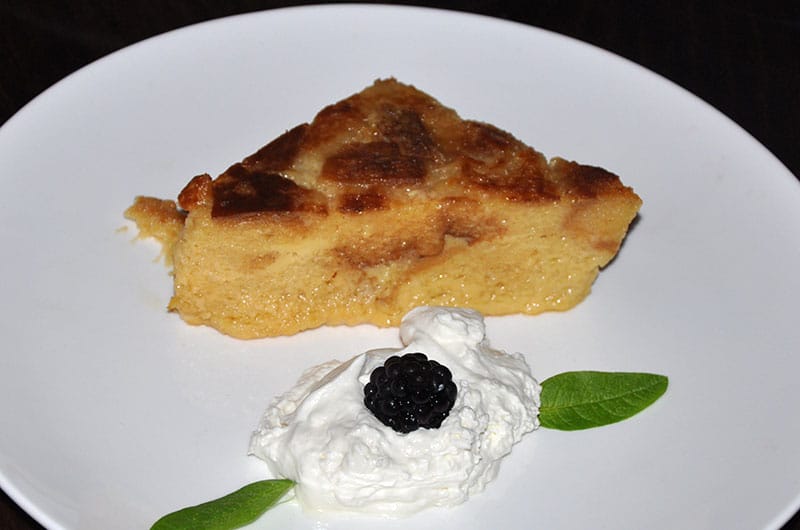 and Bread Pudding.
29 Fair
29 Fair Street, a short walk from Main • 508-228-7800
29fairnantucket.com
Dinner nightly from 6 to 9 p.m.
Dinner entree prices range from $32 to $44
Beer & Wine • handicap accessible