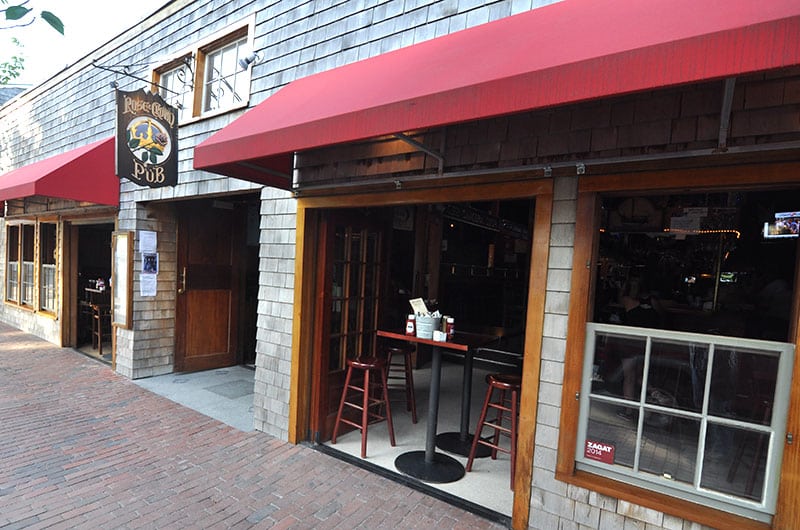 Cool and quiet by day and one of the island's hottest nightspots after dark, the Rose and Crown on South Water Street is more than just a local pub. Yes, this island landmark serves tall cold drafts, potent cocktails, and has entertainment every night, but they also offer a menu that includes soups, salads, snacks and appetizers, entrees, burgers and sandwiches, and some positively sinful desserts.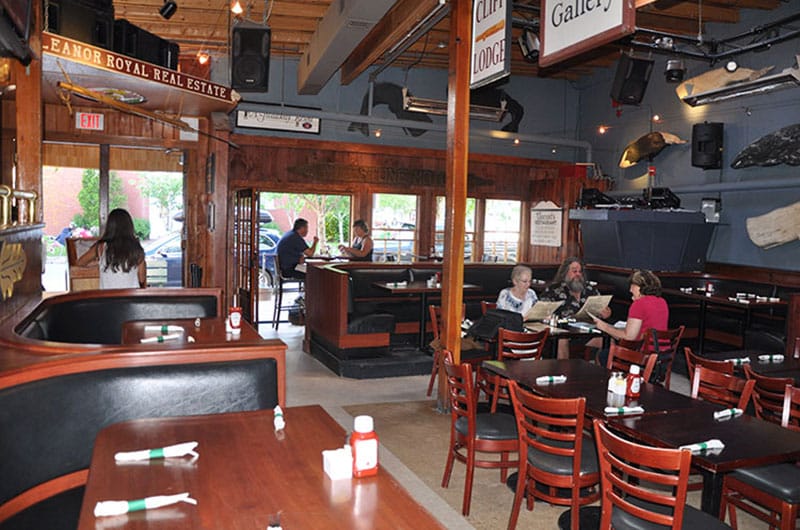 Named for a shoal seven miles off the Southeastern coast of Nantucket, The Rose and Crown has been serving customers for 3 decades and is a favorite among residents and visitors. The ambiance is laid-back, fun, and welcoming. Walls and ceiling are decorated with carved whales and a mermaid, along with signs and quarterboards from Nantucket businesses.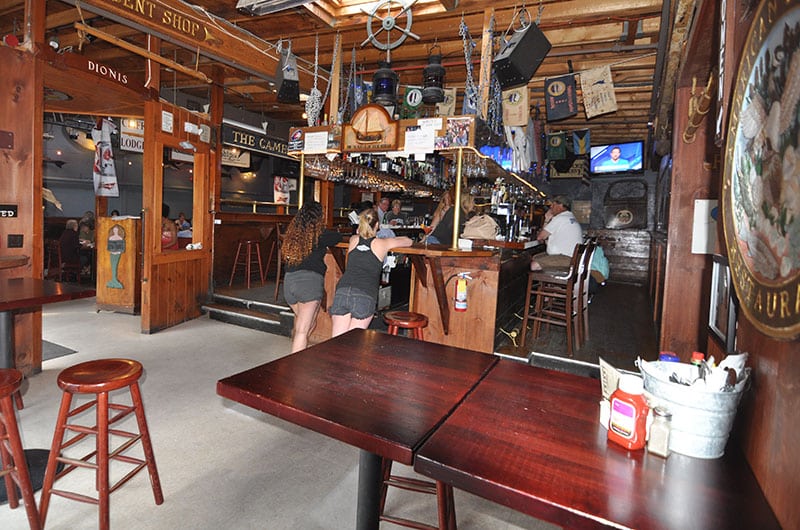 There's lots of room around the big U-shaped bar plus some additional seating next to the bar for when the place packs 'em in for karaoke nights on Thursdays and Sundays or DJs every other night and local live music every evening (don't miss Earth Got the Blues on Thursdays). By day, the walls open to convert the front dining area by the bar into an open air café, and it's nearly impossible to walk past the tempting aromas at lunchtime without wanting to go in and eat!
The Crown's bar is on a different level and separated from the dining area, so parents shouldn't be concerned about bringing little ones in for a meal. In fact, The Rose and Crown is very family-friendly till after 9 pm or so. There aren't a lot of island restaurants who welcome children or where you can feed a family without breaking the bank (meals plus a beverage for kids under 12 are just $7.99). If your child has tastes beyond typical kid menu fare, everything on the Bites section of the menu is under $7 and a bowl of chowder can be enjoyed for $5.99.
Hungry after a morning at the beach or a day shopping downtown? The Crown opens at 11:30 am every day, serving their full menu. New this season, they are offering their Entrees all day as well, so you can have your main meal at midday. There's a great selection of pub foods that will fill you up and make you happy — and most of them are under $17 and more than a dozen choices under $14!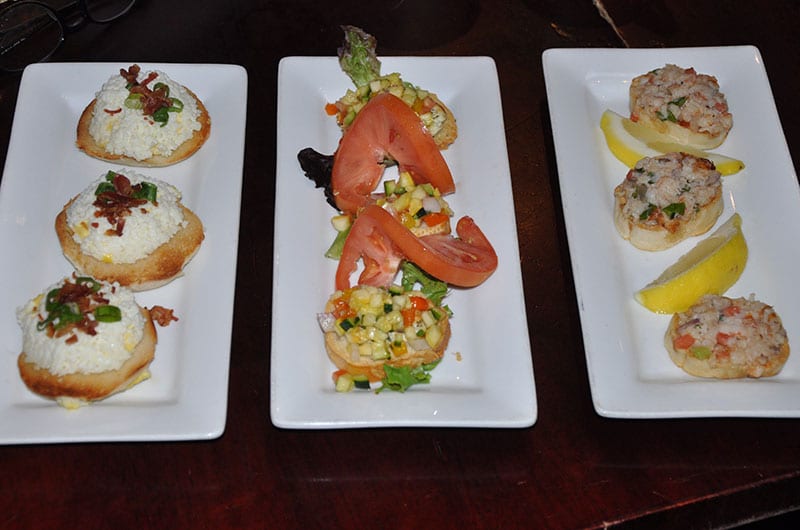 The "Bites" are perfect for patrons who just want a snack while they sip a cocktail. We tried every one of these—Grilled Shrimp Toast (right), Deviled Egg Toast (center), Toasty Cheese Bites (left), and Summer Vegetable Bruschetta. Each one is just a tasty bite or two, so we recommend you order a couple and share. We liked them all, but standouts for us were the Toasty Cheese Bites, warm one-bite pate a choux filled with housemade boursin—these are the sort of tidbits you could eat a hundred of at a cocktail party, and the Summer Vegetable Bruschetta, grilled slices of baguette with a schmear of their housemade boursin topped with tiny dice of fresh zucchini, summer squash, and red and orange bell pepper.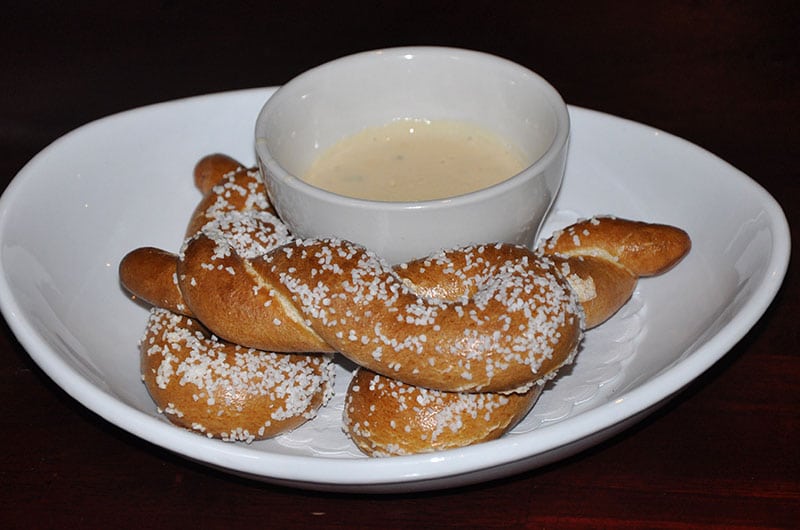 If you've stopped in for a cold brew, you've come to the right place! The Crown has a dozen on draft and another dozen in bottles and cans. If you'd like to try several of their drafts but don't want to indulge that heavily, order a Flight of Four. And while you're at it, order their Fresh Baked Pretzel Twists, served warm from locally made dough with housemade cheddar ale dipping sauce. Members of our team who grew up near Philly pronounced them "perfect pretzels" with just the right amount of salt. If your favorite part of a soft pretzel is the knot in the middle, you'll love these twists!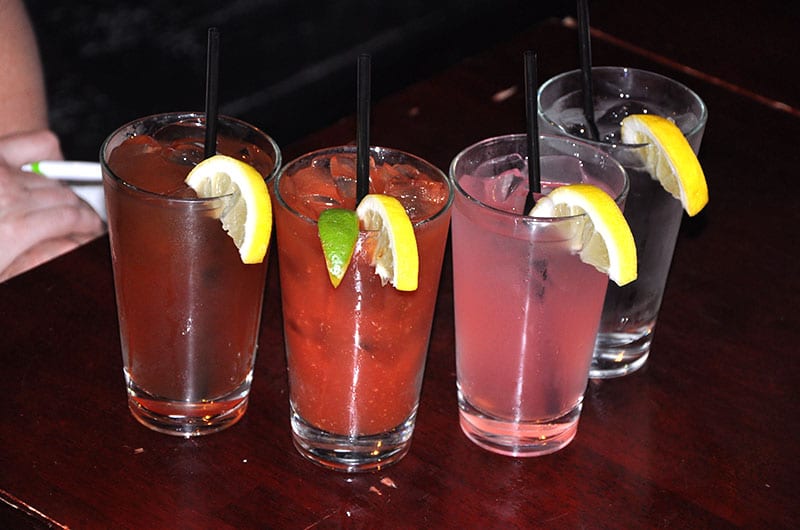 Crown bartenders can do far more than just pull taps. Their specialty cocktails are delicious, especially The Nantucket Sipper and The "Mikey Likey," named for the bartender who came up with it. After a day in the sun one of their refreshing mocktails might hit the mark. We like their summery Watermelon Ice Tea and The Virgin Spa Day with cucumber, mint, watermelon, and lavender.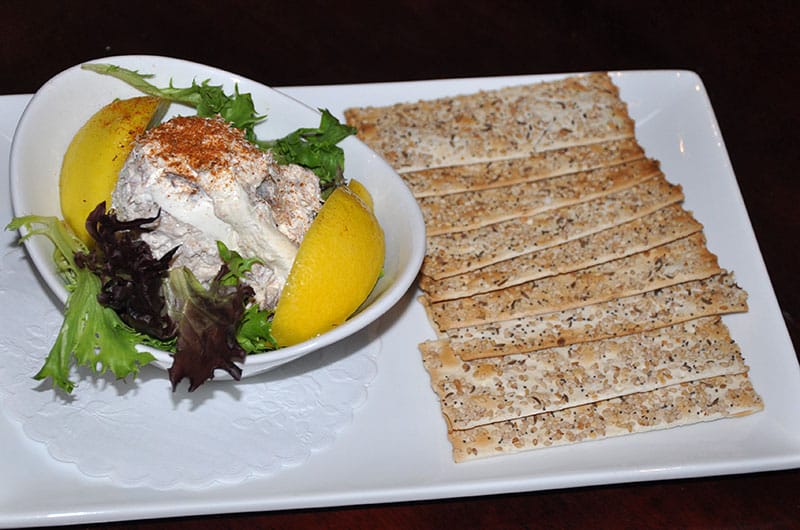 The Bluefish Paté is too much for one person, but it's another good choice for sharing around the table. It's got a perfect balance of bluefish, smokiness, and creaminess and is delicious spread on the lavash crackers served alongside. We like it even more with a squeeze of lemon.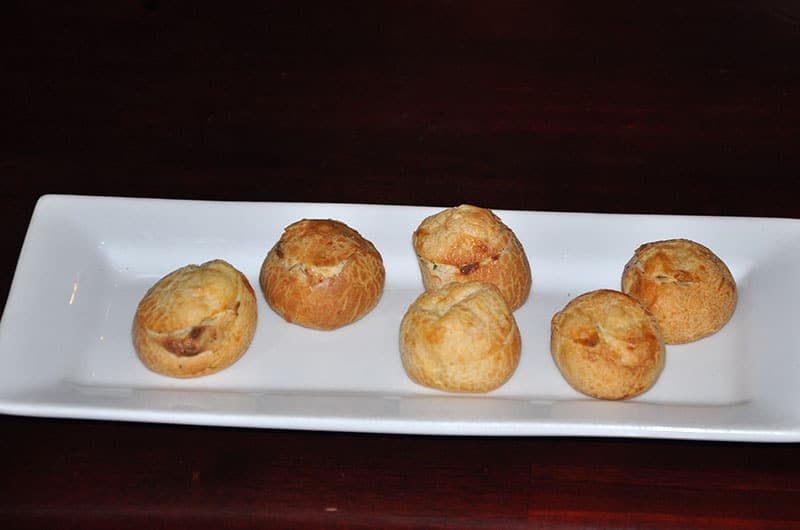 Another taste of the sea comes in with the Clam Fritters. Golden brown, crunchy on the outside and pillowy inside, these arrive piping hot. There's just enough tender pieces of clam to be flavorful but not overwhelming.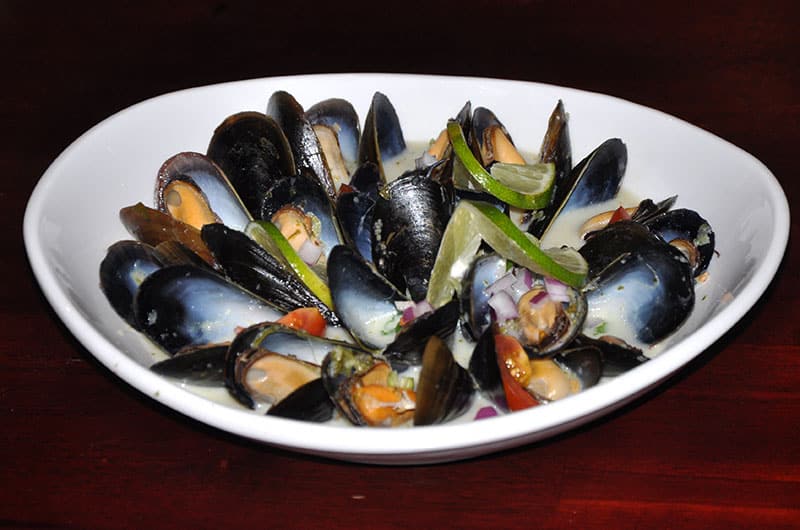 Or you can dive right into the local seafood with The Crown's Thai Green Curry Mussels. Locally harvested and very fresh, these tender morsels are served bathed in a luscious broth of coconut milk, ginger, onions, garlic, chiles, cilantro, and lime. Despite the chilies, the broth is smooth and flavorful rather than spicy hot, although there is some heat to it.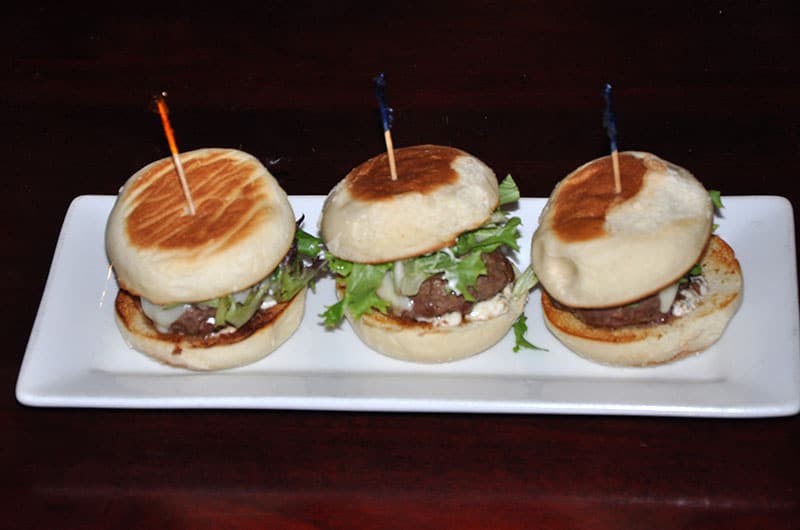 We were delighted to see the Grilled Lamb Sliders are still on the menu. These were our favorite from the Appetizer list last season and are every bit as good this season! Served three to a plate, the thick patties are juicy and flavorful, topped with bacon and melted provolone with greens and a dollop of chilled tzatziki. The buns are mini toasted Portuguese bread buns.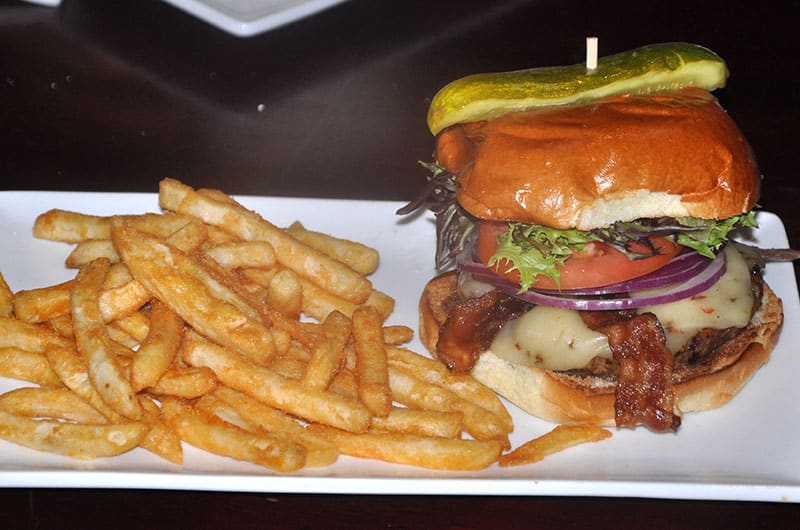 We can't offer enough praise for the Burgers at The Crown. You can BYOB (Build Your Own Burger), adding sauteed onions, mushrooms, bacon, and any of six different cheeses to your custom 8-ounce Angus beef patty (or garden burger or grilled chicken). Or you can choose one of the Specialty Burgers: the Smokehouse, the Hangover, and the Sriracha. The Sriracha Burger has more flavor than fire, but make no mistake, it is spicy! Sriracha is added to the patty and the mayo and the burger is topped with jalapeno relish, Pepper Jack cheese, bacon, lettuce, tomato, and onion. And the fries that come with the burgers and most of the sandwiches served at The Crown are superb! Crisp on the outside, fluffy inside, salty and hot. YUM!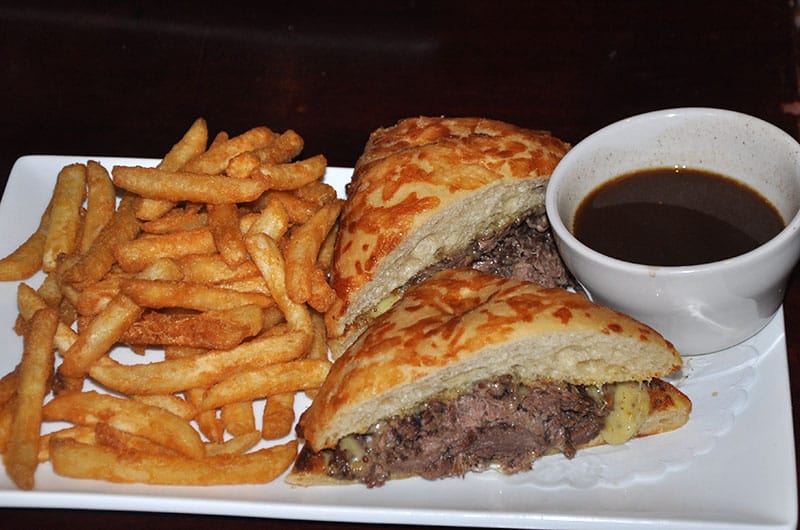 There are more than a dozen hearty sandwiches served at The Rose and Crown in addition to the burgers. We tried four and liked every one! The Braised Short Rib French Dip is piled high with deeply flavorful and very tender meat. The romano ciabatta roll is smeared with garlic mayo and ale cheddar is melting down over the beef.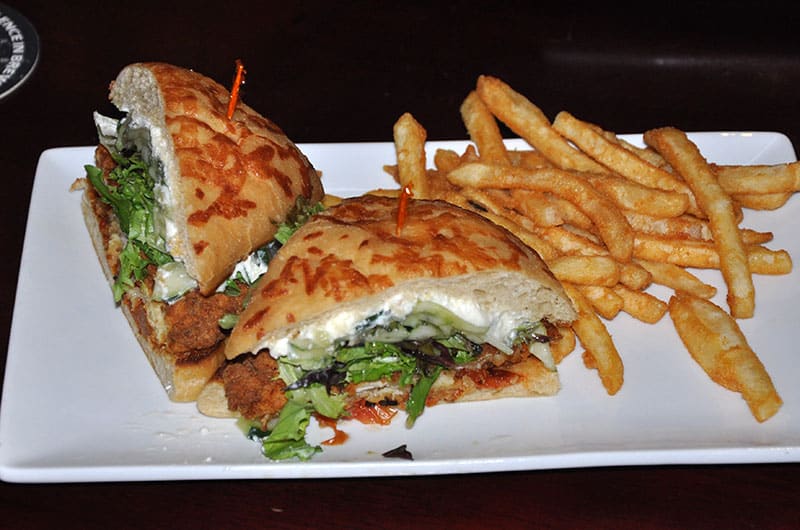 If you prefer chicken to beef, you'll love the Buttermilk Fried Chicken Sandwich. Goodness piled high on a ciabatta roll, this sandwich surrounds a pounded, moist chicken breast battered and fried with whipped feta spread, sweet roasted tomato, lettuce, and cucumbers marinated in mint.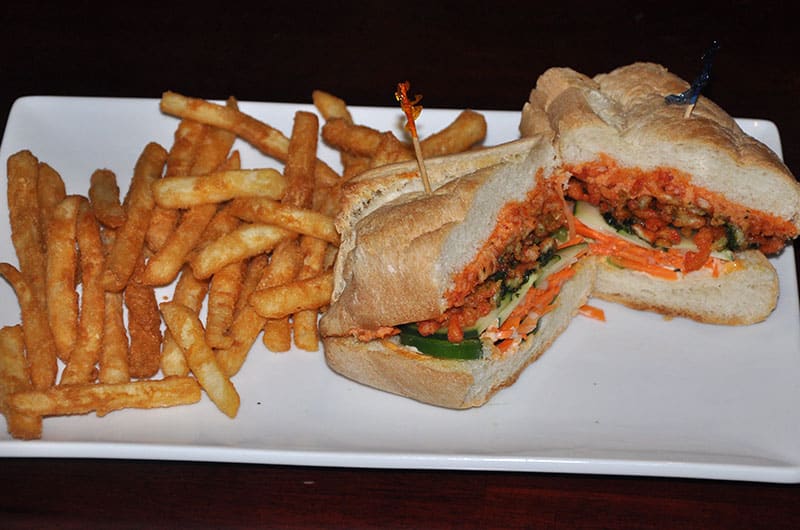 If you like some heat with your seafood, then order the Seafood Banhmi. There's a serious spark in this sandwich. Lobster paté and fried lobster legs make for a tasty contrast in texture. Pickled diakon, pickled carrot, jalapeno, and sriracha mayo with cilantro pureé add the heat.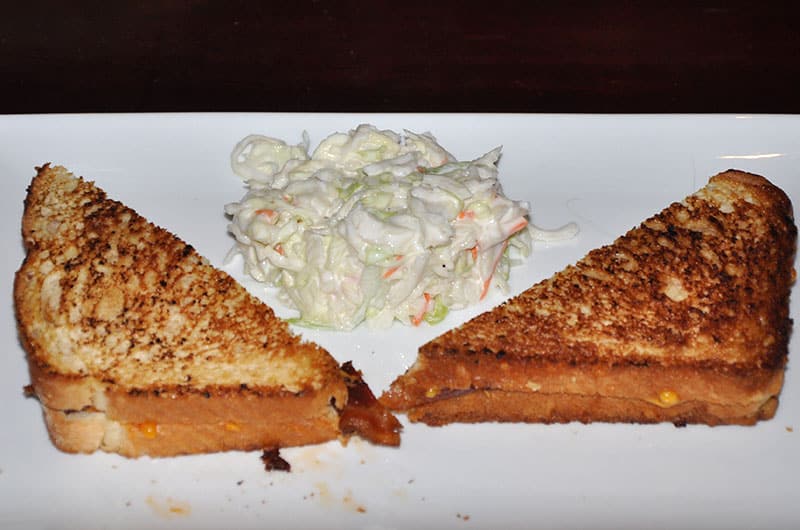 For something gentler but by no means boring, the Southern Grilled Cheese fits the bill. The hearty country white bread grills toasty and is filled with housemade pimento cheese spread oozing deliciously around a fried green tomato and bacon.
We suggest you pair this with the Summer Salad, greens tossed with strawberry lemon dressing and cilantro-mint oil and topped with melon, blueberries, cherry tomatoes, cucumber, carrot, scallions.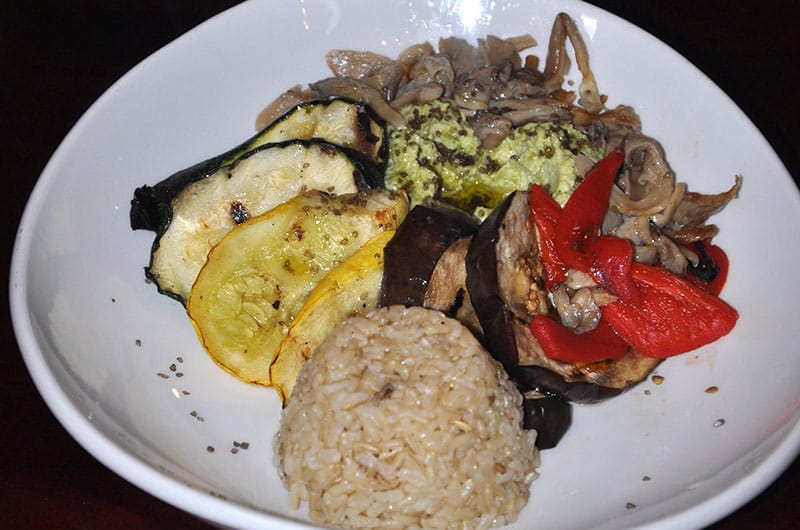 Also delicious and very summery is the Edamame Hummus & Veggie Plate. This vegan choice features roasted red pepper with zucchini, summer squash, and eggplant smoky from the grill and oyster mushrooms. Garlicky edamame hummus ties it all together.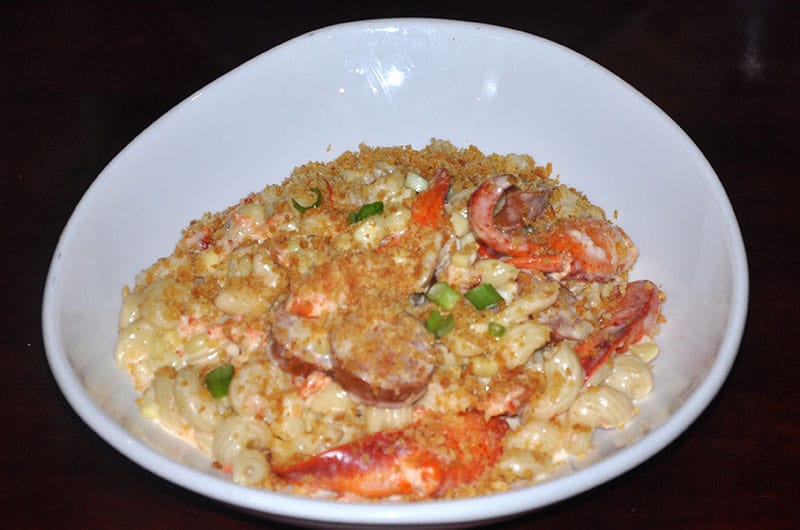 The Crown is famous for it's Lobster Mac & Cheese. We love the sweet pops of fresh corn kernels alongside spicy circles of linguica and tender chunks of lobster all folded into the luscious cheese sauce and topped with buttery crumbs.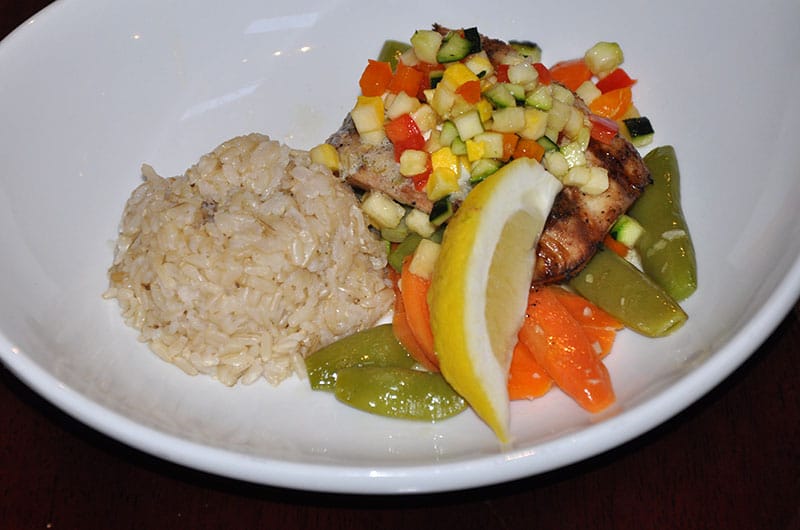 We'd be remiss if we didn't recommend two of The Rose and Crown's seafood entrees: their Grilled Mahi Mahi, served simply with rice and vegetables.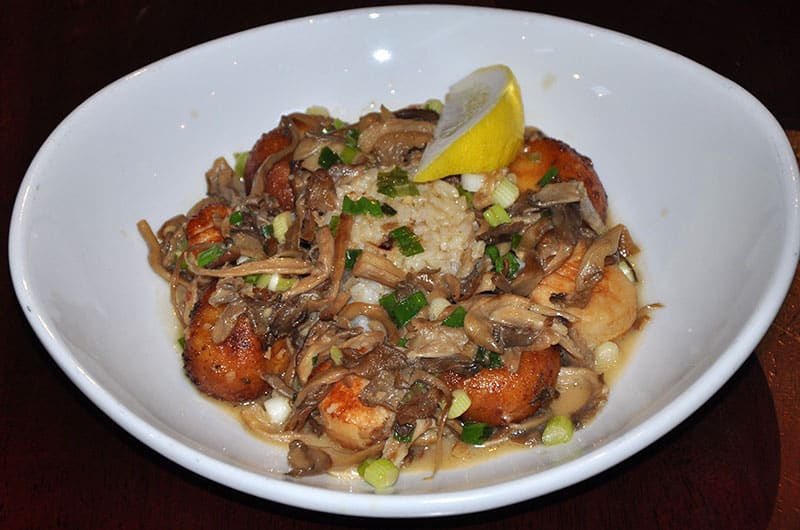 And their Gnudi & Scallops with soft ricotta dumplings delicious next to sweet fresh sea scallops and oyster mushrooms in sherry butter sauce. Both dishes demonstrate the kitchen's skill with seafood.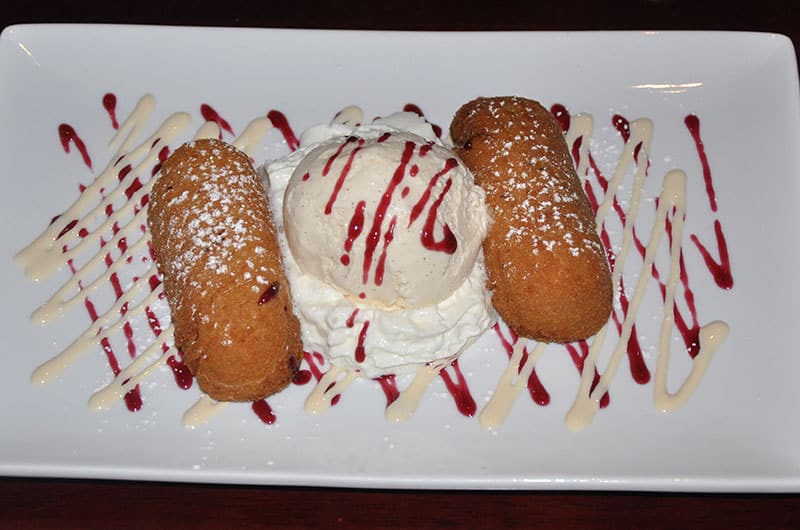 If you have room for dessert, the Deep Fried Twinkie…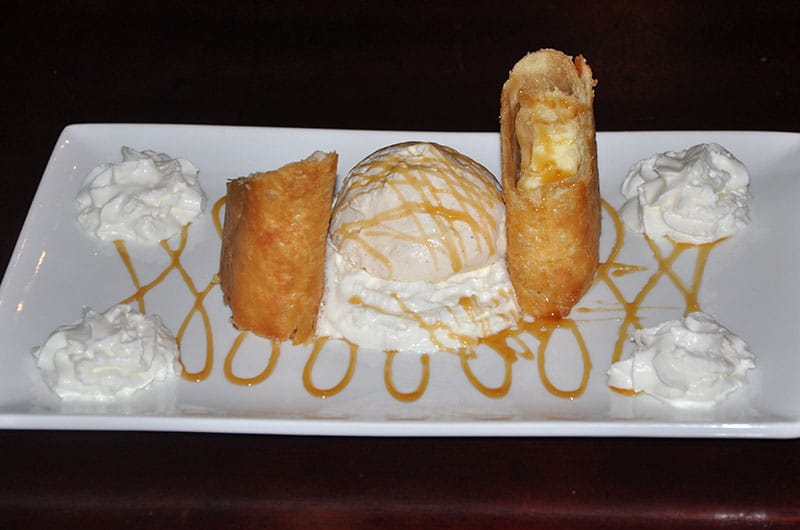 …and the Fried Cheesecake are as sinful as they sound, and you won't be able to stop eating either one!
Rose and Crown
23 South Water Street • 508-228-2595
theroseandcrown.com • Serving continuously from 11:30 AM
Entree prices range from $14.99 to $23.99, with burger platters, meal-size sandwiches, and salads for under $17
Bar open until 1 AM
Entertainment nightly • Air-conditioned • Children's Menu available
MasterCard, Visa, Amex accepted