by Suzanne Daub
Reubin Simantov was excited.
He was describing to me his newest donation to an island non-profit: a "Bedazzled and BeJeweled" catered dinner that he organized to be auctioned off during the Nantucket Historical Association's Nantucket by Design event. "I was brought up that when you have food on the table in a comforting and warm atmosphere, it brings people together… what better way to support an organization you believe in!"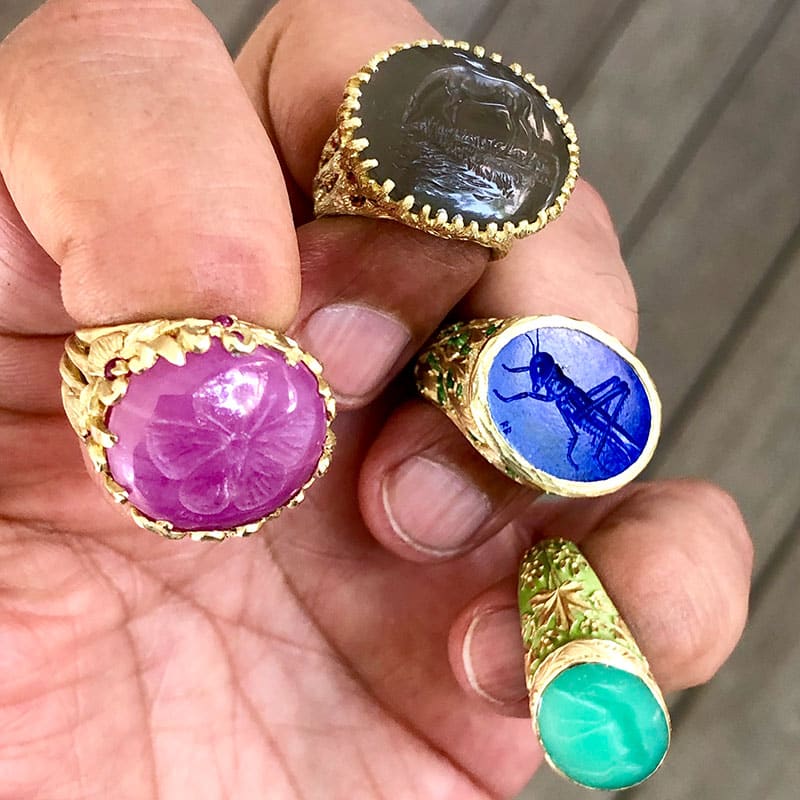 The dinner will be held among the shimmering gold and sparkling gems of his studio, where the unique hand-crafted jewelry he designs is displayed in museum elegance. His studio is not hard to find if you know where to look: a short stroll down the topiary-lined, winding brick walkway that leads you from South Water Street to the beautiful harbor views of Easy Street.
Simantov shies away from the title of designer, saying "My clients are the designers; I just help you discover what you want," he and his team of masters have revived techniques many jewelers have abandoned and refreshed them. "craftsmanship is my heart and soul," he explained.
A fascinating example of this is Simantov's Intaglio jewelry. The opposite of relief printing, to create intaglio, the artist must etch into a gem: a reverse cameo. Prized by collectors of antiques, intaglios are rarely made today. Reubin wants to change that. "It's the art of it that is my passion." His intaglio rings are carved in colorful stones with gorgeous carved settings, many adorned with tiny sparkling gems.
In his Nantucket gallery, he showed me stunning examples of this handcarved artistry: a stallion intaglio surrounded by a carved golden rope, a honeybee intaglio set in gold with orange sapphires, a delicate butterfly complete with veins of its wings and slender antennae surrounded by iris and purple sapphires. The carving can be custom-made to depict the wearer's hobby, vocation, favorite pet, or family. He has done family crests intaglio rings for an entire family, each with custom setting.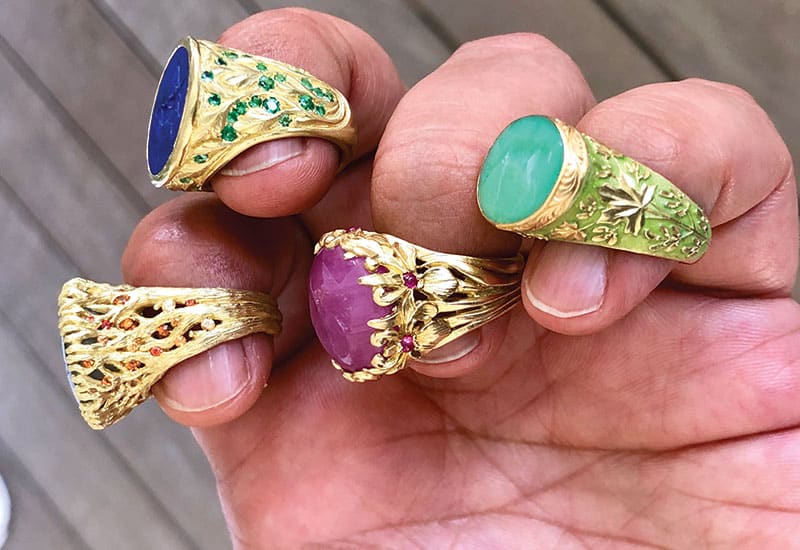 Simantov works closely with his clients, actually executing the designs in models they can hold, put on a finger to feel the weight and see how it will look. "I bring the customer in as the designer."
Just before I departed, Reubin motioned for me to wait. "I want to show you something very special that you've probably never seen before." He returned from his back room with two packageds wrapped in soft cloth; nestled inside were pieces of polished Persian turquoise, brilliant sky blue with no markings, stunning color and clarity with no visible matrix. They were stunning. It's a lucky client who engages Reubin to create using these rare gems.
While his beautiful new oceanfront location on Nantucket is seasonal, R. Simantov is opening a showroom in a classical townhouse at 19 East 75th Street, NYC.
Open daily at 14 Easy Street. Enter from Easy Street & you'll find R. Simantov behind The Haberdashery of New England. Enter from South Water Street, and find him at the end of the garden path to the left of the Beet.