by Stacey Bewkes of Quintessence
While many visitors travel to Nantucket for beautiful beaches, charming cobblestone streets, and rose-covered cottages, the island also holds a special place of significance in our country's cultural history. From entrepreneurs in the colonial whaling industry to civil rights leaders and the many artists who have flocked to its shores, Nantucket's small size does not aptly represent its importance in arenas as diverse as economics and the arts. And nowhere are these unique aspects of this New England port of call better illustrated than by the Nantucket Historical Association. With more than 24 properties on-island, 3,000 members, and more than 100,000 yearly visitors, the NHA preserves and interprets the history of Nantucket. With its famed Whaling Museum, historic homes and sites, notable collections, and extensive programming, the NHA helps to promote the island's significance and foster an appreciation of it among all audiences.
Celebrating its 125th anniversary this year, the Nantucket Historical Association was honored to kick off 2019 as the Loan Exhibitor for the prestigious 2019 Winter Show in New York City, the leading art, antiques and design fair in America. As the NHA's Gosnell Executive Director James Russell explained, "Our collection has been shaped for 125 years, and the items chosen for the loan exhibition have much to teach our generation as we admire the global accomplishments, entrepreneurial genius, and artistic skill of Nantucketers from the colonial period and the early republic through the present."
This week, the NHA is presenting its premier summer fundraising event. Now in its fourth year, Nantucket by Design celebrates the island's unique influence on American design with engaging lectures, lively panel discussions, and gatherings both large and small. Design aficionados flock to the island from near and far to attend the exciting three days of events.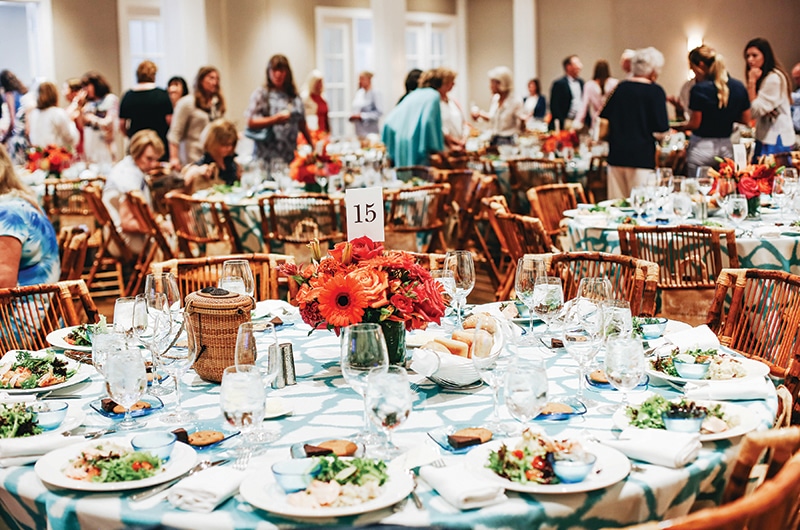 The festivities began the morning of Thursday, August 1, with a Design Luncheon at the White Elephant Village Ballroom featuring celebrated interior designer Bunny Williams, one of the most distinguished names in today's world of interior design.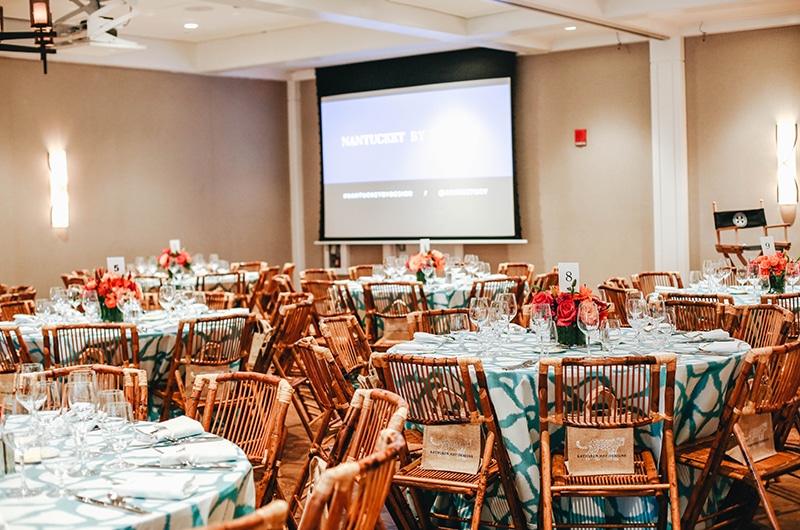 This year the Nantucket Historical Association and The Nantucket Summer Antiques Show have collaborated to hold both events this same week so design fans can easily attend both events. For those wanting to get a jump on the many offerings from the more than 30 fine antiques dealers from the U.S. and abroad, Thursday evening's Preview Party is a must. Cocktails and light bites are included as well as the opportunity to meet the honorary chairs, esteemed interior designers Richard Keith Langham and Alex Papachristidis and legendary antiques dealer and showrooms owner John Rosselli.
Nantucket by Design's popular Design Panel, held in the White Heron Theatre at 2 pm on Friday August 2, again features an outstanding cross-section of talent, with interior designer panelists Anthony Baratta, Christopher Drake, Cathy Kincaid, and Stewart Manger. Steele Marcoux, editor-in-chief of the Veranda magazine will moderate. Following the discussion, audience members can chat with the panelists at a reception and book signing.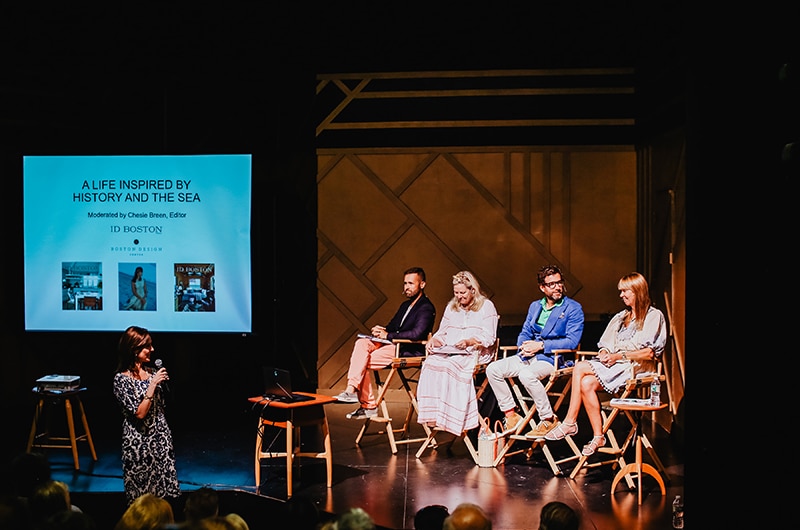 One of the most popular recent additions to Nantucket by Design is Friday evening's All-Star Private Dinners, where ticketholders are welcomed into NHA properties and private Nantucket homes for intimate candlelit dinners to dine with one of the renowned design luminaries.
Saturday welcomes two new exciting events to the itinerary. Setting the table is a form of everyday decorating that even amateur design enthusiasts can enjoy. At 10 am at the White Heron Theatre, a Tabletop Workshop led by Wendy Kvalheim, CEO of Mottahedeh, Margot Shaw, editor-in-chief of Flower magazine, and Kim Merlin of KKM Design Group will show attendees creative ways to set a stunning table and design a beautiful centerpiece. Following the workshop, Wendy and Margot will be signing their books, From Drawing Board to Dinner Table and Living Floral, respectively.
The final talk at 11:30 am will follow the Tabletop Workshop in the White Heron Theatre. Debbie Propst, president of One Kings Lane, will moderate "There's No Place Like Home." Joining Debbie, brand consultant Anne Hardy of Hardylon, renowned designer Alex Papachristidis, and I (Stacey Bewkes of Quintessence) will discuss a hot topic in the world of design today: how the concept of "home" has evolved in a world driven by social media, online shopping, and digital convenience. Learn how designers, press, and consumers now approach decorating with the overwhelming availability of product and inspiration. Tickets for both new events are still available at nha.org.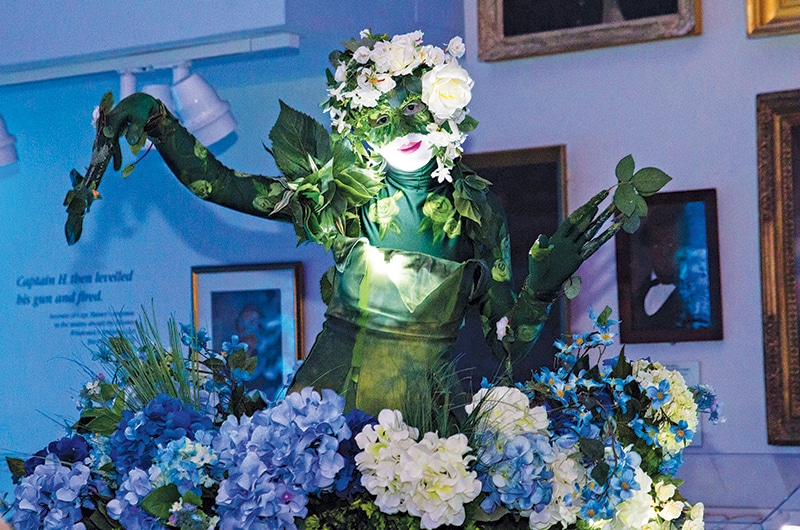 The last ticketed event of 2019's Nantucket by Design is the Saturday night gala A Night at the Museum, with this year's theme, "Lost at Sea." The Whaling Museum will be transformed into an unforgettable party venue set amid Nantucket's maritime history. With amazing food, delectable cocktails, rooftop views, and dancing to the retro 70s sound of Yacht Rock, it promises to be a castaway chic night to remember. A silent auction at the gala includes rare pleasures such as Be Dazzled and Bejeweled: a magical evening with cocktails and an elegant catered dinner for 12 served in the exquisite setting of the Simantov Studio overlooking Easy Street Basin and Nantucket Harbor, surrounded by fabulous flowers and decor. Donated by Reubin Simantov. Tickets to the gala are still available at nha.org, but going fast.
To meld the island's history with the power of design, Nantucket by Design is again collaborating with the New York School of Interior Design. Each year, Ellen Fisher, NYSID Vice President of Academic Affairs and Dean, invites four students to reimagine the two main rooms in Nantucket's Oldest House on Sunset Hill. Stop by from 11 am to 4 pm through August 3 to see the creative reimaginings of these talented design students. Admission is included with the purchase of an NHA Historic Pass and free on Saturday, August 3.
Also during Nantucket by Design, an exhibit of limited edition giclée prints by celebrated illustrator Jeremiah Goodman will be in the Sherlund Conference Room at the Whaling Museum on Broad Street. Goodman's glamorous representations of iconic interiors belonging to such luminaries as Diana Vreeland, Betsy Bloomingdale, Billy Baldwin, and more.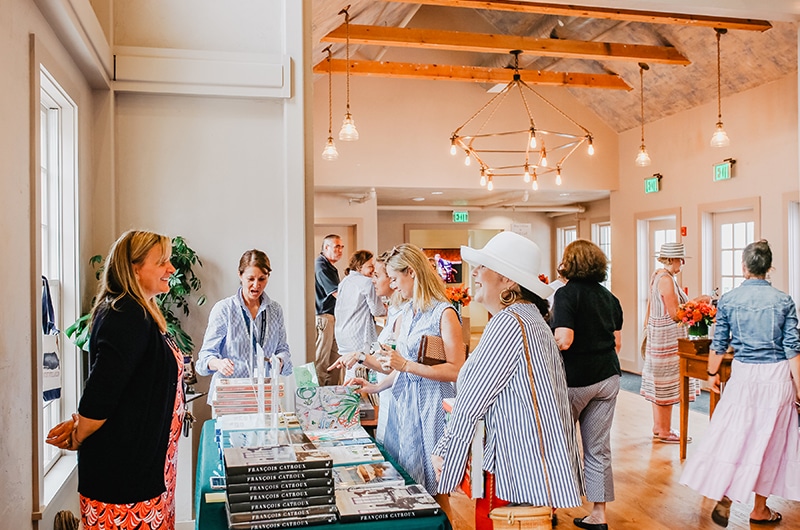 Nantucket by Design also extends its reach with a Pop-Up Shop in the Whaling Museum Discovery Center, where specialty brands will be selling their luxury wares Leontine Linens, Scotstyle, Leigh Deux, Harvey Traveler, and Nantucket's own Susan Lister Locke with her elegant collection of island inspired fine jewelry.
On-island shops will also be contributing to the fun on Saturday, August 2 from 4 to 5:30 pm with late afternoon sips & nibbles to celebrate Nantucket by Design—visit R Simantov Fine Jewelry down the topiary-lined path from South Water Street to 14 Easy Street and Susan Lister Locke in her harborview gallery at 25 Easy Street, along with others listed at nha.org. You can also celebrate Nantucket by Design with the NHA's partner, Olivela, at 25 Center Street. From August 1 to 3, 20% of the proceeds of everything you purchase at the boutique will go toward supporting the NHA.
Each year Nantucket by Design continues to grow with exciting new programming. While some of the 2019 events are sold out, tickets are still available to many Nantucket by Design events at NHA.org.