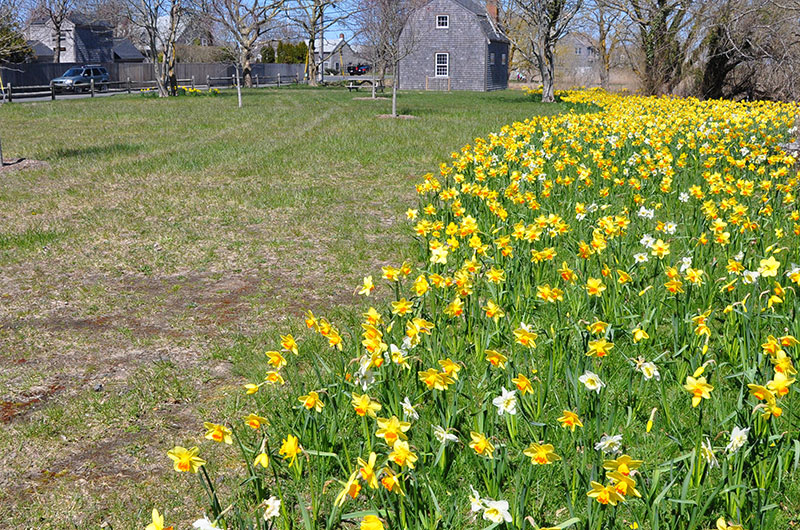 Charles Arthur Schaefer always knew he was born to be a gardener, even when the only space he had was in a pair of windows facing west in his old Greenwich Village apartment in New York. He filled them with a jungle of exotic plants that thrived to the point where they were overflowing.
In the 1970s, he began to spend summers on Nantucket with his life partner Donn Russell. They purchased land near the center of town and built a cottage at one end and a studio at the other. Arthur immediately set to designing and plotting a floral garden area in between. Over the years, his garden was frequently photographed and featured. Schaefer experimented with many varieties of plants, but his roses were the most popular of all.
After he died in 2014 at age 101, his closest friends decided to honor his memory by organizing as a group to beautify public areas downtown. First on the list was the rose garden with sundial planted in a niche beside the new wing of St. Paul's Church on Fair Street, where he was a member for over fifty summers.
Last fall, thanks to a donation from Russell, Town Arborist Dave Champoux and company worked to beautify another parcel in memory of Schaefer: property at 86 Union Street that The Nantucket Land Bank purchased for public use and enjoyment from the Glowacki and the Gaillard families. At just over an acre, this land near Consue Springs is open space with an historic horse barn dating back to 1890. Champoux's team planted flowering cherry trees, Swamp Maple, lilacs, and 5,000 daffodil bulbs.
This April, the daffodils all bloomed, and the wide swath of bright yellow, orange, and white blossoms near this busy corner put smiles on many faces of people walking and driving by. Schaefer's friends are already calling it "Arthur's Park."