• by Sarah Teach •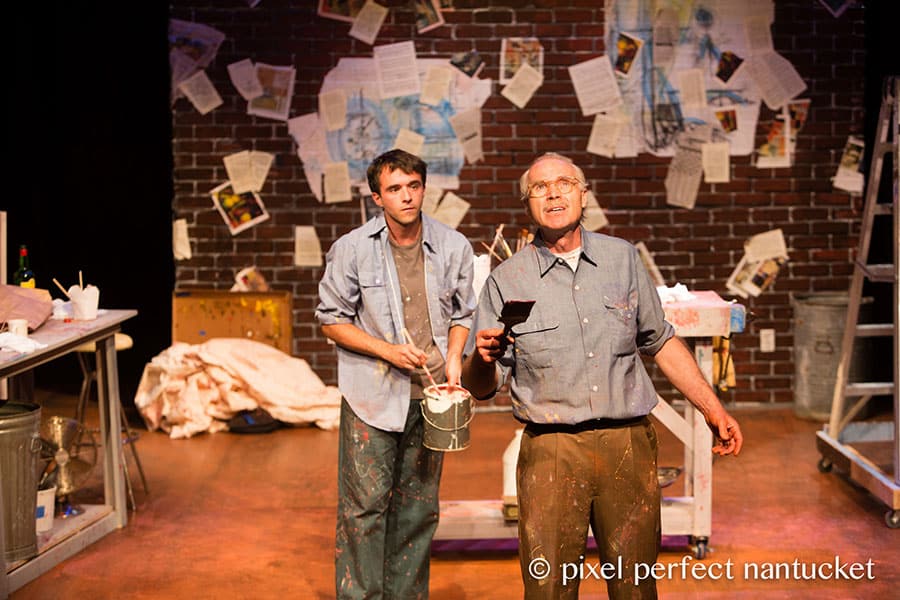 Twentieth century artists frame the fall lineup at Theatre Workshop of Nantucket. Showing in repertory with Jeffrey Hatcher's A Picasso is playwright John Logan's Red, which dramatizes a defining period in the life of abstract expressionist painter Mark Rothko.
A Picasso and Red share the same production staff. Both sets were designed by Peter Waldron and decorated by Anne Breeding and her assistant Karina Meijs; and both offer a highly realistic interpretation of the moments at hand. For the Red set, TWN brought in artistic consultant Miguel Hernández, who gives us the studio of an organized madman: paper plastered haphazardly to the walls, paint cans lined up neatly, chaos swirling with order. We see exposed brick walls in a time before they became fashionable, and paint-splattered everything. Sandra Galley's lighting design breathes life into the red elements of the set, which we do not notice until they are emphasized by light.
Rothko, a polarizing artist, painted impressionistic works that appear quite simple to the untrained or misunderstanding eye. Even so, there are plenty of pairs of trained and understanding eyes that also dissent Rothko's work, naming its simplicity a flaw. Some works were improbably minimal, visually (think large monochromatic canvases), but still managed to speak to thousands of people across the planet. Therein lies the artist's genius, according to his devotees. "Order. Method. Boundaries," says Rothko's fictional assistant Ken of his employer's methodology.
This playwright's Rothko is filled with a rage that predisposes him to see red in an instant, without much prompting. He also seems to suffer from a form of manic depression. Unlike Picasso, whose creative energy was leeched from those around him, Rothko drew his artistic force from within. (Playwright Logan captures this element of Rothko in a variety of ways. At one point during Red, Ken (Vince Veilleux) asks, "Not so much for small talk?" The great artist responds coldly, "It's small.")
Like all artists, Rothko struggled with the balance between making money and keeping his art genuine. As we witness in this play, Rothko was once offered a huge commission for paintings that would hang in the swanky Four Seasons Hotel. He thought they'd be displayed in the lobby, but discovered they were destined for the hotel restaurant. Rothko, evaluating the restaurant's diners the way an animal sizes up another of its kind, mockingly describes their aura like so: "A desperate sound, like forced gaiety under gunpoint."
Under Patrick Walsh's direction, it's easy to buy Vince Veilleux as Ken, Rothko's eager assistant, who is an aspiring painter. Veilleux's youthful energy melds well with this role. Sean McGuirk's Rothko begins as unlikeable, unkind. He is a harsh man; and even if we like his art, he's not someone whose friendship we'd enjoy. But finally, the playwright gives us resolution, and the script allows a turn in the way we view Rothko. I wouldn't say he becomes likeable, but he does become less unlikeable. He is tortured; we see that throughout the whole play. But it isn't until the end that we really understand how deeply Rothko cares for his work and how much meaning is packed into it. It's not just red. It is everything. And if we appreciate it, then we become a part of its very creation.
Unlike the play A Picasso, which is showing at TWN in repertory, Red requires some background on its artist subject. Those who know nothing of Rothko will not find this play as enjoyable as Rothko scholars. Red runs 90 minutes with no intermission. It is showing at Bennett Hall until October 11. See theatreworkshop.com for show times and for tickets, which are $30. Tickets may also be acquired by calling the box office at 508-228-4305.