by Rebecca Nimerfroh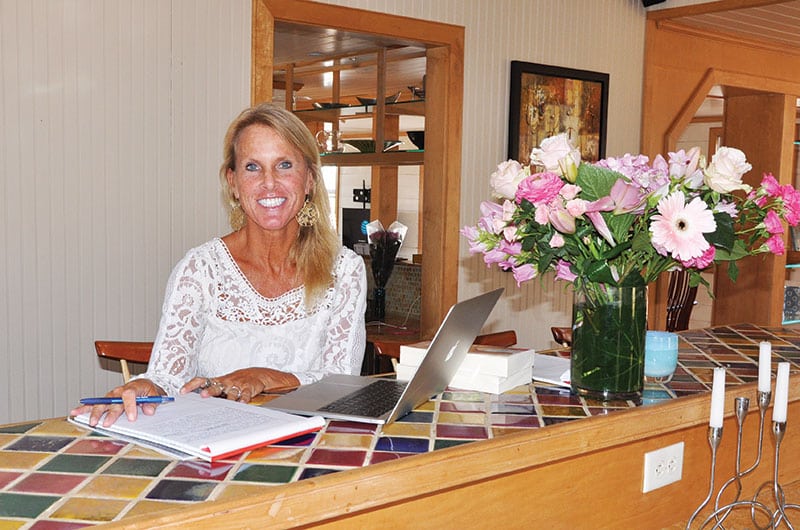 The year was 1993, and Elin Hilderbrand, the New York Times Best Selling Author and Nantucket year-round resident had yet to pen a single book, nor had she stepped foot on this precious elbow of sand we call home, but she felt a pull at her internal compass nonetheless, and called the local paper to send her the classifieds section.
"It was before the internet!" Elin laughs as we sit together at a table at Lola41, where over delicious chicken salad sandwiches Elin tells me the story of how she became known as "The Queen of Beach Reads" and one of Nantucket's most recognized residents.
"I called the numbers and found a room in a house on Hooper Farm Road," Elin says, who had the summer off from her teaching job in West Chester, New York. "I thought it was heaven on Earth!"
Her very first week on island, Elin was introduced to the man who would become her husband, and the father to her three children, Cliffside Beach Club Manager Chip Cunningham. They married in 1995, and, after leaving her teaching job in New York, she and her husband settled into island life, enjoying summers on Nantucket, and winters backpacking the globe.
Having always wanted to be a writer, Elin applied, and was accepted to the world-renown Iowa Writers' Workshop, where she spent the next two years surrounded by fellow writers, cornfields, and not much else.
"I was miserable in Iowa," Elin says. "They had free therapy and I went every week. Basically I was crying because this was not Nantucket. My husband and my best friends were all at home where there's good restaurants, and everyone is fancy, and everything is very elitist, and I like it that way!" she says with a smile. And perhaps it was this very sadness and longing that motivated Elin to begin a novel which took place on her beloved island so many miles away. "Finally I started writing The Beach Club," Elin says, "Because I was like, I need to start writing about Nantucket. It was like therapy."
In one of her last classes, an instructor introduced the class to an agent named Michael Carlisle. Having personal ties to the island of Nantucket, he asked who in the class was writing a book that took place there, and Elin raised her hand. Michael gave her his card, and asked that when she was finished her manuscript, that she send it to him. Elin returned home, finally, completed her novel, and sent it to Michael, and upon reading, he offered to take her on as a client.
The rest would soon be history, as Elin would become a figurehead for the beach-reads nation, vacation-bound women everywhere, or simply those who wished to be. On the heels of her 18th book, Elin embraces her celebrity status graciously, always offering an autograph or friendly conversation to fans who recognize her and approach her to say hello. "What's the alternative?" she laughs. "I don't take it for granted."
At the time of our meeting, Elin is fresh off the "Weekend with Elin Hilderbrand" hosted by the Nantucket Hotel, a three-day weekend in January in which fans can get a tour of the island hosted by the writer herself during which the places in her beloved books are identified, along with several other activities like a book signing, wine and cheese meet-and-greet, and even a trivia game, where the winner will have her name appear in the next book.
Elin explains that for her devoted fans, the experience was like a visit to the Galapagos. "When you get there you take a million pictures of the seals, and then by the seventh day you see the seals and you are like, 'Why would I take a picture of the seals?' That's what its like, like day one with the seals. They are freaking out—and I'm signing away, and everyone wants a picture. It's so nutty."
Elin is happy to report that the 175 women who came to the island for this special weekend brought commerce to otherwise relatively dormant businesses, like local shops, restaurants, and even were responsible for the sale of $2,500 in Nantucket Whalers gear, both t-shirts and sweatshirts that benefit Nantucket Public School Sports Teams, in a record 45 minutes. "It was amazing," Elin says, explaining that in subsequent years she hopes to include even more businesses in the festivities.
As it turns out, Elin is one powerhouse, always dreaming of her next novel, of which she writes on a legal pad she keeps in her oversized purse. A paragraph written in her car as she waits in the school pick up line, or a scene written from her lounge chair by the pool at The Nantucket Hotel, Elin writes her next best-seller, word for word, longhand. "I'm never not working," Elin says. "Even when I'm sitting here with you, it's working."
But the workhorse that she is was seemingly almost derailed, when a lump discovered in her breast was diagnosed as cancer. Having to undergo a double mastectomy at Mass General Hospital, Elin says, "It's basically a trust fall. What else can you do?" Ironically, this diagnosis came at the same time that Elin's book The Matchmaker was released, a novel about a woman with terminal cancer. "I had done all this research. I had done events for the American Cancer Association, and I was even planning on cutting my hair, and I'm so into this character, and I'm really feeling this, and two weeks before the book came out I was diagnosed. I was like, this is so weird." Elin was invited to come on the CBS This Morning with Gayle King to talk about the experience, something she now does every year before her next summer beach read is released to the eager public. Now back in perfect health, Elin says simply, "I survived, and everything is fine."
For Elin, who grew up in the suburbs of Philadelphia, New England summers were the epitome of happiness. Her family vacationed on Cape Cod, but at the age of 16, when her father, Robert Hilderbrand was tragically killed in a small plane crash, these summers ceased to exist. Elin, who longed for those summers, and for the memory of her father, vowed to find a lifestyle that would be conducive to beachside life. "I always felt like I wanted that summertime back, so that was part of my reason for moving to Nantucket year-round."
Having called Nantucket home for over twenty-three years, it is clear she still finds joy in the simple pleasures this island offers. On any summer day, Elin says she can be found at the beach at Rams Pasture, because it is so quiet, or poolside at The Nantucket Hotel, her "home away from home."
"Nantucket is the standard by which all New England towns should be judged," Elin says with a smile. "Because everything about this place has been done properly." And if one knows anything about Elin's work as an author, they could easily argue the same about her as well.
To see Elin's complete portfolio of novels, visit elinhilderbrand.net.