From the 1950s through the 1970s, artist Andrew Shunney was very much a part of the Nantucket art scene, with a gallery on Straight Wharf and later showing at the Lobster Pot Gallery with other artists, including Mary Sarg- Murphy, Irmgard Arvin, Ralph Cahoon, Elizabeth Saltonstall, and Roy Baily.
The Nantucket Historical Association (NHA) and Artists Association of Nantucket (AAN) are pleased to announce they have just purchased significant pieces by this artist to add to island collections. The acquisition by both organizations includes five works of art by Shunney. The NHA acquired two of the works thanks to Patricia Anathan, NHA board member and collections and exhibitions committee chair, and her husband Thomas Anathan. The AAN acquired the additional three pieces through Peter Steingraber, AAN board member and exhibit committee chair.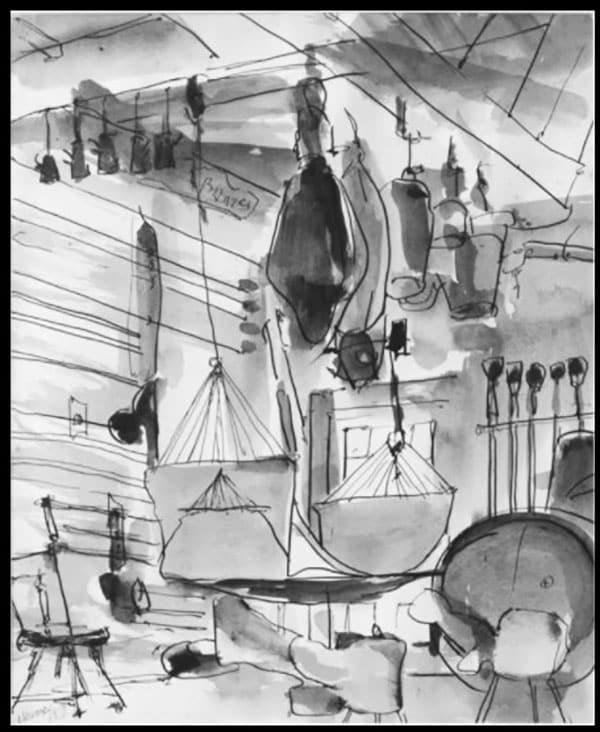 Of the five drawings, executed in a fresh, relaxed yet deft ink wash with pen accents, two feature interiors. One is a view of the Nantucket Historical Association's Sanderson Hall, filled with collection objects, the other is an interior of Nantucket's beloved Atheneum. Both will be added to the NHA's collection. The other three represent exterior views, two in Nantucket Town and one of a farmhouse and outbuildings on the moors. Shunney was an accomplished oil painter and watercolorist, but the present drawings represent the first black-and-white studies by him in the NHA collection.
Of the gift, Patricia Anathan says, "We were friends with Andrew Shunney, so this is meaningful to us. We are happy that two great Nantucket institutions will share this wonderful group of drawings. We are thrilled that the drawings will stay on the island and will be available for everyone to enjoy."
"This was a wonderful opportunity for both groups to share the work of a significant Nantucket artist," commented Steingraber. "Each of us was able to add to our own permanent collections. It was a true win-win situation."
Shunney studied under Diego Rivera and then moved to Paris for inspiration in the work of French Impressionists. The artist summered on Nantucket from the early 1950s until his death in 1978.
By working together, the NHA and AAN are excited to build their respective collections and ensure important works by Andrew Shunney and many others remain on island. The NHA and AAN are also partnering this year to present the outdoor sculpture exhibit at various downtown locations, The Art of Seward Johnson, whose lifelike bronze sculptures have been exhibited internationally for decades.