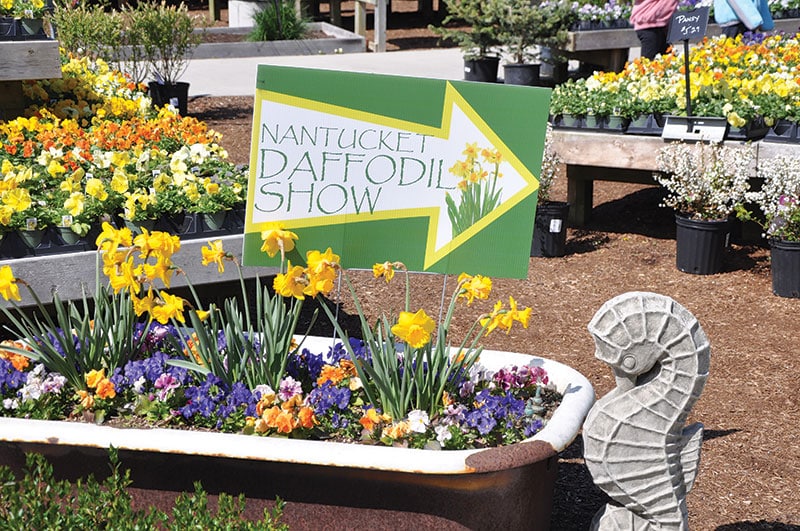 We all love Daffodil Weekend on Nantucket for the wonderful memories it has given us over the years. This year, there's even more to love!
Break out the magnifying glasses and fingerprint dust, and gather your favorite people for a daffy-themed scavenger hunt with prizes that will rock your summer! Teams for the new Daffodil Scavenger Hunt may consist of up to six people (one of whom must be an adult). Scour the downtown area for answers to questions in the Scavenger Hunt Clue Brochure, which you can pick up at the Nantucket Island Chamber of Commerce office, upstairs at Zero Main St. on Friday, April 26 from 9 am-5 pm or Saturday from 9 am-4 pm. Correct answers to all 20 questions give the team a chance to win sensational prizes that include fishing charters, kayak rentals, lobster dinners, island tours, passes to museum properties on the island, and more.  Answers must be returned to the lock box outside the Chamber on Monday, April 29 by 9 am. The cost to participate is $20 per team. For details, contact the Chamber at 508-228-3643.
The new Children's Beach Family Picnic, organized by the Nantucket Chamber of Commerce on Daffy Fest Saturday from 1 to 3 pm, is ideal for families with young children who may not be game for riding out to Sconset. The fooods for here & there food truck will be parked on Harborview Way, selling bountiful picnic lunches.  Bring your own blanket or sink your toes into the sand and enjoy a free live concert as your little ones enjoy "mini manicures" and balloon animals. Live performers include The Shepcats, Timbukblues, and Caleb Kardell and his Melodica Band.  The Nantucket Hotel & Resort will provide free rides around Brant Point in an antique fire truck. Families can also hear Pirate Robin of Raven's Walk tell tales about the legends of pirates who sailed the waters around Nantucket.
There's even a new award to be presented at the .  The Sconset Trust Award is a Nantucket Garden Club Award to be given to the Best standard daffodil from any section with white perianth and colored cup from Divisions 1, 2, 3, 4, and 11 including vases of three and collections.  Expertly crafted by Scott Marks and Tracy Murry of Nancy Chase Ivory, the beautiful handmade wooden box adorned with exquisitely carved and scrimshawed ivory will join the Garden Club's collection of locally made awards.  You can see the awards and the many gorgeous daffodils at this year's show, Saturday and Sunday, April 27 and 28 at Bartlett's Farm.