• by Frances Ruley Karttunen – author of Nantucket Places and People series •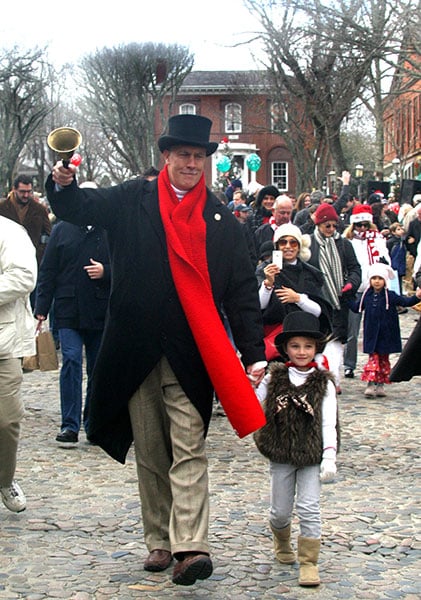 For three decades Town Crier Curtis Barnes walked up Main Street ringing in Daffodil Weekend, the Fourth of July, the lighting of Christmas trees on Main Street, and Christmas Stroll.  His English Air Raid Patrol hand bell was originally used to warn of approaching enemy planes. In happier times Barnes and his bell have been called upon not only for general community jollification, but for such personal announcements as a marriage proposal on Main Street. Through it all, his big voice and formal attire—tricorn hat, ruff, scarlet waistcoat, and breeches—have been emblematic of Nantucket's public events.
At Nantucket's 2010 Christmas Stroll, Barnes passed the honor to Eric Goddard, who has taken up bell and costume to carry on as the island's town crier.  The Nantucket Island Chamber of Commerce has bought him a bell, and he has put together his own crier's attire.
There has been a long history of town criers on Nantucket. culminating in a pair of criers, one of them the colorful William D. "Billy" Clark, who carried the tradition straight into the early years of the twentieth century.
The custom of shouting public announcements has been going on since humanity began congregating in towns and cities.  Before the advent of printing, the way to spread news was for men to walk the streets informing townspeople.  As early as the twelfth century there were organized town criers in France.  Town criers were a feature of Elizabethan England, making an appearance now and then in Shakespeare's plays.
Probably Nantucket's most organized criers were the fire wards who kept nighttime watch over our highly flammable town.  Despite their vigilance, the entire center of town with all its wharves and storehouses went up in flames one July night in 1846.
Then there were the volunteer watchers who kept a sharp eye out for returning whaleships and ran to announce their impending arrival to captains' wives, who would reward the first who brought the news with a bright silver dollar—hence the name of New Dollar Lane, which leads into town from the vantage point of Mill Hill.
Other criers were professional auctioneers who could be hired to shout advertising announcements for local businesses.  Since they often carried a bell to get attention before they began a shout, such advertising men were known as bellmen.
Nantucket's first newspaper, the short-lived Nantucket Gazette, was founded in 1816 and had many successors.  Although the papers carried local advertising, they did not put criers out of business.  Nantucket never had a daily newspaper, and criers could handle information that needed to get out before the next weekly or biweekly issue came off the press.  For example, an 1875 event at the Atheneum had to be rescheduled at the very last minute, and the situation was saved through "hasty notice by the town crier."  By the time the paper came out, the event had taken place with a full audience.
Not only did criers offer the advantage of immediacy, they were also a source of news to people who could not read.  Public schools did not open on Nantucket until the latter 1820s, and a segment of the adult population remained illiterate to the end of their lives.  Newspapers were, moreover, problematic for people with vision impairment.  For these and other reasons, Nantucketers continued to patronize their town criers throughout the 1800s.
In those days the criers generally did their work in their everyday clothes, but like their fancier twentieth-century successors, they carried bells or horns to get their listeners' attention.
Among the known Nantucket Town Criers of the 1800s were Charles Murphy, Timothy Riddell, Joseph Coffin, Stephen Macy, Charles Chase, Walter Chase, William B. Ray, Alvin Hull, and Billy Clark.  Ray was a Civil War veteran, as was Hull.  Despite the town's precipitously declining population, Ray, Hull, Clark, Walter Chase, and Charles Chase were all criers during the post-Civil War years.
Charles Chase, Walter Chase, and William Ray ended their careers in the 1870s, and from then on into the new century, the work was carried on by Alvin Hull ("Doctor Hull") and Billy Clark ("Mr. Clark to you, madam.").
Although the men's lives ran in parallel, their circumstances were utterly different.  Like many Nantucket boys before him, Hull went whaling while still a teenager.  His first voyage, begun in 1862, was cut short almost before it began, however, when the schooner Rainbow had to abandon cutting in its first whale and run to safety with a privateer in hard pursuit. As soon as he made his way back home, Hull joined a group of twenty-five Nantucket men enlisting in the Union Army to fight in the Civil War.
Initially serving in Company 1 of the 20th Massachusetts Infantry, Hull distinguished himself in service at Antietam and Harper's Ferry and returned unscathed to Nantucket.  He married and then fathered seven children—to support his family in their house on Darling Street, he went back to sea, working on coastal freighters, fishing off the Grand Banks, and serving on the South Shoals Lightship.  He gave up the sea in the 1880s and took on the duties of town crier, town bell ringer, and custodian for the Pacific Club.  From 1890 on, he also received a government pension.  In Nantucket's first business directory, published in 1897, he is listed as town crier and bill poster.  He kept working right through the morning of August 10, 1906, when he died suddenly of a heart attack in the Captains' Room of the Pacific Club.  He was buried in Prospect Hill Cemetery with a military headstone.
Billy Clark was born in 1846, just one year after Hull.  When Clark attempted to enlist in the Union Army, he was rejected as unfit for service and sent home to Nantucket, where he spent the war years crying news of battles and casualties to anxious Nantucketers.  Hence, his long career as a crier began in the 1860s, two decades before Hull's.  Like Hull, Clark was listed in the 1897 Nantucket business directory, and he went on crying until a few years before his death.
Unlike Hull, Clark was unmarried and next to homeless.  As an unsalaried self-appointed town crier, he had to hustle for every penny.  His fee for private individuals was fifty cents for a single cry; if a group went in together on a cry, he charged them twenty-five cents each.
His eccentricities and self-promotion became legendary.
The Whalemen's Shipping List, a newspaper that regularly carried stories from Nantucket, reported in 1885, "Billy Clark is the town crier of Nantucket. Billy goes about the town with a hop, skip, and a jump, bearing a prodigious tin-horn in one hand and the national colors in the other shouting announcement of latest news."
He had wrecked his vocal cords, and visitors could make little or nothing of what he was announcing.  According to Jane G. Austin, visiting in 1881, her local hostess explained, "He was very much excited in the time of war; and there was a good deal of news, and he cried too much and too loud and sort of wore out his voice."
Clark compensated for the ruination of his voice by selling New York and Boston newspapers that were delivered to him off the boat at Steamboat Wharf.  As he made his circuit around town tooting his horn and shouting, people would stop him to buy the papers, where they could read the news for themselves.
Although Nantucketers liked to say that Billy Clark literally hollered himself to death, he had, in fact, given up crying several years before his passing in 1909.  In the last years of his life, unable to carry on with the newspaper business, Clark sold his horn to the proprietor of the Old Curiosity Shop on India Street.  On good days he pedaled photographs of himself from a bench on Main Street.  His sister and her husband took him in and looked after him. Ultimately, the Inquirer and Mirror organized a fund to help pay for his care.
At the start of the twentieth century, telegraph, telephone, and radio provided nearly instant access to news, and in 1907, moving pictures first came to the island, bringing newsreels.  With the passing of Billy Clark, eulogized as the last town crier, the institution was declared obsolete.
Yet it did not wither away.  In 1888 a 'Sconset newspaper had been founded with the name the Town Crier and a likeness of Billy Clark in the masthead.  It did not last long, but in 1947 co-publishers Joe and Connie Indio launched a second newspaper of the same name, again with an image of Billy Clark in the masthead. Their paper had a sixteen-year run during which it earned a nomination for a Pulitzer Prize.
In the lifetime of the Indios' scrappy alternative newspaper, Nantucket observed its tercentenary.  For the summer-long celebration in 1959 Howard Barber took on the role of Nantucket Town Crier.  After the festivities concluded, he continued to make announcements on request.  With the institution of the Christmas Stroll in the 1970s, there was once again a need for a strong-voiced man with a bell to ring in the holiday season, and Curtis Barnes soon stepped into the position.
And now, in the second decade of the twenty-first century, long after town crying was declared a thing of the past, the role and a bell have passed to Eric Goddard, who will proudly ring announce events during this weekend's Nantucket Daffodil Festival.