Doctors and nurses won't be the only ones seeing patients at Nantucket Cottage Hospital in 2014.  Dogs have joined the ranks of the hospital's caregivers with the founding of a new animal-assisted therapy program at NCH.
Divot, an eight-year-old German shepherd, along with Bing, a whippet, and Tucker, a cockapoo, have been trained and certified to help a variety of patients at the island's community hospital.
Animal-assisted therapy is a growing field, with programs now implemented by many leading hospitals and nursing homes, which helps patients recover or better cope with health problems by interacting with trained animals.
There will be a number of potential opportunities to utilize animal-assisted therapy at NCH, including visits to swing-bed patients, people undergoing infusion therapy such as chemotherapy, physical therapy patients, and those with behavioral health issues, among many others.
The handlers of the three dogs involved in the NCH animal-assisted therapy program are Joyce Jaskula (Bing), Jean Macler (Divot) and Cindy Squire (Tucker). Divot was the first animal to visit the hospital on New Year's Eve, and met with several patients.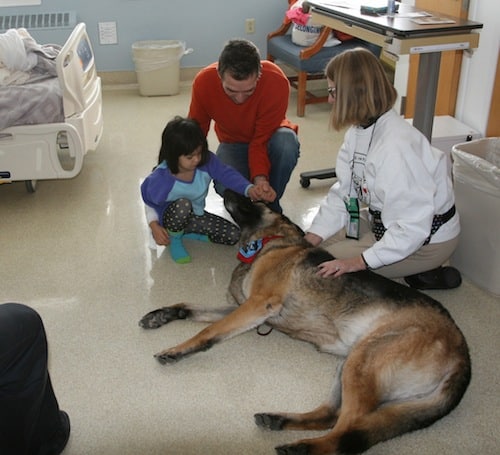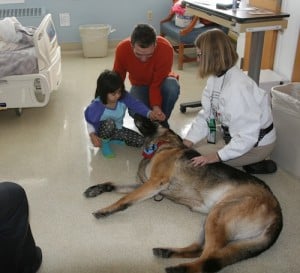 "There's a certain magic that occurs when an animal enters the room and focuses the attention away from illness and pain," said Jean Macler, Divot's handler.  "And the uplifted mood continues after the visit when the patient recounts this pleasant experience with staff and others."
All animals and handlers involved in the new program are required to be certified by a national organization, such as Therapy Dogs International. The animals must also meet stringent hygiene and immunization standards.
The dogs and their handlers will make both scheduled and impromptu visits to the hospital, and all patients will be eligible for the therapy program with the approval of their physician or NCH clinical staff. The only restrictions would be for patients with certain conditions such as allergies, open sores or pre-existing phobias.
The positive effects of animals in medical settings have been noted as far back as 1860, when Florence Nightingale commented that "a small pet is often an excellent companion for the sick, for long chronic cases especially."
Numerous research studies have since found that trained animals, and dogs in particular, can lower stress, reduce blood pressure, and increase hormones that facilitate healing.
"This therapy is beneficial both for patients, and for their families," said Joyce Jaskula, who is registered with Pet Partners.
During the first visit on New Year's Eve, "we got a glimpse into the joy that these visits bring to people who are facing difficult times," Jaskula said.
The NCH animal-assisted therapy program will be overseen by the hospital's Social Services and Case Management departments.