The Nantucket Historical Association (NHA), in collaboration with the Nantucket Athen
eum and Theatre Workshop of Nantucket, is pleased to present the Moby-Dick Marathon beginning Saturday, February 1, 2014, at 9 A.M. and ending approximately at Noon on Sunday, February 2.
For the third year in a row, approximately 90 participants will take turns reading aloud all 135 chapters plus an epilogue from Herman Melville's classic American novel Moby- Dick; Or, The Whale. The reading will begin at the Atheneum at 1 India Street on Saturday, February 1, 2014 at 9 A.M., move to the Whaling Museum at 13 Broad Street from 2 P.M. until 8 P.M. on that day, then return to the Atheneum at 8 P.M. for the remainder of the reading to take place through the night into Sunday, February 2, 2014.
"I think the event has become an annual winter mainstay that attracts Nantucket natives who feel that Melville's classic American novel is part of their heritage," says Amy Jenness, Head Adult Program Coordinator for the Atheneum. "And a large part of that is because of the beauty and the power of Melville's language. It's old fashioned writing and looks a bit heavy on the page, but when read out loud, its cadence and use of words gives it an energy and lightness that you didn't expect."
Over the course of the evening, chapters will be read by members of the Nantucket community including teachers, students, writers, historians, radio personalities, poets, actors, and more. The program kicks off with NY Times best-selling author and historian Nathaniel Philbrick reading chapters one and two, and will conclude with actors from Theatre Workshop of Nantucket reading the final twenty chapters.
"It's amazing how the Moby-Dick Marathon has evolved into a real community event on Nantucket," says Marjan Shirzad, NHA Director of Visitor Experience. "The variety of participants is a true testament of the unique community on the island, and it's wonderful that so many islanders continue to read year after year, and really keep the marathon going."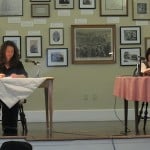 Admission for the Moby-Dick Marathon is free and open to the public.