It is going to be a veritable Who's Who at the Eighteenth Annual Nantucket Wine Festival, May 14-18, 2014. From Eric Asimov, NY Times Chief Wine Critic, Master Sommelier Dustin Wilson of NYC's Eleven Madison Park and Chef Ken Oringer of Toro to Luminary of the Year Paul Draper of Ridge Vineyards, you never know who you will run into on the cobblestones of historic Nantucket this spring.
Events include the Harbor Gala, Grand Tastings, La Fête, Great Wines in Grand Houses dinners and tastings, cooking demonstrations, food and wine seminars, the Culinary Marketplace, Bre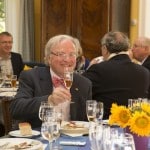 akfast on the Harbor, and the Junior Top Chef Competition. Newly added events include the Burgundy Luncheon and the Ruinart Champagne Brunch. The White Elephant's magnificent setting overlooking theharbor sets the backdrop for NWF events including the  ever-popular Harbor Gala and the Grand Tastings. The complete schedule of events and tickets for this year's festival is now posted and available for sale on the Nantucket Wine Festival website.
Chefs and restaurants participating in the 2014 Festival include:  Kyle Zachary, Toppers; Tom Pearson, Brant Point Grill; Steve Haverson, The Breeze Bar and Café at the Nantucket Hotel; Neil Ferguson, Galley Beach; Robert Boslow, Lola 41; Michael LaScola, American Seasons; Erin Zircher, Cru; Tom Berry, The Proprietors; Jeff Worster, Chanticleer; Tony Nastus, Le Languedoc Bistro; Seth and Angela Raynor, Pearl/Boarding House; EJ Harvey, Seagrille; Gabriel Frasca, Straight Wharf/Ventuno; Michael Getter, Dune; Seth High, Summer House; Neil Hudson, Bartlett's Ocean View Farm; All Kovalencik, Company of the Cauldron; Matt Harris, Nantucket Yacht Club; Christopher Brooks, Great Harbor Yacht Club; Fred Bisaillon, B-ACK Yard BBQ
Visiting restaurants for the 2014 event include:
Robert Sisca, Bistro du Midi, MA – Boston; Brooke Vosika, Bristol Lounge, Four Seasons Boston, MA – Boston; Ken Oringer, Toro, MA – Boston/NYC; Andy Husbands, Tremont 647, MA – Boston; Tim Willis, Summer Shack, MA – Boston; Tim Cushman, O Ya, MA – Boston; Mark Sapienza & Jed Hackney, Café Fleuri – Langham Hotel, MA – Boston; Tiffani Faison, Sweet Cheeks, MA – Boston; Joanne Chang, Flour Bakery + Café , MA – Boston; Christopher Coombs, Deuxave, MA – Boston; Bill Bradley, New England Aquarium, MA-Boston; William Kovel, Catalyst, MA – Cambridge; Will Gilson, Puritan & Co., MA – Cambridge; Mary Dumont, Harvest Restaurant, MA – Cambridge; Michael Scelfo, Alden & Harlow, MA – Cambridge; Ihsan Gurdal, Formaggio Kitchen, Cambridge, MA; Michael Dulock, M.F. Dulock Pasture-Raised Meats, MA – Somerville; Jeremy Stanton, The Meat Market, MA – Great Barrington; Josh Smith, New England Charcuterie/Moody's, MA – Waltham; Jeff Fouriner, 51 Lincoln, MA – Newton; Brendan Pelley, Zebra's Bistro, MA – Medfield; Brian Alberg, The Red Lion Inn, MA – Stockbridge; Geoff Lazlo, Le Farm, CT – Westport; Gabe Thompson, L'Artusi, NY – New York; Damon Baehrel, Native Harvest, NY; Kevin Williamson, Ranch 616, TX – Austin; Dean Corbett, Corbett's: An American Place, KY – Louisville; Michelle Bernstein, Michy's, FL – Miami; John Greeley, Atlanta Foods, GA – Atlanta; Rick Gresh, David Burke Primehouse, IL – Chicago; Eric Warnstedt, Hen of the Wood, VT – Waterbury; Brent Menke, The Farm Table, MA – Bernardston
Vintners and Wineries who will participate in the 2014 Nantucket Wine Festival include: Cos d'Estournel, Dimitri Augenblick, Bordeaux, France; Château Lassegue, John Blazon, Bordeaux; Château Palmer, Jean-Louis Carbonnier, Bordeaux; Domaine Christian Moreau, Christian Moreau, Burgundy, France; Maison Joseph Drouhin, Laurent Drouhin, Burgundy; Domaine Bertrand Ambroise, Bertrand Ambroise, Burgundy; Domaine Faiveley, Bernard Hervet, Burgundy; Château D'Esclans, Sacha Lichine, Provence, France; Domaine de L'Ile, Sebastien le Ber, Provence; Ruinart, Frédéric Panaïotis, Reims, France; Domaine du Pegau, Laurence Feraud, Rhone, France; François Villard, François Villard, Rhone; Yves Cuilleron, Yves Cuilleron, Rhone; Domaine Trimbach, Jean Trimbach, Alsace, France; Domaine Schlumberger, Thomas Schlumberger, Alsace; Dr. Loosen, Ernie Loosen, Mosel, Germany; Malvira, Roberto Damonte, Piedmont, Italy; Bodegas Vega Sicilia, Puri Mancebo, Ribera del Duero, Spain; Numanthia, Manuel Louzada, Toro, Spain;; Nicki Pruss, Nicolette & Christopher, Napa, CA; Jack Bittner, Cliff Lede, Napa, CA; Miner Family Wine, Dave Miner, Napa, CA; Pride Mountain Vineyards, Suzanne Pride-Bryan and Stuart Bryan, Napa, CA; Cain Vineyards Winery, Christopher Howell, Napa, CA; Tom Eddy Winery, Tom Eddy, Napa, CA; Continuum, Carissa Mondavi, Napa, CA; Pahlmeyer, Kale Anderson, Napa, CA; Larkin Wines, Sean Larkin, Napa, CA; Robert Sinskey Vineyards, Robert Sinskey, Napa, CA; Ovid, Janet Pagano, Napa, CA; Ridge Vineyards, Paul Draper, Santa Cruz Mountains, CA; Donelan Family Wines, Joe Donelan and Joe Nielsen, Sonoma, CA; Flanagan, Eric and Kit Flanagan, Sonoma, CA; Kistler Vineyards, Geoff Labitzke, Sonoma, CA; Paul Hobbs, Matt Hobbs, Sonoma, CA; Andrew Will Winery, Chris Camarda, Walla Walla, WA; J. Christopher Winery, Jay Somers, Willamette Valley, OR
Seminars and Special Events Include: Built for the Long Haul: The Ageability of Domestic Cabernet; Champagne & Lobsters featuring Veuve Clicquot and the New England Aquarium Sustainable Seafood Program; Flight of the Oyster: A Food and Wine Pairing Odyssey and the exquisite Burgundy Luncheon
Tickets are now on sale at www.nantucketwinefestival.com.
The Nantucket Wine Festival Charitable Foundation is the charitable arm of the annual island festival. The majority of the festival events are charitable with proceeds benefitting a variety of island non-profits and community organizations each year. The 2014 NWF will support Trustees of Reservations on the island of Nantucket, the Nantucket Conservation Foundation, and Nantucket High School Culinary Arts Program.
The Nantucket Wine Festival is managed by owners, Mark Goldweitz, President and Nancy Bean, Executive Director; Brahm Callahan, Wine Director; Andrea Cuna, Operations Manager, Mark Donato, Community Relations along with respected founder Denis Toner. The Wine Festival is supported by Official Host Hotel, the White Elephant; Official Champagne Sponsor, Veuve Clicquot; Official Private Aviation Sponsor, Wheels Up; Official Beef Sponsor, Creekstone Farms; Acker Merrall & Condit, Clarke/Sub Zero/Wolf, St-Germain, Pain D'Avignon, Dane Gallery, Cape Air, Hy-Line Cruises, Steamship Authority, The New England Aquarium Sustainable Seafood Program, and local media partner N Magazine.