Artists Association of Nantucket (AAN) is opening a new exhibition and hosting a short film and talk on Friday and Saturday, January 10 and 11.
The J. Cecelia & Seward Johnson Gallery, 19 Washington Street, will open Friday, January 10, from 5:30 to 7:30 p.m. for a reception featuring the education program's students and teachers.  The AAN Gallery will also be open on Saturday, January 11 from 11:00 a.m. to 4:00 p.m.
"We are thrilled to celebrate Nantucket's visual arts by introducing the community to our talented instructors and dedicated students," said AAN arts program director Lori Garrabrant.  "It's a great time of year to take the opportunity to learn more about AAN and see some inspiring art."
"We hope you will join the AAN for a fun, winter gathering to get a taste of what's happening in the AAN's Art Education Program," said AAN executive director Cecil Barron Jensen. "Meet our winter instructors and current students, and see their artwork at our gallery — in time to sign up for some of our winter classes. In addition, you will enjoy the company of fellow art lovers and sample some refreshments."
On Saturday, January 11, from 10:30 a.m. to 12 noon, the Artists Association of Nantucket welcomes Lou Guarnaccia to its Gardner Perry Lane workshop studio at 1 Gardner Perry Lane for a short film and talk about his experience painting "Freesia."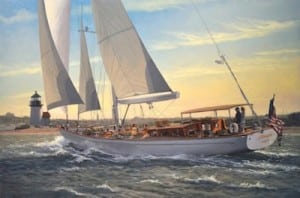 Lou Guarnaccia, one of New England's foremost maritime painters, will present Freesia: Painting a Super Yacht, a film that demonstrates how he creates a maritime painting.
"Lou is a long-time AAN member and renowned maritime painter. We are excited to be able to share his process with Nantucket artists and art lovers," said AAN arts program director Lori Garrabrant.  "Please join us for this fascinating short film and talk with Lou, and enjoy some breakfast treats and coffee."
In addition, Guarnaccia will be teaching a class on maritime painting at the AAN starting on Tuesday, Jan 14 at 6 p.m. The class is intended for students who have some experience with oil paints and runs through February 11.
For further information about AAN 2014 programs, classes, and events, please visit the website at www.nantucketarts.org or call 508-228-0722.