More than 90 island children ages 6 to 14 will perform on the stage of The Dreamland Theatre this weekend and next in a lively production of Roald Dahl's Willy Wonka Kids.
The play follows enigmatic candy manufacturer Willy Wonka (Phaedra Plank / Sophia Reis) as he stages a contest by hiding one golden ticket in each of five scrumptious candy bars. Whoever comes up with these tickets will win a free tour of the Wonka factory, as well as a lifetime supply of candy. Four of the five winning children are insufferable brats: Augustus Gloop (Andrew Daume / Peter Waddington), Veruca Salt (Ella England / Faedra Wheeler), Violet Beauregarde (Maggie Liddle / Julia Marks) and Mike Teavee (Declan Hehir / Elena Tittle) – the fifth is a likeable young lad named Charlie Bucket (Charlie Cirillo / Tommy Vento) who takes the tour in the company of his equally amiable grandfather (Kathie Genthner / Ben Rudd).  The children must learn to follow Mr. Wonka's rules in the factory–or suffer the consequences.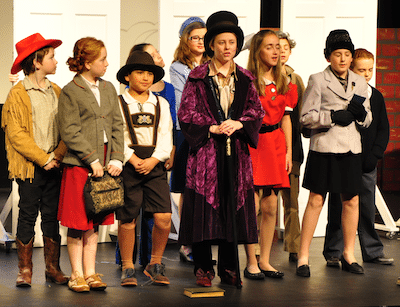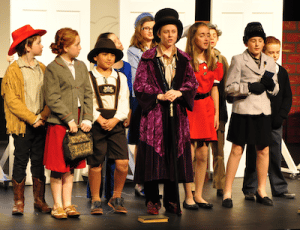 The Dreamland's Young Actors Theater Company's Willy Wonka Kids cast is made up entirely of island children. So many young performers wanted to participate, that the production team decided to have two casts to accommodate them all.  The youth are directed by The Dreamland's Program Manager, Tiffany Gallo, and the play is co-produced by Tiffany and Jordana Fleischut. The show is choreographed by Karen Wheeler, with musical direction by Greta Feeney.
Melissa Murphy, the executive director of the Nantucket Dreamland Foundation, remarked, "We are so delighted Willy Wonka Kids has received a grant from the Nantucket Cultural Council and the Nantucket Golf Club Foundation, as well as support from NIXS Brew Pub, the Rose & Crown, Wicked Island Bakery and other members of the community who encourage the Dreamland's efforts to provide educational theater programming to the island's youth. For those of us who choose to live on Nantucket year-round and are committed to a thriving downtown, we realize the importance of supporting efforts that engage and create community. We look forward to seeing everyone in the main theater to cheer on our island kids in Willy Wonka Kids!"
Performances will be at 5:30 pm on March 20, 21, 27, and 28, and at 2 pm on March 21, 22, 28, and 29 in The Dreamland's Main Theatre, 17 South Water Street. All tickets to the show are $11, on sale at The Dreamland box office and online at NantucketDreamland.org.  One dollar from every ticket goes directly to support The Dreamland's Children's Theatre Education programs.