Welcome springtime on Nantucket with art on Easter Weekend at the Artists Association of Nantucket's (AAN) annual Spring Sweep Preview Party and Silent Auction, on Friday and Saturday, April 3 and 4 in the Cecelia Joyce & Seward Johnson Gallery, 19 Washington Street. This popular exhibition and silent auction will include works of art from many of AAN's 250 artist members.
"Spring Sweep is one of our signature events, and we are excited to invite the community to join us for this lively celebration as we kick-off our seventieth anniversary season," said AAN executive director Cecil Barron Jensen. "As has become our tradition, this year's Sweep will be held during the Easter Weekend and will showcase extraordinary deals on fabulous fine art, providing a super opportunity to add to your Nantucket art collections," added Jensen.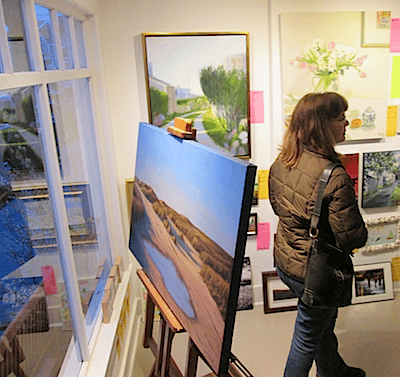 The Spring Sweep Preview Party is Friday, April 3, 5–7 p.m. and is open to the public. The Spring Sweep Silent Auction is Saturday, April 4, 10 a.m.–4 p.m. Bidding closes promptly at 4 p.m. As guests participate in the Silent Auction on Saturday, there will also be buy-it-now prices available on some of the art—where visitors may purchase pieces immediately at the buy-it-now prices.
"After such a long and snow-filled winter, this festive event is our way of welcoming spring. Intended for islanders and visitors alike, it provides a rare opportunity to purchase a vast array of our member's artwork at very affordable prices," said AAN gallery sales manager Peter J. Greenhalgh. "The excitement in the air over the course of the day is palatable, as old friends catch up on news while bidding on local art at amazing prices."