• by Sarah Teach •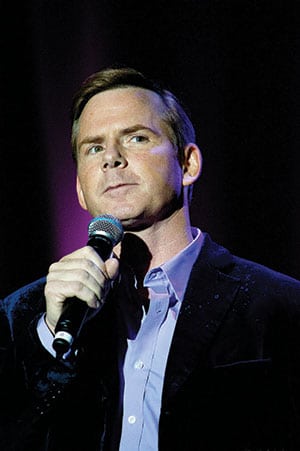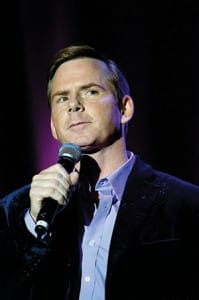 Funnyman Tom Cotter will return to the island for the 7th annual Nantucket Comedy Festival. The former island police officer and runner-up on 2012's America's Got Talent (AGT) will entertain the masses with his rapid-fire stand-up on Friday, July 18, alongside the writers, producers and cast of NBC's hit show Parks and Recreation.
Many comics lean on the comfy divan of dirty humor, but Cotter can generate belly laughs with expletive-free chestnuts from his childhood. Displaying a self-deprecating style that renders him sympathetic and likeable, Cotter's pacing affords maximum jokes in minimum time yet leaves no joke uncaught. From a near win on AGT to a real win in being married to the hilarious and gorgeous comedienne Kerri Louise, Cotter has spent the past two years surfing a wave of success that was over a quarter-century in the swelling.
Although comedy doesn't run in Cotter's family, it somehow made its way into his blood. He says, "When you're the youngest of six in an Irish Catholic family, you do anything you can to get attention, especially," he adds wryly, "when it's common knowledge that you were a mistake. So I'd act out frequently and I enjoyed the response I got." When Cotter flew the coop, he nested at Denison University, where he spent four years with his beak in pre-law books. "I was on the way to lawyerville," he affirms. "I clerked for a judge; I was a summer cop on Nantucket. But in the back of my mind, I knew I wanted to try comedy." The son of a neurosurgeon, young Cotter grew up laden with the expectation that he'd take a traditional path to success. "I told my dad I would pursue law after the comedy got out of my system," he says. "It just never did. It's like a disease."
Twenty-five years of suffering from said disease produces fantastic symptoms, one of which is an enlarged comedy repertoire. Cotter had killed on The Tonight Show with Jay Leno and Last Comic Standing, but he never imagined he would make it the final phase of the world's biggest talent contest. Just before his New York audition for America's Got Talent, he told the camera, "Comedians don't generally do that well in this competition." But judges Sharon Osbourne, Howie Mandel, and Howard Stern loved Cotter from the moment they heard his comedic engine rev. Stern in particular was very taken with Cotter, and brought the comic on his radio show after the close of the AGT season. "Howard Stern made my career," says Cotter. "I owe a lot to him. The judges all kind of picked their favorites, and I was his." On the radio, Stern said Cotter should have won the competition. Instead of bitterly agreeing, Cotter displayed solid sportsmanship and an eagerness to move on to his next adventure in comedy. "Before AGT," says Cotter, "my retirement plan was a metal detector and a beach. I definitely stepped in some unicorn crap that year."
There must also have been some unicorns prancing around when Cotter met his wife, comedienne Kerri Louise. "I married a comic," he says, "because who needs health insurance? Right after we had our twins, Kerri and I had a show called Two Funny on the Women's Entertainment Network. It was literally brought to you by Tampax. It was the most emasculating thing I've ever done in my life. But I just love what I do. Kerri loves what she does. Our kids love what we do, now that they're old enough to understand our jobs. Before, they thought we were rodeo clowns. I've had several great jobs, but being paid to make people laugh is a very blessed way to make a living. There are gigs where I get off the stage and think I should be the one paying the audience. I get to express my inner ham, and the laughs provide instant gratification."
As much as Cotter loves comedy, he allows that being a cop on Nantucket was the second best job of his life. He says, "I was there in the days when Billy Joel was married to Christie Brinkley, and they signed in at the White Elephant as Mr. and Mrs. Rocky and Sandy Shore. That was a great time in Nantucket history because the girl-to-guy ratio was arranged such that even a short, ugly guy like me got some attention. Foolishly, the police department gave me a cruiser. They didn't give me a gun, but I did get pepper spray and handcuffs. My midnight to 8 a.m. shift consisted mostly of reporting bar fights and dead rabbits in the middle of the road. Also, I got to tell the people at the nude beach to put their clothes back on."
He continues, "When I first started, I thought it was so cool that they gave me a police car. Of course, I wanted to take a picture in it to show everybody back at college. So I'm driving around Madaket and I pull off on abandoned dirt road. I get out of the car, grab my dinky throwaway camera, and hop in the backseat so I can snap a photo from behind the divider. But when I shut the back door, I heard the click of the doors locking. And if you know what the back of a cop car looks like, you know there are no door handles. So I'm stuck in my cruiser and it's running. After about three hours, I am being radioed but the radio is in the front. Finally, somebody drives by and it happens to be a friend of mine. However, instead of helping me, he gets in the front seat and starts doing donuts and spouting gibberish into the radio. He eventually got out and unlocked the doors before making a rapid getaway."
It is fortunate for the citizens of Nantucket that Cotter eschewed law enforcement in favor of comedy. After all, we know the world needs good cops, and also good plumbers, doctors and farmers. But why do we need comics? Cotter says, "You know that old cliché, laughter is the best medicine? There's scientific proof that laughter really does heal. It releases endorphins. It's great for your respiratory system and your abdominal muscles. And if you don't have laughter in your life, life isn't worth living. The best compliments I ever get are when people say things like, 'I have been going through a terrible time. I haven't been out of the house, but you made me laugh for the first time in four months.'" Cotter's wife Kerri Louise weighs in: "Comedy has helped in my marriage and in having three kids. This world is very, very hard. And if I didn't have humor, I don't think I could get through a day. My kids are funny; they make me laugh. My husband obviously makes me laugh. Don't get me wrong; I do hate my husband as much as any other woman hates hers. But when you're dealing with an issue in your marriage, humor can get the point across without having to be a jerk about it. Also, people pull together through comedy. Any time there is a huge tragedy in the world, comics get called on for fundraisers." Cotter adds, "Comedians as a whole are a depraved people, but we do have hearts. We can't give a lot of money because we don't have it, but we can perform for good causes, like the Nantucket Comedy Festival."
The Nantucket Comedy Festival benefits the nonprofit educational program Stand Up and Learn, which teaches kids self-confidence through comedy. Cotter says, "I do a million festivals, but I have to say the people of Nantucket have embraced supporting the arts more than any other community I've visited. Someone is always donating their house or hosting a cocktail party for the festival. They could throw their money at a lot of different things, but they choose to give it to the arts."
Cotter will be performing in the Nantucket Comedy Festival's Parks and Recreation Night on Friday, July 18 at 7 p.m. in the Dreamland Main Theater.   Tickets are $95 at nantucketcomedyfestival.org.