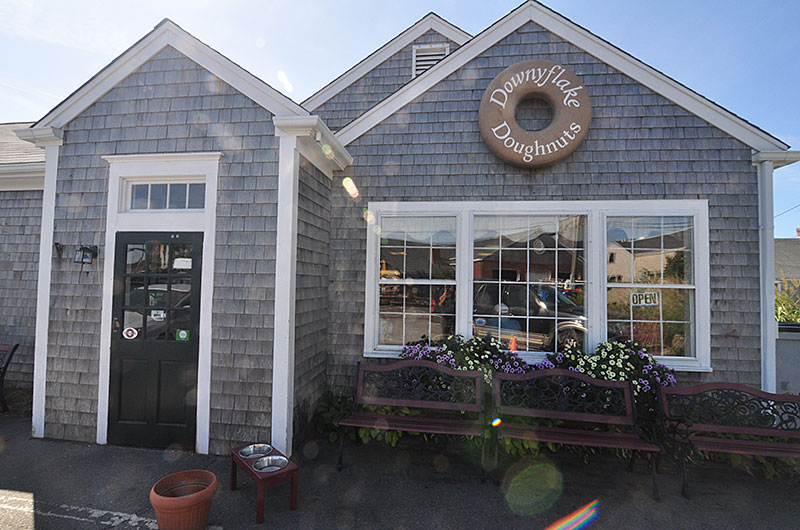 If you pull up to The Downyflake at 18 Sparks Avenue and there's no one sitting on the benches outside, you've timed your visit just right! This island landmark eatery is so popular that from the moment they open early in the morning until 2 pm closing time, The Downyflake is bustling. Weekend mornings the line sometimes spills out of the indoor waiting area, where hungry patrons give their names to Patty and then settle onto the benches out front for a short chat (the wait is rarely long).
"The Flake" is an island favorite, and deservedly so: the food is hearty and house-made to order; the waitstaff is friendly, fast, and efficient; and the freshly squeezed OJ is the best! American classics are featured for breakfast (which is served all day), and, starting at 11 am, the lunch menu adds to the selection homemade soups, salads, hot and cold sandwiches, 10 different burgers, codfish cakes, fish & chips, luncheon entrees, and daily specials that often feature fresh seafood. And the prices are surprisingly low — breakfast for two for under $20 and a cheeseburger for less than $8 (and that's with bacon) is unheard of on Nantucket!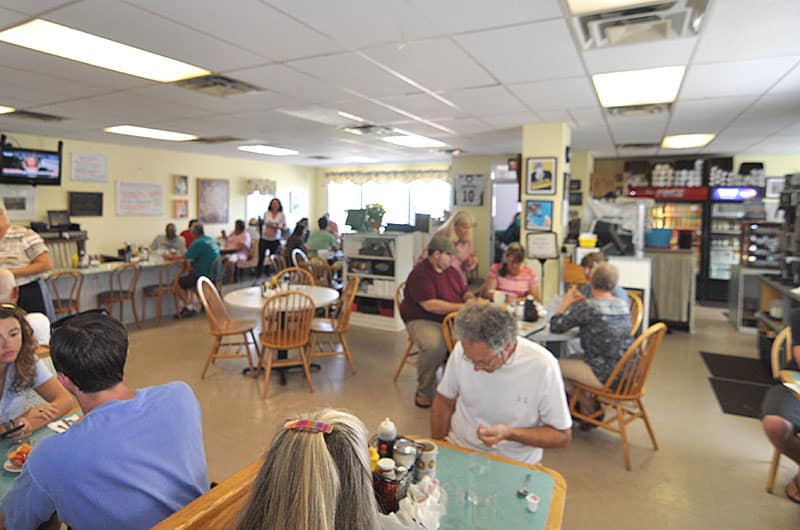 The Downyflake has been pleasing Nantucket residents and visitors since the 1930s, when the Reinemo family opened the island's Downyflake Donut franchise downtown. In the late 1990s, Julie and Karsten Reinemo, Jr. sold the business to husband-and-wife team Mark Hogan and Susan Tate, and in the spring of 2014, The Downyflake was sold to Ron Oldham and Patty Kennedy, another island husband-and-wife team of restaurateurs.
Oldham and Kennedy bring impressive credentials to the Downyflake that includes restaurants on the Delaware-Maryland shore, Key West (where Oldham opened the original Margaritaville for Jimmy Buffet), and Club Car, Westender, The Ropewalk, and Island Kitchen. Ron says that the opportunity to take over The Downyflake "fell into my lap… I had helped Patrick Ridge open Island Kitchen for the summer of 2013, and my wife and I were taking some time to relax in September… I ran into Karsten Reinemo…" Hearing that the Hogans were thinking of retiring, Ron and Patty spent some time on a business plan and then purchased the operation in the spring of 2014.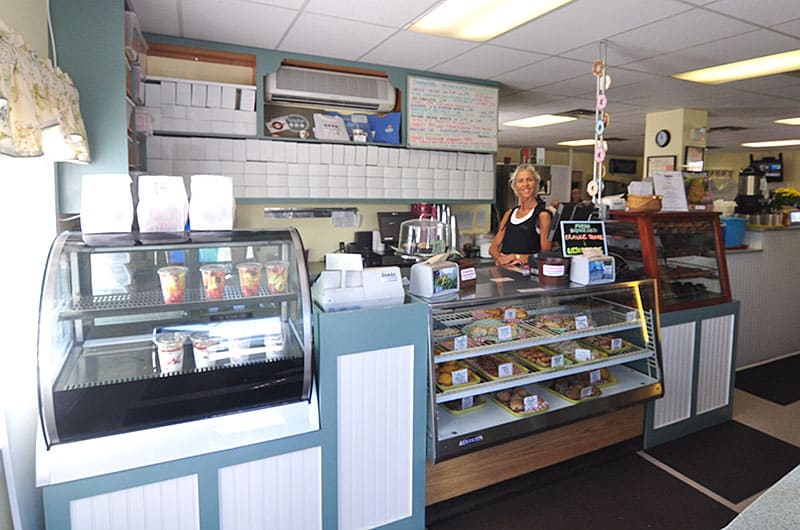 Taking the transition "one step at a time," Ron and Patty say they have not changed much "we want to keep our loyal customers happy," but they have made some small adjustments to improve operations.
When we brought our Featured Restaurant Team in last week, we were impressed by how fresh and bright and clean the dining room looks, and we were happy to see that Nancy, Rosie, Sue, and Norma from AKs have joined Evie, who's served us all at The Downyflake for more than 30 years.
 Click on images to view enlargements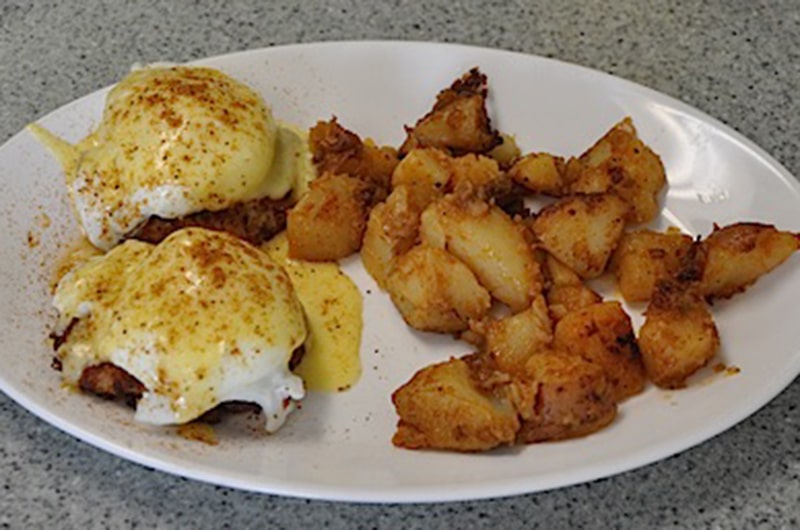 Breakfast here is served all day, which at The Downyflake means till 2 pm. On Sundays it's the only meal served, and the Sunday specials always include at least three versions of Eggs Benedict. We haven't yet tried them all, but so far we love the Avocado, Bacon, & Tomato Benedict with a red chile hollandaise that adds more flavor than heat, and the Crabcake Benedict that is a delicious example of Ron's skill with seafood.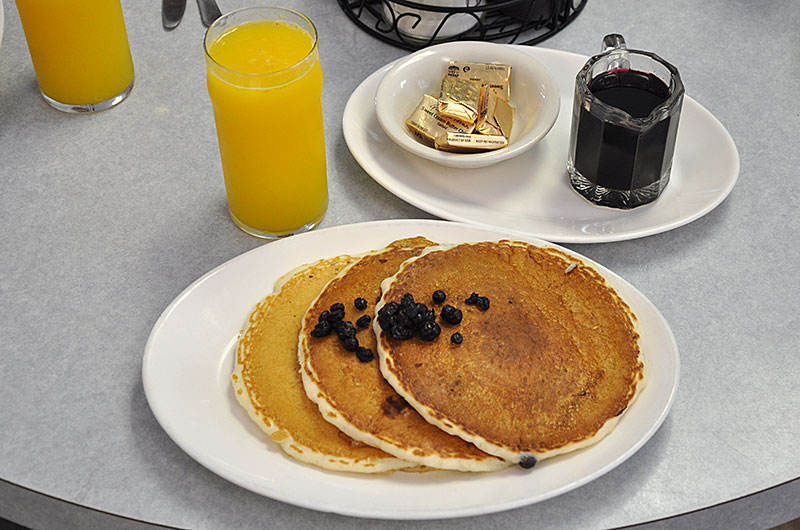 Ron and Patty have kept all the favorites: the Flake Special (two eggs, bacon or ham or sausage, homefries, and toast or donut or muffin), the Downy Breakfast Sandwich, and their light and tasty Blueberry Pancakes with plenty of wild blueberries and homemade blueberry syrup (we know a regular who claims to have happily eaten these pancakes once a week for 20 years!).
 The Morning Staples section of the menu still features Corned Beef Hash & Eggs, Steak & Eggs, and the Nantucket favorites of Ham & Beans with eggs, Linguica & Eggs, and Biscuits & Gravy, which is the one dish on the menu that is only served till 11 am. In additon, the extensive breakfast menu also includes 11 omelets, 4 scrambles, 4 styles of French toast (including one made with cinnamon buns), a breakfast quesadilla, and 7 "lighter choices."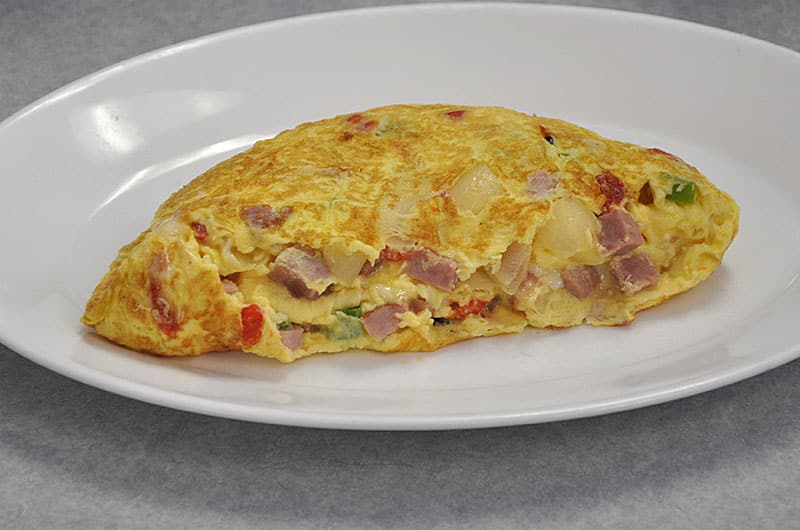 Any one of the Downyflake's 3-egg omelets is a great choice for breakfast or for lunch. We recommend the Denver Omelet, a mile-high and fluffy, folded over sauteed ham, onion, bell peppers, and cheese.
 Another good way to start your day is with Ron's Roasted Turkey Hash. The Downyflake Corned Beef Hash is a long-time favorite, but we prefer the turkey hash—it's lighter and very flavorful, with chunks of turkey, potato, onion, and green peppers all deliciously browned on the griddle. You do have to time your visit right for this hash, though; it's offered only on Sundays and again mid-week as a special.
 No matter which breakfast dish you order, be sure to accompany it with The Downyflake's freshly squeezed orange juice (see above with pancakes). They make it fresh every day, year-round. But be warned: drink one glass of this liquid gold and you'll never again be satisfied by juice from a jar.
If you go to The Downyflake after 11, then you can mix breakfast treats with lunchtime favorites, which is just what we did. There are five lunch salads on the menu, and Ron always adds at least one more to the daily specials. At Patty's urging ("he makes these as much for me as for the customers" she told us), we tried his Chicken Waldorf Salad, a winning combination of crisp romaine, fresh tomatoes, and rings of red onion, drizzled with a lemon-herb vinaigrette and crowned with a generous scoop of waldorf chicken salad, complete with crisp apples and walnuts.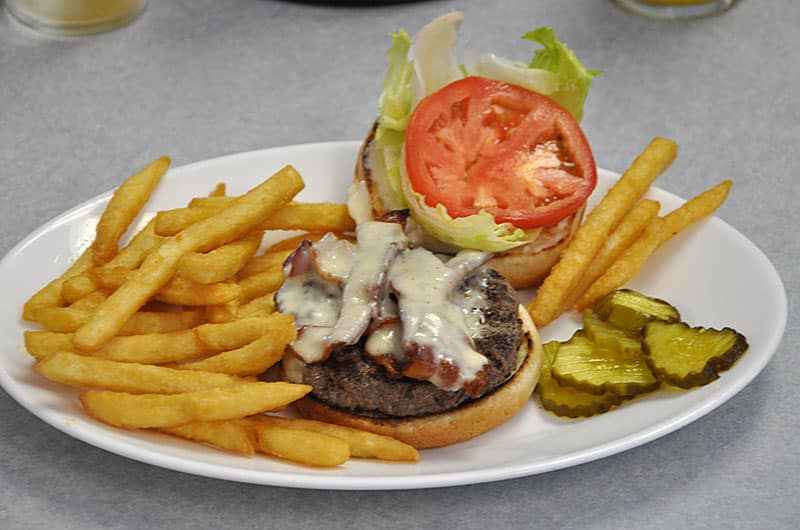 Before our meal last week at The Downyflake, we thought the days of a burger for under 10 bucks on Nantucket were over. Just one of the ten burgers served at the Downyflake costs more than $10 – that's the Hamburger de Luxe with two hamburg patties, and it's still just $10.95! We were impressed by their Famous Downy Burger, the Downyflake's bacon cheeseburger with lettuce and tomato. The burger is well seasoned and juicy, they're generous with the bacon, and it has a perfect bun-to-burger ratio. We recommend you splurge for the fries: they arrive piping hot, fluffy inside and extra crispy outside.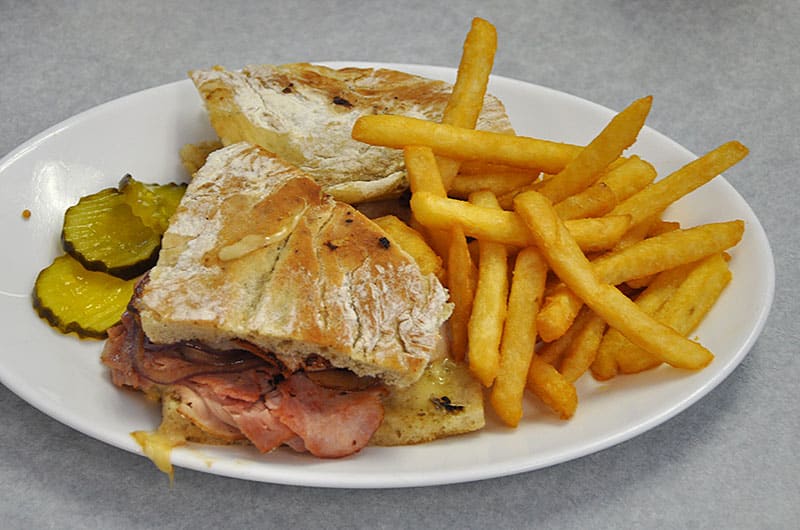 As much as we liked the burger, our favorite lunch sandwich is the Downy Cuban Panini. It's made on split foccacia, smeared with dijonnaise, and it's piled high with ham and smoked turkey, pickles, red onion, and tomato, and the swiss cheese melts luciously over it all.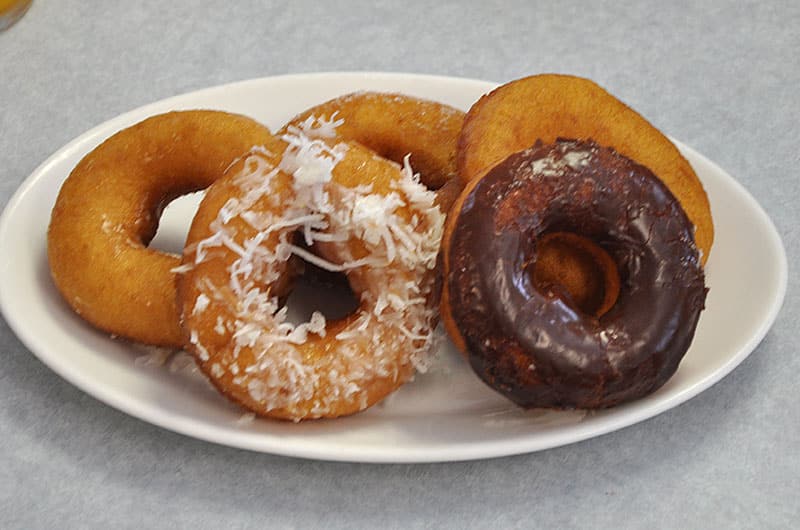 Then there are the sweet choices! It just wouldn't be right to leave The Downyflake without ordering a doughnut. Made fresh throughout the day, the classic choices are: plain, sugar, cinnamon sugar, chocolate dipped, and two new varieties: coconut and maple-glazed (our new favorite).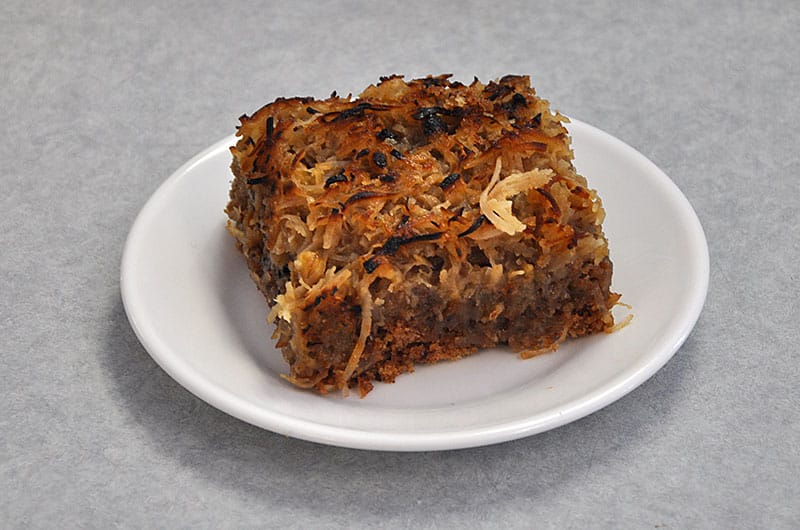 They have a changing assortment of muffins every day, moist Blueberry Crumbcake, and their Scotch Irish Cake is another favorite of ours and of most of the regulars. Another classic is the Downyflake Fried Dough, puffed and light with a dusting of sugar, and almost too good to share.
We love everything about this friendly, affordable neighborhood eatery: the food, the portions, the people, and the prices. And as it says on the menu, remember…
"As you ramble on thru Life Brother, Whatever be your Goal, Keep your Eye upon the Doughnut And not upon the Hole."
The Downyflake
18 Sparks Avenue • 508-228-4533 • www.thedownyflake.com
Breakfast Monday-Saturday from 6am to 2pm
Sunday Breakfast only from 6am to 1pm (off-season 7am to 1pm)
Lunch Monday-Saturday from 11am to 2pm
Breakfasts range from $5.95 to $9.95 • Lunches range from $5.50 to $9.50
Table seating, counter seating, and takeout
Open almost year-round (closed for a few weeks deep winter)
cash and local checks only, no credit cards (there is an ATM on site)
handicap accessible • take-out available • kids' menu
To see full color photos of this meal: www.yesterdaysisland.com