Mercy Moyo will give an artist talk, exhibit recent work and teach two painting workshops at the Visual Arts Center, 24 Amelia Drive
Artists Association of Nantucket (AAN) has announced that will be their second 2016 Artist-in-Residence at the Visual Arts Center (VAC), 24 Amelia Drive. Hailing from Zimbabwe, Moyo uses art, primarily painting and collage, to describe the world and tell the story of life in contemporary Africa. Moyo's use of color and figures projects a vibrant and infectious joy. She will give an Artist Talk on Tuesday, March 1 at 6 pm in the VAC, 24 Amelia Drive. An exhibition featuring Moyo's recently completed works will open Friday, March 18, with an opening reception from 5 to 7 pm in the Visual Arts Center. She will also teach two painting classes; one called Drawing and Painting, and the other called Painting and Collage.
"We are thrilled to welcome Mercy as our second Artist in Residence of 2016. She will be with us for the month of March and will teach two painting classes while she is here. I know artists and art appreciators will want to meet her and learn about her interesting perspective of the world and art," said AAN executive director, Cecil Barron Jensen.
"I'm very excited that AAN is hosting Mercy. She is a talented artist from Zimbabwe who will fill our workshop with her colorful paintings and bring a lively, distinctive approach to teaching painting. Since she will be on island the whole month of March, it gives artists, and the whole community plenty of time to meet and work with her," said AAN adult education program director, Mary Emery Lacoursiere.
"As an Artist in Residence, Mercy will stay in the AAN's studio apartment for her visit and work in one of the VAC's new studios," said Lacoursiere. "We encourage artists, students and actually everyone to stop by during her visit, watch her work, and ask questions."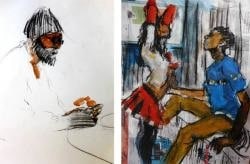 Mercy's show will open Friday, March 18 with a reception from 5–7 P.M., and run through Wednesday, March 23, 2016 at the Visual Arts Center, 24 Amelia Drive. Exhibition hours are Monday-Friday, 9 am to 5 pm. Her class Drawing and Painting for Life meets Wednesdays, March 9, 16, and 23; Painting and Collage meets Monday & Tuesday, March 14 & 15.  Her Artist Talk is Tuesday, March 1 at 6 pm at the VAC, 24 Amelia Drive.
For more details about Mercy Moyo and AAN's artist in residence program, visit the AAN website at nantucketarts.org.