by Sarah Teach
This Thursday, August 9 through Monday, August 13, the 35th Annual Nantucket Antiques Show will be the focus of all lovers of antiques. This year, the show features exhibitors from throughout the United States and Europe, with antiques from the 18th, 19th, and 20th centuries. Held in Nantucket High School at 10 Surfside Road, show times are 10 am to 5 pm, Friday, August 10 through
Monday, August 13. A preview party will be held on Thursday August 9, 5:30 till 7:30 pm, with a raw bar and hors d'oeuvres. Admission to the preview party is $50. Daily show admission from Friday – Monday is $10.
Dealers will be showing items ranging from beautiful antique American&    European furniture, antique oriental rugs, striking estate jewelry, silver, gorgeous antique paintings, prints, quimper, majolica, nautical, primitives, vintage & signature purses, garden & statuary, folk art and much more.
Nula Thanhauser will be exhibiting her outstanding collection of antique, vintage, and signature purses. She loves to tell about the fun of owning and collecting antique and vintage purses. Her passion started years ago on a shopping trip to Europe. Nearly twenty years later she made the decision to become a professional dealer in antique, vintage, and classic signature purses. She presents most interesting samples from each period to demonstrate and discuss the particular characteristics of stylish purses from the Victorian era through Art Nouveau, Art Deco, into the forties, and so on. She also has examples involving the reconstruction of classic vintage frames with new purse bottoms made from various materials, including vintage fabrics and skins. She also loves for people to bring their purses to the show, and takes pleasure in showing and discussing them.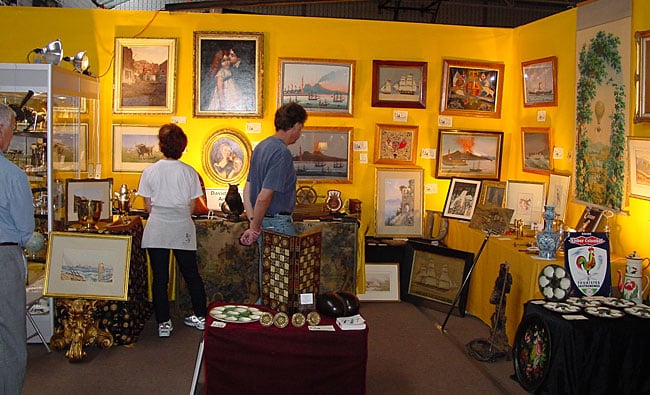 David Weston loves collecting marine antiques. David has collected and dealt in scientific and marine antiques for over 40 years. His specialty is in navigational instruments and sailor woolworks. He exhibits his finds at major antiques shows and exhibitions in the U.S. and Europe.
Frank Shaia is a second generation oriental rug dealer. He has been in business in Williamsburg, VA since 1973. His main focus is on oriental rugs woven between 1880 and 1940. These are the rugs that are commonly known as antique and semi-antique oriental rugs. He gladly shares his knowledge on how they weremade, where they were made, and how to date a rug. He specializes in such rugs as Heriz, Serapi, Caucasion, Bidjar, and Oushak.
Keith Funston specializes in antique furnishings from 1600 to 1850, including furniture, art, textiles and small objects (such as tea caddies, knife boxes, delftware, ivories, agates, jades, etc.) He is particularly fond of American, English, and Southern European goods, but also deals in Asian, Northern Europe, and South American. However, with all of this, his real claim to fame is his focus on
Wunderkammer. The first period Wunderkammern were founded 1550 to 1650. They tended to be extraordinarily diverse in their contents and, to our mind, chaotically presented. Classification schemes, such as Linneus' for plants and animals were 150 years in the future so first period collectors grouped things free of any such notions. They might group all the round life-forms together…sea urchins and coconuts, and the square ones together, etc. or they might group together things made of the same materials regardless of the items' history, thus the "unicorn"    (narwhale) tusk would be grouped with ivory carvings and fossil bones. The smaller items would be housed in elaborately decorated multi-drawer collector's cabinets.
Part of the joy would be the marvelous way the contents could be spread out over, say, a hundred square feet when examined but then collapsed into the 2 foot square cabinet when all the many drawers were filled and the cabinet shut. Larger items on the other hand were unceremoniously hung from the walls or ceiling.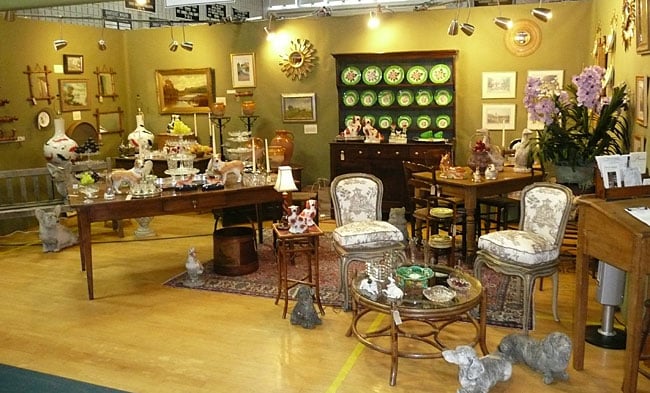 The second period Wunderkammer c1650 to 1780, on the other hand tended to be systematically grouped, using Linneus' and other modern systems. And the items were displayed behind glass … letting you see it all at once, a less mystical and more rational form of presentation, for the age of reason was beginning.
The objective of the Wunderkammer founder is typically some mix of the following… to celebrate God's greatness and inspire wonder, to stimulate the intellect, and to conspicuously consume, showing the entire world how powerful you are. He submits that celebrating God's greatness and inspiring wonder was a prominent undertone in all Wunderkammern. But what else besides wonder does the founder want to inspire, fear or learning?
Another seasoned and returning dealer is Jerry Ritch of J & M Antiques. Jerry's specialty is 18th & 19th century American lighting such as kerosene & oil lamps,student lamps, gasoliers & chandeliers. He also is well noted for his eye for American cherry & tiger maple furniture.
A new dealer to the show is Jesse Davis. Jesse has been established for over 20 years with a reputation for supplying good quality and attractive antique collectors' items. He specializes in majolica, palissy, staffordshire pottery, shellware, children's toy china, and decorative items. Jesse aims to provide high quality collectable antiques in excellent condition with good eye appeal and has a reputation for unusual and rare items.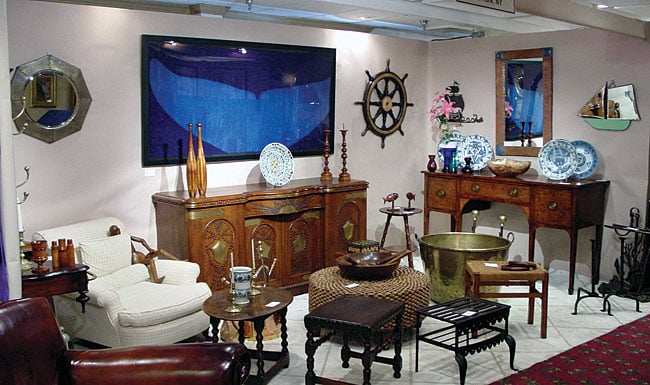 Whether the historic island of Nantucket is your home or you're just visiting, the Antiques Show offers a fascinating and varied display. The Annual Nantucket Antiques Show benefits the Nantucket Fireman's Association, a non-profit organization aimed at benefiting the Nantucket Fire Department, Firefighters, and EMTs.
In the past portions of the show's proceeds have gone towards supporting community programs, purchasing equipment for the fire department, giving out scholarships to local students, and towards providing relief for firefighters and EMTs.