• by Sarah Teach •
August on Nantucket is about to get cooler. The inaugural Nantucket Music Festival (NMF), slated for August 2-3, will welcome a stellar music lineup, 3,900 festival goers and a boatload of good vibes. The event's oceanside location at Tom Nevers Field will provide an unparalleled backdrop where people of all ages will converge for two days of family-friendly fun in the sun.
Festival founders Cynthia Dareshori and Cheryl Emery drew their inspiration from New Orleans' famous Jazz Festival. Dareshori says, "Last May, we were enjoying Jazz Fest and just fell in love with the atmosphere and amazing music." After experiencing the happiness that could erupt from a music festival, the two friends decided to spread that cheer to Nantucket.
Anyone who has launched a festival from scratch knows it's no picnic. Dareshori says, "First, we had to figure out if it was possible. We talked to Wendy Schmidt, and she was all for it. So she and Eric became our first major backers. We worked for several months with the town and the board of selectmen. [Selectman] Tobias Glidden had a burger with us at Lola Burger; he was so supportive from day one. We asked other festival owners for advice. We went to a lot of festivals, and talked to people in the industry, who were all very helpful."
"Choosing the lineup," says Dareshori, "sounds like the fun part but is probably the most difficult part of our whole job. We heard that for every 40 offers you put out, you get one band. But we've managed to put together a great lineup that has amazed people in the industry. Our initial dream was to include all kinds of music, so that there would be music to appeal to everyone. Also, we're proud to have eight Nantucket bands playing."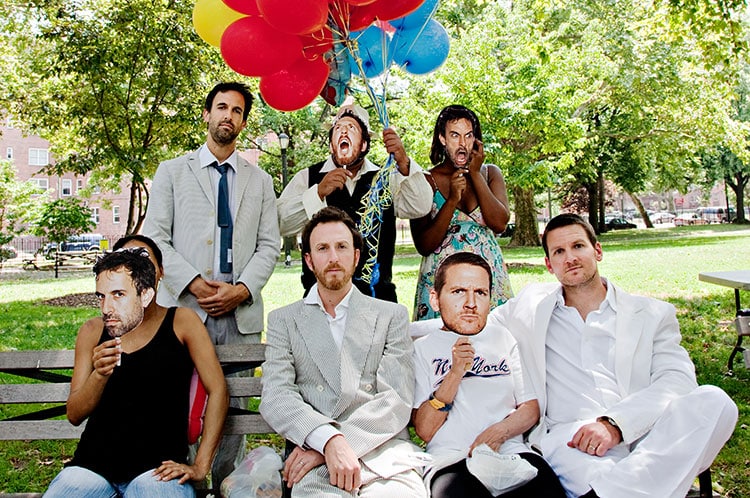 Indie/folk darlings Edward Sharpe & the Magnetic Zeros will be bringing their giant, open ensemble spirit to the island. The 10-member, Los Angeles-based band's second album was listed seventh on Rolling Stone's "Best Albums of 2012." Popular Boston-bred rock group Guster bolsters a star-studded list of artists and bands that also includes Steel Pulse, Donovan Frankenreiter, Chadwick Stokes, Lukas Nelson & P.O.T.R, Ayla Brown, Ben Taylor, Entrain and Freddy Clarke. Gates open at 10 a.m. on both Saturday, August 2 and Sunday, August 3. Music will be playing nonstop from 10 a.m. to 4 p.m. on both days.
Dareshori and Emery envision a mellow environment that will enable people from all circles to enjoy themselves in the great outdoors. A large tented area will allow festival goers to take a break from the sunshine, if need be. Tables will be set up so people can sit down and munch on treats from food vendors. A handful of artists will have booths to showcase and sell their work. Kids will love face painting and temporary tattoos by Anne Cuspa, and hula-hoop, beach ball, and bubble machine fun with Melanie Hajjar.
Tickets are on sale now at www.nantucketmusicfestival.com. Day passes are $150, and two-day passes range from $275-$975, with the higher end being VIP tickets. Island locals can get one-day tickets for $125 from Nantucket Sewing & Design or Nantucket Community School of Music. Children under 12 are admitted free with a parent or legal guardian.
There are a limited number of VIP tickets, which offer a luxurious experience, including two dinners with special performances. The dinners, which will be catered by Simply with Style, are only open to the first 500 ticket buyers. (At press time, there are a few VIP tickets left.) Saturday night's lineup is in the works, but will include a national act and two local acts. Sunday's diners will enjoy live music by Bruce Hornsby, the man behind the 1986 multi-platinum hit "The Way It Is." Also onstage with Hornsby on Sunday night will be The Easybeats guitarist George Young, and popular local gypsy band Coq au Vin. Other VIP benefits include the ability to park on-site at Tom Nevers Field, a VIP pavilion, complete with catering by Nantucket Catering Company, VIP restrooms and admission, and of course, prime concert seating.
Two VIP tickets to the Music Festival are the centerpiece of a $2,200 prize package in Nantucket.net's Summer Scavenger Hunt. The lucky winner will also get roundtrip travel for two from Hyannis to Nantucket on Cape Air and gift cards to a downtown restaurant. You can enter to win once a day — visit www.Nantucket.net/club and answer the questions.
For general admission ticket holders, there is no parking on-site, so the festival has designated a three-acre parking lot on New South Road. Parking passes are available at time of ticket purchase. Buses will shuttle parkers between the lot and Tom Nevers Field. If you choose to bike out, the festival will have a secure area to hold your bike, and even bike valets in case your bike needs a quick tune-up from riding on the dirt road to the location.
Dareshori and Emery know the importance of giving back. That's why they started the Celebrate Music Foundation, which is the charitable arm of the NMF. This year, they plan to use festival net proceeds to make a generous contribution to Nantucket Community School of Music. "It's a super way to partner with the music school," Dareshori says. "And looking to next year, we are very excited to involve more of the year-round community."
See you at Tom Nevers Field for the very first Nantucket Music Festival!
WHAT TO BRING: Weather-appropriate casual clothing, sunscreen, hats, jackets, ponchos, beach chairs (up to 30" high), towels or blanket, and hand held still cameras.
WHAT NOT TO BRING: Coolers, alcohol, fireworks, umbrellas, illegal substances, pets, audio and visual recording devices.