• by Katharine Rooney •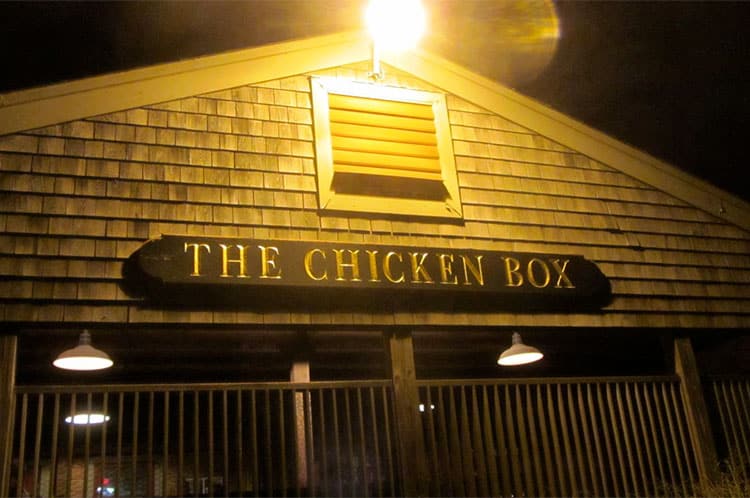 "We had surf today." Two men raised their pints with a smile. "To August."
John Jordin, co-owner of The Chicken Box, had just returned from Cisco Beach, where his bar was sponsoring the 12th annual Ozone Surf Classic. He walked across the linoleum and wood floor, around the horseshoe-shaped bar, and poured himself a Mount Gay and Canada Dry Ginger Ale.
What looks like your average dive bar at 4 pm on a Sunday, with locals sipping Whale's Tale and watching Tiger Woods pull ahead in The PGA Tour, is actually one of the most lucrative bars in one of the most exclusive vacation spots in the U.S.
Something makes this bar exceptional.
"It's a dive bar, but it's got soul, it's got character, it's got charisma, it's just always felt really good to me" said Jordin, one of three Chicken Box owners.  "A lot of that is the music."
The soul, character, and music Jordin mentions date back to 1948, when Willie House and his wife migrated from Kentucky to Nantucket. He sold homemade fried chicken out of a 20-by-20-foot shack that once stood between wooden beams that still occupy the center of today's building. A liquor license was not required, but House was known less for his drinks and more for bringing in live blues entertainment.
But not just any blues.  Muddy Waters, who ranks No. 17 on Rolling Stone Magazine's list of the 100 Greatest Artists of All Time, was among the first to take the small stage.
"Music was always an integral part of the whole vibe here" said Jordin.
Reggae replaced the blues vibe in the 1977 when Robert Reed, or "Seaweed," as he is known, bought The Box from Willie House.
Seaweed had spent time on his boat in Jamaica and fell in love with reggae, bringing the genre with him when he returned to New England.   "People weren't familiar with it, but reggae and the island seemed to really fit" said Jordin.
"Seaweed changed the image" added Glen Murphy, local part-time Box employee.  "He built up a night crowd, before that it was more of a day crowd, and started bringing in consistently good music."
In the years since Muddy Waters, a host of other nationally recognized performers and bands have played at 16 Daves Street, including: The Wailers, Little Feat, Maceo Parker, Donovan Frankenreiter, Grace Potter, Collie Buddz, Jimmy Buffett.
The current owners have upheld the reputation of their music-loving predecessors, but buying the Box wasn't easy.  "We were the lowest bidders. A bunch of people were trying to buy it, one of them being Jimmy Buffett." Seaweed accepted their offer, and on May 10, 2000, Thomas "Packy" Norton, John Jordin, and Anthony "Rocky" Fox acquired the bar from their friend and former boss. A wooden plaque carved with the iconic date now hangs above the pool tables.
"I liened my house, Rocky liened his house, and Packy got a loan from Tom Scott, who owned Nantucket Nectars at the time" said Jordin.  "We scraped everything together and totally leveraged our lives because we believed in the place."
Packy and Jordin "washed ashore" in 1992, while Rocky grew up down the street, and has been in The Box since he was "this high," said Jordin, holding up a tan hand to the middle of his Life Is Good T-shirt.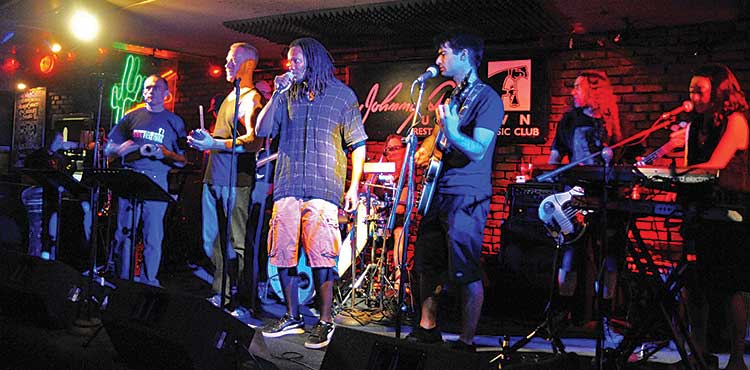 Jordin is originally from the Philadelphia area, but has lived on Nantucket full-time for 23 years. He's grateful for a career that allows him to meet new people and to live a life of flexibility and free time that he mostly dedicates to his family.  Jordin's oldest daughter, eleven-year-old Jackie, is a budding musician herself, and will often jump on stage at Cisco Brewery to play a version of "Don't Stop Believing."
Good will and "tight bonds" extend beyond the owners, to their staff, patrons, cab drivers, and even local competitors.  They are known for taking employees on fishing trips, to dinner, drinks in town, then coming back to the Box to "raise hell," while a group of "startenders" from Straight Wharf, an in-town rival, man the bar.
Glen Murphy knows about the perks, even as a part-time employee.  Murphy and coworker Joel were given tickets from El Knife, The Box's alcohol distributor, to see Roger Waters perform at Great Woods. The duo stood between four Budweiser girls and four distributers, watching Pink Floyd's virtuoso bass guitarist from ten rows away.
"We're a big family" said Carrie Seyer, who commutes from Boston to bartend on weekends.  "It's fun, we all rip on each other."  Seyer calls her day shift the most underrated one on the island. "I get to hang out with good, salty locals. They're all great people. Quirky, salt of the earth, awesome people. I just relate to them. We hang out and give each other advice.  I'm never leaving" she said with a laugh. "I'll be working weekends, until I die."  She and Murphy jokingly call it The Boys and Girls Club for adults.
Jordin loves his staff but laughs, saying "sometimes it's bad because it's really hard to fire people."
Murphy describes how 30 years ago, after jumping off the roof and smashing down on the hood of Seaweed's 2-week-old car, his boss fired him, but he was back a week later.  "This place is just different than anywhere."
Their relationship with bands is also a unique one and equally hard to break up, according to Jordin.  "We needed some changes, we have regular rotation band, had some stuff that needed to be weeded out.  It's hard because you become like family."  Packy, who also lives in Beacon Hill, and owns The Vault in Boston, recently took the band-booking reigns from Jordin.  "Packy took it over, was able to cut out the things that needed to be cut out, and added new bands, he's done a magnificent job."
The owners foster relationships with island cab drivers through "cabby nights" where drivers get in free. They also have great rapport with other bars and restaurants in town.  "You have to take care of those who take care of you" Jordin said.
One way they take care of loyal customers is through The Box Pass, a drivers-license-size card that is a sign of Box status as well as free entry.  "We give passes to locals and basically good patrons, patrons who are here a lot."  There's no easy way to get one, according to Murphy.  "You don't forget who gave you your first Box Pass."
Customers have stayed loyal, but the crowd has changed throughout the years.  Jordin recalls times when unfriendly fishing boats would dock during in the winter, bringing in equally unfriendly sailors, and times when people came at him with scissors or pool sticks. "It used to be kind of a rough and tumble place, we really kind of cleaned it up."
He describes better times at The Box, brides dancing on the bar in wedding gowns, and the occasional celebrity, who Jordin says people often leave alone.   There's no "I have more money than you, I have more power than you, I know more people than you here… You're in the Box, everyone's having a good time.  One of the coolest things about this place:  it doesn't matter who you are, what you are (because we have a lot of that here), it doesn't matter your background.  When you walk through the door, everyone is on the same playing field, everyone's equal."