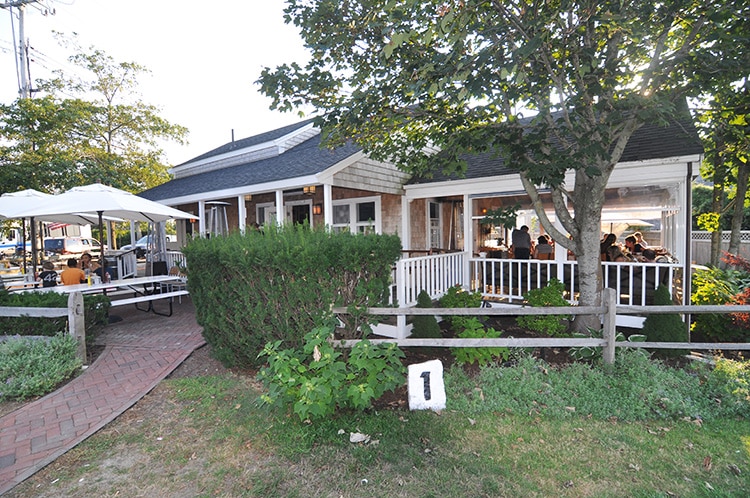 When Lola Burger closed its doors on Broad Street in the fall of 2011, the island practically went into mourning.  No more Lola Burgers or Tuna Burgers or Foie Gras Gravy Fries.  It was going to be a long, dreary winter.
This spring, the island buzzed with excitement when word got out that Lola Burger was reopening in new and bigger digs at the Milestone Rotary.  Now, whether you're headed into town, to the airport, to Sconset, or to mid-island, you can easily pull over and stop for one of these famous burgers!
The genius behind Lola Burger (as well as Lola 41° and Pazzo) is Marco Coelho, who says "It has always been my goal to reopen Lola Burger.  The Rotary gives us more space in a great location, and I think it's the perfect place to offer Lola Burgers, beer, wine, and a larger menu with new additions."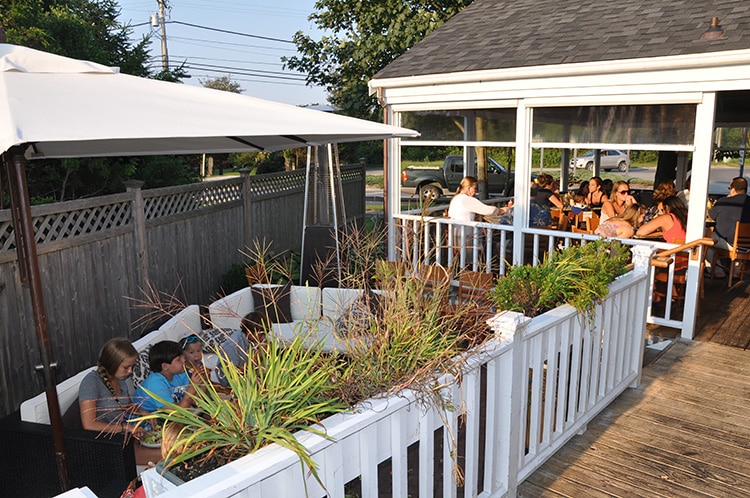 Even with the summer season coming to a close, when we got to Lola Burger for dinner last week, the place was packed.  It's a brilliant idea to offer free valet parking both for lunch and dinner during the summertime, so there was no trouble parking.  We just pulled in, stopped by the valet station for our ticket, and then headed into the restaurant.
Last year The Rotary restaurant changed hands and was completely refurbished (rebuilt, from the look of it), so if you are envisioning the run-down place that you remember passing by on your way to somewhere else, take a second look.  The new restaurant is inviting, with a wrap-around deck, market umbrellas, and intriguing tower heaters that glow warmly in the chill of the evening.  There's even a back patio with umbrellas and comfy couches.
Enter through one door, and you'll be in the takeout area, with chalkboard walls and designed and staffed for fast service.  Walk across the front deck, and enter through the restaurant door, and you will find yourself in a bistro style dining area with a 7-seat bar at the back.  Lola Burger serves a modest but well-matched selection of wines and a great choice of beers.  Because so many of the craft beers offered are small batch, the selection changes frequently.  So if your favorite Hell or High Watermelon is off the list, your server can recommend something new to try.
Families are welcomed at Lola Burger, and at the start of our early dinner (6 pm) most of the granite top patio tables and front picnic tables were occupied by parents with youngsters.  By 7:30 or so, the families had gone home and the indoor bar was hopping—Lola Burger had transformed from a family burger joint to a fun nightspot.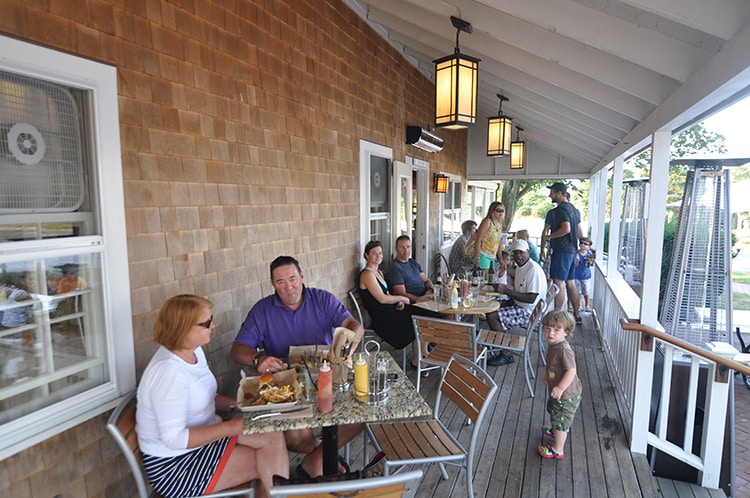 Robert Boslow, executive chef for Lola 41° and Pazzo Restaurants, oversees the kitchen at Lola Burger and created the menu with Marco.  The focus is on burgers, with lots of opportunities to mix and match.  With 7 specialty burgers and sandwiches, four sauces, six different types of cheese, and extras that include applewood smoked bacon, fried organic egg, grilled mushrooms and onions, avocado, red onion compote, sweet peppers and onions, sunomono, and kim chi, you could eat here every night for a month and never repeat a dish.  Did I mention they have an award-winning classic New England Lobster Roll, too?
 Click on images for enlargements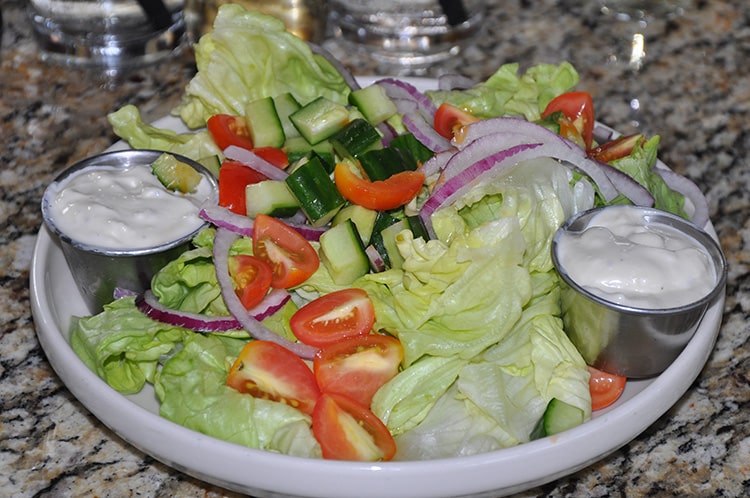 Manager Camilo Rodriguez described Lola Burger as a "one-course restaurant," but that's all in how you order.  We started by sharing their Boston Bibb Salad, a bowlful of tender-crisp lettuce, chunks of cucumber, cherry tomatoes, red onion, and your choice of four dressings (choose the bleu cheese!).  The salad was big enough for four of us to share as a first course.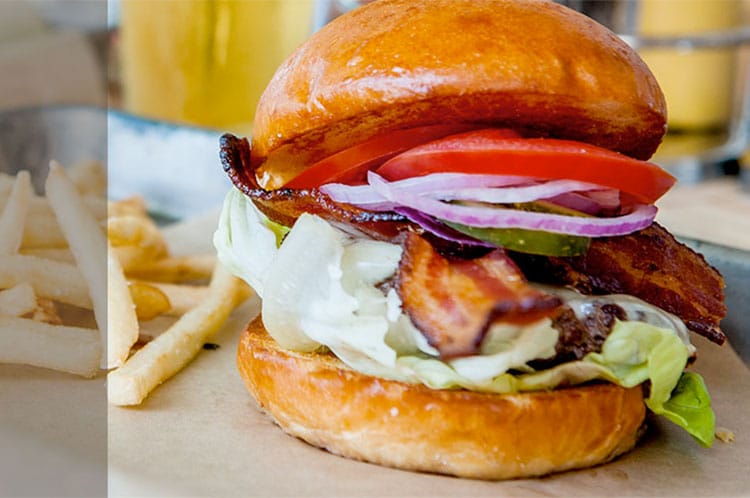 Lola Burger's Classic Burger is just $7.75.  Add a couple of bucks for some tasty extra toppings, and you can design your special burger.  They even offer their Classic paired with Chandon Brut Classic for just $20 in their Burger & Bubbles entree, which Camilo referred to as "an adult happy meal."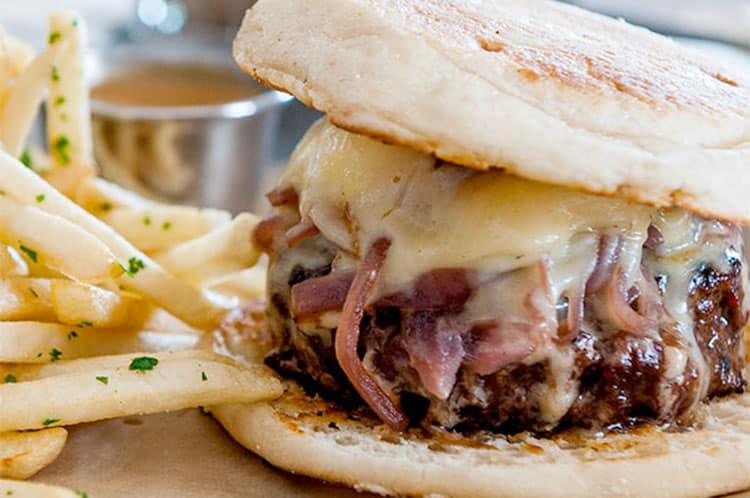 You can't go to Lola Burger without ordering their signature The Lola Burger.  This sophisticated burger became an island favorite at Lola 41, and word of it spread fast when Lola Burger first opened on The Strip in 2008.  We heartily recommend it, even at the $20 price.  Served on an oversize toasted English muffin, this delicious burger is hand-packed with succulent certified prime beef.  It's topped with just enough aged cheddar to add tang and just enough red onion compote to add hints of sweetness.  A foie gras dipping sauce adds the final crowning touch.  If you don't finish all the foie sauce with the burger, then pour it over the thin, crisp fries served in a pile alongside.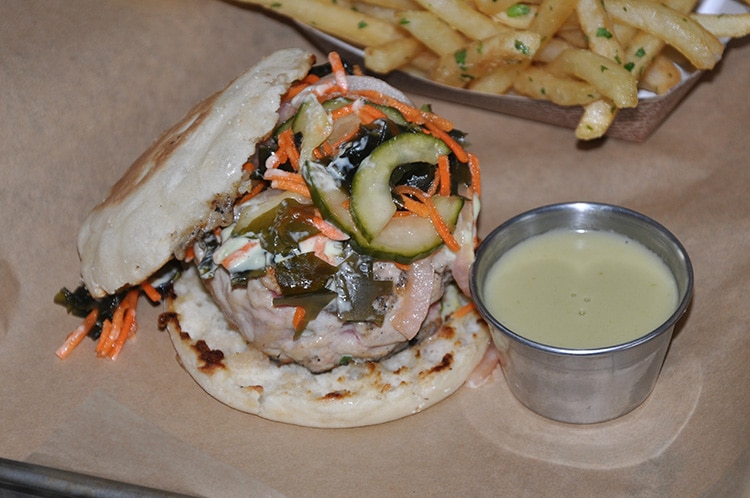 We were happy to discover that they also brought back their very flavorful Tuna Burger, formed with large chunks of hand-chopped yellowfin and topped with cool and crunchy Asian-inspired sunomono relish.  Wasabi mayo spread on the English muffin adds a nice tingle.  The soy ginger glaze that is served on the side is tasty drizzled over the burger and as a dipping sauce for the fries.  Order this rare to savor the clean flavor of the fresh tuna.  We like this burger best with the Spicy Secret Sauce Fries, topped with a very spicy mayo.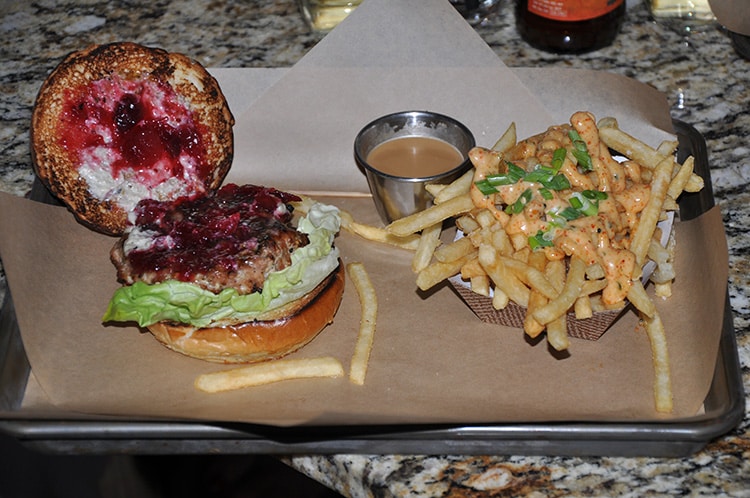 The Turkey Burger is another great choice.  This housemade burger is topped with a holiday mix of cranberry compote, and mayo flavored with the same herbs and seasonings that make turkey stuffing so addictive.  Like the other burgers and sandwiches here, this is served on a toasted brioche bun, although you can have yours on a gluten-free bun or even on a leaf of bibb lettuce.  If you order the Turkey Burger with the Foie Gras Gravy Fries you can have an early Thanksgiving.  The Lamb Burger:  is also very good: juicy with great char flavor and topped with creamy feta, spicy harissa, and arugula.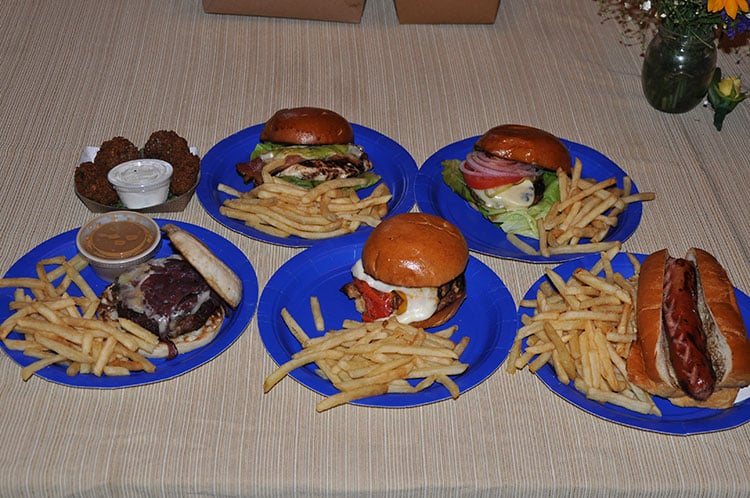 Not in the mood for a burger?  Lola Burger also serves a succulent Grilled Chicken Sandwich with bacon, avocado, Swiss cheese, lettuce, and tomato.  Or you can try their version of an Italian Sausage Sandwich, with mozzarella, sweet peppers and onions.  And did we mention the enormous, fresh Lobster Roll served here?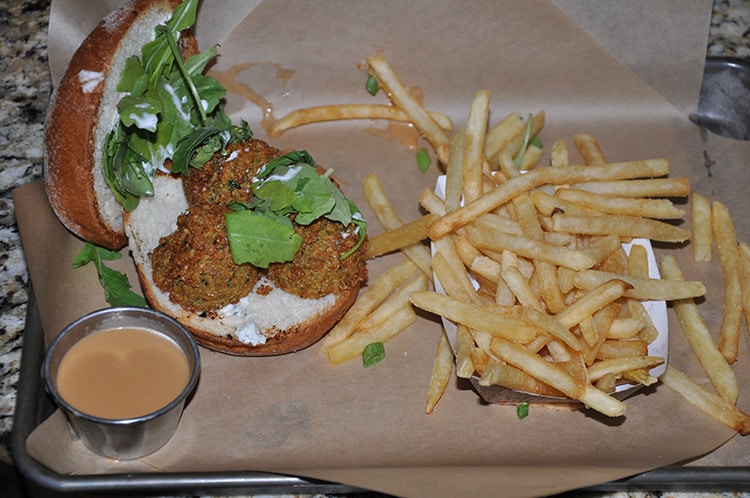 We confess to slight disappointment that the superb veggie burger we remember from their location on The Strip has not yet made onto the new Lola Burger menu (maybe next season?), but we were delighted with the vegetarian Falafel.  The falafel is served in balls (think vegetarian meatball)—each one crisp outside and fluffy inside, with a delicious garlicky flavor.  This can be ordered as a side dish to add a little substance to the Bibb Salad or as a sandwich on a brioche bun with creamy cucumber yogurt sauce and arugula.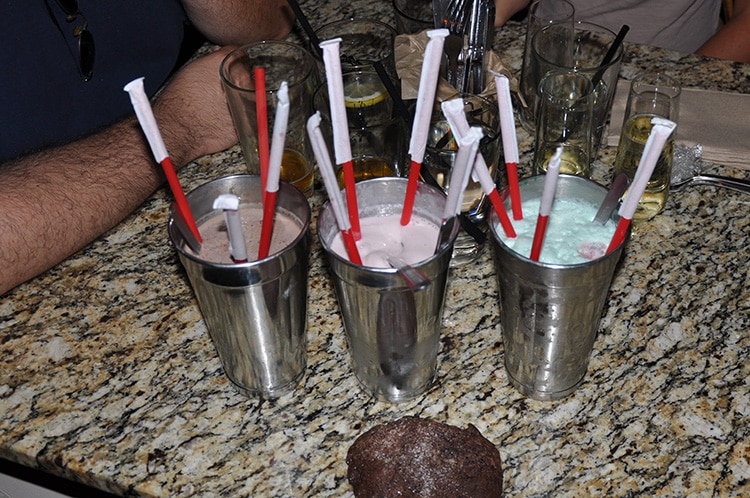 They don't offer dessert per se at Lola Burger, but they do make a very good Fro-Yo Shake—actually six of them:  Dutch chocolate, vanilla bean, strawberry, pomegranate, mint, and coffee.  Sounds like dessert to us!  Our server also offered us an amazing cookie made with dark chocolate, chocolate chips, pretzel bits, and sea salt that they also serve at Pazzo. We didn't see this listed on the menu, so it could be a once-in-a-while offering.
Don't wait head over to Lola Burger—they are not promising to be open past Columbus Day (but we hope they are). If they do close for the winter, you can still order both the Lola Burger and their Tuna Burger at Lola 41. And, if you're in Boston, you'll be able to enjoy them at their new Back Bay location, slated to open later this year. Watch their website for updates: www.lola41.com.
LoLa Burger
1 Sparks Avenue • lolaburger.com • 508-228-9491
Open Daily from 11 am to 10 pm
Burgers range in price from $7.75 to $24
Beer & Wine • Indoor & Outdoor Dining
Free Valet Parking during the summer
Entire menu is available for takeout • Major Credit Cards Accepted