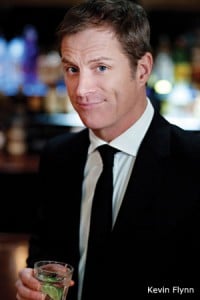 Comedian Kevin Flynn, nationally known and a favorite on Nantucket, is returning to an island stage for two Monday night performances. He'll appear at the new White Heron Theatre Company in downtown Nantucket on Monday, August 15 and Monday, August 22, both at 7:30 p.m.
It's that hectic time in Nantucket's summer tourist season when visitors and year-rounders alike appreciate comic relief. After vacationing and performing on the island for more than 20 years, Flynn's got the best comedy chops to dish out punchlines for hearty laughs from Nantucket audiences. You might have already heard or seen Flynn's "hilarious and heartwarming stand-up" in his many appearances on national comedy stages including New York City's famed Gotham Comedy Club, on TV series including "Sex and the City," in movies by his pals the Farrelly brothers among others, and at many public events. A former award-winning soccer player, Flynn has covered games for ESPN and today is host of ESPN Radio's "Over the Ball," a popular program combing reporting and commentary on soccer with comedy.
On Nantucket, he's the founding Executive Director of Nantucket Comedy Festival, the ten-year-old gathering of nationally-known comics who visit the island in support of Stand Up & Learn, the festival's educational experience program for kids.
Flynn, the founder of Monday Night Comedy on Nantucket, delivers colorful takes on everything from being a dad to bad public behavior, salted with sharp observations about relationships and the current presidential political campaign. Count on him to keep America and the island laughing.
Tickets for each performance is $30 and available online at whiteherontheatre.org or call 508-825-5268. White Heron, located at 5 North Water Street behind Nantucket Whaling Museum, opened in July as the first ever new building on Nantucket designed solely for the performing arts (previous spaces were converted). White Heron is an Actors Equity Association member theater, producing classical and contemporary plays with an emphasis on the development of new work through it's Nantucket Theatre Institute and in association with the Long Wharf Theatre and the Sundance Theatre Institute.