by Carl Oscar Olson
When hunger starts calling, it can be a difficult thing to ignore. And sometimes, it can be even more of a challenge to satisfy it. There is one place on Nantucket where no matter what your craving demands, at almost any time of day or night, you can fill your belly and keep your wallet full, too: The Easy Street Cantina.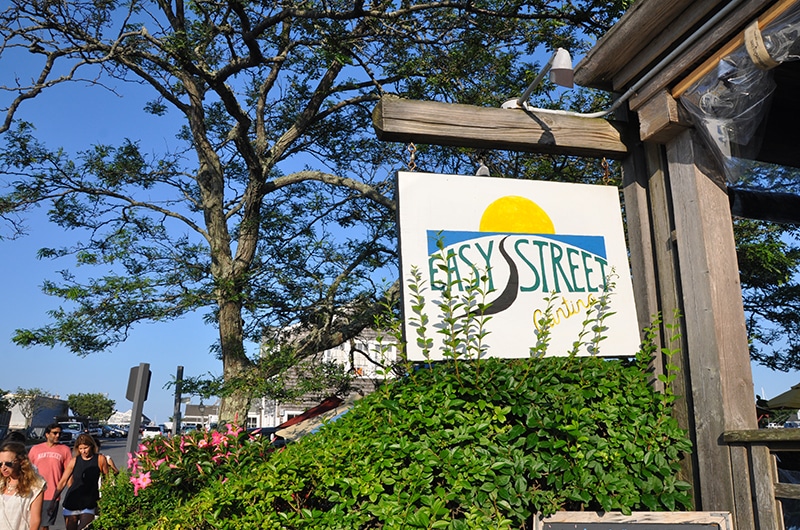 We love enjoying the ocean breezes and sitting on the corner patio at Easy Street Cantina. This restaurant is a stone's throw from the ocean and is in the middle of all the harbor-side action, so it features some of the best people- watching in town. Step inside, order up front, and in minutes your food is ready, just the way you like it. Everything is made from scratch and cooked to order, and the difference is easy to see.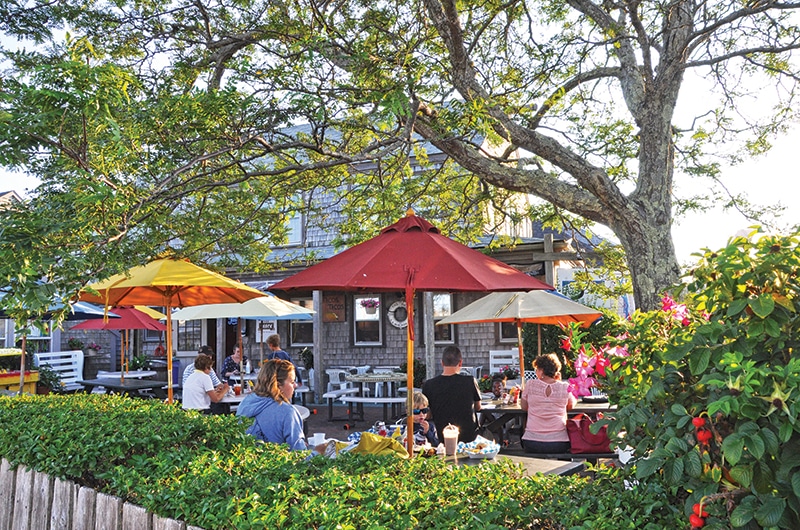 The menu runs the gamut with Mexican standbys like tacos, burritos, and enchiladas. If fried fresh seafood is what you're after, then look no further for favorites like hand-breaded fried clams or beer battered Atlantic cod. In addition to the homestyle classics like burgers, clubs, and subs, Easy Street serves breakfast all day long. So whether you're up early or working late, you can get the fuel you need for all your island adventures.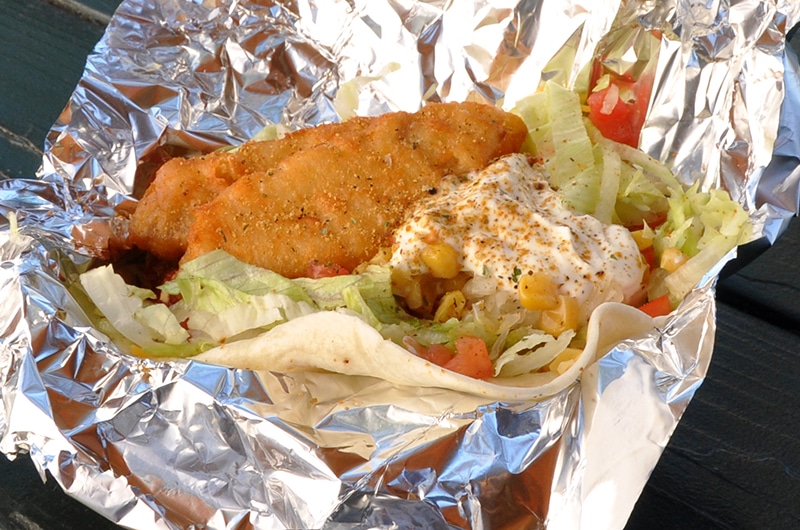 We decided to start with some of our go-to items: Fish Tacos, Fried Clams, and Popcorn Shrimp. The Fish Tacos are deliciously different this year, featuring an upgrade to exotic mahi-mahi. The firm white fish is lightly flash-battered making it mild and moist. It's what we call a "2-handed taco," and one order could make a meal.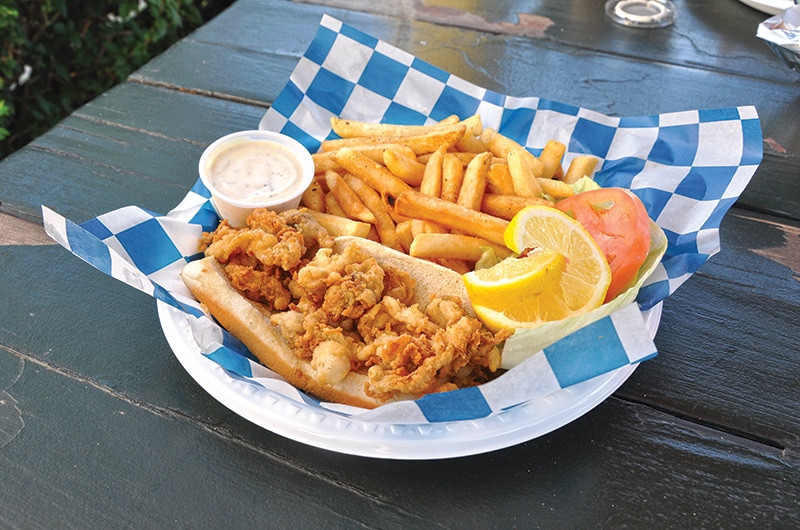 The Fried Clams are our favorite on the island. They're super tender, light, crisp, and incredibly clean with just enough breading.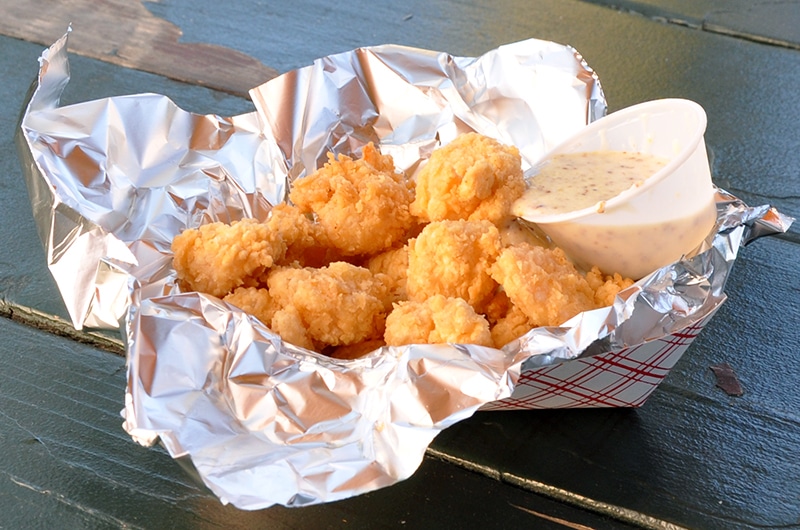 We could eat the Popcorn Shrimp all day, every day. These perfect piping hot morsels are never chewy and always just right. They're served with a homemade honey mustard sauce that adds the perfect zip to every morsel.
New this summer, Easy Street Cantina now offers cool and convenient Curbside Delivery. Call ahead and place your order with a credit card, then park your car anywhere close by. A member of the Easy Street team will bring your food right to your vehicle. It just couldn't be easier!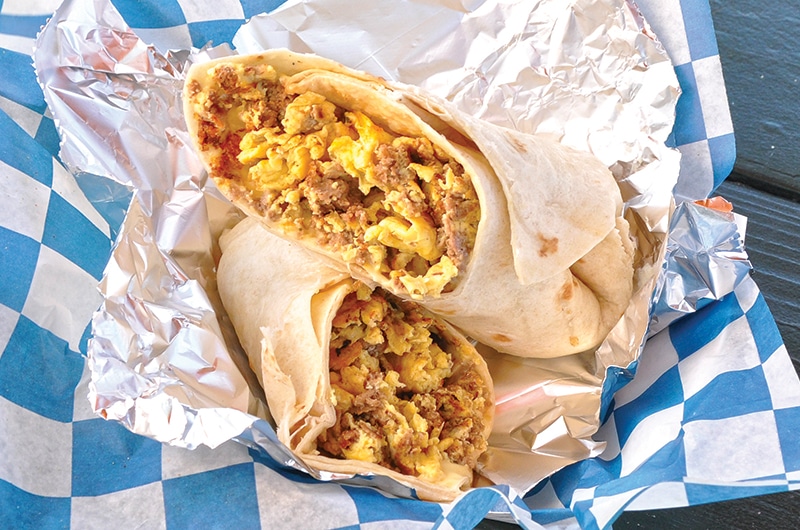 It's always time for breakfast on Easy Street, and the options will keep you coming back around the clock. Their Steak and Cheese sandwich has always been a draw for us, but they outdid themselves with the Steak, Egg, and Cheese Burrito. This protein powerhouse has what you need for a long day in the sun or on the water. Scrambled eggs, juicy steak, and melty cheese fill every bite with mouth-watering wonder.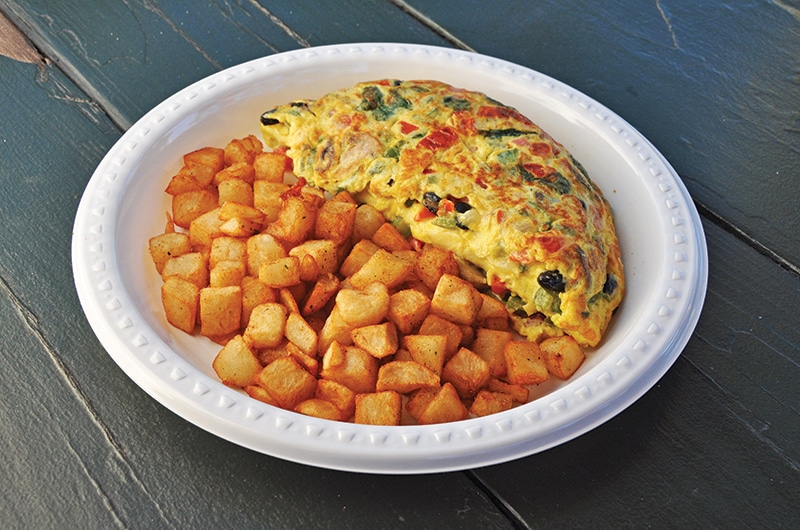 You can't go wrong with an Omelette, and on Easy Street they are high as a house and sized to share. And you can make your own, too: choose up to five ingredients from the long list available, and your egg-cellent custom creation will be cooked to order in minutes. Ours was loaded with vegetables and the bright colors of summer poked out from within. We opted for homefries over hashbrowns as a side, but either would make for a winning combination.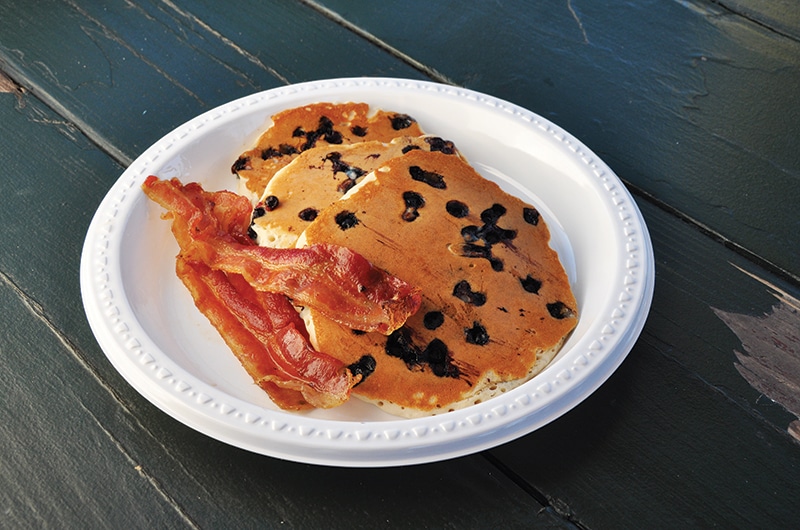 Pancakes any time makes the kids and the kid in all of us as happy as can be. Golden brown and fluffy, we recommend the Blueberry Pancakes. The fruit is always fresh and introduced generously on the griddle adding sweet-tart pops of summer to every bite, with never any packaged, processed shortcuts like other island eateries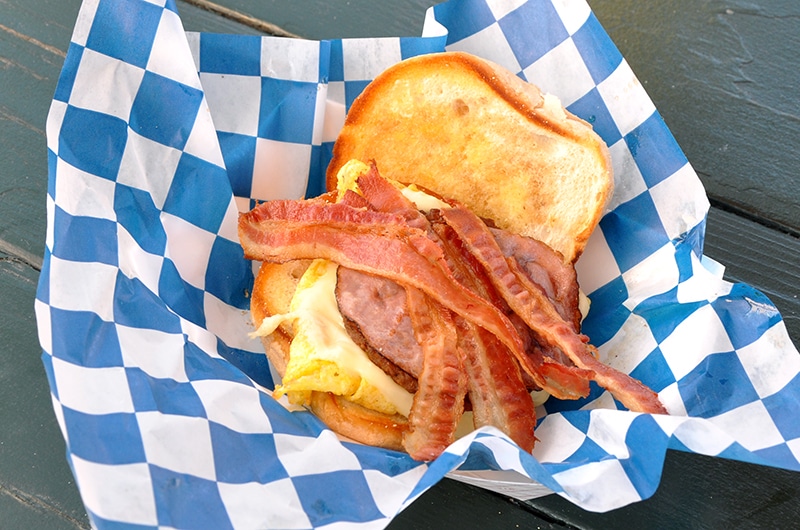 Our favorite by far is the aptly named Grand Slamwich. The holy trinity of breakfast meat: bacon, sausage, and ham, sit atop fluffy scrambled egg and cheese. It's all tied together with a fragrant maplegrilled bun. It's deliciously filling and certainly smells like solid start to the day.
Chef Reid has been at the helm of The Cantina kitchen for 15 years, and he is going strong. His warm smile and contagious laugh are almost as good as his food, and while we were there he kept the kitchen busy bringing out fantastically fresh dishes.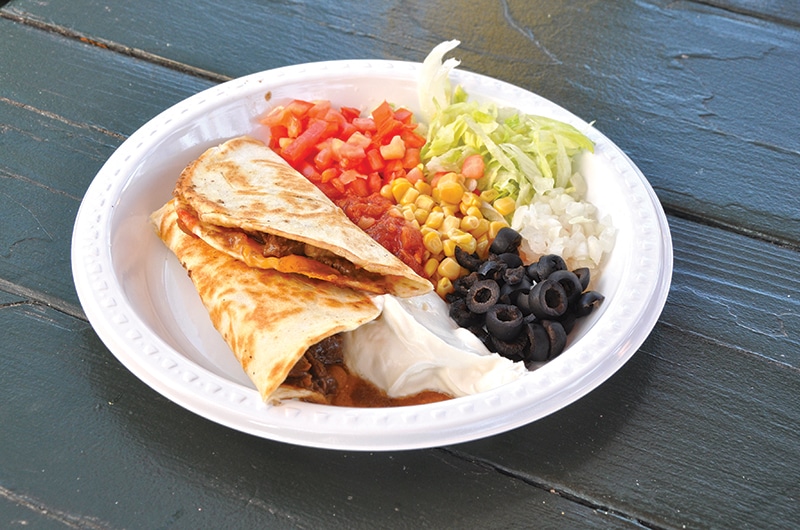 The Steak Quesadilla marries melted cheese and marinated steak in a just-browned tortilla. All the fixings are on the side, so you can make it your own with fresh lettuce, tomatoes, corn, onions, olives, salsa, and sour cream. Everything you want in every bite.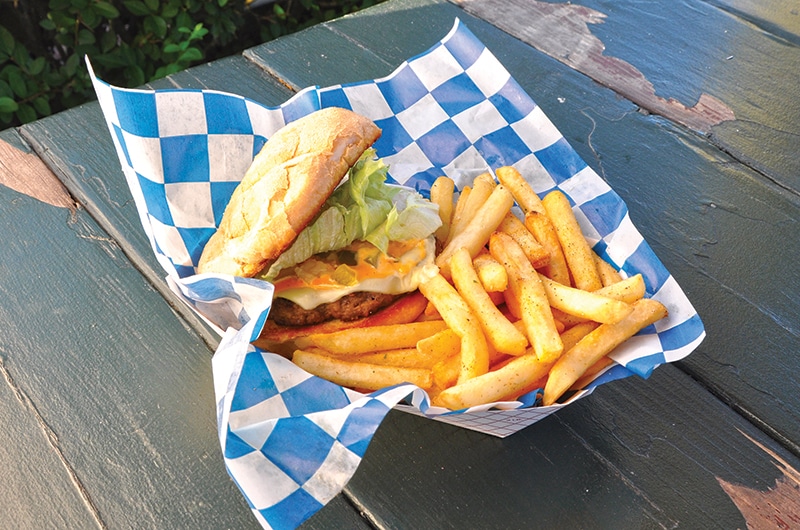 We found the best burger of 2018 in the ACK Mac. The thick beef patty is decked out with lettuce, tomato, cheese, and, of course, your favorite "special sauce." Served on a buttered toasted bun alongside golden brown fries dusted with Cantina owner Bart Gangemi's own blend Nantucket Island Spice, this is everything a burger should be.
Many items served at Easy Street are made or finished with Gangemi's own Nantucket Island Spice. It contains an exotic blend of dehydrated vegetables and herbs, along with sea salt from the waters around Nantucket. It adds a fresh, savory blast to everything except ice cream, but don't knock it till you try it! It's available at the restaurant or online, so try some in your own kitchen.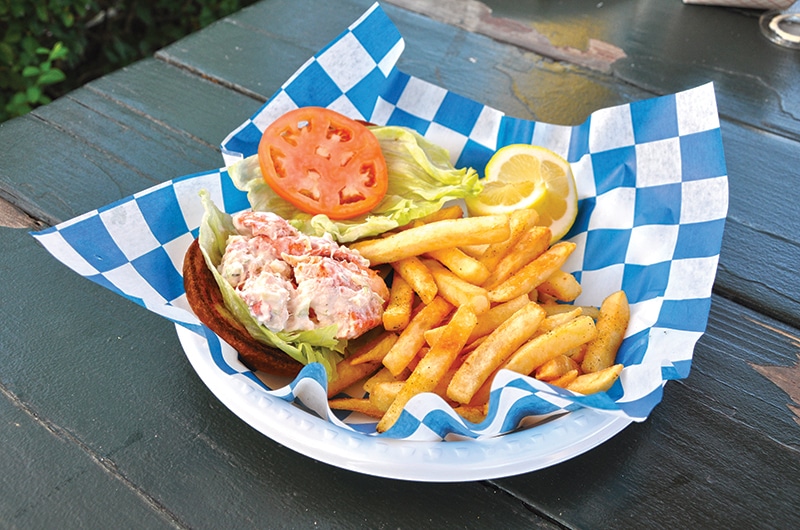 We love Lobster Rolls, and once again Easy Street takes this island favorite to another level. It's served on a croissant, and the breakfast bread brings out even more buttery sweetness in the succulent lobster meat. It's served with soft bib lettuce and more of those fantastic seasoned fries.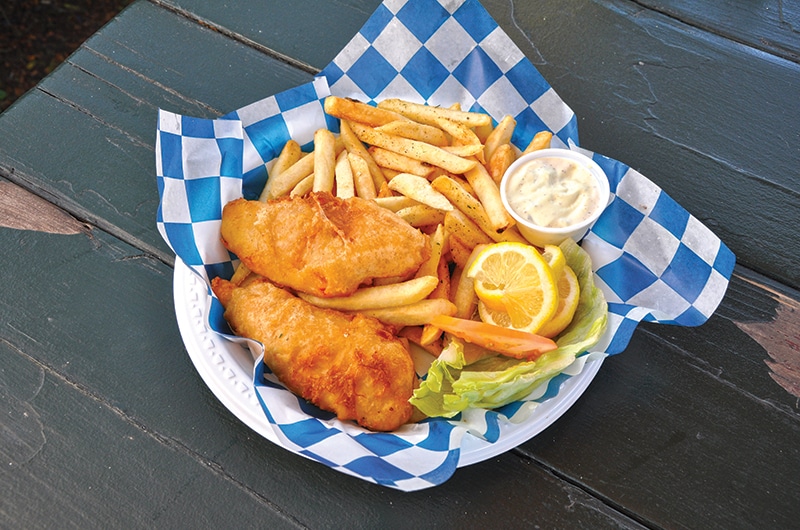 Naturally, they nailed the Fish and Chips. Two thick pieces of flaky-white cod are beer-battered and fried to perfection. There is an audible "crack" when you cut through the crust, but let's not forget about the quintessential sauce: tartar. It's fluffy, never thick, and somehow more lemon than mayonnaise. It's perfect for any and all of their seafood and it's the best we've tried anywhere.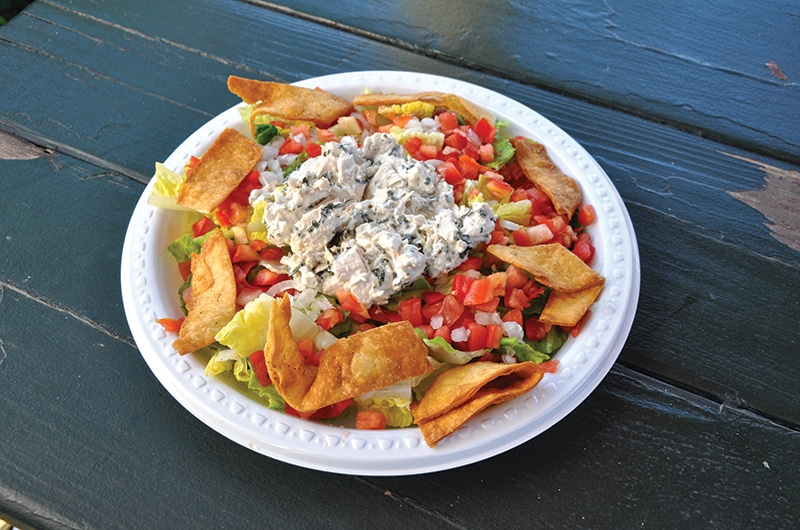 Salads often get lost in the mix, but Easy Street's are not to be missed. The flavor of your summer garden sings in the Basil Chicken Salad. Dinner sized and delicious, this salad features a moist chicken breast that sits atop a bed of fresh greens and tomatoes with crispy fresh fried pita chips. Dressing of your choice is served on the side so you'll never have too much.
Over the years, Easy Street Cantina has given back over $1,000,000 to islanders and visitors alike with their 10% discount program. Valid all year 'round and available on their website, it's something rarely seen on Nantucket or elsewhere. It puts on display The Cantina's passion for their patrons.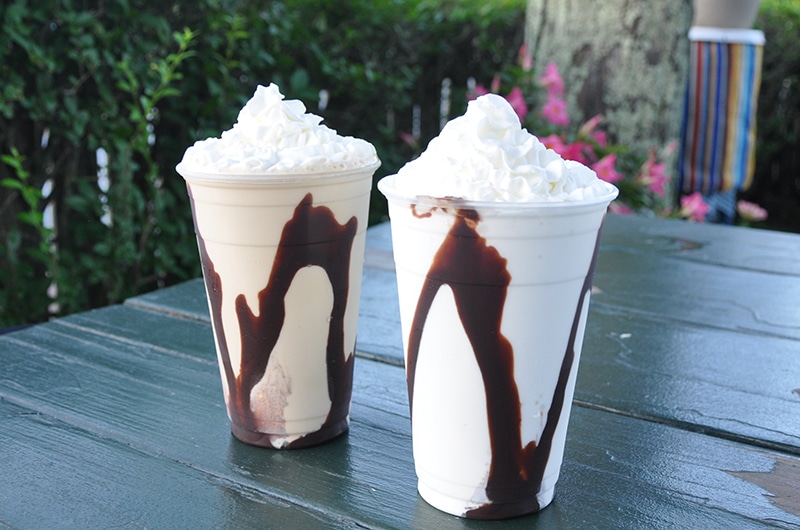 Did we mention dessert? Easy Street offers Ice Cream, Shakes, and. of course. small batch Cookies from their own Nantucket Cookie Company. The evening we dined was one of the many humid evenings this August, and a couple of cold Shakes sounded just right. The Black & White is a classic vanilla and creamy as can be, while the Mocha Coffee offers the rich taste of your morning cup with shots of chocolate syrup through the straw with every sip.
Everything comes easy on Easy Street, so arrive hungry and bring friends. The prices are good, the portions are better, and the food is fantastic.
Easy Street Cantina
508-228-5418
Corner of Easy & Broad Streets • easystreetcantina.com
Open every day: Monday-Thursday from 7:15 am to 10 pm,
Friday & Saturday from 7:15 am to 2 am, and
Sunday from 9 am to 10 pm
Breakfast foods served all day • Lunch Buffets begin in September
Prices range from $4.50 to $12.95
Indoor Dining, Outdoor Dining, & Takeout • Party Platters available
Home of the Nantucket Cookie Company: NantucketCookie.net