by Dr. Sarah T. Bois, Director of Research & Education for the Linda Loring Nature Foundation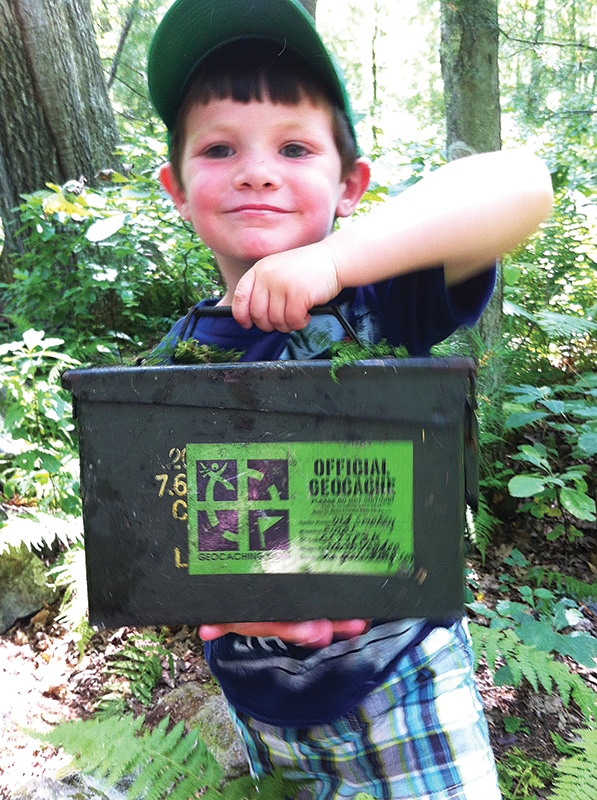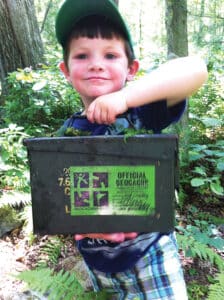 Picture it: Squam Swamp in summer. We are bushwhacking off-trail among the mosquitoes are deer flies. We are trying to locate an old campsite among deer trails, but keep getting turned around. It's especially hot and humid and the green briar and poison ivy are in full force. What are we doing?
And then, we finally see it. "Mom, mom, I found it!" Nothing compares to the sheer joy of a 5-year-old finding a box of treasures in the middle of the woods when we are seemingly miles from civilization. What we had just found was a geocache. This particular cache may have been a little difficult for this stage, but we were hooked and nothing but bad cell phone reception could stop us. Have you ever been on a real treasure hunt? No? Welcome to the world of Geocaching. If you haven't heard of it, don't fret. Those in the know are instructed to keep it mum as if you were a muggle in Harry Potter's world. Consider yourself muggle no more.
Geocaching is based on a long tradition of hiding clues somewhere around the world in hopes that someone else, someday will find it. While it was officially started in 2000, Geocaching is based on older activities like Letterboxing (which began in 1854). It uses orientation skills, problem solving, and a handheld GPS to make discoveries all over the world.
At its most basic, Geocaching is a real-world, outdoor treasure hunting game. Participants navigate to a specific set of coordinates and then attempt to find the geocache (container) hidden at that location. While it can be a good lesson in orienteering and navigation, today's geocaching involves the GPS in your phone (or other handheld GPS device). There are caches for all levels of expertise, all levels of mobility, and levels of mental difficulty.
Geocaching really only requires a few steps to get started:
The first is to register for a free Basic Membership at geocaching.com.
Enter your postal code and click "search."
Then choose any geocache from the list and click on its name.
You can enter the coordinates of the geocache into your GPS Device and then navigate to find the hidden geocache.
After you find it, sign the logbook and return the geocache to its original location.
If you want to, you can then share your geocaching stories and photos online.
Even easier is to install the geocaching app on your phone. It will automatically show you the caches in closest proximity to where you are and navigate you to the location. The description of each cache will tell you if it's regular, small, or micro.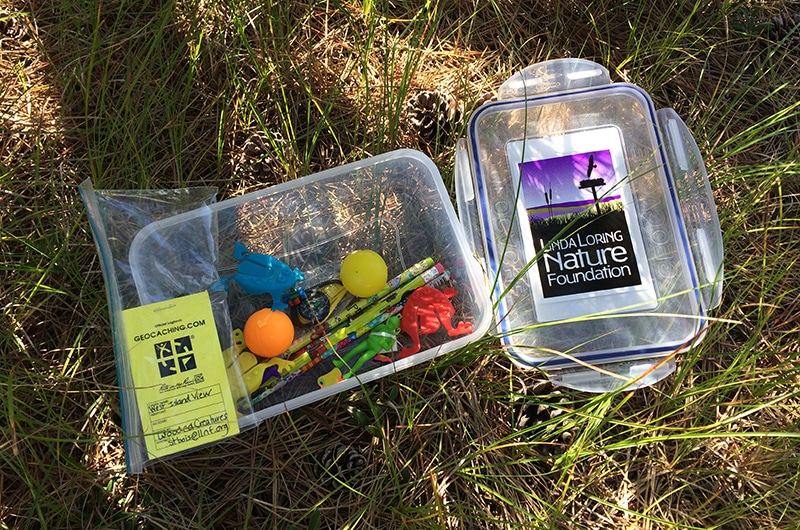 This is important to know what you're looking for. It also helps if you're with kids. Regulars and smalls are generally small boxes that have small treasures. Micros won't have toys or tradables, but will still have a tiny scroll of paper to write your geocaching name on. And that's important! Your geocaching handle is your secret name. We sign all of ours with our handle, Wooded- Creatures. Others around Nantucket include ACKSQUIRRELS, Loki, and FourSerendipity.
Back to the caches themselves; they can be anything. Oftentimes they are Tupperware containers or weatherproof boxes. We've found old ammo containers and secret plastic rocks. People who really like a challenge set up fake birdhouses, pretend pinecones that open, and even little Lego boxes.
So, what's traditionally in a cache? Erasers, matchbox cars, pencils…it's a treasure trove of tchotchkes. Another important item in a cache is the log book. This is the record of you finding the cache. Sign your geocaching code name and the date and often a word or two about your adventure and you're done. Remember not to take the pencil that it used for signing in the cache!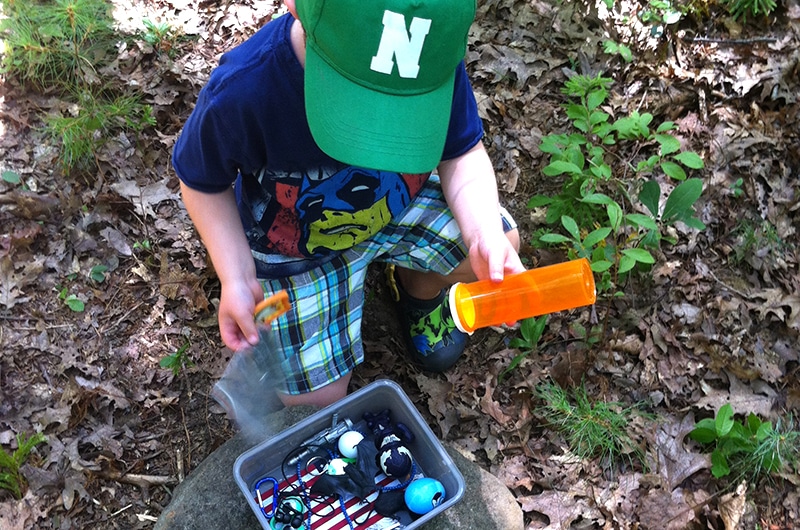 In addition to the steps to get started there is some geocaching etiquette that must be observed.
First of all, don't let muggles see what you're doing. If you're on a path, looking for a cache and poking around some stone wall, be a little secretive when others come along.
When you do find a cache, only take something if you leave something of equal or lesser value. Don't put sticks or leaves as a trade for a keychain, that's just poor form. I generally keep a small bag of trinkets in my car just for this purpose.
Do not put food in the cache. This just invites creatures of all sorts to wreak havoc on the cache, ruining it for everyone else.
Lastly, for now, DO NOT MOVE THE CACHE! While that may seem obvious, it can be tempting to move it just a bit or hide it "a little better." Leave it just as you found it, and then everyone will have a chance to find the cache after you.
As of June 28 2017, there were 90 geocaches listed for Nantucket. My family has managed to explore only about 30 of them, but summer has just begun! Hiding caches is another lesson entirely with lots of rules and suggestions. You should get your feet wet first with just finding several. The geocaching. com website has a lot of great info about hiding and seeking caches if you need more.
Geocaching on Nantucket is a great way to learn the island even if you're a seasoned old salt. There are people who make day trips to the island and try and find as many caches as they can before catching the last boat. Whether by bike or car they often see more of the island than people who spend much more time here.
Geocaching is also a great hobby for travelling. We drive up to Maine regularly and like to find caches at various off ramps and rest stops along the way. It breaks up the car ride and gets us to pull off where we never would have stopped. Since caches are supposed to be hidden on publicly accessible land, we often find "hidden gems" of parks and properties we would not have found otherwise.
Hope to see you on the trail!