This Saturday, July 20, 2019 is the 50th Anniversary of the Apollo 11 Moon Landing, and the Nantucket Maria Mitchell Association (MMA) is commemorating it with a variety of events and related exhibits.
The MMA is kicking off the week of the Moon Landing with the Annual Red Tie Soirée at Sankaty Head Golf Club from 7 to 10 pm on Monday, July 15. This event will center around the Apollo 11 mission with educational exhibits, displays, and themed music by Perri Rossi. Special guest, Dr. Jennifer Levasseur, Curator of the Space History Department at the National Air and Space Museum will be at the event to speak to guests about the Apollo 11 Mission and the history of space travel. There will be drinks, food, and dancing. Tickets are on sale by calling 508-228-9198 and at mariamitchell.org.
If you are unable to attend the Red Tie Soiree or want to make sure that you place the winning bid on some of the amazing auction items featured at the party—like a joining an OCEARCH Shark Research Experience or a sail aboard the Lynx, or a Private Open Night at Loines Observatory—be sure to visit charityauction.bid/redtiesoiree before midnight on Thursday, July 11.
Additionally, Dr. Levasseur will be giving a special public lecture on Tuesday, July 16 at 7 pm at the Unitarian Church. She will discuss the Apollo 11 Mission and space travel from its beginnings through today and into the future. Admission is $10 (free for MMA members).
The Hinchman House Natural Science Museum, located at 7 Milk Street, will house exhibits and activities related to Apollo 11 starting this Monday. Stop by the museum and check out newspapers printed in 1969 and reporting about the event, an original Apollo 11 stamp collection, and photographs. There will be a variety of hands-on activities designed for the whole family and challenges to build a lunar module. The Natural Science Museum is open Monday-Friday from 10 am to 4 pm and on Saturdays from 10 am to 1 pm.
Pop-Up Science, a cart full of fun science experiments that travels around the island, will have special programming and activities surrounding the Moon Landing during the week of July 15. Details on where to find the cart will be posted on mariamitchell.org.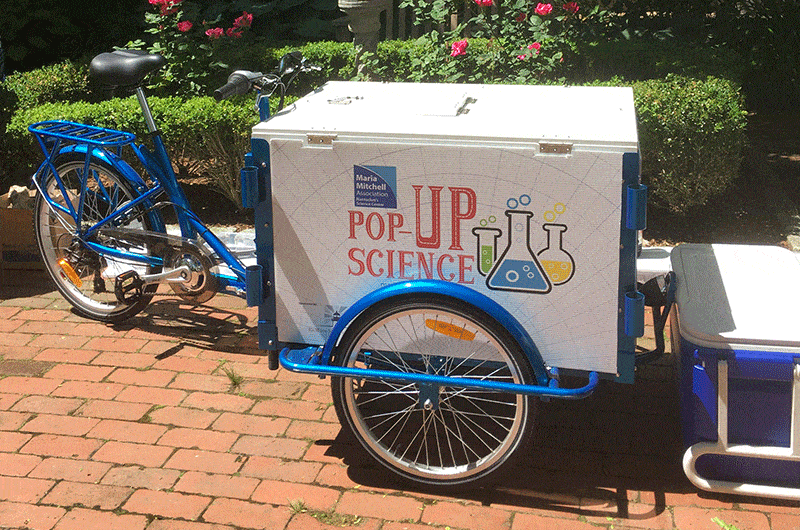 Stop by the Vestal Street Observatory during the month of July and take a tour at 2 pm. The tour will include some examples of technologies and items that have been developed as a result of space travel and research.
On July 19, thanks to a generous grant from the Highland Street Foundation, all MMA Properties and related Apollo 11 programming will be free and open to the public. This includes a special, free Open Night at Loines Observatory from 9 to 10:30 pm that will have an Apollo 11 theme. Learn about the NASA mission and gaze at the night sky through the MMA's telescopes.
The Apollo 11 celebrations will come to a close with Maria Mitchell's 201st birthday party on August 1 from 1 to 4 pm on Vestal Street. Birthday fun including science experiments, a Nanpuppets performance, live animals, music by Susan Berman inspired by Nantucket in the 19th century, and much more, as well as Apollo 11 related displays and activities.
The Natural Science Museum, Aquarium, Historic Mitchell House, and Vestal Street Observatory tours are always free for MMA members. For nonmembers, a property pass for access to all four properties is $8 for children, $10 for adults.