by Catherine Macallister
When you walk into the bright and open gallery that belongs to Susan Lister Locke, you won't be able to decide which view is better: the beautiful jewelry that lines the shelves and cabinets or the picturesque harbor view from the shop windows, where she draws inspiration for much of her work. Each piece in her store is stunning: semi-precious stones, precious stones, gold, silver, white gold—she has it all.
A long-time resident of Nantucket and a shop owner for six years, Susan Lister Locke's creativity takes many forms in each of her jewelry pieces. Locke's began creating jewelry at age 49; she did not even touch gems until the age of 55. "You can have another life," she says, "you just never know." And that's just what she has done. She has taken classes and attended workshops in the US and Italy, cultivating her skills as a jeweler. Each piece combines sculptural elements and organic work and is uniquely hers through methods like the lost wax process, enamel-work or shaping, pounding, and forming metals.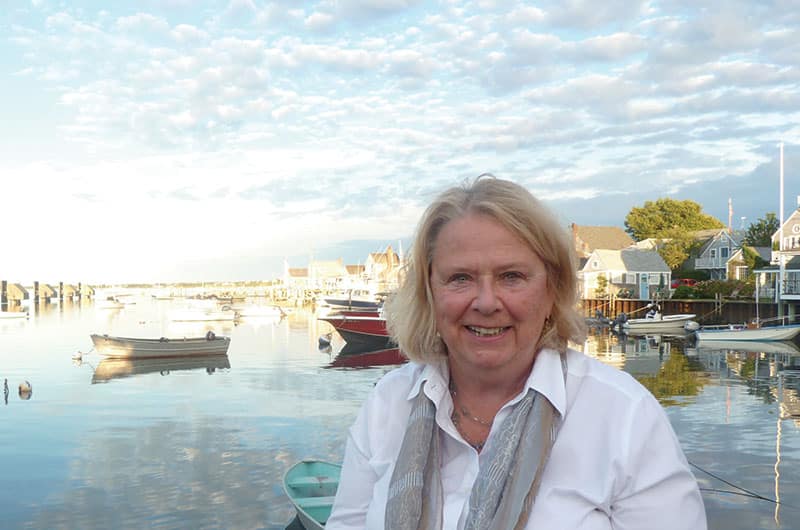 As she showed me pins, necklaces, and ornate cuffs, she shared her thoughts on jewelry: "jewelry shouldn't be serious…it should be pretty, comfortable, and unlike anybody else's." A nd the key to her jewelry that can set it apart is its ability to be worn and not kept hidden away. Whether you prefer a delicate complement to your outfit, like diamond earrings in the shape of Nantucket or one of her more colorful necklaces, you will undoubtedly find something that suits your needs at her gallery. Beyond the pieces she creates as part of her general collections, she also offers to make new pieces from "recycled" jewels and metals. "All jewelry has a story, it doesn't matter what it is" says Locke, as she explains the customizable side of her business. Clients frequently bring their unworn jewelry to her and she breathes "new life into dated jewels," making wearable pieces from jewelry that may otherwise be gathering dust in the drawer. Her Signet Rings and Quarterboard Bracelets are two other collections where customers can make something truly individualized by having initials, crests, or designs hand-engraved.
Even some of the larger, more vibrant stones in her collection are carefully matched with delicate metals that make even more conservative jewelry wearers wish that they had a piece from Susan's collection. One of her most accomplished pieces sits in the case at the center of the gallery, Opus 1 (pictured right). This gorgeous necklace features sapphires, opals, garnets, diamonds, and a lion's head carved out of tigers eye. It has a desert feel while also incorporating elements of the ocean like a small turtle with a diamond tail, and took here more than a year to create. For Susan, the creative process is like that of an artist where her "stones are like paints." She'll take the stones she's working with and spread them out, moving them around: a process that evolves a piece until it's finished.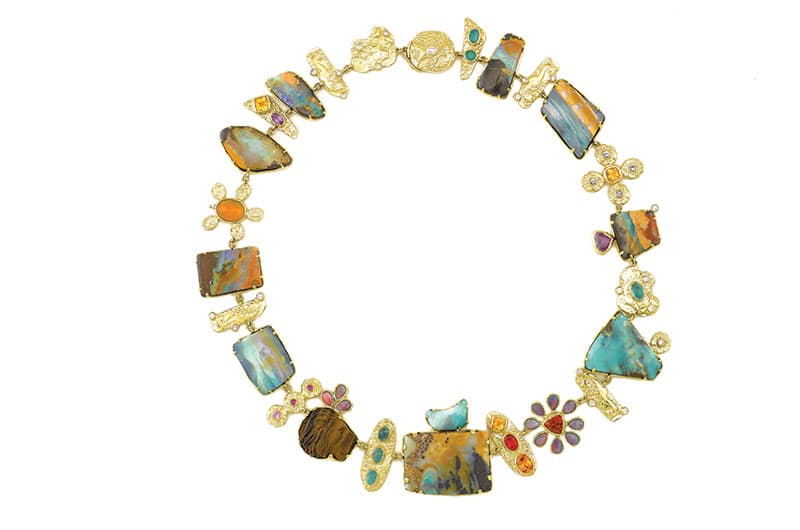 Susan's knowledge of stones and ability to select stones that resonate with each piece she creates is remarkable. She shared some necklaces and rings that feature Paraiba tourmaline, a rare and beautiful stone that "glows from within," and only exist in one mine in Mozambique. Each piece is named or in some cases renamed, as she shares the Cleo Cuff, a gold cuff with a swirl of diamonds in it. Some of her other popular pieces include the Diana Ring, one of the first rings she made for herself and her daughters. Over the years, the ring has evolved with different metals and is now inlaid with diamonds. You can see the influence of Nantucket in her collections, more overtly in collections like The Nantucket Sign Collection, where some of your favorite Nantucket locations are available on a charm. The subtle influences that come from places like the view of the harbor from Susan's shop window are evident in opals and other stones that have elements of the sea and sky in them. "I better pay attention to this," says Locke on first becoming a jeweler. After visiting her shop, I am glad she paid attention to her calling as a jeweler, and you will be too.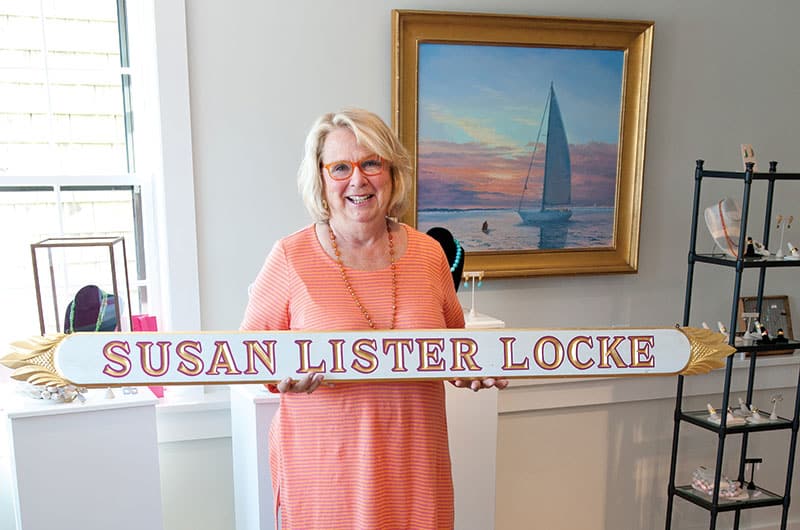 Susan Lister Locke's pieces are not to be missed at her waterfront gallery at 28 Easy Street. With a catch in her voice, she explains the first time her pieces were shown on Nantucket, at Nantucket Looms, "I never dreamt in my life that I would show," let alone at a shop like Nantucket Looms which she had long admired. "That was it, and it still is in many ways. I wouldn't be here today," she says with a smile. It is easy to see why so many people return to her gallery again and again: it is a place where jewelry is given life through the amazing creativity, craftsmanship, and the service of Susan Lister Locke.
Don't miss the opening reception in Susan Lister Locke's gallery this Friday, July 12 from 5:30 to 8 pm celebrating the art of Cindy Pease Roe, creating a cleaner ocean.