• by Sarah Teach •
Playwright Sarah Ruhl's offbeat humor returns to the island's limelight, as rife with existential ponderings as it was in 2011 when Theatre Workshop of Nantucket staged Ruhl's In The Next Room or The Vibrator Play. The 2007 world premiere of Dead Man's Cell Phone took that year's Charles MacArthur Award for Outstanding New Play from the Helen Hayes Awards, and we're not surprised.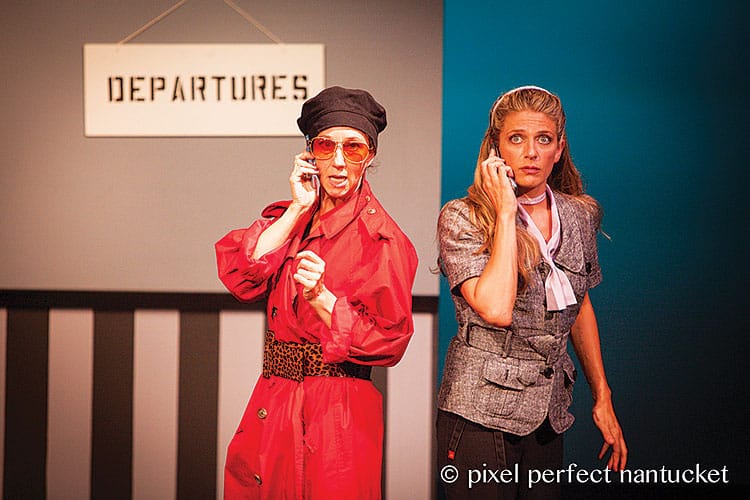 As suggested by the title, the primary object of our focus belongs to a man who is, to borrow a phrase from Charles Dickens, dead as a doornail. In characteristic Ruhl fashion, we are not offered a backstory.  But the premise is at first simple enough: woman in café is annoyed by incessantly ringing phone.  Phone's owner refuses to pick it up.  Woman does the deed for him, only to discover that there is good reason for his lackluster phone manners.  The only remaining paying café patron, Jean, engages in a postmortem heart-to-heart with the corpse, in the end opting to appropriate the phone and make it mobile once more.  From there, Ruhl takes us on an eccentric journey into the inner life of a man—who, really, could be any man—his attitudes, his relationships, his shady form of commerce.  Jean starts taking the dead man's calls, winds up meeting his family, and unsystematically inserts herself into his former life.  "I only knew him for a short time," she confesses. Her trail of lies—spread haphazardly like breadcrumbs from two frightened little German children—is well meaning but unintentionally leads her, and us, deep into a wilderness where we cannot escape our newfound realizations about how technological advances change us as individuals and as a collective people, and how little we truly know about those around us. Hansel may be a goner, but Gretel scrambles to find a different route out.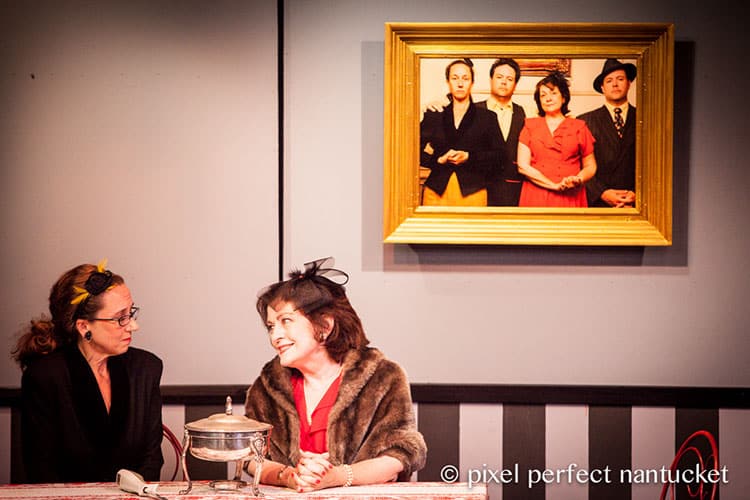 Cynthia Csabay (Mrs. Gottlieb, the dead man's mother) exudes a natural elegance that melds with her character's extravagance and juxtaposes her fretfulness.  But can we ever fairly judge a mother who is grieving a dead son?  Philadelphia-based actor Jared Michael Delaney stars as Gordon, the dead man, and (as is necessitated by the restrictions of a small theatre) also Dwight, his leftover brother.  Fortunately, TWN selected an actor capable of tidily pulling off two wildly different roles back-to-back.  Delaney has studied the script and become his character; he's beyond being concerned with correct recitation and instead has focused his energies on believable delivery. Sarah Fraunfelder is an appropriately, and adorably, awkward Jean. She's played slapstick roles at TWN before, but this one lets us take a magnifying glass to her comic side.  Susan McGinnis, Nantucket's Jen Aniston of comedic timing, takes on multiple roles as Hermia and the Other Woman.  Stage Manager Meghan Alexander surprises us with an onstage presence that is super comfortable and engaged, alongside her dapper counterpart, Eddie Yankow.
The Ruhl cab always stops just before pulling into realism, instead making a slow left at surreal.  Director Kara M. Tyler has taken this to heart and crafted an edgy latter half of the show, bringing in a bit more of New York than we are accustomed to at TWN.  Aside from a few moments in a weird umbrella scene that needs some choreography work, Tyler has managed to fashion a fittingly hallucinogenic series of paroxysms that would make Ruhl proud. Tyler and Anne Breeding did their homework together and get an A for smart prop design, that flows with Tessa Young's mobile set.
Sitting through a Ruhl play is like being a frog in a hot tub.  You laugh lightly, then harder; and you think you're just being voyeuristic as these people patter on about their circumstances.  But  all of a sudden you realize you've been deeply impacted by a searing message.  (Fortunately, at the end of a Ruhl show, all frogs get to hop out unscathed but affected.)  Throughout the script, Ruhl doles out little dollops of viewer rewards as the play continually self-references and climaxes in a meeting of the play's main message, tying those references up into a subjective little package. The show is raw, human and, not unlike life itself, often a touch absurd.
TWN has found a fantastic tool in this script, which presents a strident message with subtlety.  This play is for grown ups only due to language and sexual references.  The show lasts 90 minutes and has no intermission. See it at Centre Stage, 2 Centre Street, Wednesdays through Saturdays at 8 p.m. and Sundays at 6 p.m. through August 3. Oh, and turn your darned cell phone off before the show.