by Sarah Teach
Our spit of sand will be howling with laughter this weekend when the Nantucket Comedy Festival returns to Jetties Beach for the fifth year in a row. And there won't be a laugh track in the house, with the festival featuring national headliners who have proven over and over that they can crack a whole room 'til tears stream down every face within. Festival founder Kevin Flynn explains the atypical appeal of the Nantucket Comedy Festival: "Lots of comics love the fact that there's no agents or managers here. Everybody comes out to have a good time." Anyone who has experienced this "comedian's comedy fest" knows that its own brand of uniqueness seeps onstage, bringing funny to an unprecedented level.
Bringing back A Night of Funny Women and the Boston vs. New York Comedy SmACKdown (pun intended), the festival has also been brewing something brand new in which no one has been able to imbibe since the early nineties. The stars of SHOWTIME's smash hit A Pair of Jokers, brothers and comedians Dennis and Brian Regan will reunite in celebration of their show's 20th anniversary. Flynn praises Brian Regan, saying, "I think he's the best standup working today." But Flynn isn't the only one offering such high accolades; Regan is this year's American Comedy Awards' Comedian of the Year. Everyone who has been through the seventh grade knows that crude humor is the easiest way to make any given person laugh. Brian Regan has spent the last couple of decades showing
that he is a rarity among modern comics: he eschews profanity and R-rated jokes in favor of tickling the deepest roots of the craft. Flynn continues, "Brian does his big tour thing, and he sells out all over country. We're talking 3,500-seat venues every night. Now you're getting to see him with just 400 other people on Nantucket." The Regan brothers share a stylistic element of goofiness while still offering different perspectives, with the lisping Dennis slanting offbeat and Brian using observational humor marked by expression-based delivery.
Starting the festival will be Thursday evening's A Night of Funny Women (at which men are enthusiastically welcomed!). Flynn explains the evening's origin:    "I'm not a big fan of segmenting comedy, like calling it black comedy or gay comedy, because comedy is supposed to be this unifying thing. But when I was first setting up the festival, I had a lot of guys in the lineup and I thought, how
can we highlight women in comedy? And I'm telling you, something magical happens when it's all women on stage. I think a lot of [Nantucket] women with their lightship baskets think [the Comedy Fest] is Bud Lite and chicken wings.
But you come and realize it's a bunch of really funny, intelligent people, and it's a very social time." Hosting this year's Night of Funny Women is Sirius XM radio's Karen Morgan, who recently came away from the Improv Comedy Club's national contest bearing a blue ribbon. Headlining the night is Patty Rosborough, who co-hosted Comedy Central's Short Attention Span Theater with Jon Stewart, and
has been featured on VH1, SHOWTIME, and many more notable networks. We'll have Boston-based comic Christine Hurley, first runner up in Nickelodeon's Search for the Funniest Mom in America. Hurley performed on the island a few weeks ago as part of this summer's Jane Condon & Friends series.
We'll also see the self-titled    "Comic/Actress/Mom" Kerri Louise, a finalist in the second season of Last
Comic Standing, as seen on Comedy Central, VH1, Oprah, Dr. Oz, The Apprentice, as well as her and her husband's show, Two Funny, on Women's Entertainment. Kerri Louise's husband, comedian Tom Cotter, who been winning on this season of America's Got Talent, will hit the stage the next evening to represent Beantown in the Boston vs. New York Comedy SmACKdown. This highly anticipated
event divides six national comedy headliners into two teams and pits them against each other in a comedy face-off. Are you part of the Red Sox nation or are you in ranks with The Yanks? It's time to show your true colors!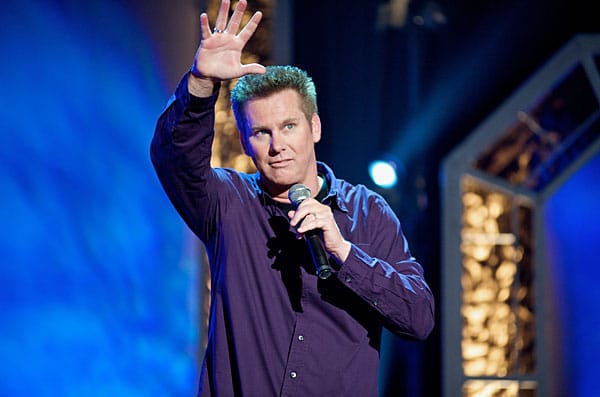 The SmACKdown's layout is just as innovative as its featured contestants, who address the audience from the middle of a boxing ring. Alongside Tom Cotter, we'll see Boston epitomized with Steve Sweeney and Jimmy Tingle taking a bite out of the Big Apple. All the New Yorkers treading on Massachusetts soil will love seeing Patty Rosborough storm the stage for the second night in a row, joined by national headliners Greg Warren and Kyle Grooms in a fight for total Bostonian destruction. The comedians will start talking smack at 7 p.m. on Jetties Beach Friday night, so get tickets now!
Presenting Saturday night's Evening with Brian Regan will be Dan Wolf, Massachusetts State Senator and popular CEO of the Nantucket airline Cape Air. Despite the big names highlighting the festival's lineup, the Nantucket Comedy Festival is more about enjoyment and togetherness than celebrity status or trust funds. Flynn says, "One of the original reasons I started the festival was to bring
together the year-round and summer communities for a laugh. Tickets are very affordable, considering it costs $75 off-island to see Brian Regan. I have worked with my sponsors and the community to try to keep costs down while still bringing in someone like Brian Regan. We've been able to do that so far, especially with the help of ReMain [Nantucket]."
But the benevolence is just beginning. The Comedy Festival's primary beneficiary is Standup & Learn™, the first stand-up comedy curriculum developed for high school students that encourages creative expression through comedy writing. You may remember the program from previous years by the title ProjACK Comedy. Flynn weighs in on the name change: "We realized that the program was going to have impact off the island as well. Other institutions [besides Nantucket High School] started asking about it and wanted to implement it. [The name] ProjACK Comedy makes sense here on Nantucket; but in New York, most people don't know what ACK stands for. So we branded the program; now we're developing it even further, and it keeps getting bigger and better." Most recently, excitement started buzzing around Standup & Learn™ when special needs students in New York City were able to take the course and cap it off by performing in Chelsea's legendary Gotham Comedy Club. "They knocked it out of the house," says a grinning Flynn, who cannot conceal his pride in the students. He continues, "I think the Comedy Fest will always take care of the students
here on the island, but it turns out that we came up with something that others wanted. It definitely grabs kids' and teachers' interests." Collaboration between professional educators and renowned comedians has developed a solid curriculum that is constantly being updated and improved. The program is currently being taught as a class at Nantucket High School, The Gateway School in
New York City, the Deveraux Glenholme School in Washington, Connecticut, and at the Cape Cod Conservatory.
Tickets selling out fast at NantucketComedyFestival.org, so get yours right away at www.NantucketComedyFestival.org ! Bring your kids, bring your wife, and bring your husband, because they're making everybody laugh out here.