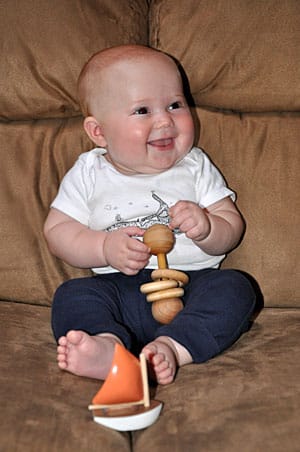 Yesterday's Island/Today's Nantucket has a new night editor, and he suggested that we devote this week's Staff Picks and Insider's Tips to children, moms, and grammas.
We've known for a while that The Toy Boat, near the end of Straight Wharf, is a favorite for wonderfully crafted toys and creative play. What makes Ethan choose this shop for one of his picks is the simple and beautiful rattle hand-carved from a single piece of wood that he received from Loren at The Toy Boat. Natural wood doesn't allow bacteria to grow, making it a cleaner choice than plastic.
Because it is evenly weighted, it's easier to hold and Ethan is less likely to bop himself on the head. These "First Rattles" are available at the shop or online at www.TheToyBoat.com.
Ethan's mom decided that the cute wooden Rainbow Fleet boats that are handmade onisland
and sold at The Toy Boat would make perfect keepsakes for each summer that they visit. The hulls are mahogany and the sails are enameled cedar. Mom plans to paint the year on each. Grandma bought the first—one with an orange sail—to get the tradition started.
There are plenty of adult activities on Nantucket, and Ethan wants everyone to know that there is a lot for children to do on Nantucket as well. In addition to plenty of visits to Children's Beach or Jetties Beach, both very child-friendly, young children love the story times at the Nantucket Atheneum on India Street. Ethan can't wait to be old enough to go on a Pirate Adventure with the crew of Endeavor from Straight Wharf! Just another two summers before he can sail under the Jolly Roger, fire the cannon, and follow the map to pirate booty with the other 3- to 6-year-olds. Reservations: 508-228-5585
Older kids enjoy the Maria Mitchell Association Marine Ecology Field Trips and their Aquarium at 28 Washington Street. The Discovery Room in The Nantucket Whaling Museum has a daily craft program for ages 4 to 12.