Featured Restaurant: The Downyflake
by Suzanne Daub
Downtown Nantucket, there's an upscale restaurant on every block, most open only for dinner. Fine dining is a fun treat, but there's no better way to start your day than with a delicious, well-cooked meal and friendly, welcoming service to fill your belly and warm your soul.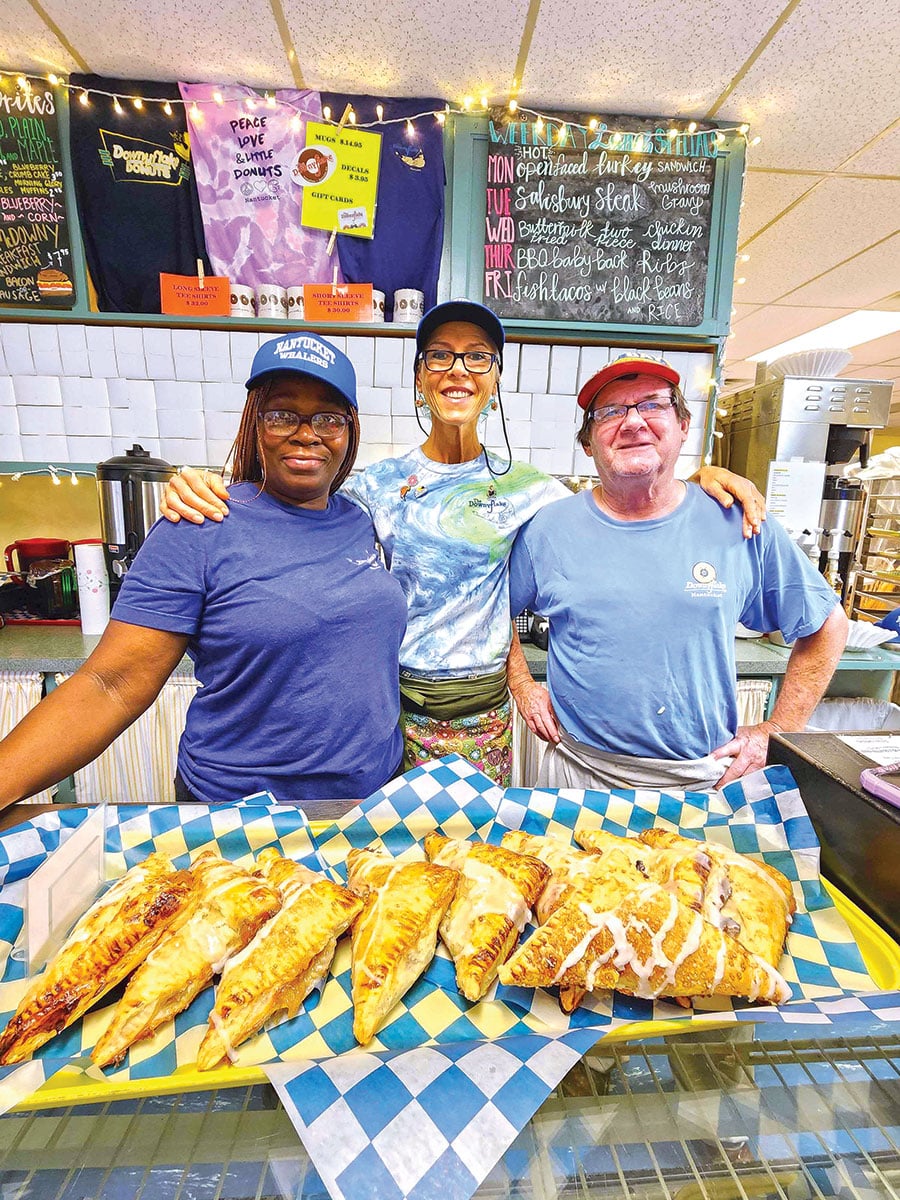 The Downyflake has been serving Nantucket residents and visitors for 87 years, and since 2014 Ron Oldham and Patty Kennedy have been the husband-and-wife team running this island favorite. Ron and Patty bring impressive credentials to the Downyflake that include restaurants on the Delaware-Maryland shore, Key West (where Oldham opened the original Margaritaville for Jimmy Buffet), and Club Car, Westender, The Ropewalk, and Island Kitchen.
Food at "The Flake" is hearty and house-made to order, and the waitstaff is friendly, fast, and efficient. Freshly baked pastries and American classics are featured for breakfast (which is served all day from 6:30 am). Starting at 11 am, the lunch menu adds to the selection homemade soups, salads, hot and cold sandwiches, burgers, codfish cakes, fish & chips,luncheon entrees, and specials that often feature creative preparations. Portions are impressively large, and prices are surprisingly low—breakfast for two can be enjoyed for under $25 (under $15 if you go continental)—unheard of on Nantucket!
If your morning visit to The Flake is on a Sunday, then you're in for a real treat! Sunday breakfast specials feature Eggs Benedict in several different delicious versions. Recent Sunday Specials featured Classic Eggs Benedict with Canadian bacon, Veggie Benedict with sliced tomatoes and sauteed spinach, Smoked Salmon Benedict on a croissant with tomatodill hollandaise, Crab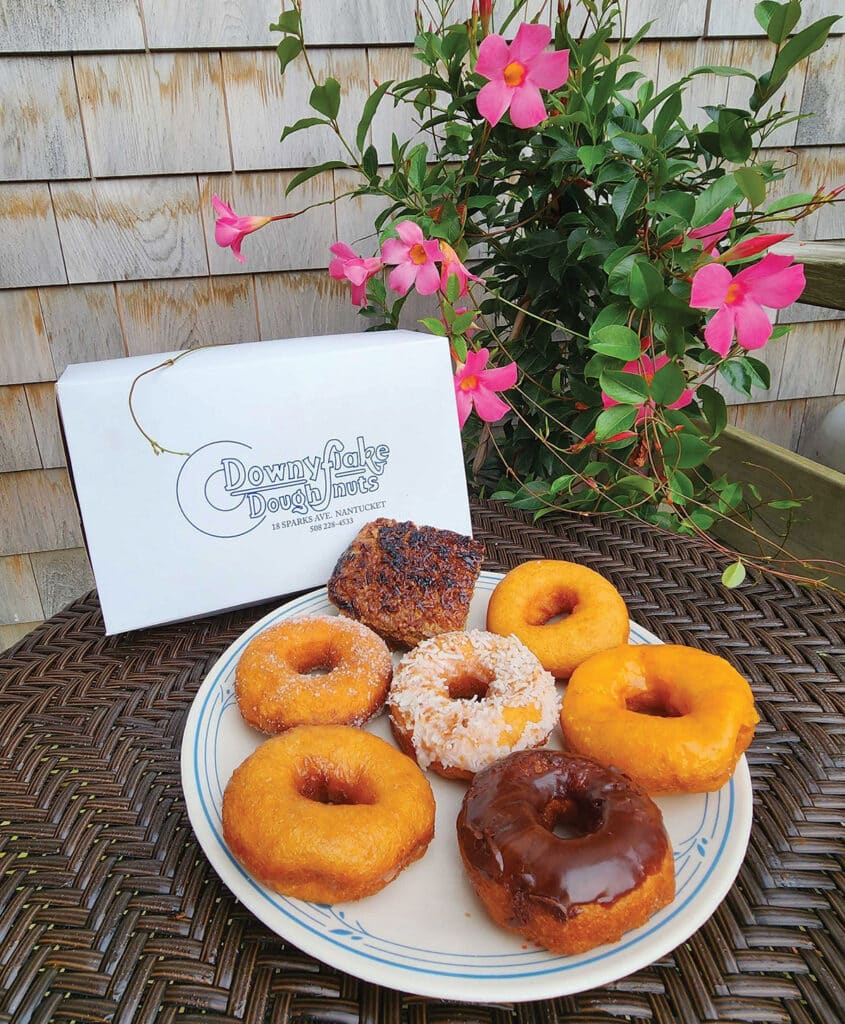 Cake Benedict, and our favorite the Avocado, Bacon, & Tomato Benedict with red chilihollandaise. And they don't stop there: Sunday menus often also include Belgian Waffles, Fried Dough, Steak and Eggs, and other very well done brunch classics!
With so many menu choices expanded with nearly a dozen daily specials, if your party includes those who love breakfast and some who prefer lunch, arrive at 11 am and have your choice of both. That's just what we did for our recent weekday visit to The Flake.
We were warmly greeted by Patty, who seated us at a comfy booth in their spacious dining room and put us in the capable hands of Sue. Like Norma and many others on the staff here, she's been serving at this island eatery for years.
Whether you're planning on a light breakfast or something hearty, start with a glass of their freshly squeezed orange juice or lemonade. The coffee here is freshly brewed from Green Mountain beans with add-ons that include flavorings and sweet cold foam. With cooler weather approaching, Hot Chocolate with Whipped Cream could be an ideal choice.
We began our meal with a stack of Ron's Lemon-Ricotta Pancakes. Light and lemony, we didn't bother adding butter or syrup. The fruity sweetness of sliced fresh strawberries fanned out overtop were the only enhancement these breakfast treats needed. For a savory counterpoint to the pancakes, order Ron's Corned Beef Hash. This Hash is among the best we've had! It's served perfectly seasoned and pressed thin for maximum crispiness then folded in thirds like a French omelet to keep the center moist and warm.
Speaking of omelets, The Flake has five special versions on the menu and a sixth often appears on the specials list. Plus, in the Eggs Your Way section of their menu, you can design your own. We were lucky to be dining on a day when the daily specials included Ron's astonishingly good Avocado, Bacon, and Cheddar Omelet. Fluffier that we thought possible, the delicate egg mixture is folded once over freshly sliced creamy avocado, crisp bacon, rich cheddar cheese, chunks of juicy tomato, and sauteed onion. Classic Home Fries with delightfully crunchy edges and soft interiors are served alongside the omelets here. Guests get a choice of toast or doughnut or biscuit or muffin with their omelets: order Ron's flaky biscuit with crisp crust, and you won't be disappointed.
Next Sue brought us a bowl of Cream of Carrot-Ginger Soup, its warm flavors of autumn with hints of sweetness from the carrots and a touch of heat from the ginger smoothed out by the cream. If it's true that soups are the measure of a chef, then this soup is further proof of Ron's talents in the kitchen. Many patrons return multiple times a week for his soups, which change daily and, like the entire menu, are available for take-out. Patron favorites include Cream of Tomato Basil Bisque, French Onion, Split Pea with Ham, Three Alarm Chili, Cream of Mushroom with Sherry, Cream of Broccoli Cheddar, and White Bean and Linguica.
Soup and sandwich combo is a given at a homestyle eatery like Downyflake. Especially with the tempting choice of California Reuben, Tuna Melt, Grilled Chicken, and Greek Wrap. But we aren't quite ready to let go of summer, so we ordered one of The Flake's fresh, hearty salads. The Crispy Chicken Toss turned out to be a spectacular selection! A cool mix of iceberg and romaine lettuces is tossed with crisp slices of apple, red onion, candied spiced pecans, crumbled bleu cheese, along with dried cranberries, raisins, dried blueberries, and dried cherries. Atop this sweet, tangy, spicy, fruity mix are hot and crunchy strips of succulent chicken breast.
Ron's new Autumn Menu features Daily Comfort Food Entrees for lunch. The Monday we dined, the lunch entrée special was Turkey Dinner. Along with hefty slices of moist turkey breast, the plate is filled with homemade stuffing, mashed potatoes, a mix of sauteed vegetables, rich gravy, and cranberry sauce. It's a tasty preview of Thanksgiving.
The Tuesday Comfort Food Special is Marinated Beef Tips over egg noodles with mushrooms, onions, peas, cream sauce & biscuit. On Thursdays Ron and Patty serve Meatloaf Dinner with mashed potatoes, gravy, sauteed vegetables, & biscuit. And the Friday Special is Chicken Parmesan over linguini with red sauce & garlic bread.
Daily specials usually include at least one dessert. If the day you dine at Downyflake the special dessert is Boston Cream Pie, don't hesitate to order it! Ron expertly executes this classic New England treat, with tender vanilla sponge filled with satiny pastry cream, topped with a glossy layer of chocolate ganache.
This out-of-town gem is the first stop for anyone on Nantucket with a sweet tooth. If you want the best selection, you'd best arrive early. Downyflake doughnuts have long been an island favorite. Choices vary slightly each day and include Chocolate Frosted, Sugar Coated, Plain, Coconut, Lemon Glazed, Maple Glazed, and Strawberry Glazed. If doughnuts don't delight you, then Ron's freshly baked Blueberry Scones, Apple Turnovers, muffins of various sorts including the legendary Morning Glory Muffin, Danish, or Crumb Cake are sure to satisfy your sweet tooth. If there are Raspberry Brambles and Scotch-Irish Cake in the case, scoop up one of each, you w on't regret it!
The Downyflake
18 Sparks Avenue • 508-228-4533
Indoor Dining & Full Menu available for take-out
Breakfast & Lunch Monday, Tuesday, Thursday, Friday, Saturday 6:30am-2pm
Breakfast & Brunch served Sunday from 6:30am to 1pm
Breakfast Prices range from $9.50 to $15.95; Lunch from $9.95 to $16.95
Pastries under $5
Cash only: on-site ATM for your convenience