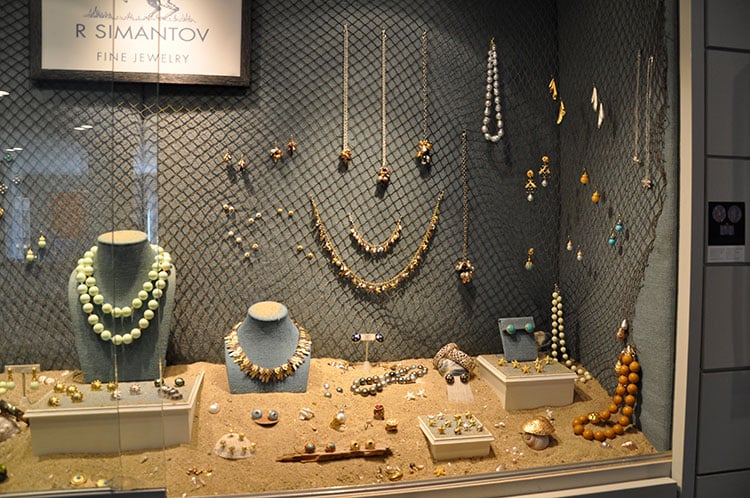 The next time you decide to go hunting for shells on Nantucket, you can do it in comfort and luxury, rain or shine. Jewelry designer Reubin Simantov of R. Simantov, Inc. has a new location within the elegant Nantucket Hotel at 77 Easton Street, and there you will discover exquisite shells in silver and gold that will make glittering additions to your collection.
These shells are part of a line of jewelry inspired by Nantucket. Simantov modeled them after the mussel, clam, scallop, and whelk shells that can be discovered on every island beach. Made from sterling silver, Simantov uses a special technique to plate each shell with vermeil in "old world colors" of green, pink, gold, and even silver and black.
There's an exquisite whimsy to these shells, and, to make the discovery even more fun, Simantov encourages his clients to hunt for the shells they want in the sand-filled display in the lobby. This indoor beach also has starfish in silver and in gold, some studded with precious stones, pearls, and turquoise. Once you've found your treasures, he will create earrings, bracelets, pendants, necklaces, cufflinks, and studs made just for you.
Looking for something extra special? Simantov works with The Nantucket Hotel to offer private showings in luxurious surroundings. "A gentleman called me to help him set up a special evening for his wife to celebrate their 50th anniversary. While they were at dinner, we set up a special showing in a suite at The Nantucket, so she could select the anniversary gift she loved best." Simantov also arranges special selections for bridesmaids and groomsmen, and can "dress the bride" with jewelry from his collection. "It's playful and fun when brides bring in their bridesmaids to choose shells to be made into their gifts for a Nantucket wedding."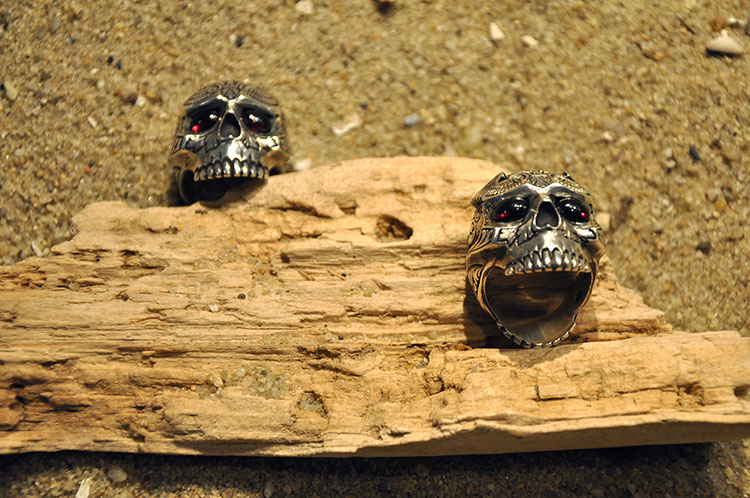 If you desire a bit more sparkle, you may select from R. Simantov's gorgeous collection of tiny, many faceted canary diamonds, red spinels, and sapphires of every imaginable color and have them embedded in your shells and your starfish. Simantov is much sought-after here on Nantucket and at his store in Greenwich, CT for his distinctive custom jewelry that captures the personality of the one wearing his unique designs: from delicate necklaces crafted from "feathers" that catch the light to stunning sterling silver hand-engraved rings for men.
Simantov's Nantucket jewelry is perfect for dressing up or for casual wear. Because you choose the shells, each necklace, bracelet, or pair of earrings has personal meaning, a special memory.
R. Simantov is in The Nantucket Hotel, 77 Easton Street.
For a private showing: 917-324-4410, info@rsimantov.com