~ by Corinne Muffly, Educator ~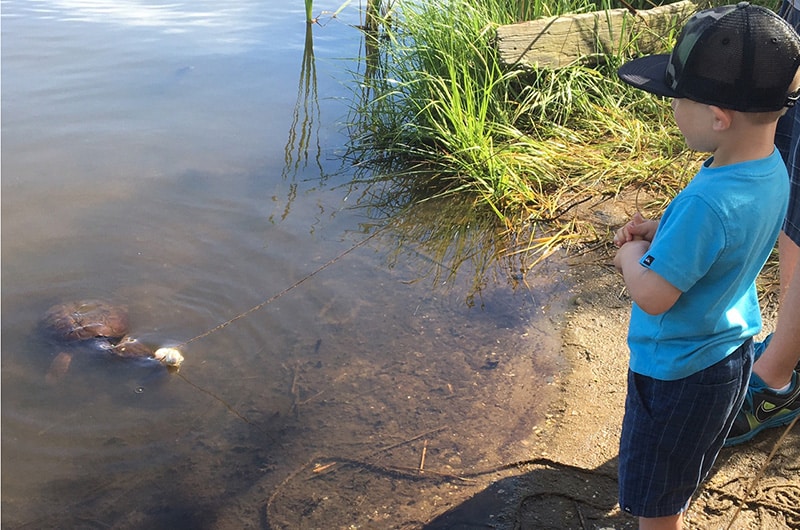 A series of articles dedicated to helping parents find places and activities on Nantucket to enjoy with their children.
One of my fondest memories growing up on Nantucket was going crabbing with my family. Although it kind of grossed me out, I did really enjoy it.
I relived this pastime with my family, now taking our own children, and went crabbing! With a quick run to Stop and Shop for my supplies, we were off to Madaket's Long Pond to catch us some crabs and maybe even a snapping turtle. There are two locations for this activity, both offer parking. The first spot has a T shaped boardwalk with a sprawling view of the pond in front of and behind you. It's always a great spot for watching swans. This location is best for older children that are steadier on their feet. With those huge snappers lurking in the waters, I wouldn't want to accidentally fall in! We drove a bit further down the road to the next spot off of Madaket Road still on Long Pond. There is a little bank, or you can sit on the ledge over the pass-through. This location is much more kid friendly and safe, especially if you want to avoid falling in the murky pond water.
When you do go crabbing, there are a few specific things you must bring. You must bring twine, rubber gloves, a knife or scissors, and raw chicken. Some optional tools are a bucket and a net. The chicken is used as bait to catch the crabs or snapping turtles. Wearing your rubber gloves to handle the raw chicken, tie a tight knot around the chicken leg. As I found out, there is a specific kind of chicken you should purchase when crabbing. The chicken drumsticks are ideal for this activity because you need to securely tie the twine around the end of the drumstick in order to prevent the knot from passing over the bone when a turtle or crab takes hold of the bait. It might be a good idea to take along a bucket full of water just in case you catch a crab. You can store it in the bucket and let everyone check it out until you decide to release it back into the pond.
After securing our bait, we were ready to catch some crabs. It's important to remember to give yourself enough string since you are tossing the chicken into the water. One tip I will give you is if you are crabbing with younger children it is a good idea to tie the other end of the twine around their wrist because once they throw that chicken into the pond, they might not remember to hang on tightly to the other end.
Almost immediately we got a bite on our line and slowly pulled the catch to the edge of the pond expecting a crab. However, it was a huge snapping turtle forcefully deboning our drumstick! With each toss of our chicken, more snappers began to appear vying for the delicious bait. There were even a few babies that wanted in on the action. We had to remind ourselves to not reach in and try and touch them because they are quick with their bite and won't hesitate to take a finger for dessert. Be mindful of a few things when you decide to go: do not go swimming or wading into the pond, leave your dogs at home, watch your children carefully, and leave all living things in their habitats.