This was not our first trip to Kitty's. That being said, we are certain that luck has nothing to do with the authentic experience and excellent service the owners and staff strive to provide. Located off the beaten path and the hustle and bustle of downtown, traffic is light and parking is ample. This warm and inviting public house has something to offer every patron. Whether it's a perfect pour of Guinness, a refreshing salad, unique appetizer, or all the cozy comfort food that's sure to make you feel right at home.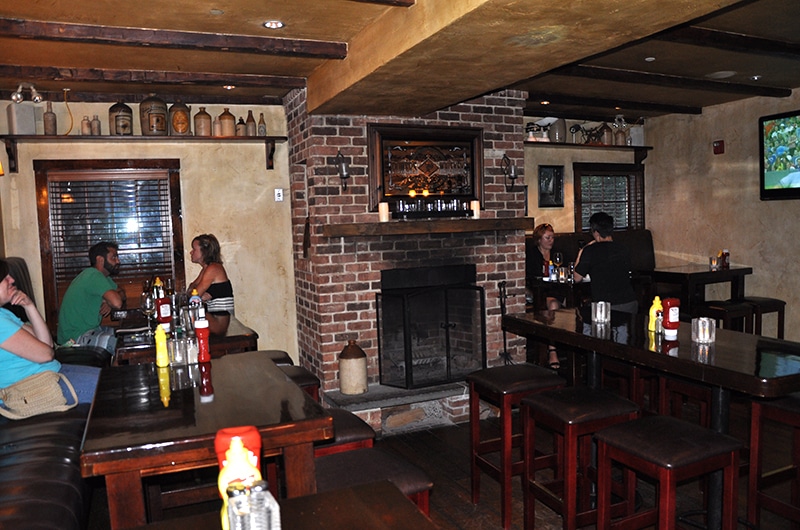 Named for co-owner John Keane's grandmother, Kitty's is reminiscent of the best Irish pubs in Boston, Dublin, and beyond. When you walk through the door of Kitty's, you'll no doubt be greeted by smiles from the bar. With ample wrap-around seating, there's always room for old friends and new. The unpretentious atmosphere is complete with multiple pool tables, dartboards, and a few televisions to watch the game. There's even live music every Tuesday and Friday night.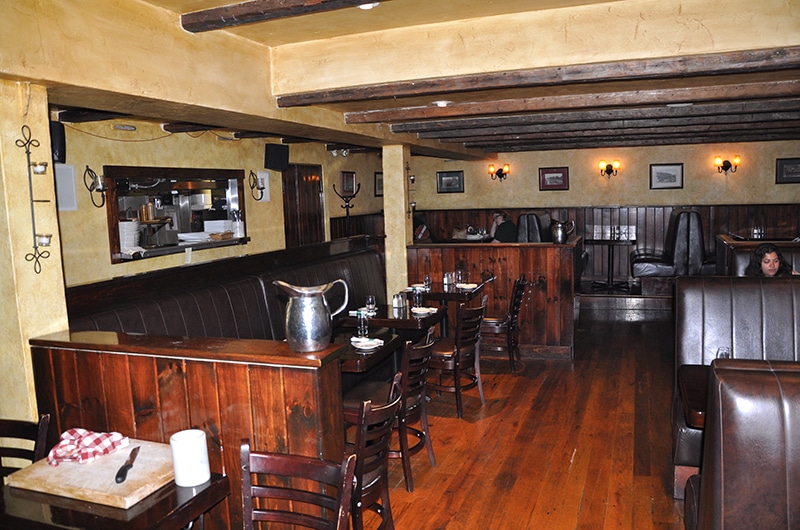 The wellworn steps that lead you downstairs reveal a cozy, relaxing, and more private dining experience. You'll find fresh greens at the salad bar, and the piping hot soup-of-the-day in the cauldrons beside it. There's even an open view into the kitchen.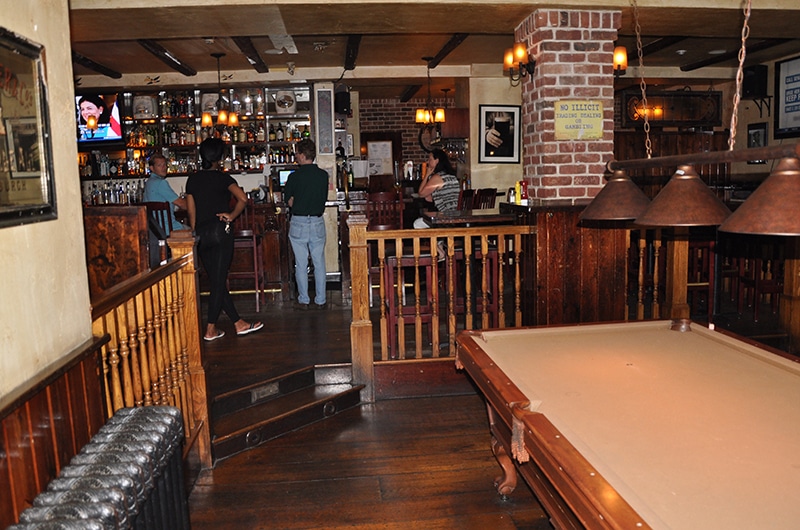 Kitty's boasts multiple tap lines of draught beer from near and far, and a full selection of wines and spirits for every taste. We started off our stay with some of Kitty's custom cocktails. First off: The Blueberry Lavender Martini. The aroma of ripe blueberries screams summer like few other things can. The first sip jump-starts your palate with a surprising combination of calming lavender and bright, crisp citrus. The Pearfection Martini, the restaurant's signature and most popular martini (for good reason!), left us wanting another. A perfect marriage of Grey Goose poire vodka, St. Germaine elderflower liqueur, pear puree, cranberry juice, and a sparking prosecco float makes for one lush libation.
 Click images to view enlargements
The appetizer portion of the menu is something to write home about: a dozen mouth-watering options, ranging from the classics like Hot Wings … to more modern and exotic options like the Ahi Tuna Tartare. It was a difficult choice to say the least.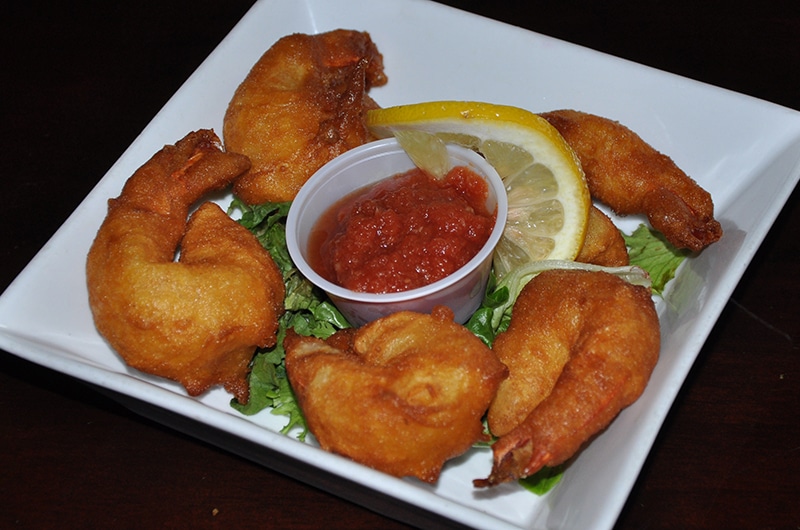 The Beer Battered Shrimp were delivered fresh from the fryer, golden brown and crispy. The jumbo-sized shrimp were tender and the cocktail sauce came with the perfect zip.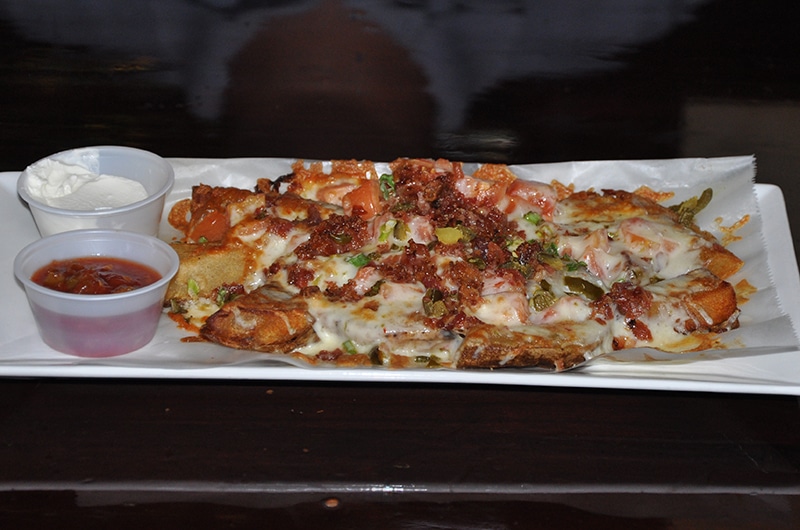 The Irish Nachos were a pleasant surprise. Crispy potato skins sat in for chips, and they were absolutely smothered with Dublin cheddar cheese, bacon, jalapenos, green onion, and Kitty's house-made salsa. A unique and tasty take on the perfect finger food to share with friends.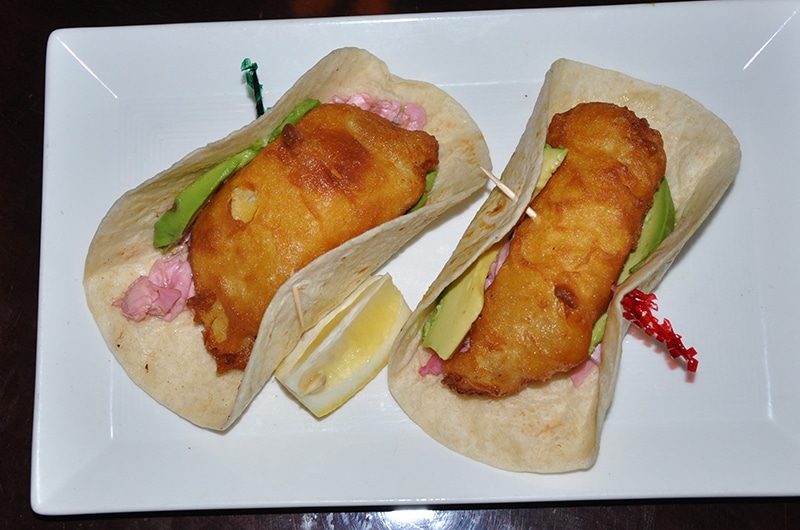 The Fish Tacos, on the other hand, you might not want to share. A healthy-sized filet of beer battered cod, golden and crisp on the outside, tender and flaky within, is served wrapped in a flour tortilla with creamy, cool avocado and an acidic cilantro slaw for the perfect balance of flavor.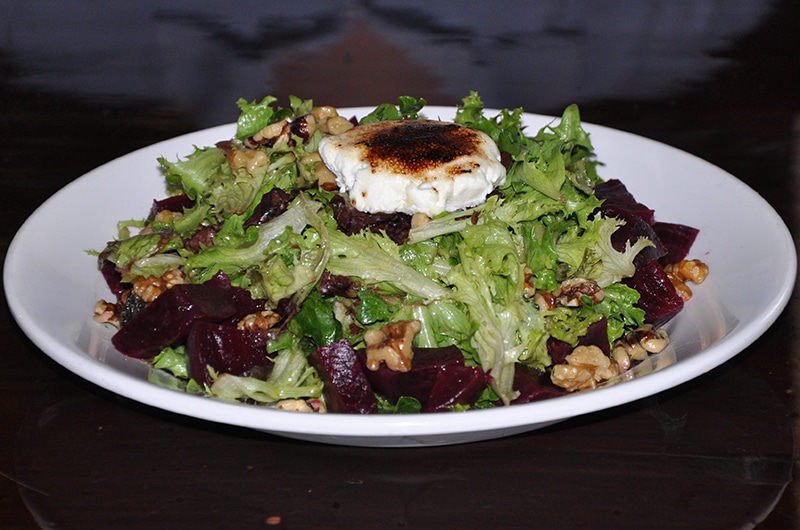 We also went for the Beet Salad, and it truly dazzled us. An entrée-sized mix of greens tossed in a bright sherry vinaigrette with warm roasted beets, toasted walnuts, and caramelized bruleed goat cheese. Many would say beets and goat cheese are both acquired tastes. Let me just say this is the place you should acquire them. The cool, sweet-sour dressing on the greens is the perfect compliment to the warm, earthy flavors of the beets, goat cheese and walnuts.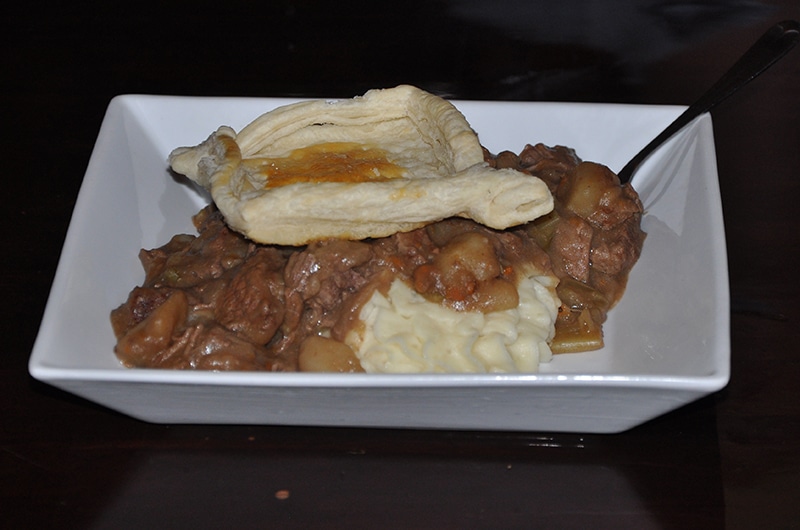 A trip to Kitty's without some classic Irish pub fare just wouldn't be right. So, we ordered the Hearty Beef Stew. This thick, savory stew will warm your heart and soul on the coldest of Nantucket nights. Big chunks of tender beef are slow-cooked with vegetables. It sits atop a mountain of creamy mashed potatoes and is topped with a flaky crust of puff pastry.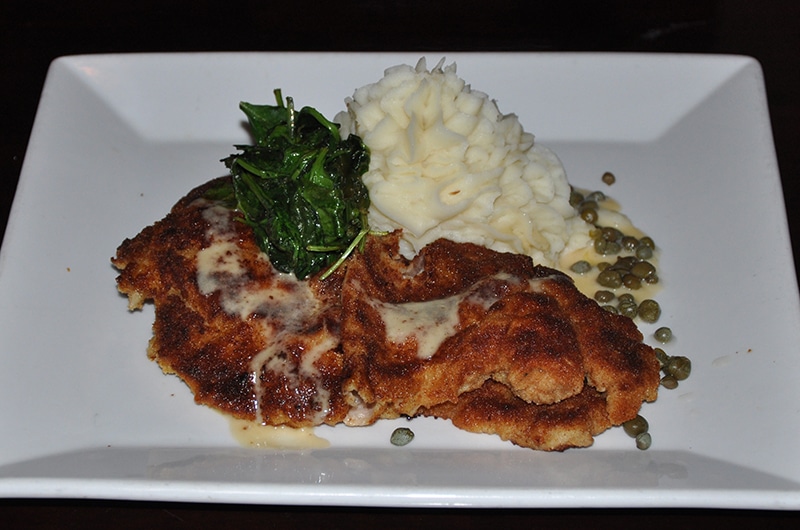 A few of us had never tried Pork Schnitzel here. Considering it's the most popular entrée at Kitty's, we just had to go for it. Pork filets are pounded thin, then lightly breaded and pan-fried. The pork is moist and flavorful and forktender. As if that wasn't enough, it's dressed with a tangy lemon caper sauce, and served with wilted spinach, summery charred tomatoes, and your choice of egg noodles or mashed potato (we went with potato).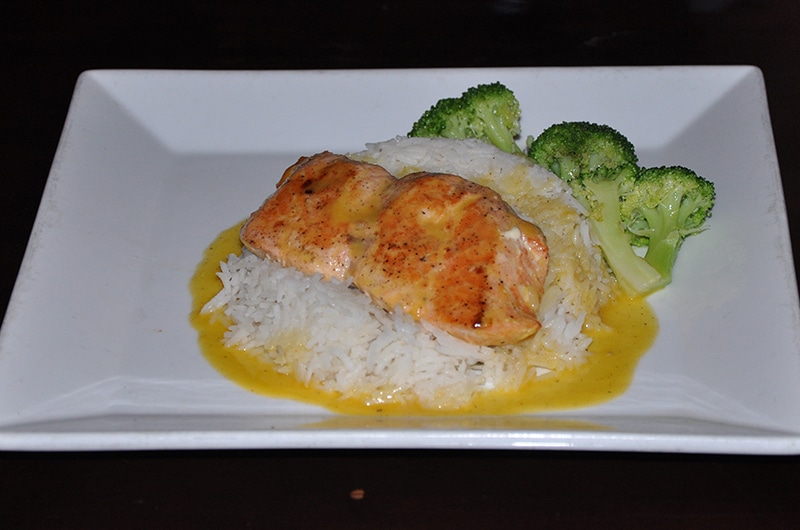 The lively Citrus Roasted Salmon revived our palates and got us ready for more. The salmon was flaky and prepared to perfection. Glazed with a citrusysweet sauce atop steamed white rice, dishes like this are what keep people coming back to Kitty's. The plate was complete with delightfully al dente steamed broccoli.
The next plate we ordered might seem slightly out of keeping for an Irish restaurant, but believe us: it's well worth trying. The Lamb Curry is a new take on an old classic. We already know Kitty's has mastered the classic Irish beef stew. This entrée, however, takes it to another level. The exotic symphony of South Asian flavors compliments the lamb beautifully. Served over mashed potato and suddenly it all makes sense; you're right back home again. New world flavors with an old world feel.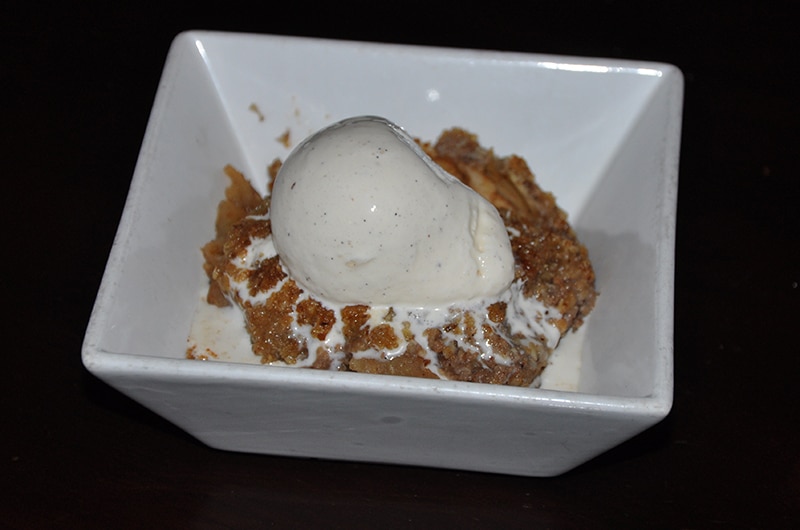 Personally, I'm not usually one for desserts. I enjoy a cordial or a coffee after dinner, but sweets just aren't for me. This time around was a different story. First off, the Apple Crisp is house-made and exceptional. Served with vanilla bean ice cream, the flavor of the apples really shines in this one. It's sweet and tart, warm and cool, tender and crunchy.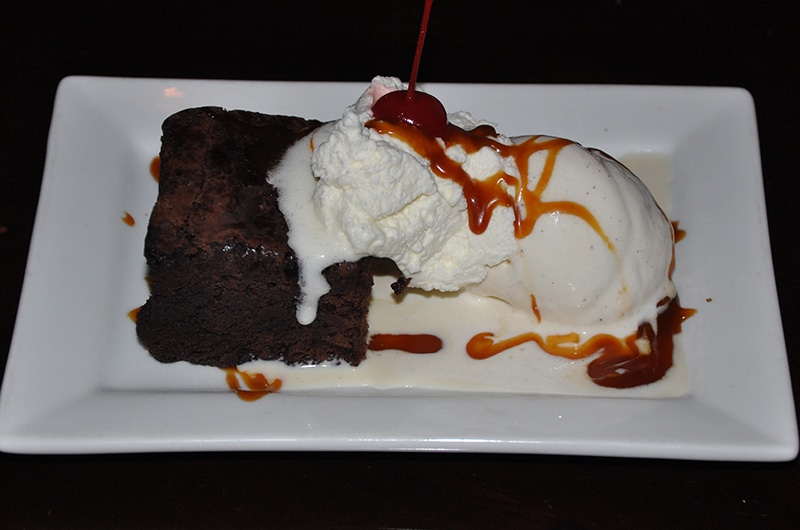 The Brownie Sundae is chocolate perfection with warm fudgey flavor. It's decked out with vanilla ice cream, whipped cream, caramel drizzle, and a cherry on top.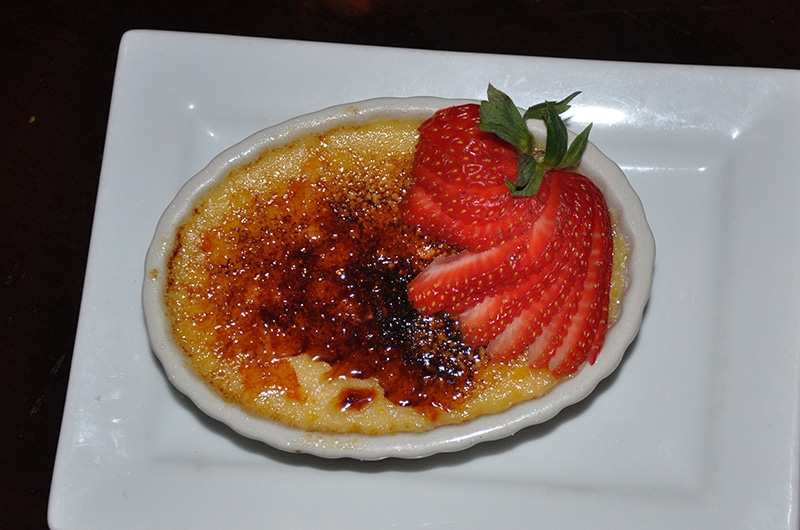 The toasted sugar on the Crème Brulee passed the "spoon test" with flying colors. Garnished with fresh sliced strawberries, we even picked out subtle flavors of tropical fruits.
All in all, Kitty's is a gem. The service from our waitress, Kate, was spot on (her genuine Irish brogue didn't hurt, either). Whether you keep it classic with the timeless Irish options or choose to indulge in some of chef David Brown's more creative cuisine, you'll undoubtedly leave Kitty's with an Irish Smile.
Kitty Murtagh's,
4 West Creek Road
KittyMurtaghs.com • 508-325-0781
Open year round • Reservations for downstairs only
Lunch 7 days 11:30 am to 5 pm • Sunday Brunch 11:30 am to 2 pm
Dinner Nightly 5 pm to 9 pm
Live Music Tuesday and Friday evenings