by Sarah McNamara
Tucked down on quaint Old South Wharf are two small shops full of amazing treasures waiting to be discovered, operated by the talented Emilly Rubin.  Emilly Brooke Rubin is her jewelry store, offering her original and exquisite collection of jewelry.  A few doors down is Sweet Liddle, an extension of her jewelry store that she opened this year and named after her late Leonberger dog, Liddle.
You will find her jewelry store on the right hand side of Old South Wharf, follow the signs around the corner to the entrance on the water.  Don't let the small scale of her shop fool you, there is an incredible selection of Emilly's unique jewelry adorning the walls and sparkling within the glass cases.  On any given day you can find the artist hard at work, in her closet-sized workroom inside the shop, creating her exquisite one-of-a-kind pieces.  As an artist she creates unique pieces that speak to a broad audience, mixing old-school luxury with a more present day bohemian edge, making jewelry that appeals to a wide range of clientele.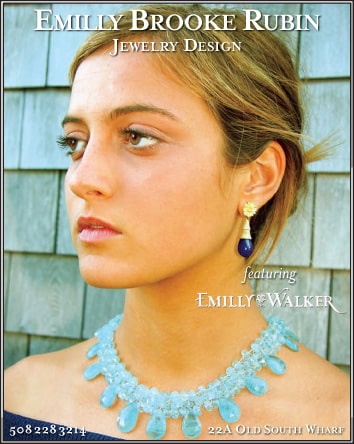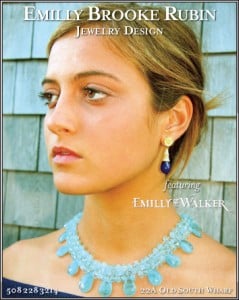 With over 20 years of making and selling jewelry on the island, Emilly took the opportunity this year to expand and offer a wider range of products to her loyal fan base with the shop Sweet Liddle.  Just a few doors down you will find this gem of a store with affordable eco-luxury items and handmade acccessories from around the world, made exclusively for the shop.  You will also find a line of Emilly's seashell jewelry, beaded mosaic belt buckles made by her sister-in-law, handmade linen sarongs from Lithuania, printed napkins and tea towels from London,  bags made from jungle-vine to benefit an anti-poverty program in Laos, and homemade goat's milk soap in a variety of scents.  Sweet Liddle is comfortable and beautiful with a great view of the harbor, you'll want to linger and touch, smell, and sample all they have to offer!
Emilly Brooke Rubin is located at 22A Old South Wharf, and Sweet Liddle at 19 Old South Wharf, 508.228.3214.