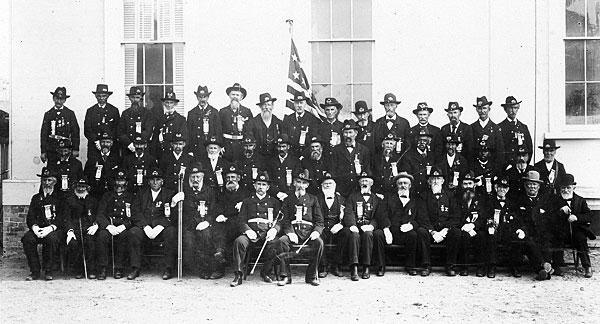 When the Civil War began in 1861, Nantucketers responded with heroic dedication to the call for volunteers to support Union troops. Even in the face of pacifist island traditions, nearly 400 Nantucket men enlisted in defense of the Union forces, with more than 70 ultimately losing their lives in the war. Dozens of repurposed whaling vessels, including the Nantucket whaleship Potomac, were put into service in the Stone Fleet and sunk by Union forces in Savannah and Charleston harbors to create blockades of Confederate vessels. Other whaleships were destroyed by Confederate raiders near the end of the war.
"From Fredericksburg to Gettysburg and beyond, Nantucketers were front and center at critical moments of the Civil War, with 73 of them giving their lives to the cause as recorded on the Soldiers and Sailors Monument on Main Street," says Ben Simons, Robyn & John Davis Chief Curator.
To honor those brave soldiers and the sacrifices made by Nantucketers during the Civil War, the Nantucket Historical Association has mounted a new exhibit in the Overlook Gallery of the Nantucket Whaling Museum.
"This exhibit pays homage to their involvement, and presents some of the key artifacts in the collections relating to the Civil War as well as photographic portraits of Nantucketers who served," Simons added.
Nantucket in the Civil War includes striking wartime artifacts, including Lieutenant Leander Alley's presentation sword, commemorating his service in the war; portraits of General George Nelson Macy, of 123 Main Street, who served as the highest-ranking Nantucketer in the war, and photographic portraits of many Nantucketers who volunteered to defend the Union.
Nantucket in the Civil War will be on display through 2012 in The Whaling Museum at 13 Broad Street and may be viewed during Whaling Museum hours.