by Suzanne Daub
Many come to Nantucket in their youth and get sand in their shoes, staying for years when they first envisioned only a summer. Not many of those end up like Kim Corkran: as much a part of Nantucket as Nantucket is part of them.
Born and raised in Maryland, Kim first traveled to Nantucket in 1974 for a summer job at the Harbor House as a front desk clerk and switchboard operator: "It really was a switchboard back then, with all the plugins!" That summer she met and began dating Bruce, whom she later married, and they moved to Nantucket year-round in 1980. "I worked at various hotels, then at the dock with Bill Sevrens… I started weaving free-form baskets that I sold out of the shop on Old South Wharf…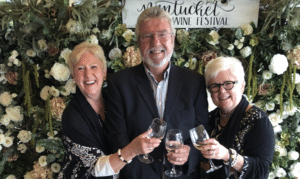 She quickly made friends in the island community, and "One fall, after Hills of Nantucket moved from Old South to Straight Wharf, I helped them out and ended up working for Greg and Judi for years. I've lost track of exactly how long…"
"Then, Cape Air bought Nantucket Airlines…in 1994, I helped Bruce with a project for them and presented an idea to Dan Wolfe, and I came out with a job. They were looking for someone to be an ambassador/liaison for Nantucket Airlines because they were keeping the name. I started working in their marketing department out of Nantucket…It was fun and relaxed, but very busy. It was before 9.11…before the fast ferries…more people were flying.
"My job evolved into donations and sponsorships on Nantucket. I found myself partnering with island organizations and non-profits. That was fun. One of the first things I did was the Art in Flight series," in which the famed airbrush artist Jürek painted their Cessnas, starting with a plane that flew island high school sports teams to the Vineyard for the Island Cup. "We invited the teams out to the airport for a pizza party and dedicated the Whaler Plane…Through the years the job morphed into more company-wide donations and sponsorships that I would facilitate."
In many ways Kim became the face of Cape Air across the island and everywhere they fly. She was the one who arranged the many customer appreciation days at Nantucket Airport, organized Christmas parties at Our Island Home, and spearheaded many other community service projects sponsored by Cape Air. But she didn't stop there. "My first volunteer job was at the NHA — making prints from their collection of glass plates. Then Mimi Young had me sit at the nurses station (at Nantucket Cottage Hospital) and answer phones,and through that volunteering and Mimi, I got involved with Friends of Nantucket Public Schools and met so many people…That's the beauty of Nantucket: you can be as busy as you want or just sit back and relax…"
During her more than 25 years on-island, in addition to her day job, Corkran also volunteered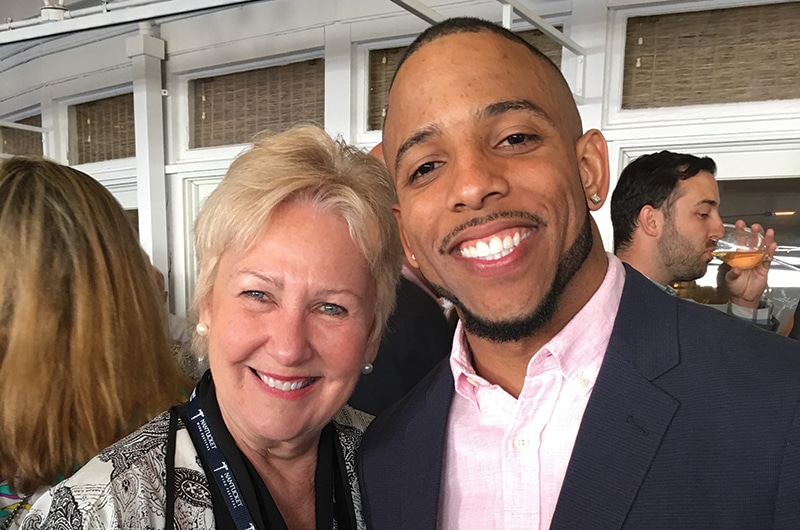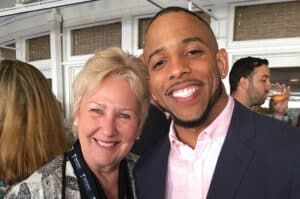 (sometimes leading the charge) at Nantucket Island Chamber of Commerce, Nantucket Cottage Hospital, MSPCA, the Artists Association, and the Nantucket Historical Association. Through sponsorships and volunteering, Kim found herself at the center of many island favorites: Daffodil Festival, Christmas Stroll, Nantucket Wine Festival, Nantucket Comedy Festival, and the Nantucket Film Festival. She laughed and added "It's afforded me an opportunity to schmooze and booze with the best of them."
"I grew up in a family that was always very involved in nonprofits — it was ingrained into me to give back through volunteering. Plus there were many people who were very persuasive in their asks," she smiled. "I find Nan to be very generous and love that the organizations partner and help each other."
While she found her work with every island organization very fulfilling, it is the NHA that is very close to her heart. "I truly loved working with the NHA and was on the board when the NHA was dreaming of redoing the Whaling Museum. I was president of NHA during their centennial year—1984, when the NHA turned 100—and we did the fete…we closed Main Street, dressed in period clothing, and celebrated. It was a huge undertaking but really fun. The Town really got involved, too. That year, my mother said "you know you should do an event a month," and so we did. That was when the Festival of Trees started…My Mom made me do it!"
This May, after 24 years with the airline, Kim Corkran retired from Cape Air "It's time for my next chapter…I absolutely loved this job: it enabled me to travel all our routes. And on Nantucket, I loved it because for so long I was asking people for things and now I could give things… It was a fun flipflop. The company is very generous. It's been a great ride.
"I'm going to give myself some breathing room; see my friends, go to the beach, spend time with family—I'm giving myself the summer off! Looking forward to doing things that I haven't had time for…I might pick up basketweaving again — hopefully it will all come back to me."
Corkran plans to divide her time between her family home in Maryland and the home where her heart is, Nantucket, where she plans to visit at least once a month, "Even in the winter — I love it here in the winter." She'll definitely be back this December: the Nantucket Historical Association has asked her to be honorary chair of the 2018 Festival of Trees.
When asked what advise she would give to people just starting out in business on Nantucket Island, she recommended networking: "Join the Chamber of Commerce, take an interest you have and VOLUNTEER… Embrace whatever comes your way."