by Suzanne Daub
This Thursday, June 28, a Main Street landmark shop, Mitchell's Book Corner, kicks off its 50th anniversary celebration with a day of local author signings, giveaways, refreshments, and Mitchell's memories, and the promise of more fun to come!
In the day of Amazon, Kindles, prime shipping, and the Internet, it is no mean feat for an independent bookstore to not only survive, but thrive on our island. Two of the people to credit for Mitchell's reaching the half-century mark are both named Wendy.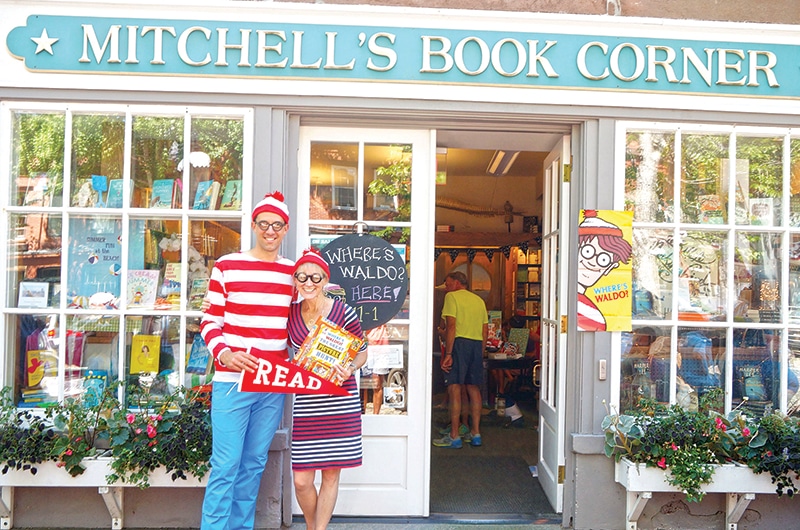 Mitchell's Book Corner opened on June 28, 1968, founded by Henry Mitchell Havemeyer and Mary Allen Sargent Havemeyer. But in more recent decades the face of the business was undoubtedly their daughter Mary "Mimi" Havemeyer Beman, who described her connection to Nantucket during an interview some years ago: "Nantucket for me started before I was even born…I am descended, I think, sixteen times from Tristram Coffin, so I have Nantucket roots going back from the beginning…Maria Mitchell's brother (Henry Mitchell) was my great-grandfather. He had an only daughter, who in turn had a favorite son, who was my father…they were extremely close…then I was very close to my father, so I feel a real line, a real bond, back to that Mitchell level…Maria Mitchell was a real icon in our family…"
The Havemeyers summered on Nantucket from the early 1960s, then decided to move to the island year-round and start a bookstore. Mary Havemeyer's brother was president of Doubleday Book Company, which at the time, owned dozens of bookstores around the country. Mary and her daughter Mimi went to work in two different Doubleday stores "to learn a little bit about what we were doing in this project of opening up a bookstore. I went to work in the summer of 1967," Mimi explained, "at the store on Fifth Avenue, NY, and commuted up here…It was a little awkward: I was getting paid 60 cents an hour, but my uncle would come and pick me up in a limousine right at the front, whisk me away on the Doubleday plane to come up to Nantucket because he'd be coming for the weekend."
Thanks to their connections with Doubleday, the Havemeyers hired a bookstore architect to transform the corner building at Main and Orange from a dark, uninviting men's clothing store into a bright, welcoming world of books. Henry Mitchell Havemeyer had extensive experience and talent in graphic design and art direction, and he was determined to create the perfect logo for the store. What he came up with—an oval shape around an illustration of the Charles W. Morgan with "Mitchell's Book Corner" written around the border—became a Nantucket icon.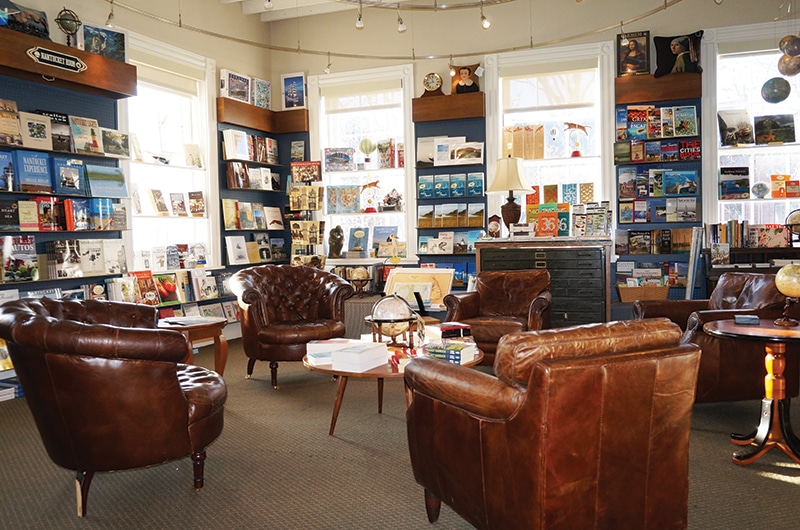 Mimi worked summers at the bookstore through college and graduate school. In 1978, after the death of her mother (her father had died in 1975), Mitchell's Book Corner ownership passed to Mimi.
Everyone who passed through the doors of Mitchell's Book Corner during the 1980s and 90s knew Mimi as the passionate owner who seemed to always be able to steer her customers to books they would love. Many were convinced she had read every book ever written. Generous, smart, brutally candid yet kind, she was a mentor to many island authors and an stalwart supporter of reading.
Just two years before she passed in 2010, Mimi "retired" after selling the historic building to philanthropist and summer resident Wendy Schmidt. Mimi remained with the store as a consultant until shortly before she became ill.
The main goal of Wendy Schmidt's island organization ReMain Nantucket was "to preserve the character of Mitchell's while greatly improving the building's structure, energy efficiency, and handicap accessibility. We created a flexible open floor plan on the second floor so that…the space can be used for book-selling and to host community events, classes, meetings, author dinners, and more." The building was awarded a LEED Silver certification from the U.S. Green Building Council in 2009. In 2012, Wendy Hudson, then owner of Nantucket Bookworks, created Nantucket Book Partners to operate both Mitchell's Book Corner and Bookworks as full-service, year-round bookstores.
A Nantucket resident since 1995 (and summer visitor long before that), Wendy Hudson worked at Nantucket Bookworks before purchasing it in the late 90s from Pren and Patti Claflin. When she heard that ReMain Nantucket was looking for someone to run Mitchell's, Wendy submitted her proposal, thinking that it would benefit both island bookstores to be run under one umbrella of ownership, and Re- Main agreed.
Long-time staff member Suzanne Bennett sees some of the same amazing force that Mimi Beman had in Wendy Hudson. Commenting on Beman's ability to pair customers with the perfect book, she added "Wendy, also, is very good at that."
When Mitchell's Book Corner and Nantucket Bookworks joined forces in 2012, it greatly strengthened their ability to compete and to differentiate more fully. "For Wendy," Bennett explained,"it's been really important for Mitchell's to keep its personality and for Bookworks to keep its personality." The stores now can offer a greater selection of titles for sale, have expanded the famous Nantucket Room, and have been adding events and outreach, increasing staff, and partnering more with local organizations. That expansion included the founding of the acclaimed Nantucket Book Festival, which continues to elevate books in the minds of island residents and visitors and provides programs for Nantucket students.
Says Hudson "Through fifty years, independent bookselling on the island has seen the rise and decline of chain and big-box bookstores, the rise and flattening of e-books, and the rise and rise of Amazon, yet still here we are. This is due to the efforts of many people over the years who have one powerful thing in common: an abiding love for the special place bookstores have in our community. Above all, credit goes to ReMain Nantucket for implementing the model that sustains the store's viability.
"Going forward, we hope to expand our selections of books in other languages and are exploring models for Community Supported Bookstores to strengthen our base to innovate and evolve while upholding our traditions for the next fifty years and beyond."
"It's pretty remarkable to consider this core business on Main Street, Nantucket, has been in steady operation for fifty years," Wendy Schmidt commented. "That means generations… have streamed through the doors of Mitchell's Book Corner, returning decade after decade to find that perfect book that will enrich their lives, their thoughts, and imaginations."