by C. Oscar Olson
The number of fine dining establishments on this island has got to be one of the highest per square foot on the planet. North or south, east, west, and everywhere in between, we are sublimely spoiled with good food.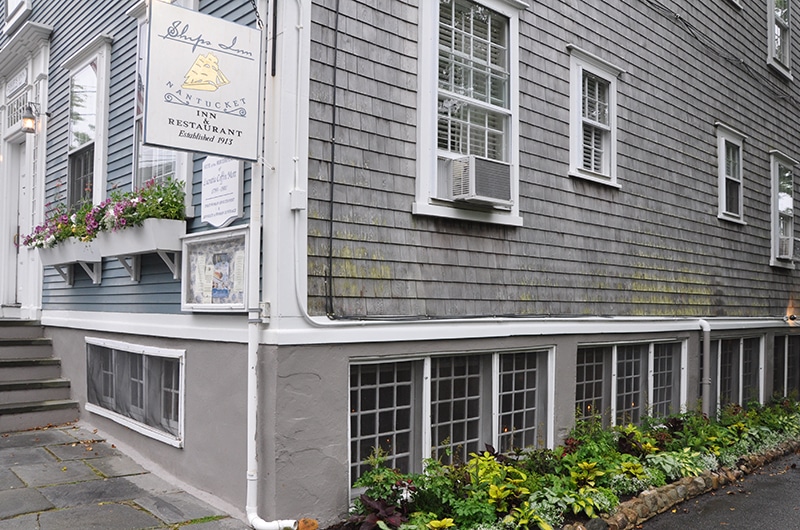 But even with all this abundance, it often seems like we're still missing something. I guess it's just a rare thing to get the whole package: the location close to town, impeccable, passionate service by nice and knowledgeable staff, plus perfection on a plate, all wrapped in the real feel of Old Nantucket. Until, that is, you dine at Ships Inn.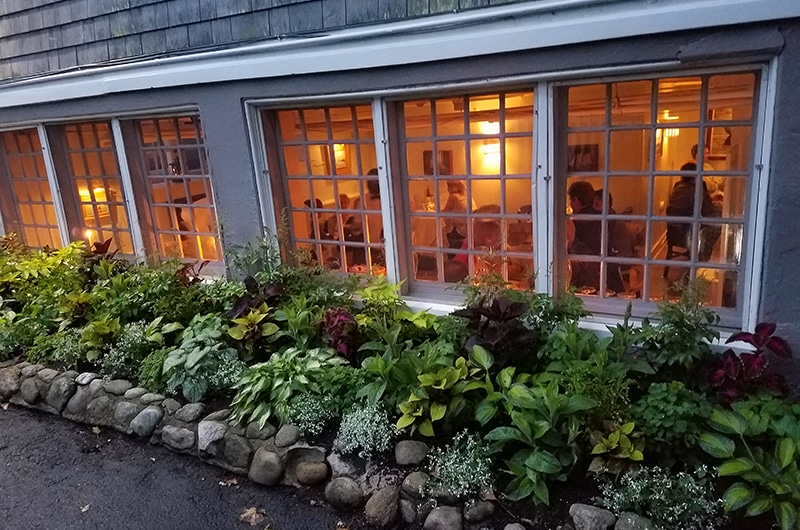 The inn and restaurant on Fair Street was originally the residence of one of the world's most famous whaling captains, Obed Starbuck, a man credited with one of the most successful voyages in whaling history. After his 14-month journey, Starbuck brought home more than 2,200 barrels of whale oil, a treasure worth well over 1.2 million dollars today. The prize was divided between the ship's owner, the crew, and Obed, giving him the opportunity to build his house on Fair Street and farm the island as a well-respected member of the community.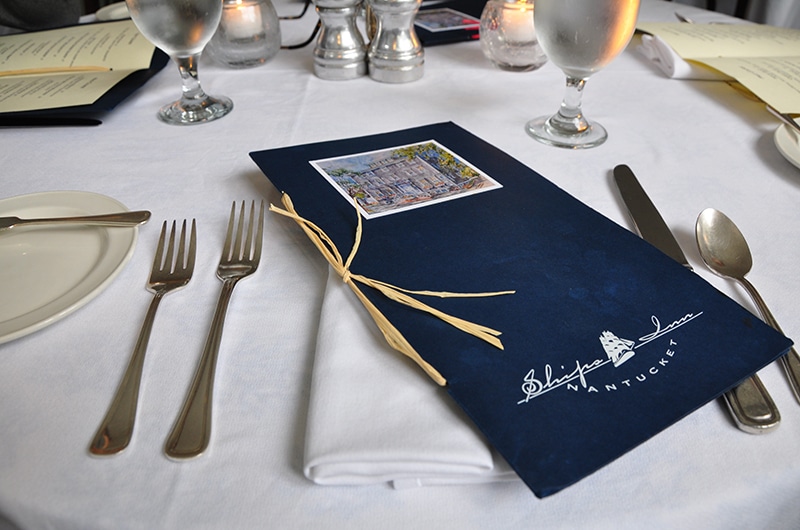 After Starbuck's 50 year stay in the house, Ships Inn opened its doors to the public in 1913, beginning an ongoing tradition of superior accommodations and cuisine.
The menu is split down the middle and has two main focuses: first and main courses. But that by no means limits the options. There are a baker's dozen to choose from on both columns, plus chef's specials. And just wait until we talk about dessert!
Click images to view enlargements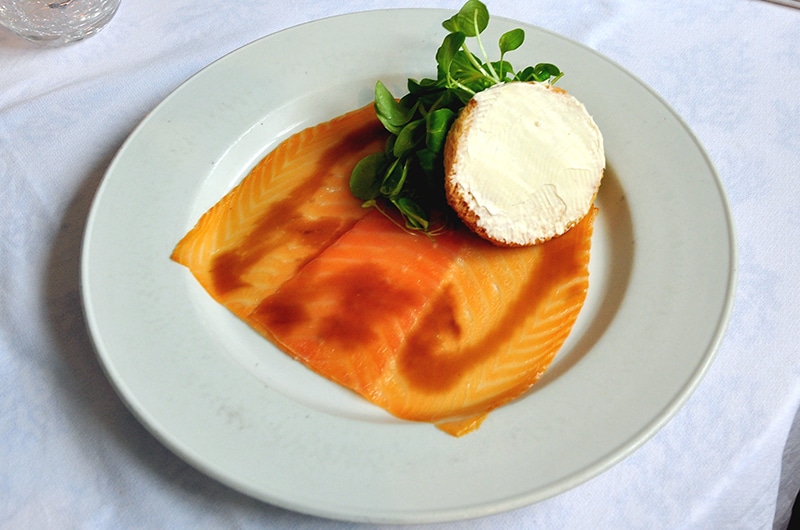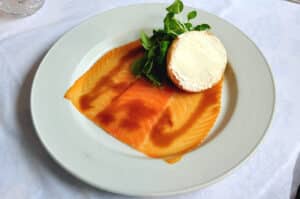 After a good long study of the starters, we still weren't sure where to begin. The options were wonderfully diverse for both courses, but decisions had to be made. We agreed to embark with the Maple Cured House Salmon. The deep, pink fish is sliced razor thin, its sweet and smoky aroma wafted from the plate. Served alongside a toast point and a cluster of microgreens lightly tossed in a vinaigrette, the herbal zest from the greens cuts through the richness of the fish while the maple brings out a sweetness in every component.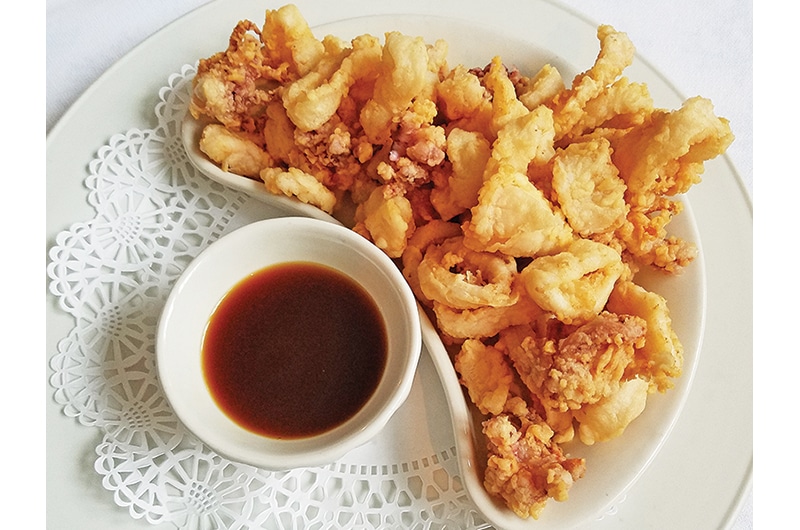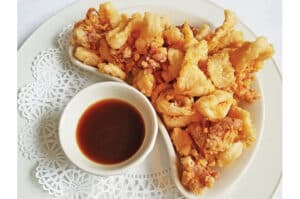 We were on the fence about the Fried Calamari, but since every option at Ships Inn is elevated, we went for it. The typical greasy finger food is transformed by Chef Gottwald: every feather-light bite offering a piece of crispy perfection. Anyone who has ever prepared squid knows 5 seconds can mean the difference between underdone and inedible to overcooked rubber. Theirs is wonderfully tender and served with a citrusy ponzu sauce for dipping or dousing.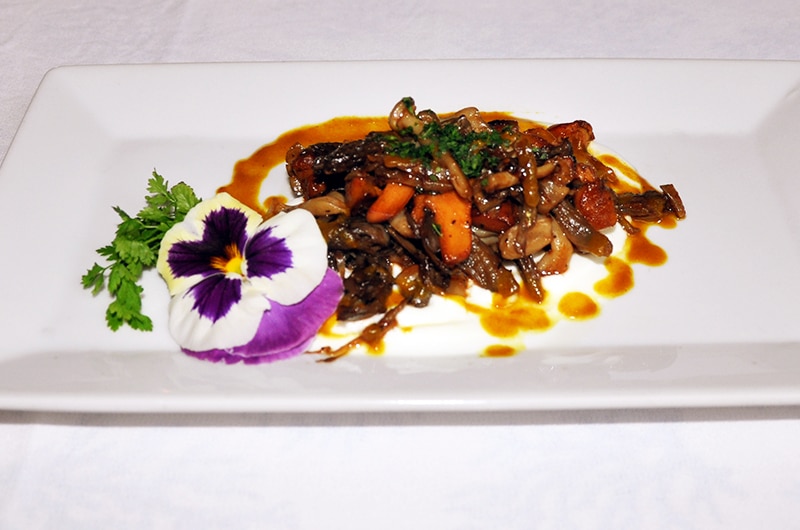 The Sautéed Wild Mushrooms offers a chorus of flavors and textures to contemplate. A rich medley of mushrooms is cooked in a veal demi-glace to bring out even more robust flavor. The fungi are presented atop warm goat cheese, adding a tangy, bright complexity. A drizzle of tamarind sauce brings the two parties together.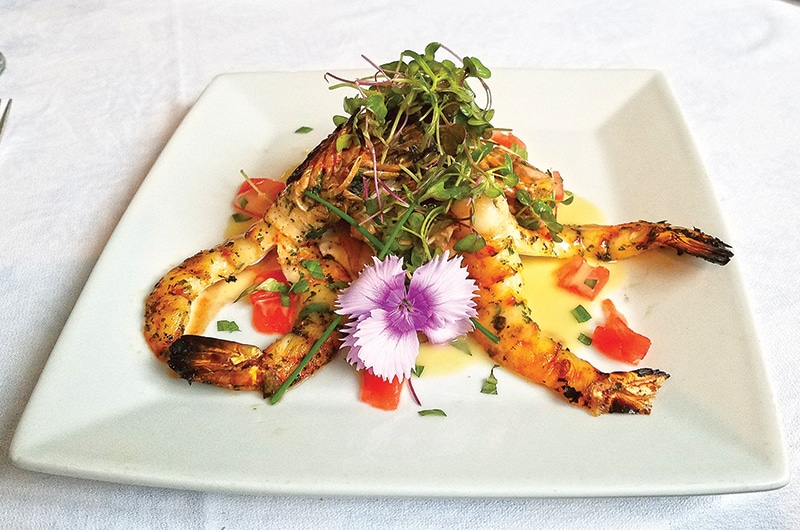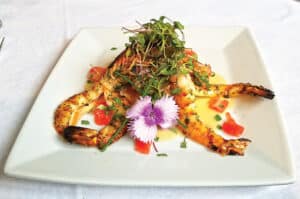 All of the plates are visually stunning, but the Grilled Langoustines are a masterpiece. Langoustine, a sort of salt water cousin to the crayfish, are truly a treat. Strips of salsify, a crisp and bright white root much like the parsnip, add an earthy aspect to the briny bites. A fresh and acidic tomato basil beurre blanc makes for a mop-worthy addition to the dish.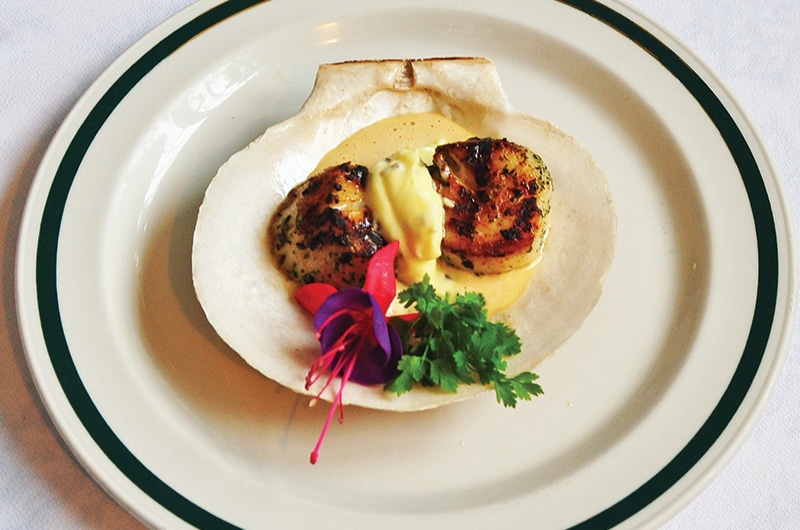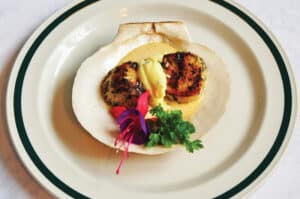 Our final first course was sent out by Chef-Owner Mark Gottwald, and it turned out to be our favorite for the evening. A perfectly picturesque pair of Sea Scallops were some of the sweetest and most succulent we have ever tasted. Simply sautéed with olive oil and salt and pepper, they are turned up to eleven with a lobster vinaigrette and a truffle hollandaise. The complex flavors are artfully reigned in, still ensuring the scallop is the star.
Chef Gottwald takes pride in his work at Ships Inn, and that's clear every step of the way. His staff are cream of the crop on the island, impeccably trained, and remind us of what excellent service is, was, and should always be. The attention to detail is unsur passed and undeniable, managing to ignore trends yet remain on the cutting edge of cuisine.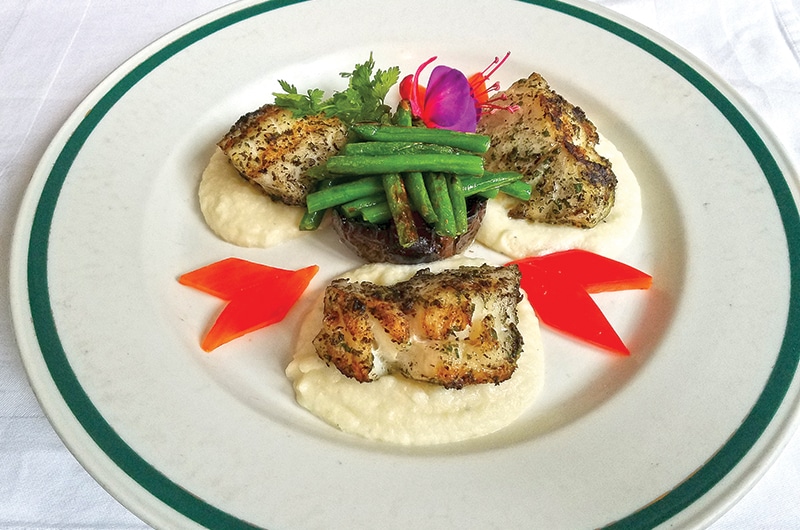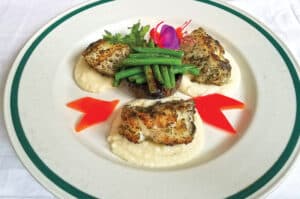 Excitement was in the air as our main courses were presented. The Medallions of Cod takes a simple seaside staple and shows everyone what it could be. Flaky white fish flecked with herbs and grill marks rested on dollops of celery root puree alongside grilled asparagus and sliced eggplant. Fresh summery smells and flavors were aplenty.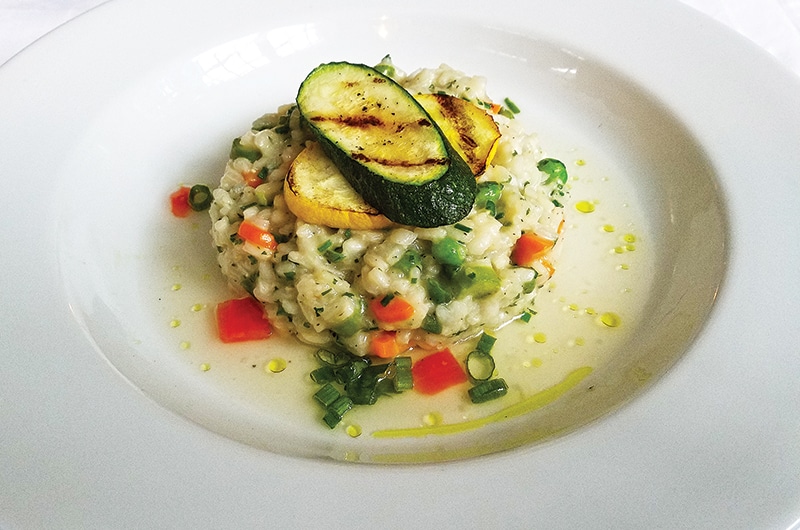 The Vegetarian Risotto is so rich and complex, we could hardly believe it was meatless. Surely there must be some kind of pan sauce at play? Seasonally crisp and colorful flavors are enhanced with mushrooms and leeks, but the decadent white truffle butter makes it a meal.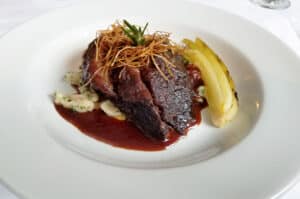 Boneless Beef Short Ribs are a comfort food favorite for many, and we loved experiencing the upscale version. A generous, spoon tender portion awaited us on a gentle horseradish spaetzle, a kind of German gnocchi. The horseradish is dialed down to a point where one can actually appreciate the flavor without the often harsh, eye-watering burn. It makes the perfect compliment to the savory short ribs, while thin cut crispy fried tendrils of leek add an aromatic and earthy zip.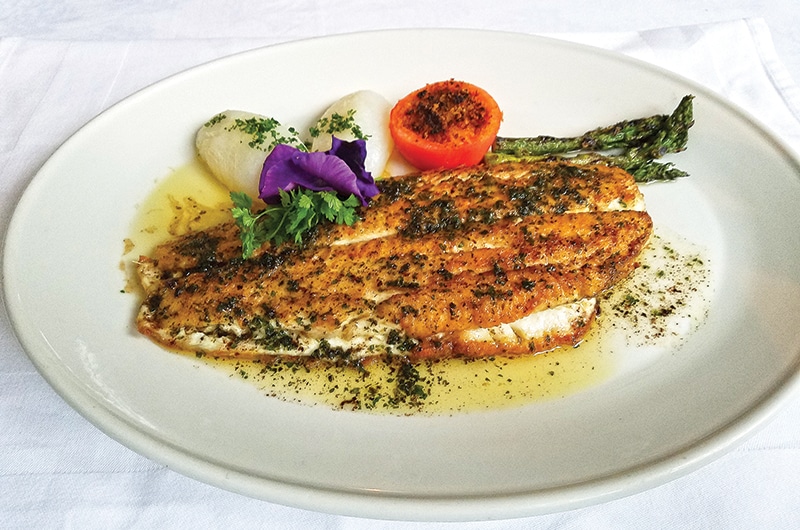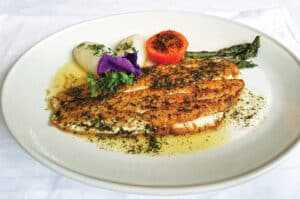 Our finale, the Dover Sole, was not only the table favorite but is also a Chef's choice. There are two options for the preparation: grilled with a beurre blanc sauce or sautéed with a meunière. The meunière popped with lemony brightness and a burst of capers and fresh parsley, and the tomato was so fresh and sweet it took the dish to the next level. Two stacked fillets of sole provide enough to share, but we didn't have an easy time doing so. The thin sear on the fish hides pristine flaky flesh, and we were pleased with the pair of potatoes as they were a nice device for soaking up the sauce.
As you might have assumed by the name, a fine dining experience is only half of what Ships Inn has to offer. The island's prized, historical landmark also provides all of the classic comforts, modern conveniences, and more at a most convenient location. Not only is it located just two blocks from Main Street, they boast a breakfast buffet served daily, plenty of street parking, air conditioning, beach chairs and towels… The list goes on.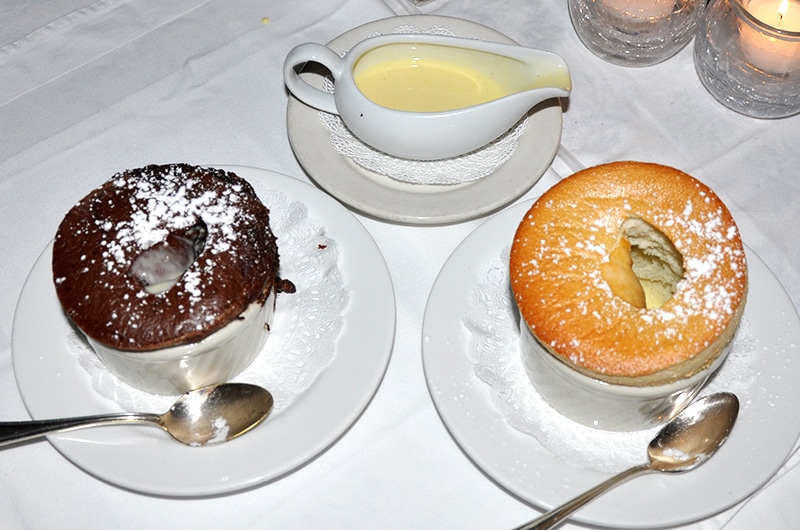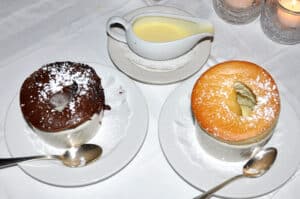 We don't always plan ahead for dessert, but you'd be crazy not to at Ships Inn. The restaurant is renown for their Soufflé, an amazing airy end to a meal that can take the duration of dinner to prepare. We ordered both the divinely decadent chocolate and the French classic Grand Marnier soufflés before deciding on our first course. The desserts are presented tableside with a drizzle of creme anglaise: and they leave the pitcher of this light, pourable vanilla infused custard on the table so you can add more as you go. It adds just enough weight to the cloud-like soufflés. The chocolate was incredibly rich with an intense dark depth. The Grand Marnier had a hint of orangey citrus and was a refreshing contrast.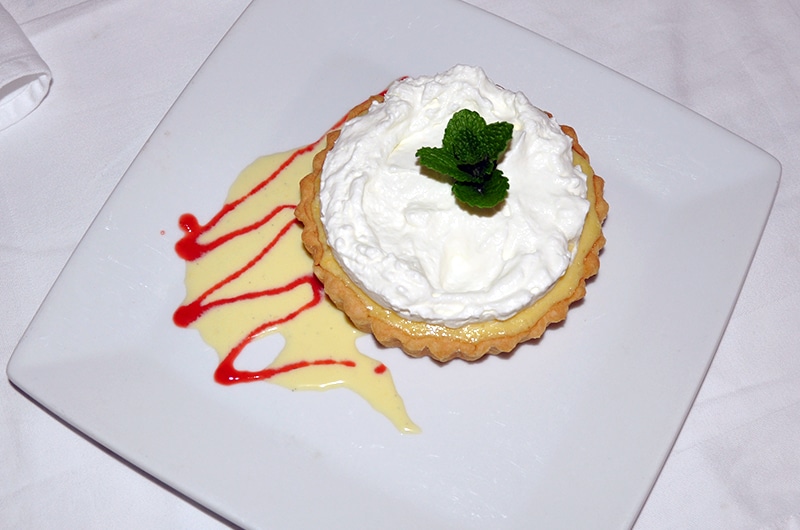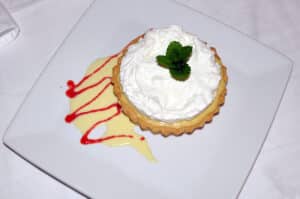 Cool, refreshing flavors are usually my first choice for after dinner delights, so the Key Lime Tart and the Strawberry Rhubarb Cake definitely delivered. A buttery crumbly crust held the smooth and sweet tangy lime tart, while the bites of hot, cold, sweet, and sour kept us coming back to the cake.
Ships inn has been pleasing patrons for more than a century and we're sure that the current restaurant, now in its 28th year, will continue serving our island with its consistent and classic character and an unbeatable upscale experience.
The Ships Inn
Reservations suggested: 508-228-0040
13 Fair Street • shipsinnnantucket.com
Dinner served from 5:30 p.m. • Dory Bar opens at 5 p.m.
Entree prices range from $27 to $53
International Wine List & Full Bar • major credit cards accepted