Eye on Style: The J. Butler Collection
by Suzanne Daub
It takes a sophisticated sense of style and a special connection to the people you work with to be successful in design across different states, in both city and country, and for both primary residences and vacation escapes. Since 1984, designer Jeffrey Butler Haines has become known for setting new standards by pushing the boundaries of traditional interior design. He's built a very loyal client base, many of whom credit him with enhancing their lives with his comfortable and effortlessly elegant interiors.
Prior to starting Butler's of Far Hills, Inc. in beautiful Far Hills, New Jersey, Haines knew he'd pursue a career in the arts. "I was a music and art major, and I'd always loved architecture. After graduating, I turned back to architecture and realized I love the finishing details…I like the spontaneity of interior design, and we do a lot of architectural details," he explained. "When my wife and I opened our business in 1984, it was the right time, the right place, and we had the right clients. We were featured widely in magazines, and the business grew quickly."
Haines and his interiors won national recognition. He has been cited more than once on the House Beautiful list of "Ten Best Show House Rooms" in the country and has received many awards for his timeless designs.
Jeffrey Haines and his family first came to Nantucket Island decades ago, enjoying summer vacations in 'Sconset Village. "I kept thinking that I could bring my business to Nantucket," Haines explained, "but my wife kept saying to me 'don't you want a vacation?' So we waited."
Then, twenty-five years ago, they decided to open The J. Butler Collection on Centre Street. They brought to Nantucket a tasteful selection of unique pieces they discovered during their travels: pillows, glassware, vases, antiques, lamps, furniture, mirrors, gifts, and more. They sold "pieces that would be wonderful in an island home or a home on the mainland…Our clientele found us. Island designers loved it: they came in and bought for their clients." Every season he reinvented the character of the shop with a different accent color: his clients were excited to see what new design pieces he would open with in June, and they'd ask him "what's this year's color?"
Once his daughters were older, Haines realized that he did have time during the summer to offer his award-winning interior design talents to clients on Nantucket. "I love every bit of [interior design]: it's stimulating, fun, positive, inspiring, encouraging….You get to know the people, and I'm making people feel happy…You've got to love what you do, and I do love it."
Haines likes to equate the design of a space to reading a book. "First you have to like the cover and the idea. Then when we actually put it all together, you can't have every chapter be the best: there must be connections to bring one chapter to the next. It should be the same with a home—I like it to flow, to connect, to make sense so that our clients never tire of the look."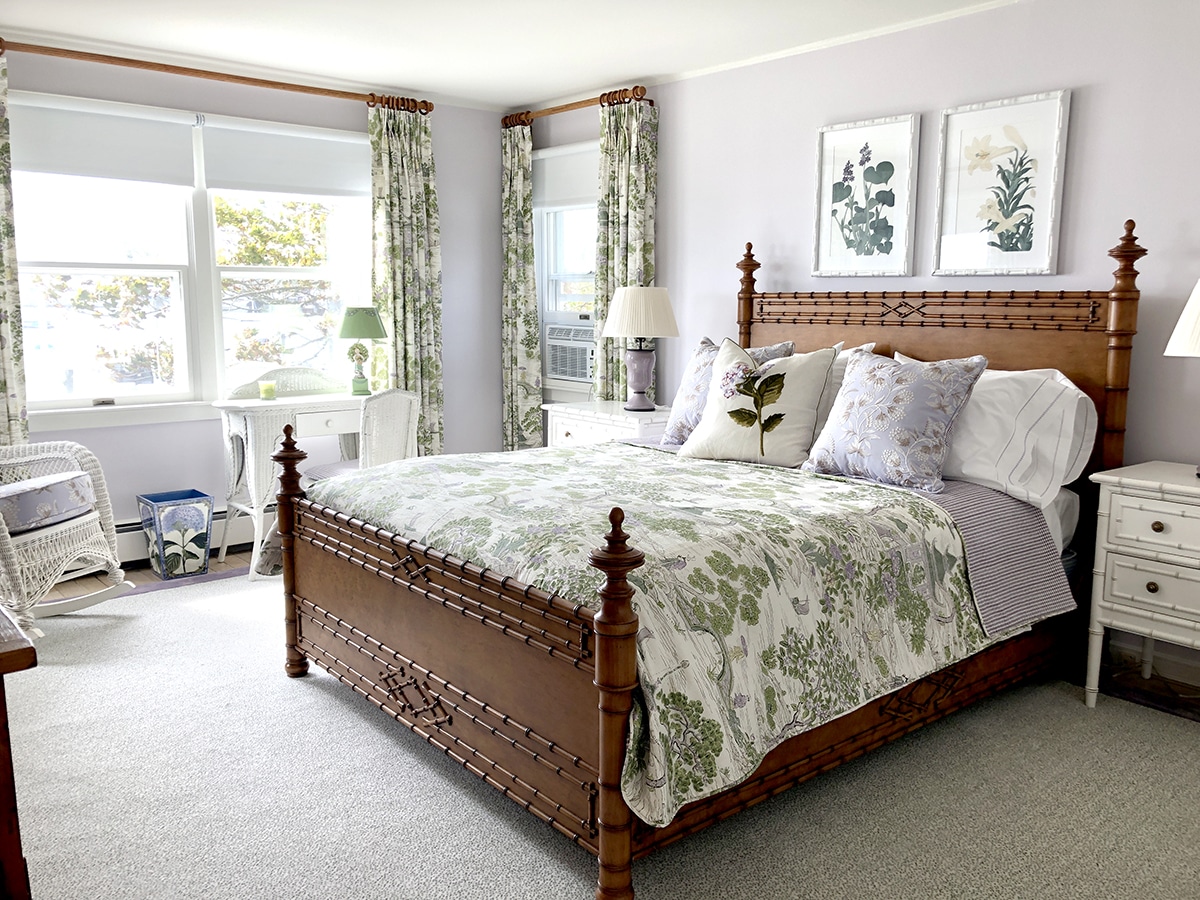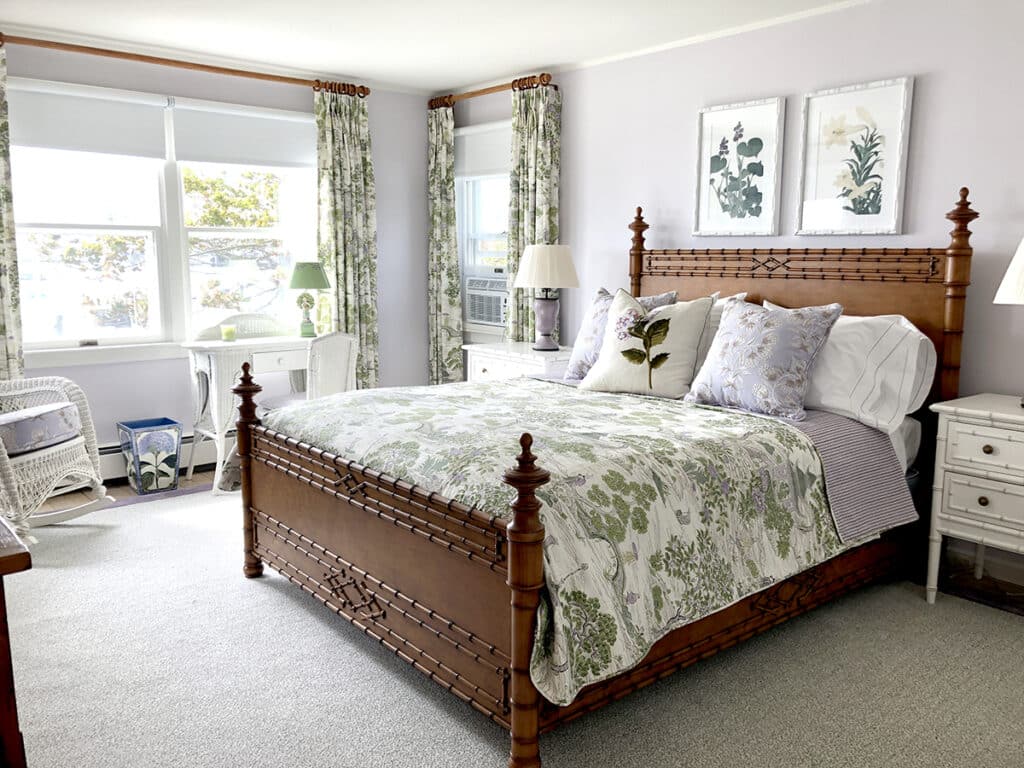 "We also have clients who like that our aesthetic goes beyond Nantucket," said Haines. His off-island clients seek them out when they are here, and work he's done for island clients has led to him designing their homes off-island. Haines has an unerring sense of what his clients need and of what they want: they put their trust in him to make their homes gathered and styled. "We love working with clients who know their homes and whose interiors are important to them…we have a long relationship with many of our clients."
In 2016, The J. Butler Collection moved their seasonal home design boutique from the Centre Street location to the rear courtyard at 12 Main Street, where through last season they continued to offer their distinctive curated collection to Nantucket. "Every year we have clients who can't wait until we open for the season: they tell us that they 'always get my best things from you'."
This year, for their 25th season on Nantucket, The J. Butler Collection has moved again, this time partnering with two island galleries, where their fine furnishings and home decor are perfectly paired with photography and fine art. Their exceptional collection is in the Noble Fine Art Gallery at Zero India Street, across from the Nantucket Atheneum, through August. And through September, The J. Butler Collection is also in the East End Gallery on Old North Wharf, a few steps off Easy Street. Stop by one—or both—of these new locations to see their one-of-a-kind pieces and to be inspired to transform your home.
"Don't over think it: don't delay the process because you think you might find something better," is one bit of sage advice Jeffrey Haines has to offer. "If you hear a recommendation or see a home that you love, put your trust in that designer. You're on the same team."
And consider yourself very lucky if you have designer Jeffrey Butler Haines leading your team.
The J. Butler Collection
3 Old North Wharf, just off Easy Street and
0 India Street, off South Water Street at Noble Fine Art
Monday-Saturday 10 am to 5:30 pm & Sunday noon to 5:30 pm
By appointment, call 508-228-8429 or info@butlersoffarhills.com
Join their mailing list at butlersoffarhills.com