by Carl Oscar Olson
Everyone loves the classics. Cars from the 1960s and 1970s have captured our attention and made our hearts race for nearly a decade, and rock and roll still makes us get up and dance. Nantucket is a classic American vacation spot, and The Downyflake is a classic American eatery.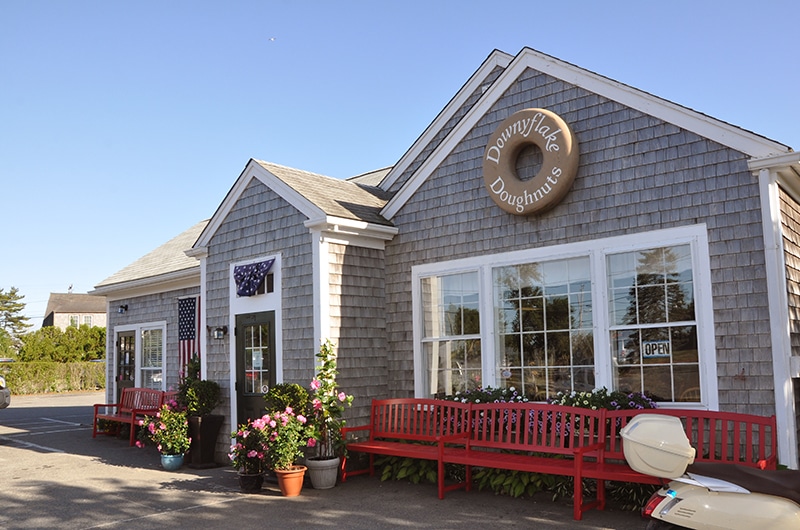 Conveniently located in the middle of the island at 18 Sparks Avenue, The Downyflake is accessible by car, bike, or bus. The big doughnut outside is as much of a landmark as the delicious breakfast, lunch, and dinner served inside. For well over 80 years, The Downyflake has been a Nantucket Tradition.
Breakfast has always been a mainstay with grab-and-go options like fresh coffee, breakfast sandwiches, and of course, doughnuts. Grab a table or booth for a more hearty, sit-down start to your day with Steak and Eggs or Biscuits and Gravy. On Sunday mornings there is always a special preparation of Eggs Benedict. Lunch is never a letdown either with diner delights like melts, cheesesteaks, burgers, and salads.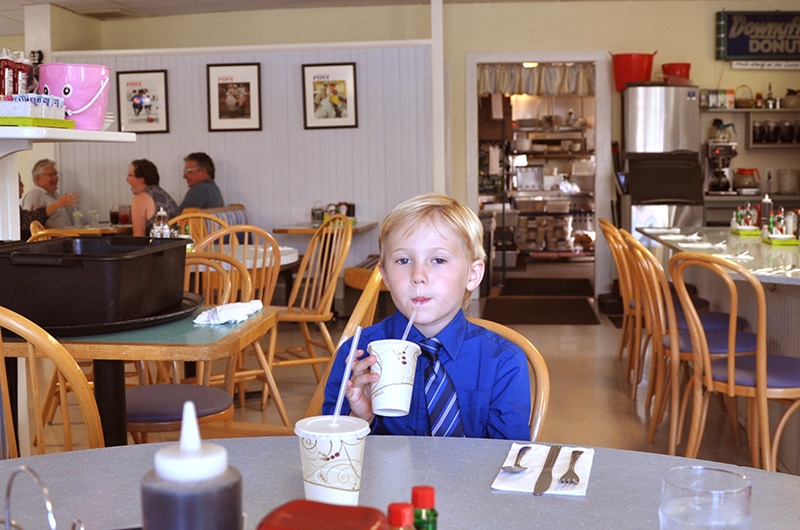 Owners Ron Oldham and Pate Kennedy are proud to be a part of The Downyflake tradition. The Nantucket Historical Association documents the opening of the first location as May 5th, 1935. Initially the restaurant was downtown, but through the years it has made its home in several other spots. In the 83 years since it opened, the restaurant has always been family owned and operated. Dinner is a new feature on the menu this season. "We have been wanting to do dinner for a long time," says Pate. "We're very excited, this felt like it was finally the right year."
The dinner menu is as fun and eclectic as the decor and offers flavors for every age and palate. Several of the dishes came from Ron and Pate's days at the RopeWalk restaurant at the end of Straight Wharf. They are tried-andtrue and always delicious.
Click Images for Larger View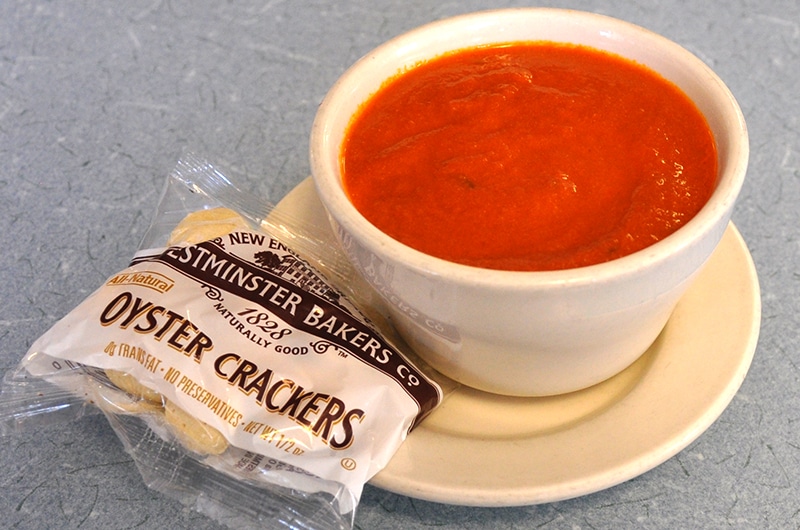 The chef's soup of the day, a creamy Tomato Basil Bisque, sounded like a perfect way to begin. Its rich brick-red color of real tomatoes was piping hot, hearty, and delicious. It was simple and yet a super satisfying start to our meal.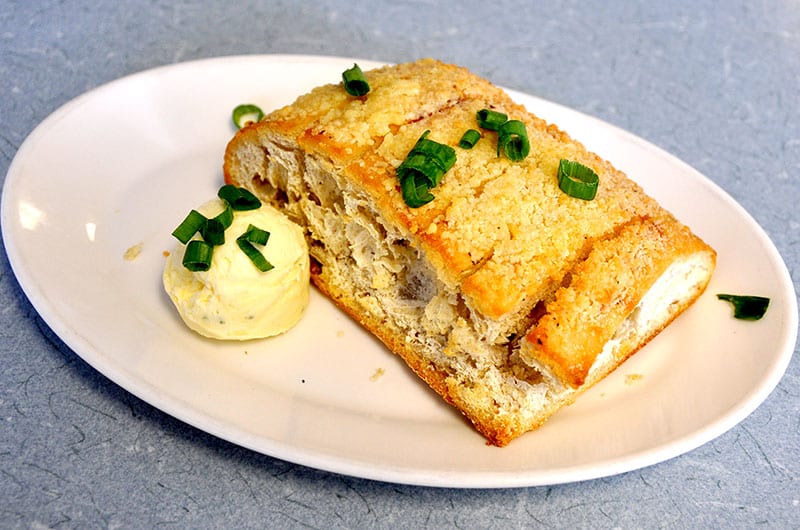 Mama's Bread is based on the recipe of a much-loved staff member. It's warm and soft with a splendid cheesy crust and chive garnish, but the real star of the show is the whipped honey-orange butter served alongside. It's ohso spreadably sweet, bright, and all around mouthwatering. We suggest ordering this with the soup for a match made in diner heaven!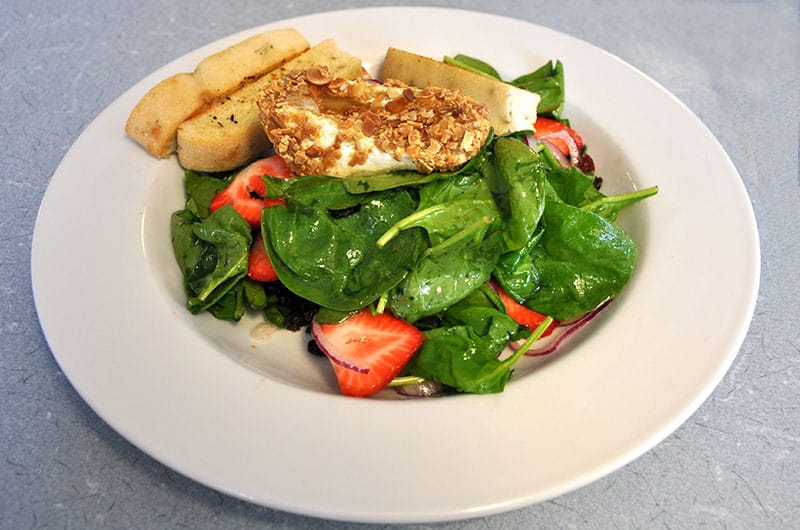 There is a lot going on in the Baked Almond Encrusted Brie, but it all tied together beautifully. Warm, melty brie sits atop a perfectly dressed bed of fresh green spinach and juicy red sliced strawberries. Dried cranberries and raisins increase the sweetness throughout while the toasty almonds add an essential crunch.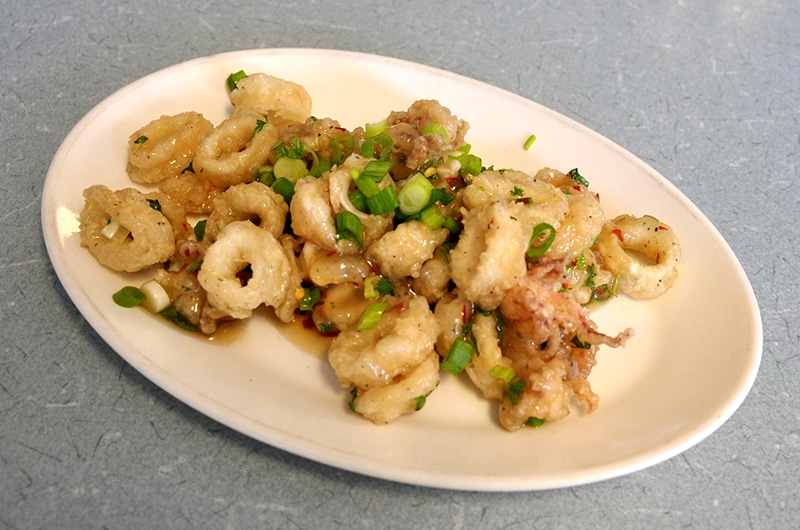 Our favorite appetizer of the evening is the Crispy Fried Calamari. The light golden shell on each bite shines with a sweet and spicy soy, honey, and chili glaze. Scallions and cilantro bring freshness to every toothsome taste. Next time, I think we'll order two.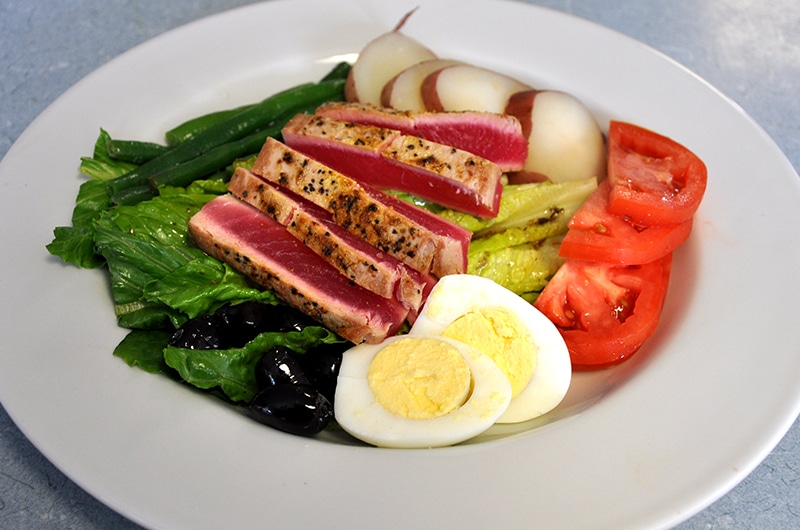 The delicate flavors in the Seared Tuna Nicoise entree salad all add up to create something bigger. In this crisp and refreshing French classic, the fish is served sushistyle and delicately seared alongside mixed greens, al dente sting beans, red potatoes, olives, and a boiled egg. It's all lightly dressed with a fragrant lemonherb vinaigrette. Mix and match each component to create a new experience with every bite.
The seaside classic Fish and Chips is made with fresh, locally caught sole that's deep fried to a golden yellow hue. The fries are fresh and hot and dusted with a house seasoning, and the tartar is tangy and tasty. Crunchy, cool coleslaw is the perfect accompaniment to this New England favorite.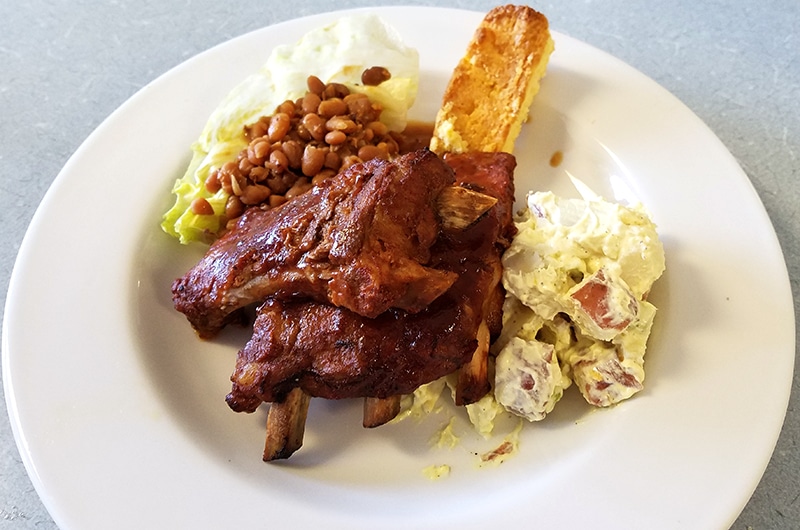 There are nightly "Blue Plate Specials" available on rotation every night of the week. They start at 5pm, but get in early, because when they're gone, they're gone. We were thrilled that Tuesday is the BBQ Baby Back Rib Platter because this Southern staple is one of our favorites. In Ron's version, the meat falls off the bone and is slathered in a tangy-sweet house sauce that goes great with the baked beans and potato salad served alongside. Use the homemade cornbread to clean the plate.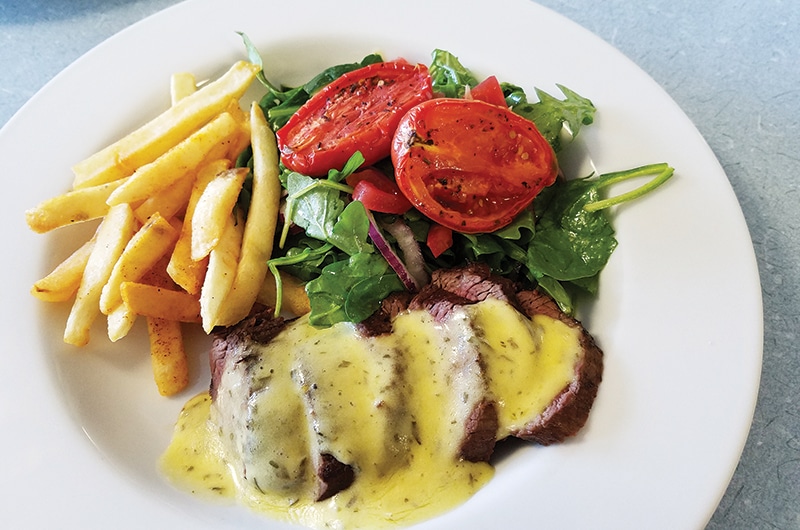 A gorgeous, golden béarnaise sauce makes the Steak Frites a top pick. It covered the spoon-tender medium rare medallions of petite tenderloin and there was enough to share with seasoned fries on the side. The gently sweet acidity of the tomatoes on the mixed greens salad was enhanced by a blistering flash of fire from the grill.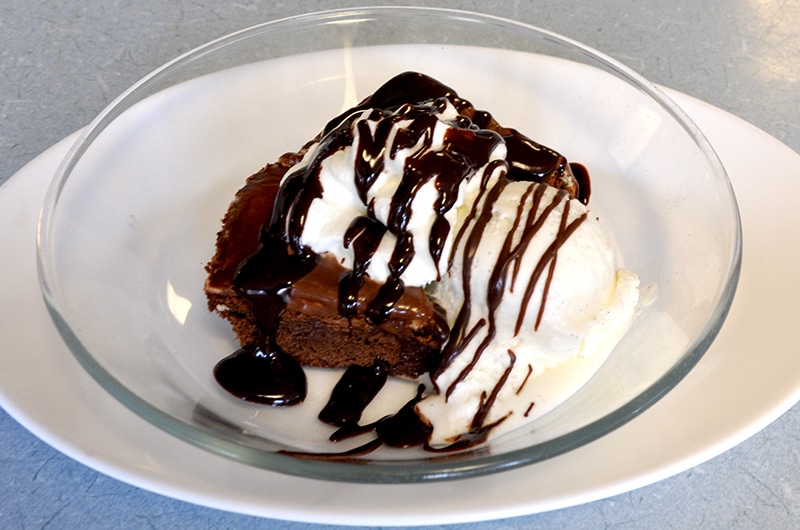 The entree portions are simply perfect, leaving you so satisfied with room for dessert (or a donut!). We ordered three fan favorites for after dinner. The Brownie is dense, dark, and decadent and would be perfect paired with a fresh hot cup.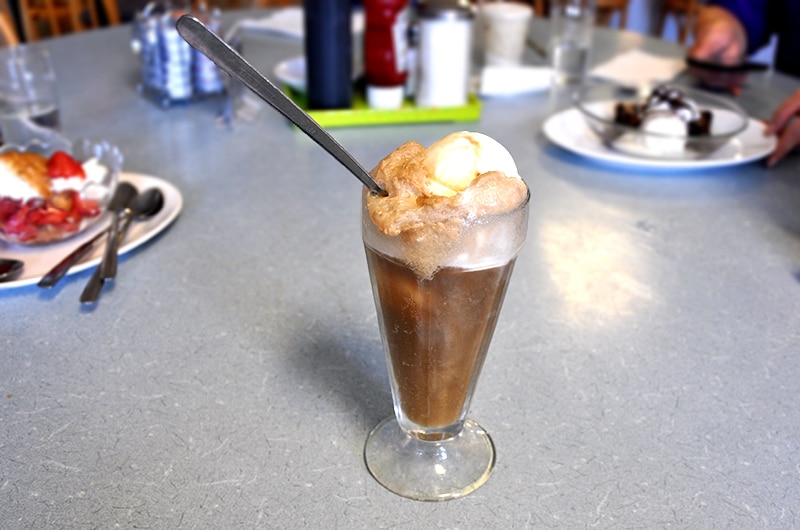 A classic Root Beer Float is frothy, creamy, and vanilla-beany,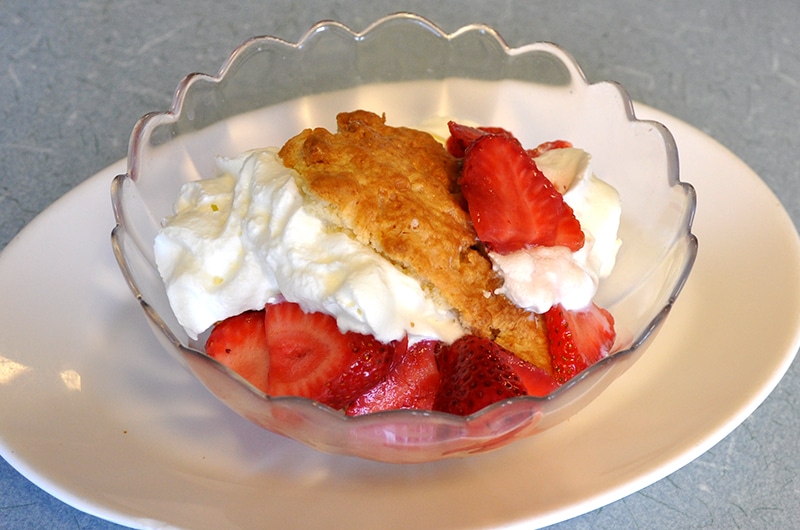 and for the Strawberry Shortcake Ron piled fresh, ripe fruit on a homemade biscuit that happily soaked up the sweet summer juice.
Everything is fantastic at "The Flake." The food is top-notch, the decor is timeless, and the prices are some of the most reasonable on the island. On top of all that, it's kid friendly and they offer B.Y.O.B. service, so grab some beer or wine and relax while you dine.
There is magic at The Downyflake that transports diners to simpler times. We can get a taste of the days before traffic jams and parking tickets and simply enjoy the company of new friends and old over a great home-cooked meal.
The Downyflake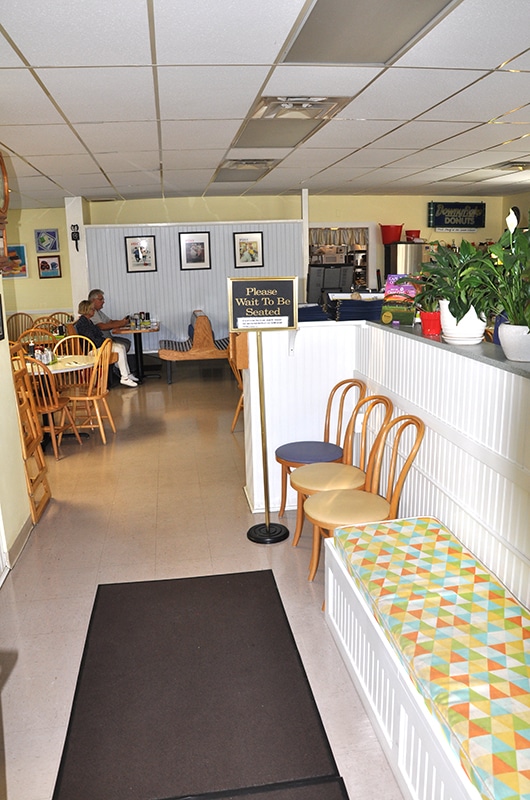 18 Sparks Avenue • 508-228-4533 • www.thedownyflake.com
Breakfast Monday-Saturday from 6am to 2pm
Sunday Breakfast only from 6am to 1pm (off-season 7am to 1pm)
Lunch Monday-Saturday from 11am to 2pm
Dinner Thursday-Tuesday from 5pm to 9pm
Breakfasts range from $4.25-$13.95 • Lunches range from $7.25-$12.50
Dinners range from $10 to $23