by Suzanne Daub
"I think very few people are completely normal really,
deep down in their private lives."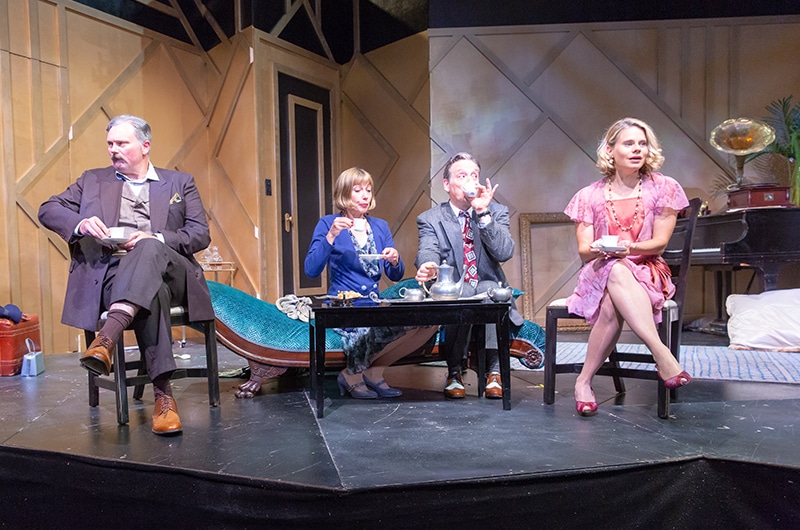 White Heron Theatre has done it again with their production of Noël Coward's
Private Lives: they've brought New York to their Nantucket stage and mounted a production that is professional, entertaining, and transformative.
Teasingly simple, Coward's play is so much more than a comedy, especially when viewed within its time. It was written and opened during worldwide instability and uncertainty—the Wall Street Crash, the Great Depression, enormous income inequality, totalitarianism, and war. Sound familiar? Though it was first performed in 1930, it resonates today.
But it is a comedy, and a very funny one. The playwright's biographer Philip Hoare called Private Lives the "most elegant example" of Coward's art: "the playwright's greatest achievement – to make us laugh so much we forget to cry."
Private Lives does just that.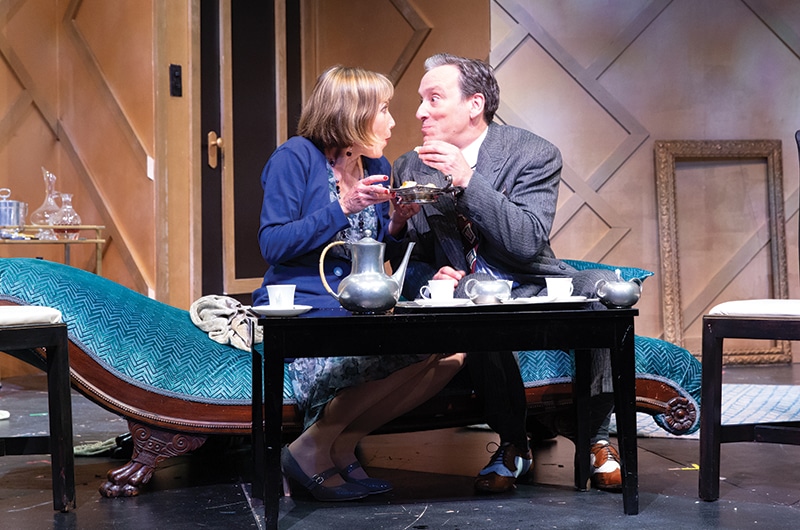 Subtitled "an intimate comedy," the play is raucous and sexy, stylish and lively, and it masks more than it reveals in its playful banter and bickering. It's a comedy of manners, satirizing the affectations of the 1% with witty dialog. But in between the laughter, the characters show vulnerability and offer a bit of serious commentary on love, life, and commitment.
The initial scenes mirror each other: cynical Elyot and his new wife, Sibyl, have just arrived at an elegant hotel on their honeymoon in France. Elyot, five years out from a stormy marriage, clearly wants peace, but the much younger Sibyl is pestering him with questions about his first wife, Amanda.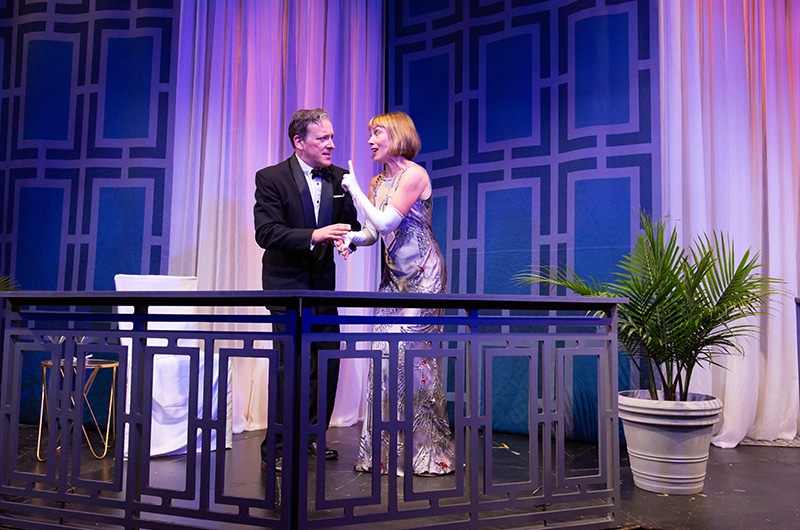 In the next room, Amanda is just beginning her new life, on honeymoon with the older and somewhat stodgy Victor, who is badgering Amanda for details of her time with previous husband Elyot.
When Elyot and Amanda discover each other on adjoining balconies, the set-up ends and the real fun begins. The audience shares Elyot's premonition when he says to Sibyl as he tries unsuccessfully to convince her to flee with him to Paris "I have the most extraordinary sensation of impending disaster…"
Elyot and Amanda quickly realize their passion hasn't died, and they abandon their new spouses to run away together to Paris only to discover that their passion for squabbling and physical brawling is also still very much alive. They are unhappy apart, unhappy together.
Jeremy Shamos (Elyot) and Nina Hellman (Amanda) are on stage for most of the play. The roles are demanding, and these two have the stamina and talent to pull them off. They're quick with the constant wordplay and verbal sparring, and their comedic timing is right on the mark. (It's interesting that the actors are married in real life.)
Hellman perfectly plays the role of vivacious yet jaded divorcée with glimmers of vulnerability beneath her veneer. She manages to walk the line between poise and petulance even when she's in the midst of a knock-down.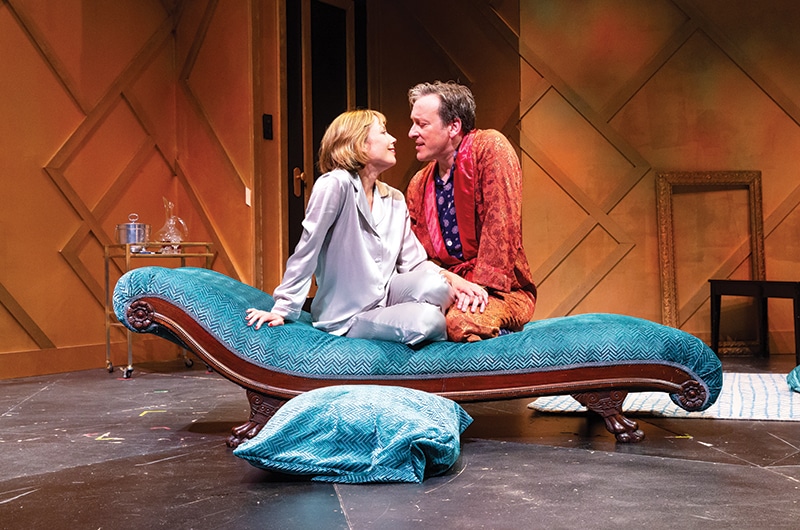 Shamos has the most entertaining expressions of physical comedy and is completely convincing as the charming, sophisticated playboy masking his deep feelings with near constant flippant remarks. One of his character's more revealing comments to Victor is "Has it ever occurred to you that flippancy might cover a very real embarrassment?"
John Ellison Conlee is believable as Victor, humorless, upstanding, and full-of-heart, and Celia Keenan-Bolger's transformation from Elyot's conventional and blithely innocent bride to the obvious soulmate of Victor is both funny and revealing. The fight this pair (also married in real life) has at the end brings the play full circle.
Jan Neuberger deserves praise as the French maid who appears to be baffled by her employer's antics (or is she?) and whose sneeze changes a scene.
Sets are beautifully done by Louisa Thompson and perfectly illuminated by designer Christina Watanabe. And if you haven't yet seen a play in the stunning theatre White Heron built, by all means, go! In fact, go early and enjoy a cocktail on their terrace (yes, you may bring your drink into the theatre to sip as you watch).
Don't miss this very entertaining, chic and cheeky cynical look at love!
Private Lives is performed in White Heron's Theatre at
5 North Water Street August 6-8, and 14-18.
For tickets visit www.whiteherontheatre.org
or call the box office at 508-825-5268.