by Sanibel Chai
Upon entering Reubin Simantov's store, you find yourself awash in mythology, history, and dreams. No subject is too fantastic or off limits. Horses, snakes, gargoyles, urchins, panthers, fish, bats, honeybees, insects, and molluscs adorn Reubin's jeweled designs. Diamond ant brooches, dangling octopus earrings, and a maple leaf necklace barely scratch the surface of Reubin's imagination, which has won him clients around the world. He speaks of his design approach as "organic and oceanic," which is evident in the astral, floral, and nautical motifs. A glance at the shell collection (small bunches of various shells made of 18k yellow, pink gold, and silver) and Nantucket's influence on Reubin's designs is evident.
Reubin's introduction to Nantucket was auspicious as it was serendipitous. Seated next to Darcy Creech of Peter Beaton for a fundraiser in Connecticut, Reubin noticed that an overwhelming number of people who purchased his jewelery also purchased a hat and vice versa. Astounded at their overlapping clientele, Reubin asked Darcy where Peter Beaton was located. He had never heard of Nantucket. Theirs was a star-crossed meeting and in 2003 Reubin first shared his jewelry with the island from the courtyard of Peter Beaton. He has since displayed in the Nantucket Hotel and at a shop on South Beach Street. At present, you can see his designs at his shop within J. Robinson on 2 South Beach Street.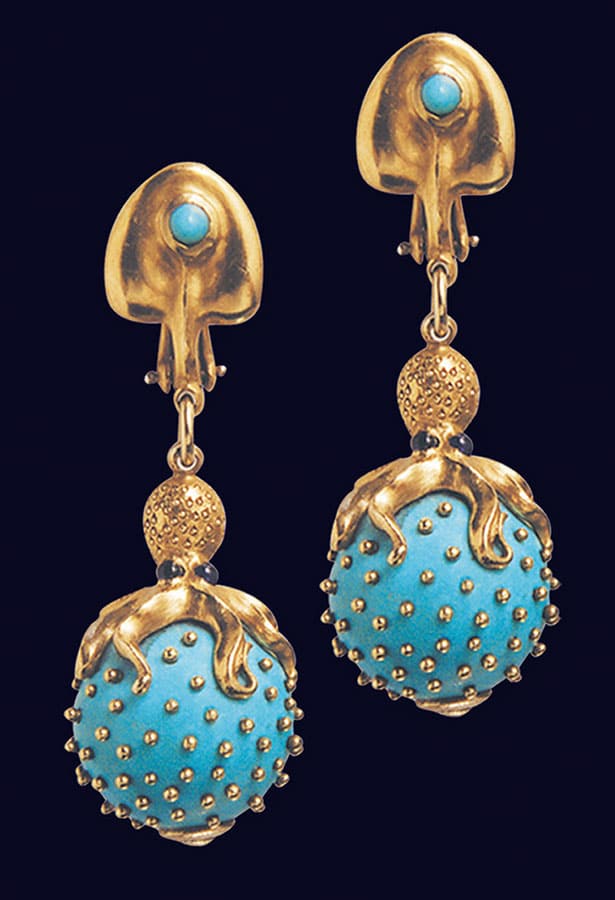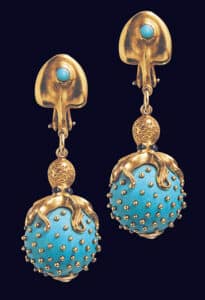 Reubin is quick to dismiss the title "designer." He consistently refers to the jewelry designer as "we": himself plus a team of masters that includes an enameler, inlayer, caster, and more. Together they have resurrected techniques that most jewelers have since traded in for easier methods. "I execute what's lost," Reubin says "Craftsmanship is my heart and soul. It doesn't leave my hands until I am totally satisfied with it." Reubin describes the masters as the ingredients necessary for a successful recipe and himself as the final dash of "Kosher salt" that completes the dish. With a team of talent complementing his own gift, Reubin has created pieces that resonate emotionally with his clients.
When clients try on certain pieces, Reubin has noticed how they often stand taller and carry themselves differently, "Their shoulders go back, they constantly touch their hair… they picture themselves in that certain era, certain party, certain gathering [and] how they are going to look and feel," Some clients are moved to tears. When I comment that putting on his jewelry can feel like putting on a costume he agrees but adds "It's real. It makes you feel, not only look."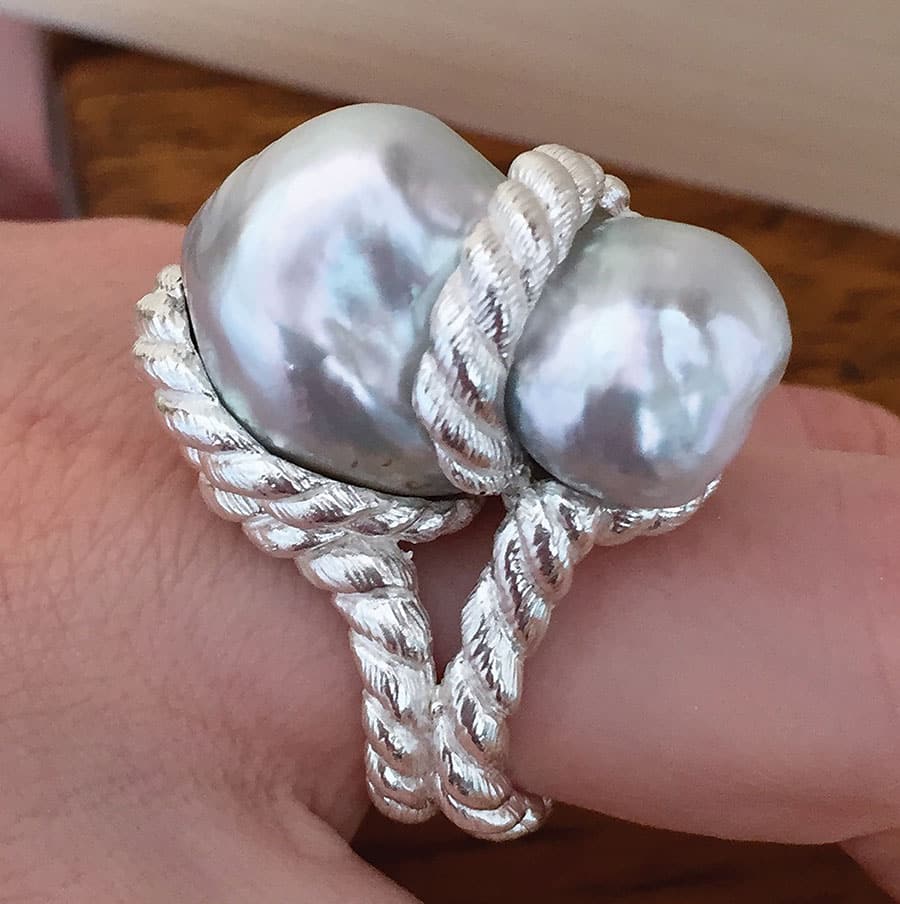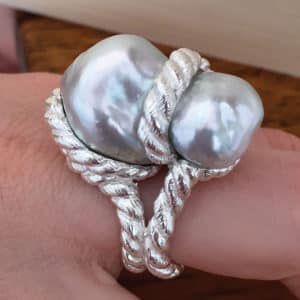 Reubin's jewelry is certainly transformative. Taking elements from nature, history, and mythology, the designs channel a whimsy born of fantastic color, creatures, and incredible attention to detail. Indicating a stunning gold and turquoise necklace, Reubin jokes, "If you don't feel like Cleopatra in that moment, I'm going home." A black obsidian panther ring is remarkable for the gold inlay work on the panther's teeth and tongue. Such a small detail would be easy to miss, but Reubin is adamant in his refusal to cut corners. He cites an old master for explaining that you should always check the back of a piece of jewelry. The back and sides of a truly finished piece will be as painstakingly crafted as the front. His commitment to quality and artistic integrity is best summed up by a humorous incident in which a woman wore a necklace of gold feather backwards for the better part of an evening because the back of the necklace was as beautiful and intricate as the front.
"There is nothing ugly in this world. It's how one wants to see." I admired a beautiful pearl ring whose band was silver, made to look like a nautical rope. The rope wrapped around the pearl itself, conforming to the contours and framing it beautifully. How did this design come about? The pearl itself inspired Reubin. "This pearl is a reject. It was in a bag of stuff that people had tossed," Reubin explains. It is a large baroque pearl and some of the skin has torn away, revealing a dark layer beneath, which it not visible in the setting. Reubin did not see the broken skin as a flaw, "I'll give it a home…we adopt all the rejects. You should see what they do to these beautiful things that mother nature grew." The condition of the pearl, its particular shape and idiosyncrasies, inspired the rope idea that Reubin says he would not have come up with otherwise.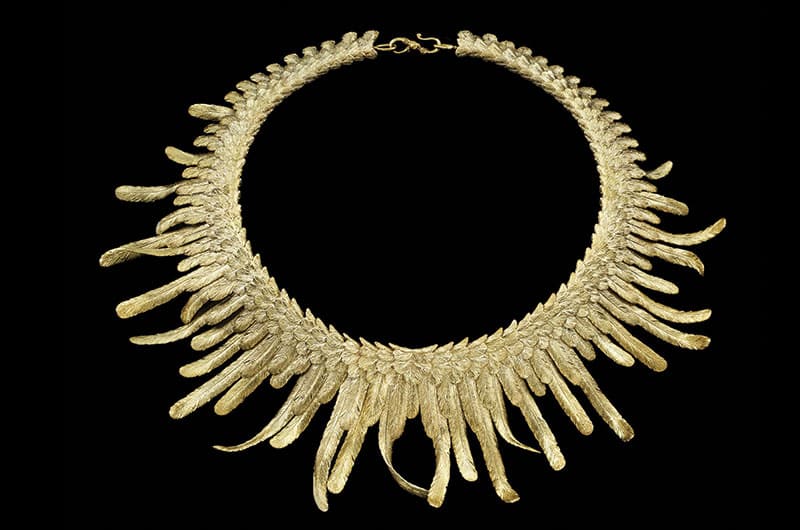 One of Reubin's favorite exclamations is "beyond." Speaking of an assistant whose talents he greatly admired, she was "beyond." Speaking of the Lalique works he so admires, "beyond." It's an apt word for a man whose designs bring worlds beyond—lore, ancient history, imagination—to earth. After speaking with Reubin I've learned a great deal (en tremblant, a technique that allows the piece to tremble or quiver when worn) and I've been privy to a beautiful thing: Reubin's ars poetica. When speaking about how feeling can guide creation he stops himself and asks, "Am I getting too gooey now?" To hear Reubin Simantov speak about jewelry is like hearing Keats wax lyrical about poetry or Lumet on filmmaking: he is powerless to rein in his enthusiasm. His love for jewelry design fully shines through in his creations.
R.Simantov, 2 South Water Street • 917-324-4410