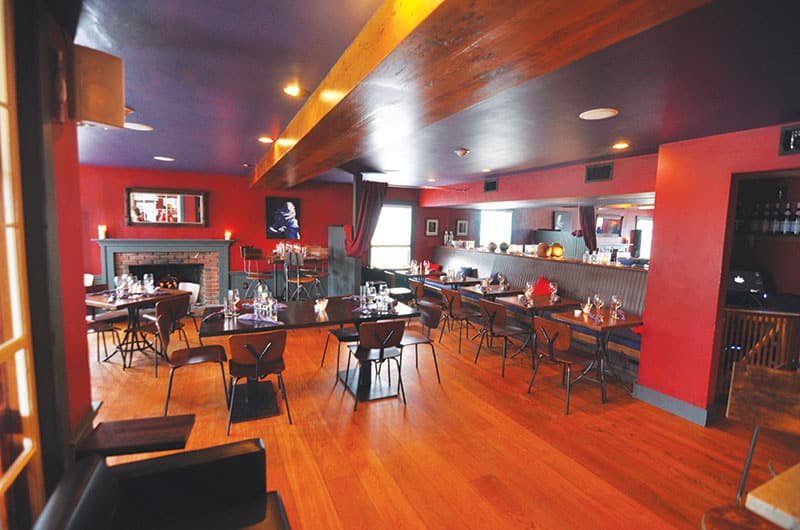 It's true: we've filled just about every niche on our tiny island, and one thing there is certainly no shortage of is fine dining. It seems somewhat fortunate that many of the desirable destinations are within walking distance of Main Street, but many are not. Sometimes you have to go the extra mile to get something worthwhile. Atlas, located at 130 Pleasant Street, is well worth the extra mile.
Click on images to view enlargements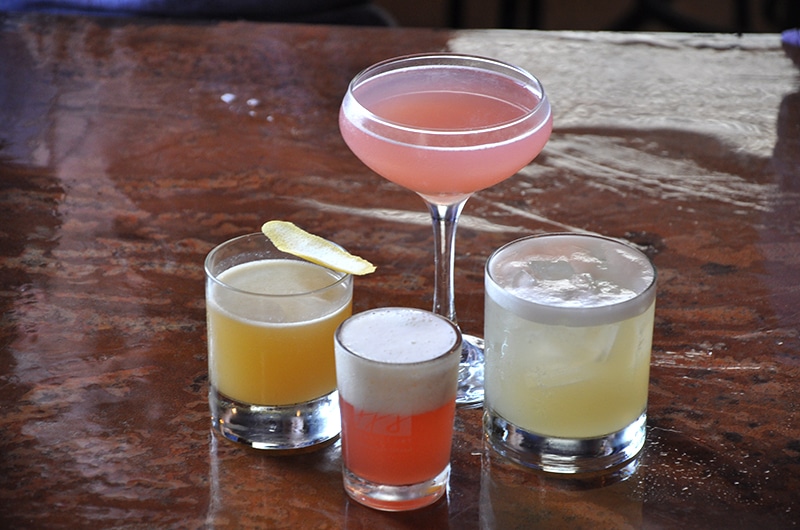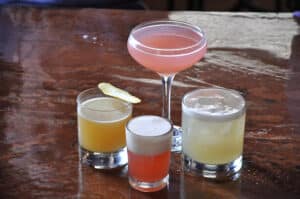 We started with a few signature libations, all of which were unusual, exceptional, and all around awesome. David Pepe, the mixologist at Atlas, never takes a shortcut. With house-made shrubs, bitters, mixers, and even tonic, you will never have a drink like the drink you have at Atlas. The Veronica Corningstone (back)was the special of the evening. The base is Barr Hill Vodka, a unique product distilled entirely from pure Vermont honey. The cinnamon simple syrup wakes up the honey notes and a few dashes of Peychaud's Bitters makes this drink a delight. A must-try is The Lumber Sexual (front left). Its eyeopening sizzle and tang from habanero and orange bitters is unforgettable, combined in a base of Meyer lemon and Rittenhouse Rye whiskey. Our favorite was The Smokin' Gun (front right). It's set off with pineapple shrub and lime, but the smokiness from the Mezcal is enhanced with a Laphroaig single malt mist on top—think: "campfire lemonade." In addition, try the Ramazotti Negroni (front center). It's a new take on a classic and a favorite of Atlas co-owner and Chef Brandt Gould.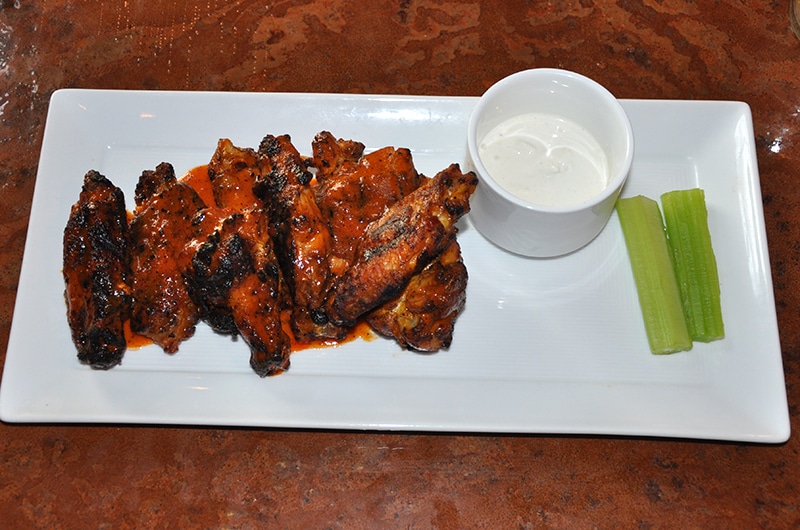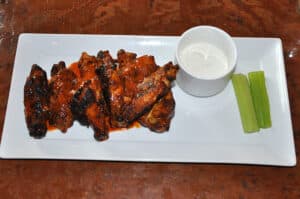 The Buffalo Wing is everyone's favorite bar snack, but Atlas takes them a step further. They are grilled, not fried, which adds a new depth of flavor to this old reliable. Crispy, tangy, spicy, and served with real blue cheese to cool things down. Savor them with a draft Limbo IPA.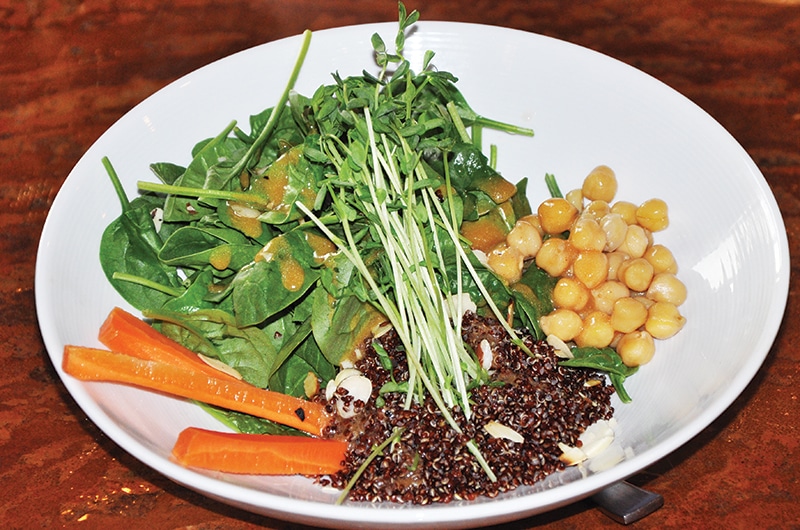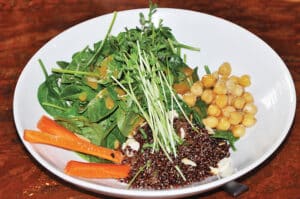 Balance out those wings with the Atlas Power Salad. It combines super-foods spinach, red quinoa, and almonds with a bunch of delightful pickled carrots. It's dressed up nicely with a house French vinaigrette and pairs well with MAWBAC (Might As Well Be A Cleanse) cucumber infused vodka, fresh kale, lime and green apple topped with Eat Fire Spring apiary bee pollen.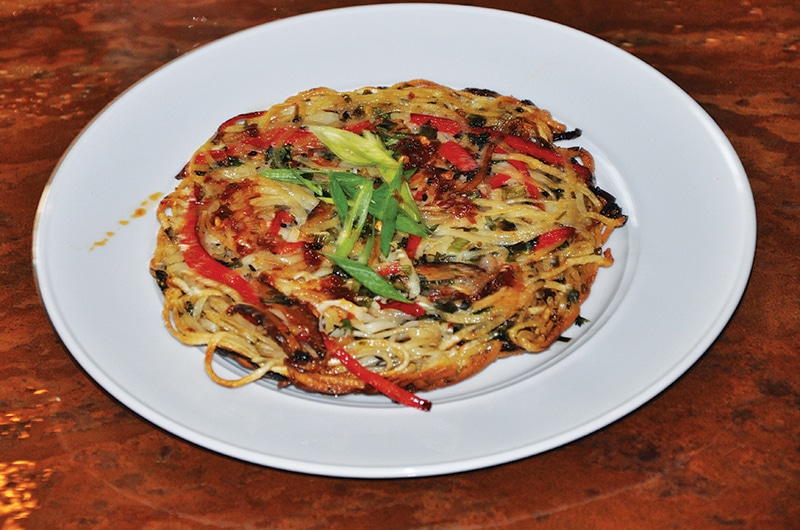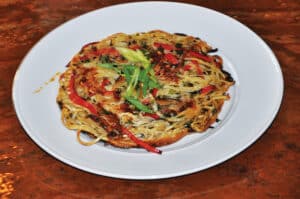 The Crispy Udon Pancake was a pleasant surprise. This sort of panfried noodle cake is comprised of udon noodles tossed with scallions, shallot, nori, and shiitake mushrooms then drizzled with a sesame-chile sauce. Pan fried until a nice crust forms, it's a marriage of textures and tastes not to be missed; crunchy, tender, sweet, and savory in every bite. (Suggested pairing: Broadbent Vinho Verde or a Sapporo)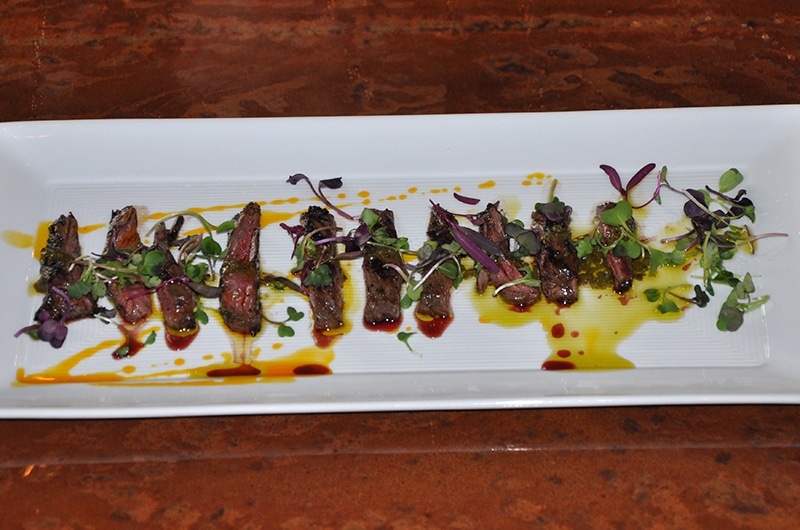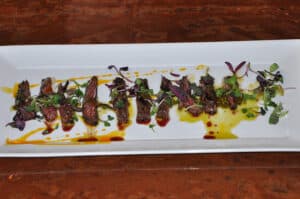 The Churrasco Skirt Steak is seasoned with garlic and red wine and grilled to perfection. It's served thinly sliced and the rich char is balanced beautifully by the bright green chimichurri sauce on top. (Suggested pairing is Barr Hill gin, rhubarb, & house made Meyer lemon bitters)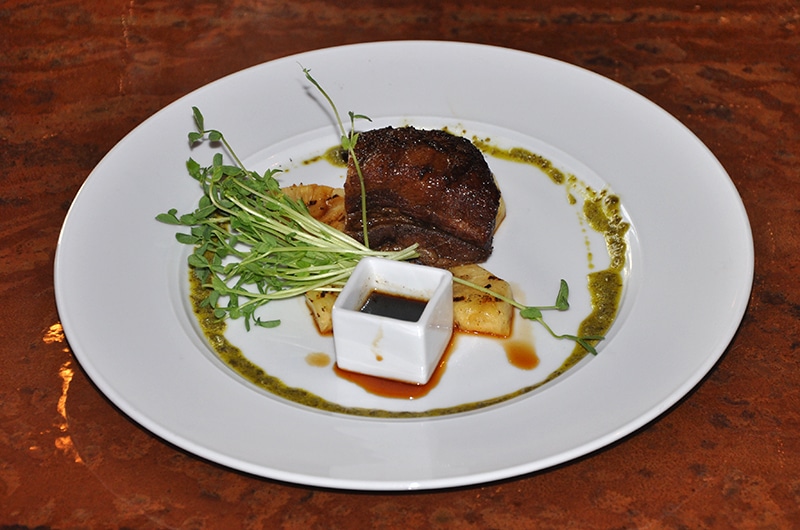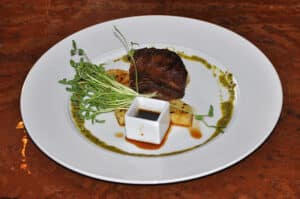 Our favorite starter was the Smoked Beeler Farms Pork Belly. Marinated for two days and smoked slow for six hours, it's then ovenbaked to order for the most crispy caramelized crust. It's tender, delectable, and fatty for all the right reasons. Paired with sweet grilled pineapple and ginger lemongrass sauce on the side. (Suggested pairing: sip an Acacia Pinot Noir)
Owners Gabrielle and Brandt Gould have a refreshing passion for food, a passion that shines through in every dish. At Atlas, everything is done with intention. From the custom cocktails to the extensive craft beer list, wines, spirits, small plates, sides, sandwiches, and beyond, quite frankly there is nothing ordinary to be had. "Try something that scares you," says Brandt, "see what it's about." You'll be happy you did.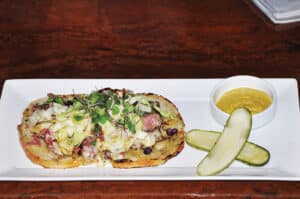 At this point, we were very excited about our entrees. An absolute must have is the Real (19 day) House Cured Pastrami Sandwich. All done inhouse, the premium Creekstone Farms pastrami is first cured for many days until it's ready for the rub. After that, it's cured for several more days. The meat is smoked for a day then steamed. The final package is sliced and served hot, open-faced, smothered with home-style fermented sauerkraut (also made in-house) and melted Swiss cheese with spicy mustard and a kosher dill pickle on the side. Forget your New York deli because Atlas will put them to shame. Wash this down with Troegs "Crimson Pistil" hibiscus IPA.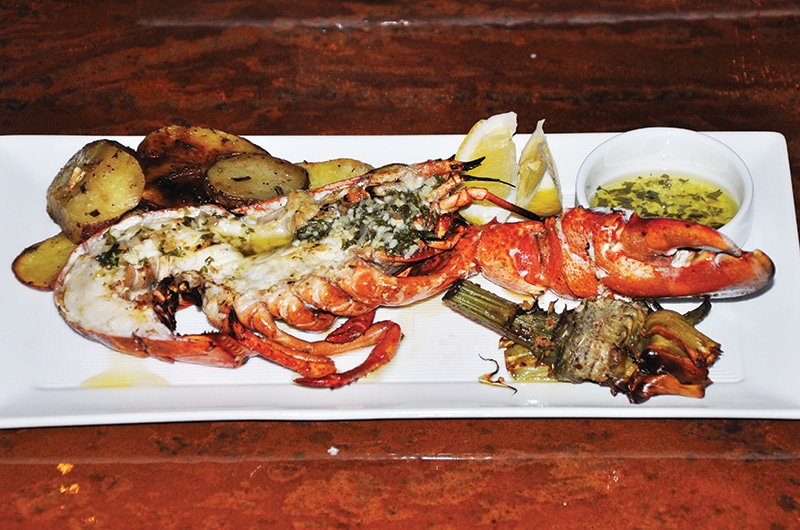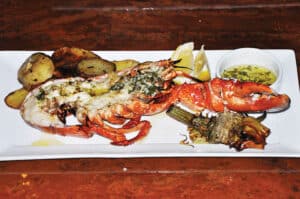 Of course, Atlas does justice to all the amazingly fresh seafood surrounding us. The Half Local Lobster is so sweet and tender you might think it was dessert, but we're not quite there yet. It's grilled with French shallot and garlic butter, served with creamy new potatoes and elegant roasted artichokes. (Suggested pairing: Gl Patz & Hall Chard)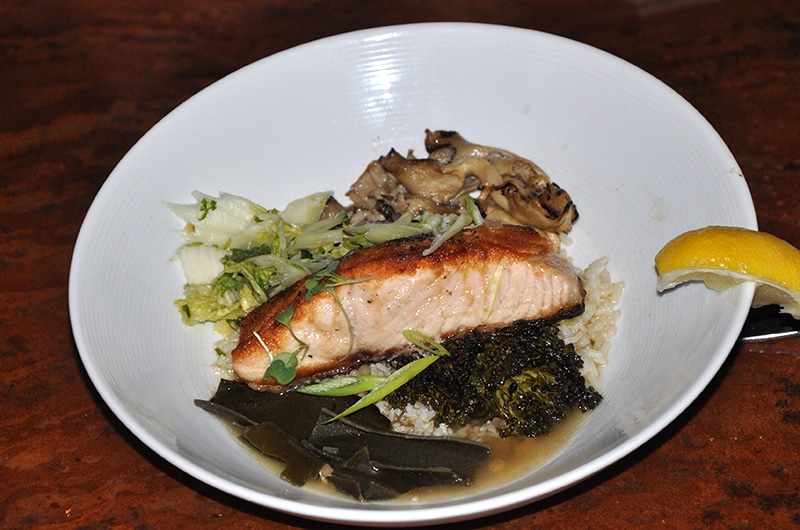 The Pan-Roasted Tamari Glazed Salmon has the most perfect cook and flakes beautifully. It's served with delicious oyster mushrooms, charred baby broccoli, and a lemon broth. It all sits atop a bed of fragrant Jasmine rice that soaks up every drop of flavor. (Suggested pairing: Qupe Marsanne)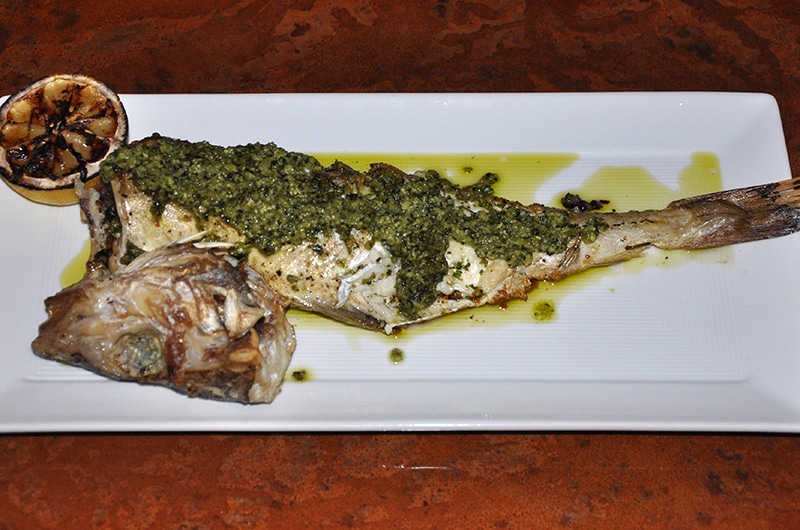 The winner of the evening was Atlas' Whole Fish: an incredibly fresh catch from Nantucket's last commercial dragger, The Ruthie B. The preparation will vary with the actual catch, and tonight's was haddock. It was pan roasted to perfection and topped with a pine-nutty basil pesto; a surprisingly satisfying combination. The skin is crisp and flavorful, the glistening white meat is a dream. This dish is fun to eat, fun to share, and it helps create an appreciation for the fish itself. (Suggested pairing: D Wachau Gruner Veltliner)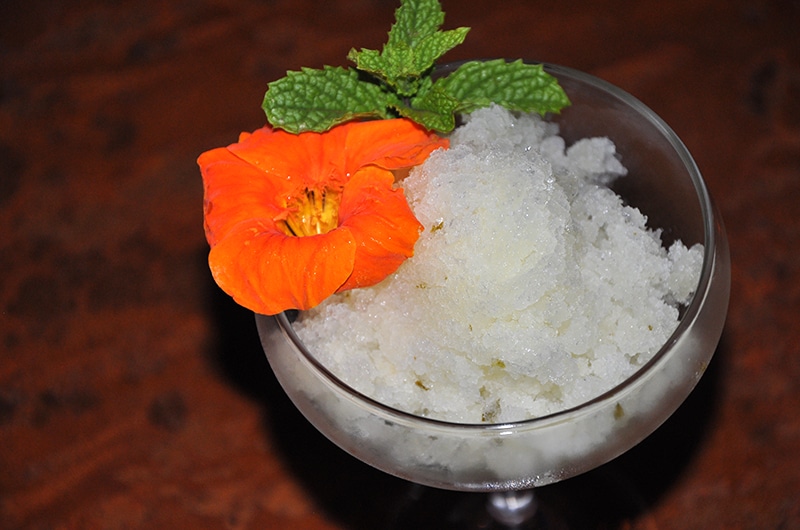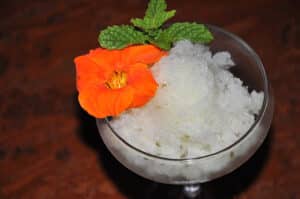 To make a perfect dinner even better, don't skip dessert at Atlas. All are made in-house by co-owner Gabrielle, and the love comes through as it does in every other item on the menu. The Lemon-Mint Granita will cool you off just by looking at it. The flavor is intense and refreshing; it's the ultimate palate cleanser. It's garnished with a gorgeous edible flower that brings an additional dash of spice.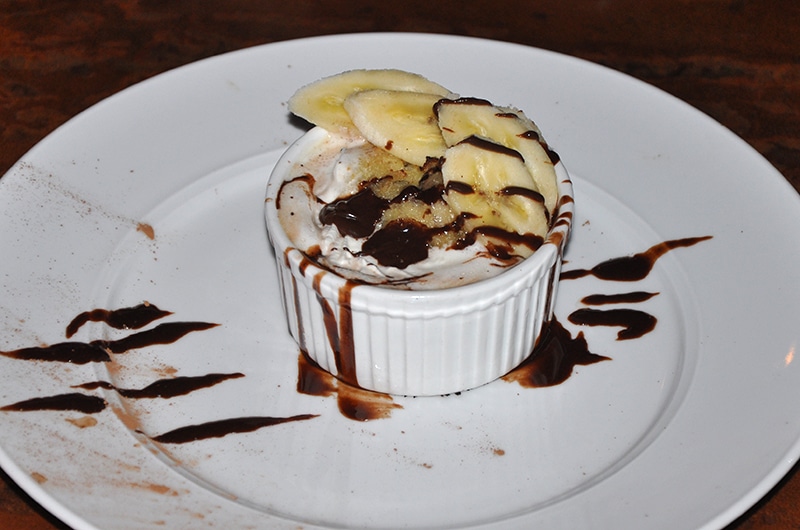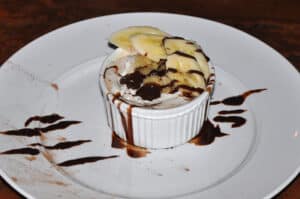 Banana is the star of the Chocolate Banana Bread Pudding. Served warm and gooey, it's just a reminder of what a winning combination banana and chocolate can be.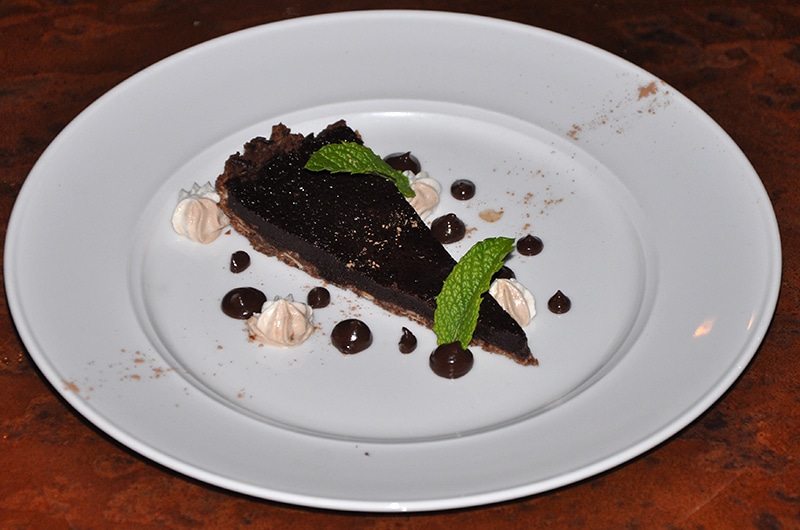 The Salted Chocolate Torte is the richest of the three options. It's soft, sweet, and satisfying. All of the dessert portions are just right, none is overwhelming or over filling. Check back often, though, because the menu is always changing.
If you haven't tried Atlas, try it. You're missing out. If you have, try it again because there's always something new. Pick up your map, leave Main Street behind and get out to Atlas.
Atlas BBQ & Fish House
130 Pleasant Street • 508-825-5495
atlasnantucket.com
Dinner nightly from 6 to 10 pm
Dinner entree prices range from $20 to $32
Call for receptions and private celebrations • Take-Out Available
Full Bar • Major Credit Cards Accepted • Casual Attire