• by Sarah Teach •
Coffee and Nantucket have mingled like cream and sugar since island native and forty-niner James A. Folger struck gold in creating his namesake coffee giant. More than 150 years later, newly wedded year-round islanders Courtney and Jason Bridges are tackling a venture that would make Folger proud, and their approach is most delicious.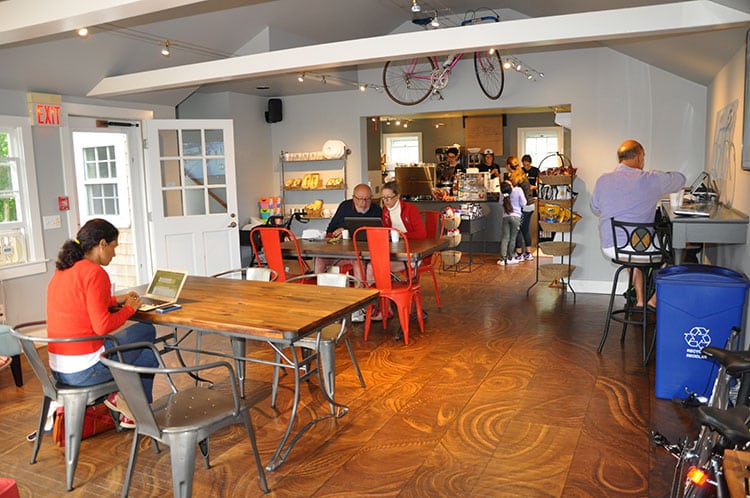 Nantucket's newest coffee shop, the Handlebar Cafe, located just steps from Main Street, welcomes patrons who are as comfortable sitting quietly with their iPads as they are banishing their phones for an hour to connect with friends face-to-face. When the Bridges duo first prospected the 15 Washington Street building, they immediately saw that it fit their vision for a true community space. Courtney says, "The roots of a coffee shop go beyond great drinks and munchies; they reach out and bring people together. Nantucket might be 30 miles at sea, but technology and the open forum of ideas that accompanies it increases our ease and scope of communication."
The Handlebar Cafe is a high-tech café on Nantucket with "coffee, community space, and killer Wi-Fi." A trend that has been brewing in Silicon Valley for ages, the high-tech coffee shop is especially accommodating to patrons in need of a workspace. At the Handlebar Cafe, a daily Wi-Fi password is written on a chalkboard near the register. (Hint, hint.)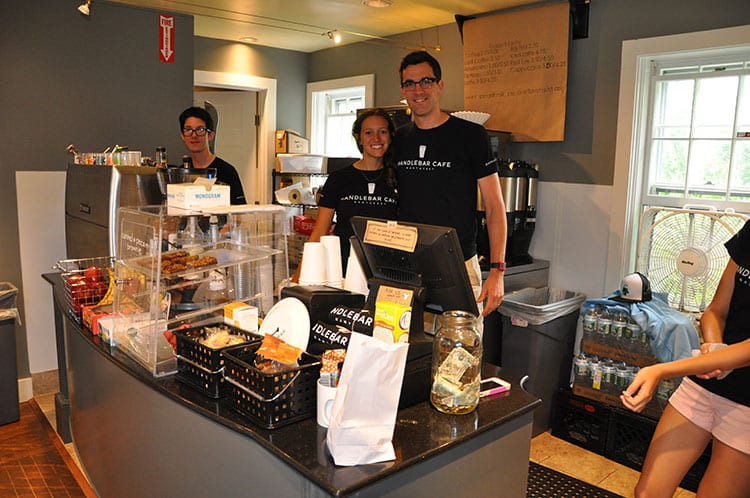 Whether you visit the café for work, leisure, or a blend of both, the Handlebar Cafe has brewed an atmosphere that'll keep your eyes open and your spirit sated. Music plays just loud enough. A full bookshelf waits patiently for you in one corner, while an unobstrusive shopping section stands in another. There, you'll find whimsical coffee-themed goods such as unique mugs (including one made to look like a handful of bike chains), coffee scoops, cards, charms, and even some organic, "anti-plastic" beach toys for the kids. The space is breezy on a hot day and cozy on a rainy one.
Though the inside of the Handlebar Cafe is beautiful, many summer days on Nantucket urge you outdoors. If you mosey down the smooth-stoned path adjacent to the building, you'll find yourself in a magical garden, savoring the lingering aroma of fresh coffee. With a grape-covered trellis screening one side of the space and climbing ivy sheltering the other, this lovely little spot may grow into one of the island's best-kept secrets. On the front patio, you can unwind on a shaded bench over newly laid brick as you watch people drift down Washington Street. Boats bob gently in the harbor and ample blue sky embraces the horizon line. Stars and stripes billow outside the nearby American Legion. Though it's been said that the U.S. has trouble emulating the European sidewalk café, the Handlebar Cafe isn't in the duplication business. Instead, they're creating something new with a spirit that belongs to all of us: the American sidewalk café, where you enjoy your scrumptious spread however you want.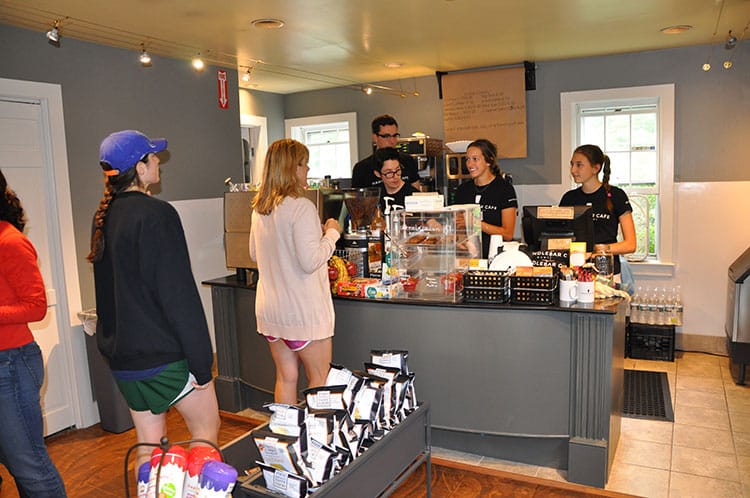 Of course, a coffee shop must have coffee. Whether you're itching for an early morning red eye or desiring an evening decaf latte, this coffee bar can handle your order. Jason pulls an espresso and earnestly hands it over the counter with a single word: "Taste." Most of us are accustomed to coffee that is adulterated by minerals and imperfections in the water, but the purity within this little shot glass indicates a flawless filtration system. Courtney is especially fond of their caramel iced coffee, and says it's been a big summer hit.
Every morning, Wicked Island Bakery delivers fresh breakfast goods. (Get there early; the scones go fast.) Courtney says, "Some places offer only healthy options, or only full-fat indulgences. We have both. Sometimes you need that buttery goodness that comes from a fresh pastry, and sometimes you're craving a lighter bite. The common thread in all of our food is deliciousness." Vegans will love the chia pudding and soy treats; those who don't play nice with gluten will be pleased with the selection of gluten-free goodies. If you're jonesing for a cold drink that isn't coffee, they have a fridge full of bottled waters, organic smoothies, and sparkling beverages. From the standard (can't beat an ice cold Coke) to the unheard of (maple water, anyone?), you'll find your own means to quench that summer day thirst. Furry friends aren't left out of the fun. Out front is a Bark Bar where your pooch can slurp down some cool refreshment while you grab your own. Available inside are bags of meaty delicacies that'll make dog legs dance.
Neither Jason nor Courtney is a stranger to the food service lifestyle. Jason, a washashore since 1999, brings more than 10 years of Nantucket restaurant experience to the table, and Courtney grew up helping out at her father's bar in Ohio. She says, "Every time we travel, we seek out the Mom and Pop coffee shop. We've talked about opening a coffee shop for years. When we saw this space at 15 Washington, we looked at each other and had a moment of connection. We were both thinking, 'This is the place.'"
Even before opening the Handlebar Cafe, free time was a luxury for the Bridges family. Courtney just finished her fourth year as a teacher at Nantucket Lighthouse School. Jason works part-time for the Town of Nantucket, and serves as a social media guru through his firm Social Bridge Consulting. The couple founded Nantucket Bike Tours in 2011, and continues to operate the thriving business. Courtney, who is eating a quick lunch on one of the café's barstools, says, "We like to be busy. We both have an entrepreneurial spirit, which makes it an exciting prospect to own a coffee shop from top to bottom. Both of us got here at six this morning, and we'll both be here until closing time. It's like a new baby; you can't leave it alone."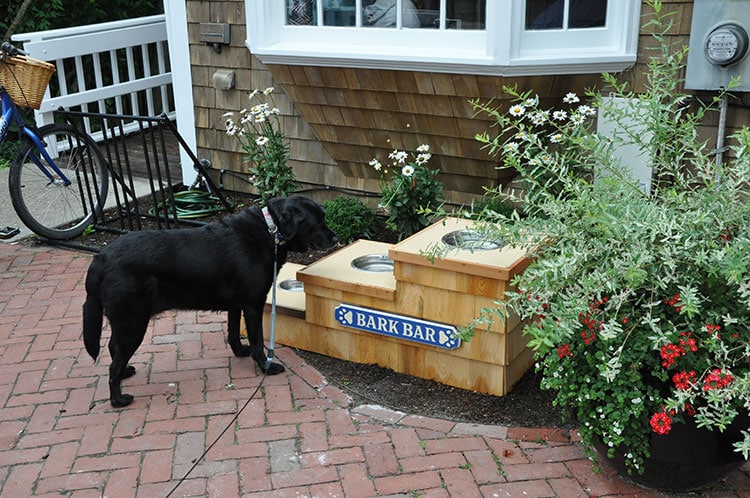 In a move that is unconventional for the service industry, the owners have hired their staff based on personality rather than past work experience. Jason says, "Making a great cappuccino can be learned. Being truly pleasant is built into a person's core. At the Handlebar, you can count on being served by a staffer who is delighted to make you a vanilla latte as you catch up your afternoon emails, whip up a quick iced coffee for you on your way to work, or serve you some great munchies as you enjoy a leisurely afternoon with a friend. I want the Handlebar to be a staple in the community, where people come to share ideas and add to the collective intelligence of our island."
The Handlebar is open year-round and seven days a week from 6:30 a.m. to 6:00 p.m. Get to know them better at www.handlebar.coffee, by following the Handlebar on Twitter or Instagram (both handles are @ackcoffee), by liking their Facebook page, or by dropping by 15 Washington Street to get a handle on some coffee.