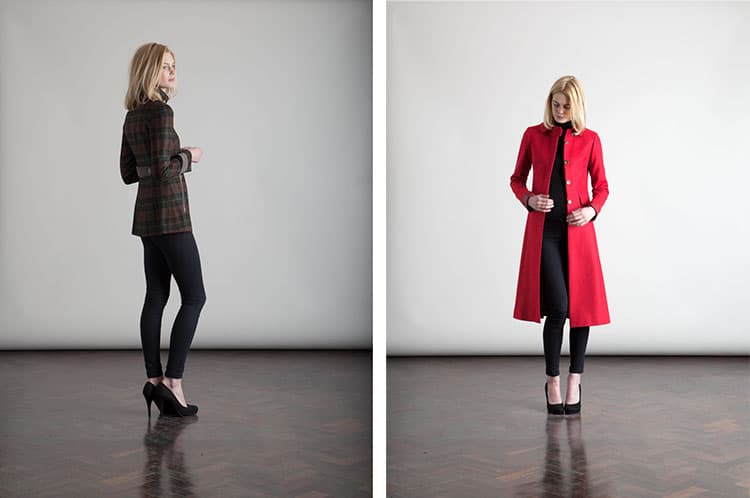 Katherine Hooker London, favored designer for the Duchess of Cambridge, Kate Middleton, will be showing her stunning new designs for Autumn and Winter 2014 at Johnstons Cashmere, 4 Federal Street this weekend July 25 to 27 from 10 am to 6 pm, and mid-week by appointment.
"We are thrilled to have Katherine's 2014 collection here at Johnstons Cashmere," says shop owner Pam Murphy. "Each piece is stunningly beautiful, with styles to enhance any body type. Wouldn't we all love to look as immaculately tailored and beautiful as Kate Middleton? And the best part is that they are remarkably comfortable. When I found out Katherine's cashmere and merino fabrics are made exclusively from our own favorite resource, Johnstons of Elgin, it was obvious we needed to join forces."
Speaking about her Johnstons collaboration, Katherine Hooker said: "I have always wanted to use cashmere — it's the most luxurious material, so exquisitely soft and warm. My coats and jackets are designed to be beautiful, comfortable and practical. Made up in the Johnstons cashmere, they are extraordinary. It's also important to me as a designer that I know the provenance of, and am assured of, the quality of the materials I use. Johnstons of Elgin are the masters of cashmere, with an extraordinary history and range."
Katherine's coats and jackets are beautifully sculpted and infused with a modern edge. Over 150 different fabric swatches of tweeds, silks, linens and cashmeres are available. Color and weave combinations allow clients to match the mood, flavor, trim, lining and even the buttons of their garment exactly as they please. Personal taste is honored at Katherine
Katherine Hooker London will return once more this summer the weekend of August 1-3.