by Dr. Sarah Treanor Bois
Director of Research & Education at the Linda Loring Nature Foundation
The crisp change in the air happened recently and the heat and humidity have finally broken on Nantucket. We are in the golden months of fall where the days can still have a summer quality—warm enough for boating, biking, fishing, and even a swim – while the nights are cool making sleeping easier.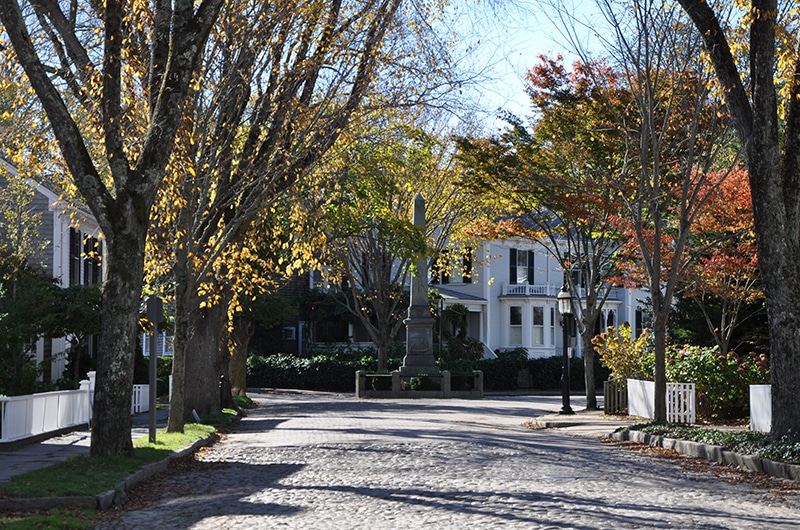 Those of us fortunate enough to still be on-island this time of year are relishing the kids being in school, the diminished traffic, and the beautiful fall colors. While we generally think reds and oranges in New England, there is truly a rainbow to behold in nature on Nantucket. Get out and enjoy it before this rainbow of autumn color gives way to the browns and white of winter.
Red – Black Huckleberry (Gaylusacchia baccata), is one of the first native shrubs to show fall colors. Even in September, the yellowish-green leaves begin to transition to a bright red. As a dominant shrub of the heathlands of Nantucket, there is plenty to be seen across the landscape. Driving along Milestone Road, the bright red leaves of Poison Ivy (Toxicodendron radicans) and Virginia Creeper (Parthenocissus quinquefolia) can be seen climbing up the pine trees lining the State Forest…the one time these evergreens get to "dress up."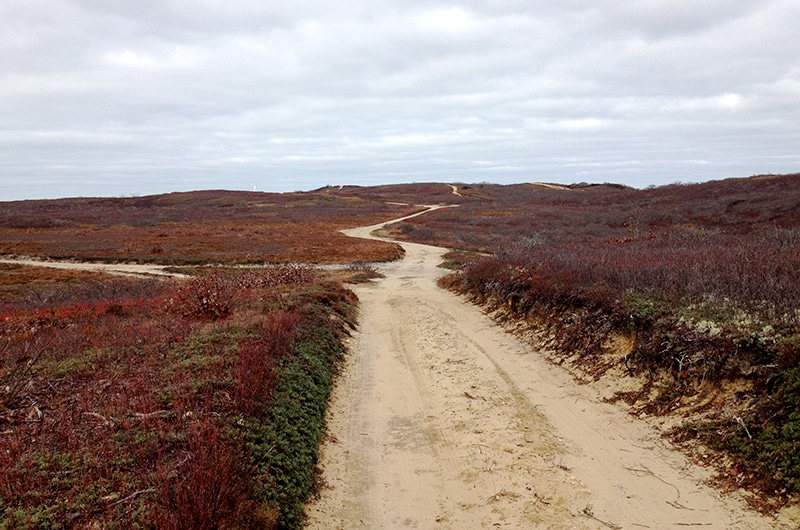 Orange – Monarch butterflies abound this time of year as they emerge from their chrysalises readying themselves for their journey south. Early October is a great time to witness gatherings of monarchs in Madaket as they set off west from the island before going south. Take a walk in the Nantucket Land Bank's Smooth Hummocks Coastal Preserve. The monarchs are busy bulking up on nectar for their long journey. You'll see them flitting from flower to flower. They are particularly abundant on goldenrods.
Yellow – The goldenrods of late summer and early fall are not to be beat in New England. Nantucket boasts some 15 species of goldenrods. They range in shape from the flattopped flowers of the Grass-leaved Goldenrod (Euthamia caroliniana) to the showy spikes of the Canada and Elliot's Goldenrods (Solidago canadensis and Solidago latissimifolia). The Seaside Goldenrod (Solidago sempervirens) is a showstopper with a nodding, golden plume like a wand across the sand dunes. The large fleshy leaves, while functional at retaining water in sandy and salty conditions, are almost like banana leaves. One of my personal favorites is the fuzzy grey goldenrod (Solidago nemoralis) which flowers later in the season than most of the other goldenrods. Not just beauties to behold, goldenrods are extremely important nectar sources for many pollinators: a patch of flowers will buzz with activity.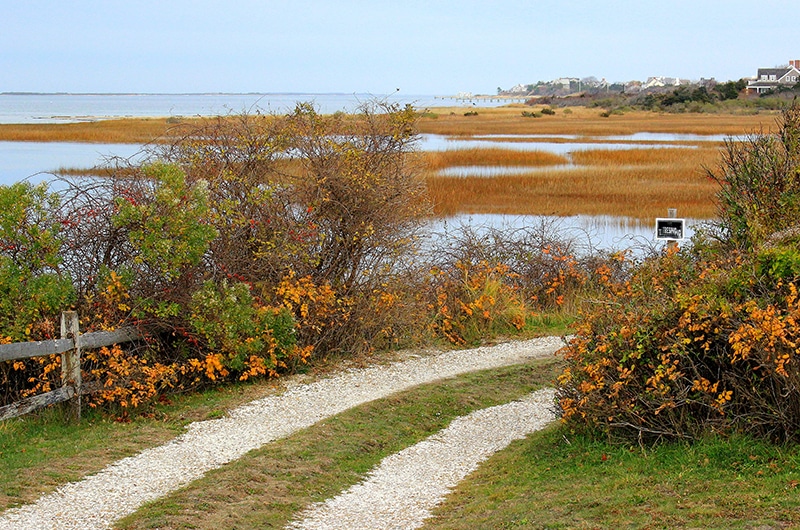 Green – The monarchs aren't the only game in town. The sandplain grasslands and heathlands of Nantucket are known as home to a suite of bright green caterpillars. Both the Io moth (Automeris io) and the Cecropia moth (Hyalophora cecropia) caterpillars are seen this time of year. Both caterpillars feed on a variety of woody plant species. They are busy feasting before they pupate and become moths. The adults of both species don't eat, so it's a last meal of sorts before their transformation. Watch out for these creatures, though: guard hairs on their backsides pack a punch, described as a long-lasting stinging nettle. These creatures are better seen and not touched.
Blue – The small, waxy berries of the Northern Bayberry (Morella caroliniensis) are finally ripe. These tiny berries (which are actually nutlets) are an important food source for migratory birds like Tree Swallows and Yellow-Rumped Warblers. The gray/blue "berries" hold on into the late fall and early winter as long as they aren't eaten and are, thus, an important resource as other late summer fruits are gone. The Bayberry's waxy coating has also been used traditionally to make and scent candles. Remember that you have to look for the female plant for the berries. Bayberries are dioecious, meaning there are male plants and female plants with only the females bearing fruit.
Not to be outdone by fruits and flowers, our native grasses have wonderful color as well. Little Blue-stem grass (Schizachyrium scoparium) is the dominant and defining grass of our sandplain grasslands. This bunch-forming grass can grow up to two feet tall on Nantucket. In the fall, the feathery seeds show a wave of blueish purple stems in the autumn breezes.
Purple – Nantucket is ablaze in purple in the fall. From the state-listed New England Blazing Star (Liatris scariosa var. novae angliae), the multitude of fall asters, and delicious beach plums (Prunus maritima), purple is an easy color to spot around the island. Late Purple Aster (Symphyotrichum patens) is common this time of year with purple ray flowers and yellow disk flowers at the center. The leaves are rough, clasping the stem like little cat tongues. Other purple asters commonly seen are Flax-leaved Stiff-aster (Ionactis linariifolia), New York American-aster (Symphyotrichum novi-belgii), and Wavy-leaved American-aster (Symphyotrichum undulatum). The pollinators are attracted to the purple hues in flowers and wildlife (both human and animal) love the purple fruits. The birds are delighting in the abundance of fruit as they pack on the calories for their impending migration. Arrowwood's (Viburnum dentatum) delicate lacetop flowers of summer now give way to juicy, dark-purple fruit. Not palatable to humans, these berries are picked off quickly by our avian friends.
Get out and enjoy the rainbow of color while it lasts. Trails abound on all our island conservation lands. The Linda Loring Nature Foundation runs plant and nature walks the third Friday of each month, the next one is Friday, October 18 at 10am. Meet at the Linda Loring Nature Foundation, 110 Eel Point Road to explore what's flowering, what's fruiting, and what's crawling among Nantucket's grasslands and heathlands.