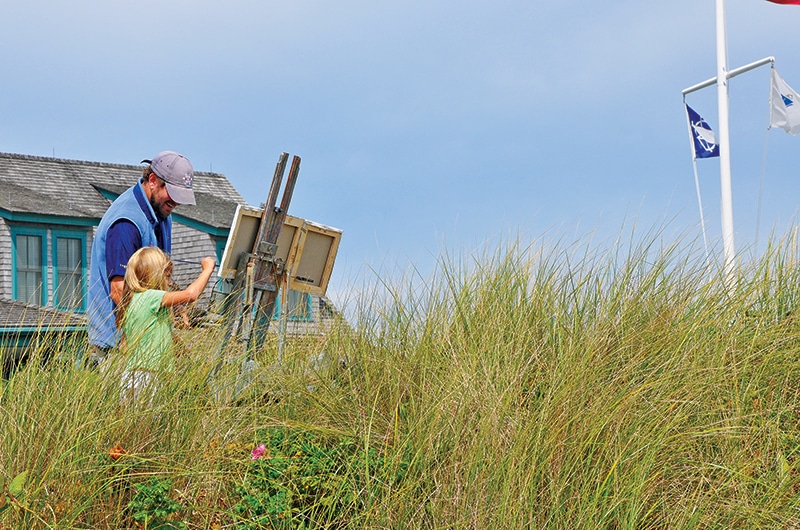 This week the Artists Association of Nantucket is celebrating two things Nantucket has plenty of: clean lines and fresh, open air.
From June 9 through June 26, AAN is hosting an exhibition called Clean Lines on the Horizon, in the Cecelia Joyce & Seward Johnson Gallery, 19 Washington Street. An opening reception will be held this Friday June 9, from 6 to 8 pm in the gallery. Overlapping this exhibit, AAN's annual Plein Air Festival will begin this Tuesday, June 13 and continue through June 18.
"Intended to complement the Nantucket Preservations Trust's first national Preservation Symposium, the Clean Lines show was also developed to coincide with Preservation Month, and will give visitors a sense of the history found across the island, whether in the paintings of historic buildings, picturesque lanes, or cobbled ways," said curator of exhibitions Robert Frazier.
"And as an added benefit, the exhibition will highlight paintings from the AAN's Permanent Collection which focus on iconic historical island scenes." NPT is fast becoming a nationally recognized authority for its recognition, protection, and preservation of Nantucket's historic buildings and landscapes. An additional gallery feature during this exhibition will be the display of works completed during the 6th annual Plein Air Nantucket. This special adjunct of the gallery exhibition will showcase works done by artists who have been painting along Nantucket's shores and all through town, from Washing Pond to Great Point. Upon completion, the new works will be hung daily in the gallery through Saturday, June 24.
The Solo Show Spotlight Artist during this exhibition is Caroline Weld, who will discuss her work during our Spotlight Artist Talk on Saturday, June 10 at 10 am in the gallery, 19 Washington Street.