At 10 am on Friday, September 4, the doors of the Cecelia Joyce & Seward Johnson Gallery at 19 Washington Street will open to welcome visitors to the Artists Association of Nantucket's 2020 10 x 10 Exhibition. The show will remain on display through Saturday, September 19.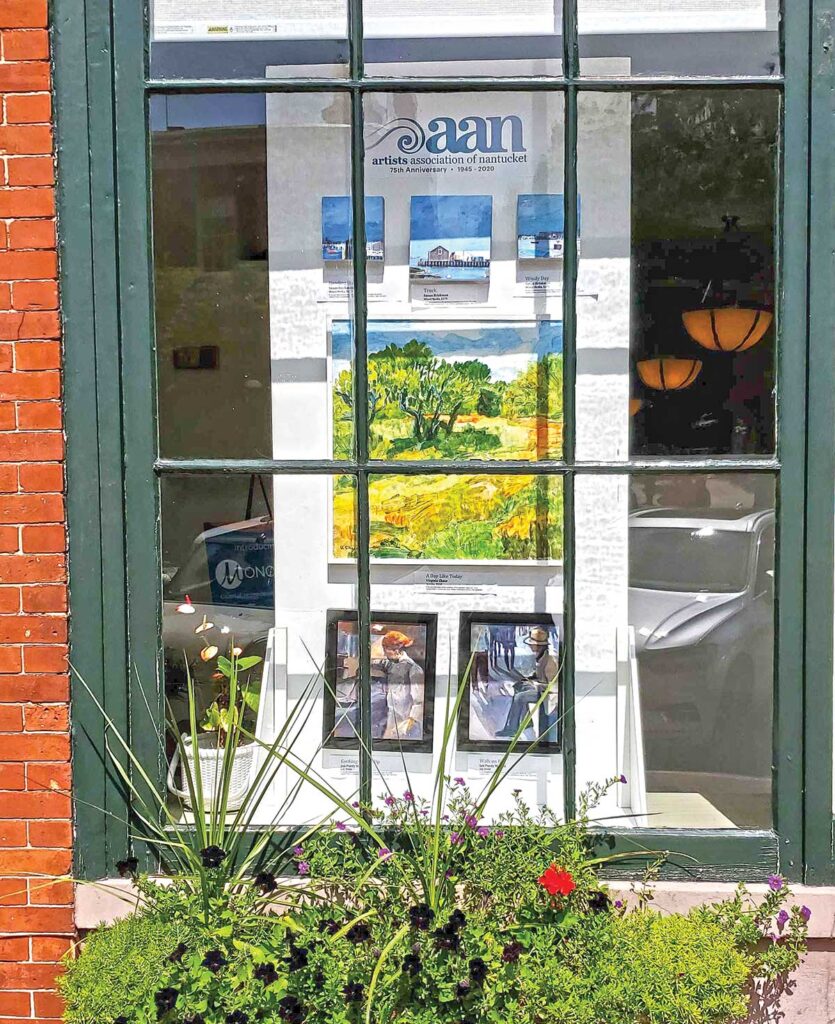 With 2020 marking AAN's 75th Anniversary year, this very popular 10 x 10 Exhibition is celebrating its 16th year and has become a beloved AAN tradition. It is always a fascinating show and an exciting opportunity to see the many different ways an artist approaches a 10 inch by 10 inch canvas.
This year, due to the world-wide pandemic, the Artists Association is adhering to best safety practices and has only opened the first floor of the gallery. Visitors must wear face-coverings and only four people may be inside at one time.
The 10 x 10 Exhibition in the Cecelia Joyce & Seward Johnson Gallery is open Tuesday–Saturday 10 am to 5 pm, closed 2 to 2:30 pm. AAN is also hosting an online exhibition of the same name, which can be found at Nantucketarts.org at the "Buy Art" link beginning September 11 and continuing through October 2.
In addition to the gallery exhibit, the AAN has collaborated with five downtown businesses, who are displaying art panels showcasing artwork for sale by local artist members. In celebration of the AAN's 75th anniversary year, these panels honor the legacy of the Artists Association and its talented local artists.
Known as Main Street Live, the art panel idea was conceived by AAN board member, artist, and exhibition committee chair Robert Miklos. Because 2020 marks a special year for the organization, Miklos was looking for a way to garner more exposure for the AAN and thus the Main Street Live panel idea. "I was thrilled by the enthusiasm and cooperation expressed by Nantucket merchants for our Main St. Gallery project. This collaboration demonstrates their understanding and appreciation of the impact the arts has on our community for both visitors and residents," said Miklos.
"Bob developed this concept of building art walls that could display works by our members, and we are delighted with the outcome," said Robert Frazier, AAN's Artistic Director. "We are indebted to Bob and the businesses that were willing to display a panel in their front windows for this special art installation, and AAN is so appreciative of their continued support during this critical time," he added.
The businesses displaying panels are Hingham Savings, 35 Main St.; William Raveis Real Estate, 17 Main St.; RogersGray, 53 Main St.; and Murray's Toggery Shop, 62 Main Street.
To learn more about the AAN and their many programs, call 508-228-0722 or visit Nantucketarts.org